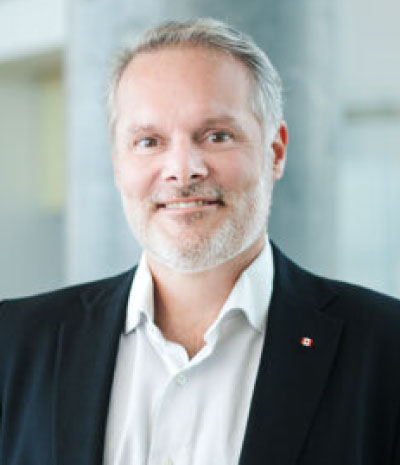 John Coleman, Ph.D., envisions a future where blood types cease to be a primary constraint in life-saving organ transplants and blood transfusions.
"Recognizing the urgent need for solutions to these challenges, we have emerged with a potential breakthrough, developing a proprietary enzyme platform capable of converting cell surface antigens that define blood type into Type O, or the universal donor," Dr. Coleman, president and CEO of closely-held Avivo Biomedical, says in an interview with BioTuesdays.
"This advancement holds the promise of increasing the availability of organs for transplantation and boosting the supply of universal donor blood products for transfusions," he adds.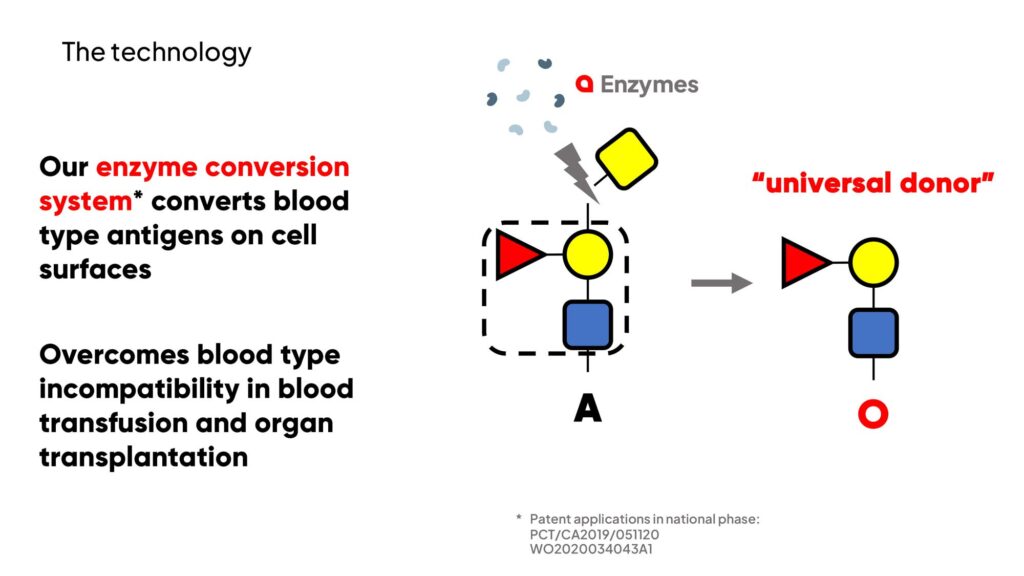 The need is great.
According to a study published in the New England Journal of Medicine, approximately 60,000 individuals in the U.S. die from hemorrhagic shock annually because of the limited time available in emergency and trauma rooms to determine blood type.
And the Organ Procurement & Transplant Network reported that in 2022, despite 42,888 successful transplants, there was still a substantial wastage of potentially viable deceased organs, with more than 35,000 going unused.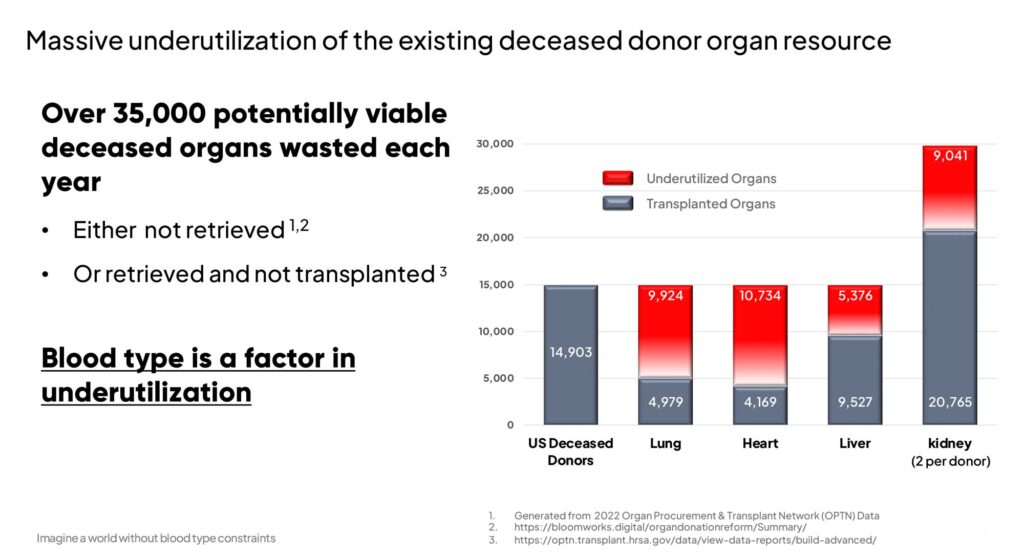 To address the need, Avivo, which means "from life, for life," has filed a breakthrough device designation application with the FDA to accelerate the development of their technology and plans to initiate human clinical studies in 2025.
Dr. Coleman says the initial focus will be on living kidney transplantation, aiming to establish the safety and efficacy of enzymatically-converted organs by evaluating antibody-mediated rejection, organ function, and graft survival with specific timeframes.
Preclinical proof-of-concept of Avivo's technology already has been published in the peer-reviewed journals, Nature Microbiology and Science Translational Medicine. The company's initial studies have demonstrated conversion to Type O in human blood, lungs and kidneys.
To bring the technology to market, Avivo is pursuing a premarket approval device pathway with the FDA. In this approach, the enzyme system would serve as an additive to existing FDA-approved organ preservation solutions used in organ perfusion devices, Dr. Coleman says.
If successful in living kidney donor transplant, Avivo intends to expand its transplant programs to include clinical trials involving deceased donor organs in heart, lung, liver and kidney transplantation.
Dr. Coleman says Avivo's enzyme system also has shown promising results in converting both whole blood and packed red blood cells into Type O blood. The company envisions incorporating the enzyme system into blood bags equipped with an integrated in-line filter, developed in collaboration with the U.S. Armed Forces.
"This innovation would involve removal of enzymes before administering the enzyme-converted Type O blood to patients, enabling the military to access Type O blood 'on demand' from their walking blood banks," he adds.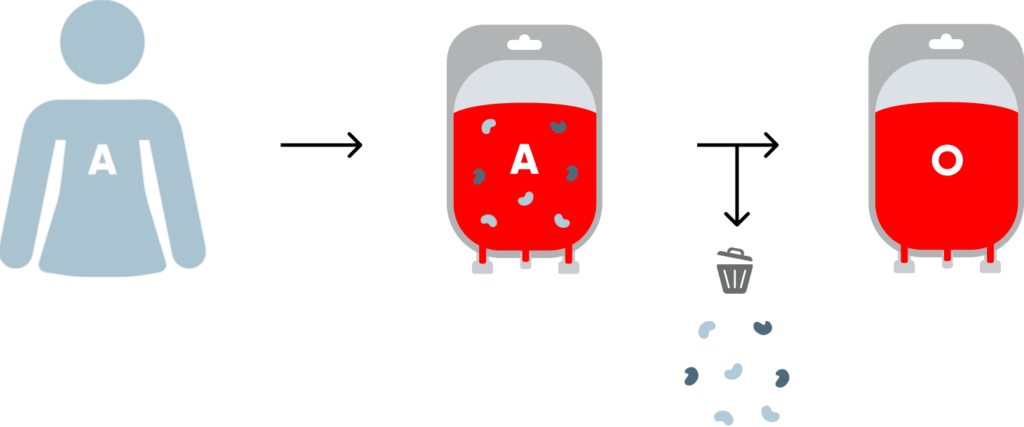 Established in 2020 as a spin-out from the University of British Columbia, Avivo traces its roots to research by Peter Rahfeld, Ph.D., during his post-doctoral studies under the supervision of Prof. Stephen Withers, Dr. Rahfeld is the founding CSO of Avivo.
To date, Avivo has secured a total of $3-million in capital and an additional $4-million in research and development grants, including funding from the U.S. Department of Defense.
To move its product towards an initial clinical study in living kidney transplant, Dr. Coleman says the company plans to raise $10-million this year to support good manufacturing practices for the enzyme system and complete necessary safety and toxicology studies required for an investigative device exemption application with the FDA.
"By enhancing the availability of Type O organs, we aim to streamline organ supply and drastically reduce waiting times for patients with blood types O and B who currently can be on wait lists for five-to-eight years before receiving a donor organ offer," he adds.
Dr. Coleman also believes that Avivo's technology can increase the utilization of the existing donor organ supply by more than 9,000 transplantable organs per year in the U.S. alone, creating a billion-dollar market opportunity.
The availability of more Type O organs would allow transplant centers to improve organ matching, significantly expand the pool of potential donors for each organ, shorten waiting times, and enhance equity in donor organ allocation, he points out.
In addition, the Association for the Advancement of Blood and Biotherapies contends there is a chronic shortage of Type O blood, with an annual need for two million more units to optimize the U.S. blood supply.
The demand for universal donor blood becomes particularly critical in emergency scenarios, where determining a patient's blood type often takes too long, he adds.
"By addressing the constraints imposed by blood types, our technology has the potential to increase the availability of universal organs and blood, ultimately giving patients a second chance at life," Dr. Coleman says.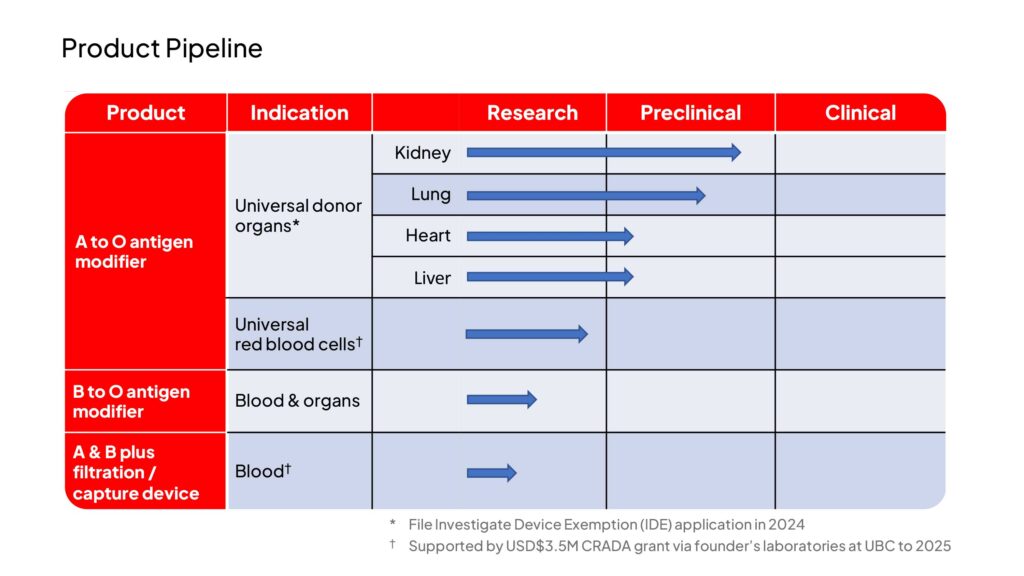 Editor's Note: This article does not constitute an offer to sell or the solicitation of an offer to buy any securities of Avivo Biomedical, and shall not constitute an offer, solicitation or sale of any security in any state or jurisdiction in which such offer, solicitation or sale would be unlawful prior to registration or qualification under the securities laws of any such state or jurisdiction.
• • • • •
To connect with Avivo Biomedical or any of the other companies featured on BioTuesdays, send us an email at [email protected].