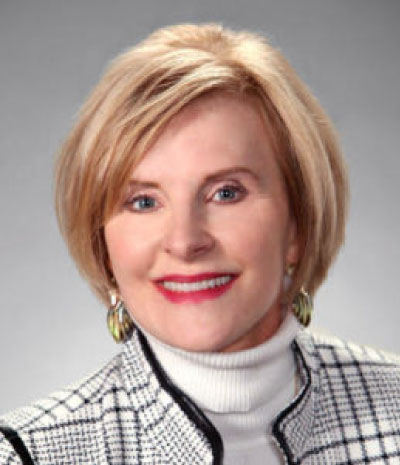 EyePoint Pharmaceuticals (NASDAQ:EYPT) is advancing its lead drug candidate, EYP-1901, in two Phase 2 clinical trials as a potential six-month treatment for wet age-related macular degeneration (AMD) and a potential nine-month therapy for non-proliferation diabetic retinopathy (NPDR).
"EYP-1901 represents a potential new mechanism of action and treatment approach for retinal diseases by acting as an intracellular vascular endothelial growth factor (VEGF) receptor blocker, which could provide added benefits beyond the traditional large molecule anti-VEGF eye injections," Nancy Lurker, CEO of EyePoint, says in an interview with BioTuesdays.
"With the combination of vorolanib and our proprietary bioerodible six-to-nine month Durasert delivery technology, EYP-1901 can potentially change how patients are currently treated for serious eye diseases."
AMD impacts as many as 11 million people in the U.S., of which about 15% have neovascular, or wet AMD. The hallmark of wet AMD is fluid and bleeding in the center of the retina, which may lead to irreversible vision loss. The majority of patients with wet AMD require intravitreal (back of the eye) anti-VEGF injections every month or two to control the disease and prevent blindness.
"This intense treatment regimen represents a real challenge for patients, caregivers, and physicians," she adds. There are more than a million patients in the U.S. alone that need to go into their doctor every month or every other month to receive eye injections. These retinal physicians have "injection days" where their offices are filled with patients, all day long, receiving eye injections.
Ms. Lurker explains that EYP-1901 is a combination of EyePoint's proprietary bioerodible drug delivery technology, DURASERT and the active ingredient vorolanib, which is a selective tyrosine kinase inhibitor that blocks VEGF intracellularly.
This combination provides both a once every six-to-nine month treatment, given DURASERT's zero order kinetics and extended delivery mechanism, along with a new mechanism of action that vorolanib provides as a VEGF receptor blocker. EYP-1901 also could provide neuroprotection and anti-fibrosis benefits, something current treatments cannot provide. In addition, it potentially can be used along with the current anti-VEGF biologics.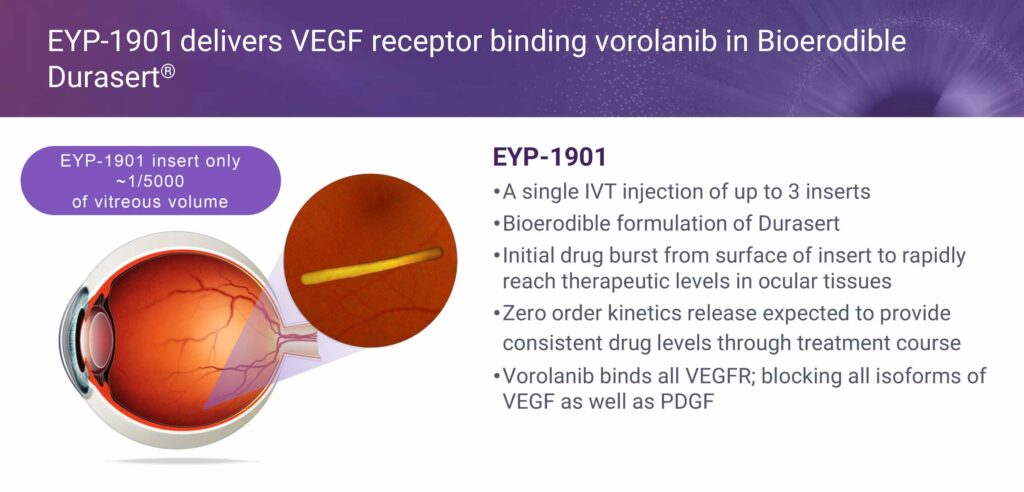 DURASERT, which Is delivered by a single in-office intravitreal injection, has safely been administered to some 80,000 patient eyes across four FDA-approved products, including EyePoint's YUTIQ, which uses a combination of DURASERT in a non-erodible form and flucinolone acetate, a well-known steroid that is released over three years and as a result can help prevent posterior uveitis flares for up to three years, a leading cause of blindness.
"YUTIQ gives patients and physicians the confidence that comes with three years of assured compliance," Ms. Lurker contends.
Between 60,000 and 100,000 people in the U.S. suffer from posterior segment uveitis and 30,000 people become blind each year because of the disorder, which lasts a lifetime and often affects people in middle age.
YUTIQ was commercially launched in the U.S. in 2016. It generated approximately $28-million in net product revenue in 2022 and is a profitable franchise.
Ms. Lurker notes that while YUTIQ, indicated for posterior segment uveitis, is an orphan disease, EYP-1901 has the potential to become a multibillion dollar drug, given the enormous unmet need in wet AMD, diabetic retinopathy and diabetic macular edema, all diseases that affect millions of patients.
EYP-1901 provides an initial drug burst from the surface of the insert to rapidly reach therapeutic levels in ocular tissues, followed by zero order kinetics release, which is provides consistent and steady drug levels during the treatment course, compared with the large burst and rapid decline of drug levels administered with the large molecular anti-VEGFs.
EyePoint's earlier Phase 1 DAVIO clinical trial for EYP-1901, enrolled 17 previously treated wet AMD patients. The study, with four different doses of EYP-1901 met all study objectives as 53% of patients did not require supplemental anti-VEGF injections for up to six months, along with a 75% reduction in treatment burden at six months, supporting a "treat-to-maintain paradigm."
"About half of the eyes in the DAVIO study could go up to six months on EYP-1901 alone, while about 30% received only a single supplemental anti-VEGF injection during six months," Ms. Lurker points out. "This is an enormous improvement in reducing the current treatment burden patients and their caregivers must endure today," she adds.
EYP-1901 also achieved stabilization of vision as measured by mean best corrected visual acuity and optical coherence tomography (OCT) throughout six months, without any serious ocular adverse events reported.
"Our treat-to-maintain therapeutic approach for EYP-1901 has the potential to transform the wet AMD treatment paradigm by transitioning a majority of patients to an every-six-month treatment," she adds.
In March 2023, EyePoint completed enrollment in DAVIO 2, a Phase 2 clinical trial evaluating EYP-1901 as a potential six-month maintenance treatment for wet AMD.
The trial exceeded its original target of 144 patients, enrolling a total of 160 patients due to strong investigator and patient interest. All patients were previously treated with a standard-of-care anti-VEGF therapy and were randomly assigned to one of two doses of EYP-1901 or to an aflibercept on-label control.
The primary efficacy endpoint of the DAVIO 2 trial is change in best corrected visual acuity, compared with the aflibercept, or EYLEA, control, six-months after the EYP-1901 injection.
Secondary efficacy endpoints include change in central subfield thickness as measured by OCT, number of eyes that remain free of supplemental anti-VEGF injections, number of aflibercept injections in each group, and safety.
Topline data from the Phase 2 DAVIO 2 trial of EYP-1901 in wet AMD is anticipated in the fourth quarter of 2023.
EyePoint also is developing EYP-1901 for the treatment of diabetic retinopathy, which affects about 40% of people with diabetes and is projected to impact 14.6 million people in the U.S. by 2050.
Non-proliferative diabetic retinopathy (NPDR) is the early stage of diabetic eye disease where symptoms may be mild or nonexistent. People with NPDR generally are younger and still of working age, compared with wet AMD.
In NPDR, the blood vessels in the retina are weakened, and tiny bulges in the blood vessels, called microaneurysms, may leak fluid into the retina. This leakage may lead to swelling of the macula and cause mild vision changes and blurriness.
There is no current standard of care for patients experiencing vision loss because of NPDR. As the disease advances, treatment includes intravitreal injections of anti-VEGF agents or laser photocoagulation, which can become a burden due to the longevity of the disease and need for consistent therapies.
In September 2022, EyePoint dosed the first patient in the 12-month Phase 2 PAVIA clinical trial of EYP-1901 for NPDR. The study is a double blinded, randomized, aflibercept controlled study with patients randomly assigned to one of two doses of EYP-1901 or to the control group receiving a sham injection.
The primary efficacy endpoint of the trial is improvement of at least two diabetic retinopathy severity scale levels as of week 36 after the EYP-1901 injection. Secondary endpoints include vision-threatening complications, occurrence of DME and/or proliferative disease, retinal ischemia/nonperfusion and safety.
Ms. Lurker says EyePoint also anticipates beginning a Phase 2 clinical trial in diabetic macular edema in the first quarter of 2024.
"Each of our three clinical programs represents billion-dollar market opportunities, with the potential to use a sustained six month or longer delivery treatment to significantly improve the lives of patients living with serious eye disorders," she adds.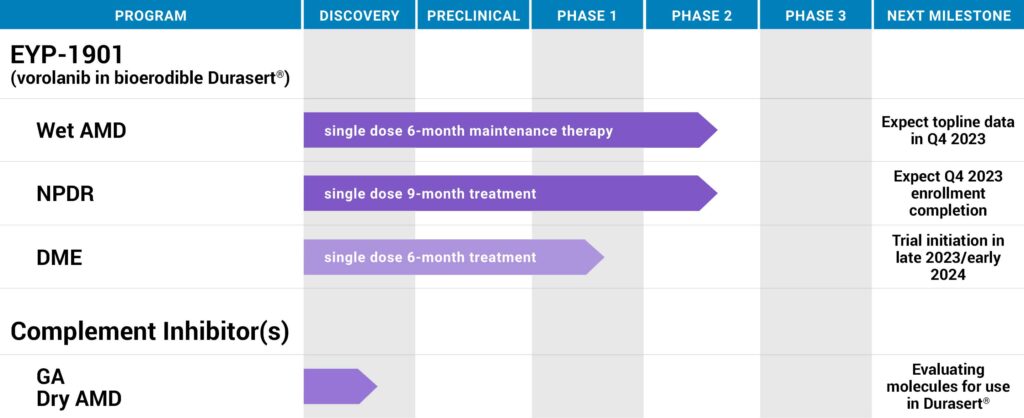 • • • • •
To connect with EyePoint Pharmaceuticals or any of the other companies featured on BioTuesdays, send us an email at [email protected].