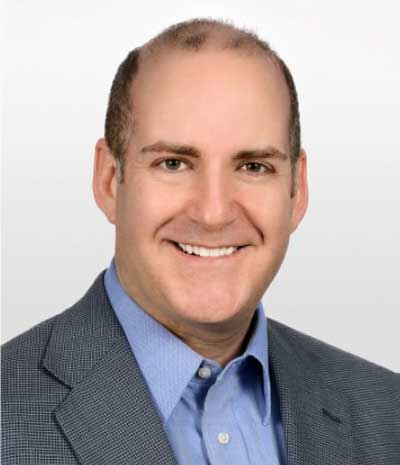 Alaunos Therapeutics (NASDAQ:TCRT) is developing a library of T-cell receptor (TCR) cell therapies with the potential to revolutionize the treatment of solid tumors.
"Our TCR T-cell therapy (TCR-T) is the most advanced clinical-stage TCR-T program, targeting driver mutations in solid tumors," Kevin Boyle, Sr., CEO of Alaunos, says in an interview with BioTuesdays.
TCRs are a group of proteins found on T-cells and bind to certain proteins found on abnormal cells, cancer cells, cells from other organisms, and cells infected with a virus or another microorganism. This interaction causes the T-cells to attack these cells and helps the body fight infection, cancer, or other diseases.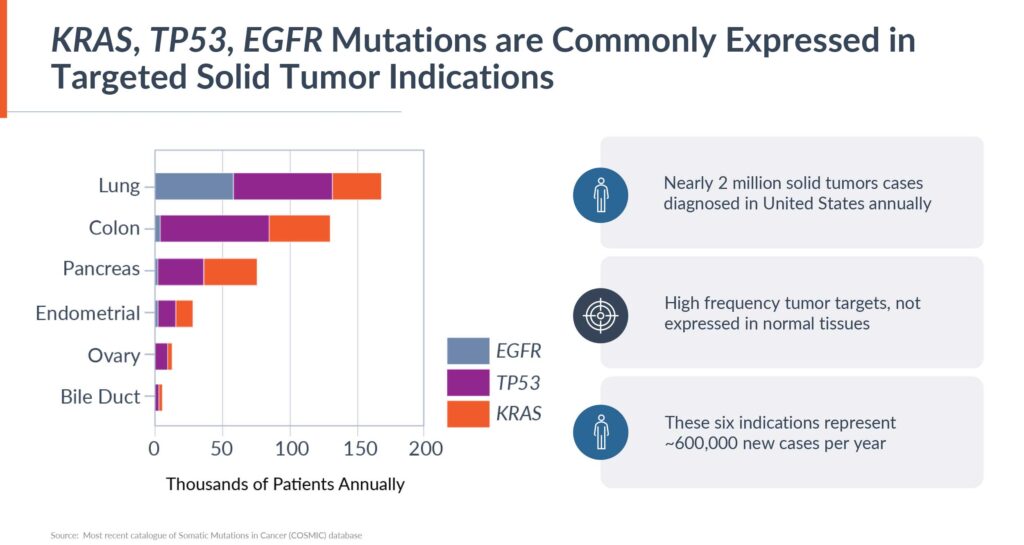 Mr. Boyle explains that the Alaunos technology is powered by two proprietary platforms: its non-viral Sleeping Beauty cell-engineering platform and its hunTR discovery platform. The Sleeping Beauty system has advantages over other gene transfer technologies, specifically being cost-effective and flexible which is well suited for building a library of TCRs.
The hunTR platform involves taking tumors from patients and treating them with single-cell sequencing to identify additional naturally occurring TCRs. "This is going to expand our industry-leading library of TCRs against high-frequency driver mutations," he adds.
In 2022, Alaunos expanded its library to 12 TCRs from 10, doubling the potential addressable market, and Mr. Boyle says the company hopes to expand its TCR library to 15 in 2023. The non-viral Sleeping Beauty cell engineering platform comprises TCRs and the patient's own T-cells. The first 12 TCRs were licensed from the NCI and the company anticipates that any additional TCRs will come from its hunTR discovery platform.
"Each TCR-T cell product is manufactured with a TCR matched to the patient's tumor mutation and HLA type," Mr. Boyle says.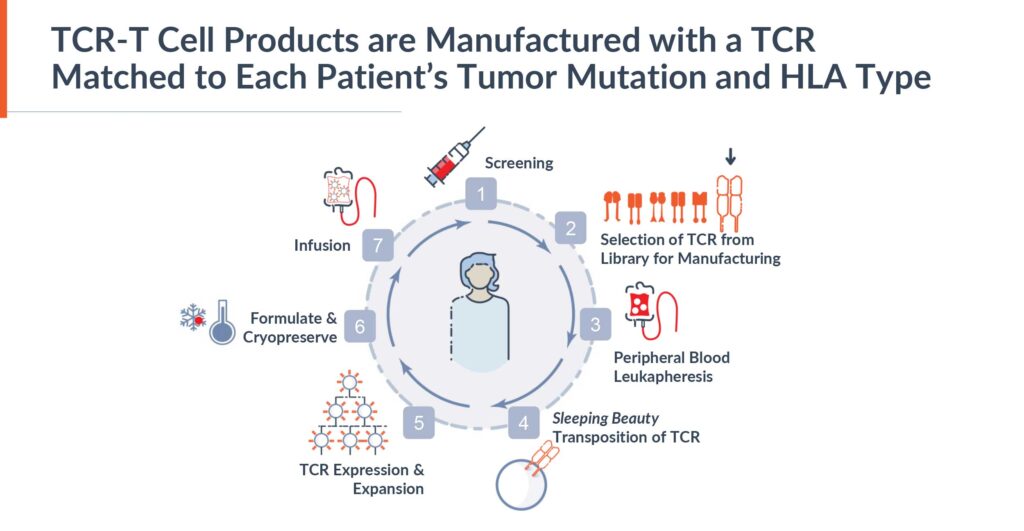 There are nearly two million solid tumor cases diagnosed annually in the U.S., of which Alaunos' initial six indications – non-small cell lung, colorectal, endometrial, pancreatic, ovarian and bile duct cancers – would represent approximately 600,000 new cases a year.
Mr. Boyle estimates that the company's current library of 12 TCRs have the potential to treat approximately 10%, or 60,000 patients, and will climb higher as the library reaches 15 TCRs during 2023. The hunTR platform has the potential to expand the library to more than 40 TCRs in the future, and with the chances of matching multiple TCRs, treat more than 200,000 patients a year.
An open-label, dose-escalation Phase 1/2 study being conducted at the University of Texas MD Anderson Cancer Center achieved clinical proof-of-concept with a clinical response, six months of progression free survival and no dose-limiting toxicities.
The study is enrolling patients that have a matching human leukocyte antigen (HLA) and driver, or hotspot, mutation pairing in the Alaunos TCR-T library to evaluate its TCR-T against the most frequently mutated genes in solid tumors: KRAS, TP53 and EGFR.
These hotspot mutations drive cancer cells to survive, making them high value targets for therapy. Moreover, there are few, if any, competing drugs for these critical, tumor-specific targets. Interim data from multiple patients is expected in mid-2023. The company recently made operational and manufacturing changes to advance the pace of enrollment.
Alaunos also doubled the GMP manufacturing capacity at its Houston suite, changed its operating procedures to reduce manufacturing time, moved from fresh to frozen product for global shipping, and hired additional personnel. "We can now manufacture two products at any time to treat more patients."
Mr. Boyle says the company's goal is to treat more patients in 2023 than in 2022 and close out the Phase 1 portion of the Phase 1/2 study and advance to Phase 2 in 2024. The Phase 2 portion will target one indication with multiple TCRs but "in the future we hope to have multiple Phase 2 studies ongoing at the same time for different indications."
Alaunos treated three patients in 2022 with lung, colorectal and pancreatic cancers and anticipates treating an additional nine-to-12 patients in 2023.
"We have the potential to administer higher doses of TCRs to patients because these driver mutations are found only on cancer cells, not on healthy tissue so, we believe this will be a safer approach to cell therapy," he adds.
The company also has a second solid tumor development program underway and plans to file a second IND by the end of 2023 for a clinical trial to introduce a powerful cytokine membrane-bound IL-15 into its TCR-T cell therapy.
In September 2022, a researcher at MD Anderson highlighted data from the Alaunos Phase 1/2 trial at the International Cancer Immunology Conference. The first patient in the study with non-small cell lung cancer, treated at the first dose level, had a greater than 51% tumor regression with TCR-T cell persistence ongoing at three months post infusion, along with manageable safety and tolerability.
"We believe this data adds to the growing body of evidence indicating that targeting shared tumor-specific hotspot mutations using TCRs has the potential to transform the way we treat solid tumors," Marcelo Negrao, M.D., with MD Anderson, said in a statement.
An article in The New England Journal of Medicine in 2022 detailed research that found a greater than 70% tumor reduction of metastatic pancreatic cancer six months after infusion of KRAS mutation-reactive TCR-T cells. In addition, an article in Cancer Immunology Research in 2022 outlined research that demonstrated a 55% tumor reduction of metastatic breast cancer six months after infusion of TP53 mutation-reactive TCR-T cells.
"We have the very TCRs in our TCR library that were used in these case studies published in peer-reviewed journals," Mr. Boyle says. "So, we're very encouraged about the promise that targeting these driver mutations holds."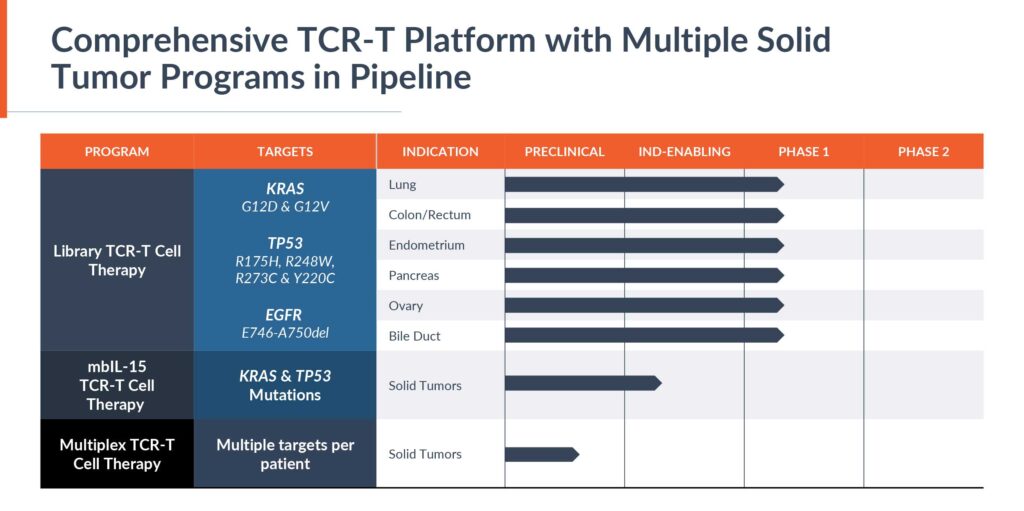 • • • • •
To connect with Alaunos Therapeutics or any of the other companies featured on BioTuesdays, send us an email at [email protected].