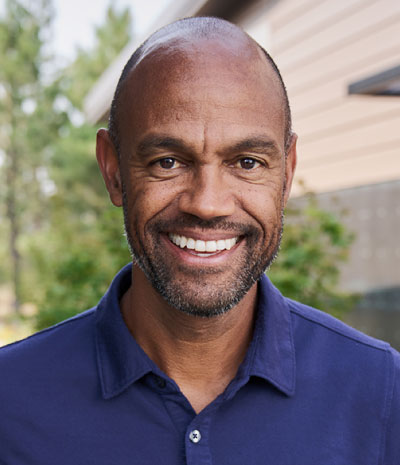 Rezolute (NASDAQ:RZLT) is working on therapies targeting both ends of the spectrum of dysregulated glucose. It has now entered Phase 2 with an oral therapy to treat diabetic macular edema (DME), a big market microvascular complication of diabetes affecting retinal blood vessels and a primary cause of blindness.
"The standard of care for DME is monthly anti-VEGF (vascular endothelial growth factor) injections into the eye with drugs such as Lucentis and Eylea," Nevan Elam, founder and CEO of Rezolute, says in an interview with BioTuesdays.
"These invasive injections are only about 50% effective in DME patients," he adds. "The invasive route of administration, coupled with inadequate responsiveness in some patients, leads to overall undertreatment and suboptimal vision outcomes in DME patients."
DME is a severe vision-threatening complication of diabetic retinopathy characterized by swelling of the retina and thickening of the macula, the part of the eye that is responsible for high-resolution vision. The disease manifests as blind spots, floaters, blurry vision, and ultimately blindness.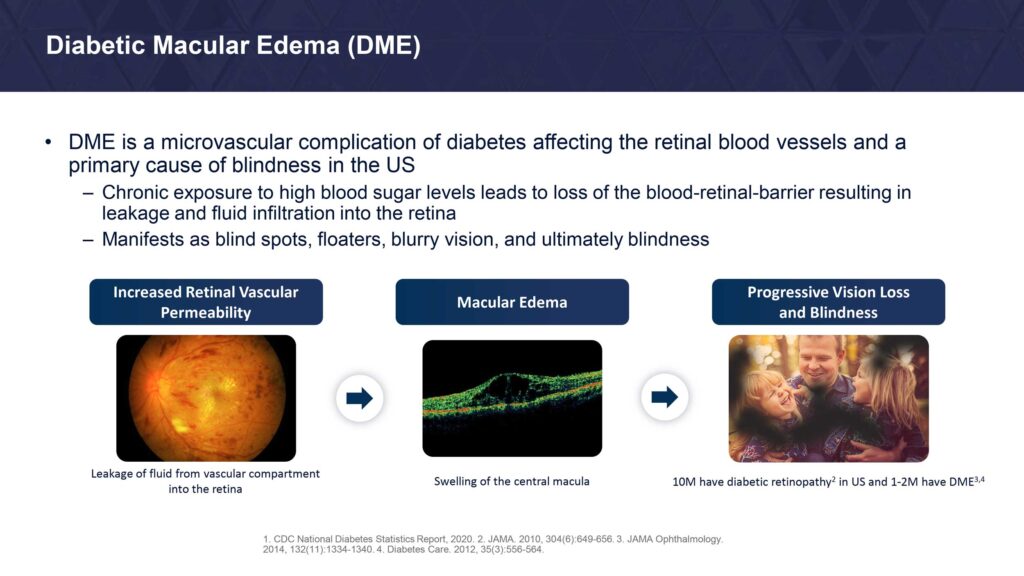 Diabetic retinopathy affects approximately one-third of adults with diabetes and is the leading cause of vision loss in people of working age.
VEGF is a protein that promotes the growth of new blood vessels. It also makes the blood vessels leakier, such as those at the back of the eye. Anti-VEGF medicines stop the growth of these new blood vessels, which can prevent damage to the retinal light receptors and loss of central vision.
Citing the invasive route of administration of anti-VEGF injections and occasional serious side effects, Mr. Elam says there is a tendency to delay treatment until later in the course of the disease.
"In the current treatment paradigm, the disease has to be advanced to justify commencing eye injections and as a result, retinal specialists often wait for years until there is central DME and vision loss before starting therapy," he adds. "An oral therapy would make it possible to treat earlier, reach more patients and act preventatively before the disease advances."
Mr. Elam explains that Rezolute's DME solution is a small molecule, oral drug candidate, RZ402, which targets a different pathway, the Kallikrein–Kinin system, to address inflammation and vascular leakage as a possible treatment alternative for patients.
RZ402 has the potential to inhibit kallikrein activation in human plasma, he points out, noting that in relevant animal models, RZ402 suppressed vascular leakage by up to 90%.
In an earlier Phase 1 single-and-multiple ascending dose study with 70 individuals, RZ402 was generally safe and well-tolerated, including at higher doses than previously tested in the single ascending dose study. There were no serious adverse events, adverse drug reactions or identified risks.
In addition, the Phase 1 study demonstrated good bioavailability, with drug levels that safely exceeded target efficacious concentrations, supporting potential for once-daily dosing.
In December 2022, Rezolute launched a multi-center, randomized, double-masked, placebo-controlled, parallel-arm Phase 2 proof-of-concept study for RZ402. The study is evaluating safety, efficacy, and pharmacokinetics of RZ402 administered as monotherapy over a 12-week treatment period in participants with DME who are naïve to or have received limited anti-VEGF injections.
Rezolute is seeking to enrol around 100 patients at about 25 clinical sites in the U.S. randomized equally to receive one of three RZ402 active treatment arms at doses of 50 mg, 200 mg, and 400 mg, or a placebo control arm, once daily for 12 weeks, before completing a four-week follow-up.
The principal endpoints of the trial include the change in central subfield thickness as measured by tomography, the change in best-corrected visual acuity, the repeat dose pharmacokinetics of RZ402 in patients with DME, and safety and tolerability. Proof-of-concept topline data are expected by the first quarter of 2024.
While RZ402 is being developed as monotherapy, it could be used in combination with anti-VEGF injections, Mr. Elam says, adding that RZ402 or other kallikrein inhibitors in its portfolio have the potential to treat other ocular conditions, such has diabetic retinopathy, hereditary angioedema, and systemic inflammatory syndromes.
Rezolute's other clinical-stage program is targeting congenital hyperinsulinism (HI), an ultra-rare pediatric disease caused by an over-production of insulin from the pancreas beta cells regardless of blood sugar levels, resulting in life-threatening hypoglycemia and neurologic damage.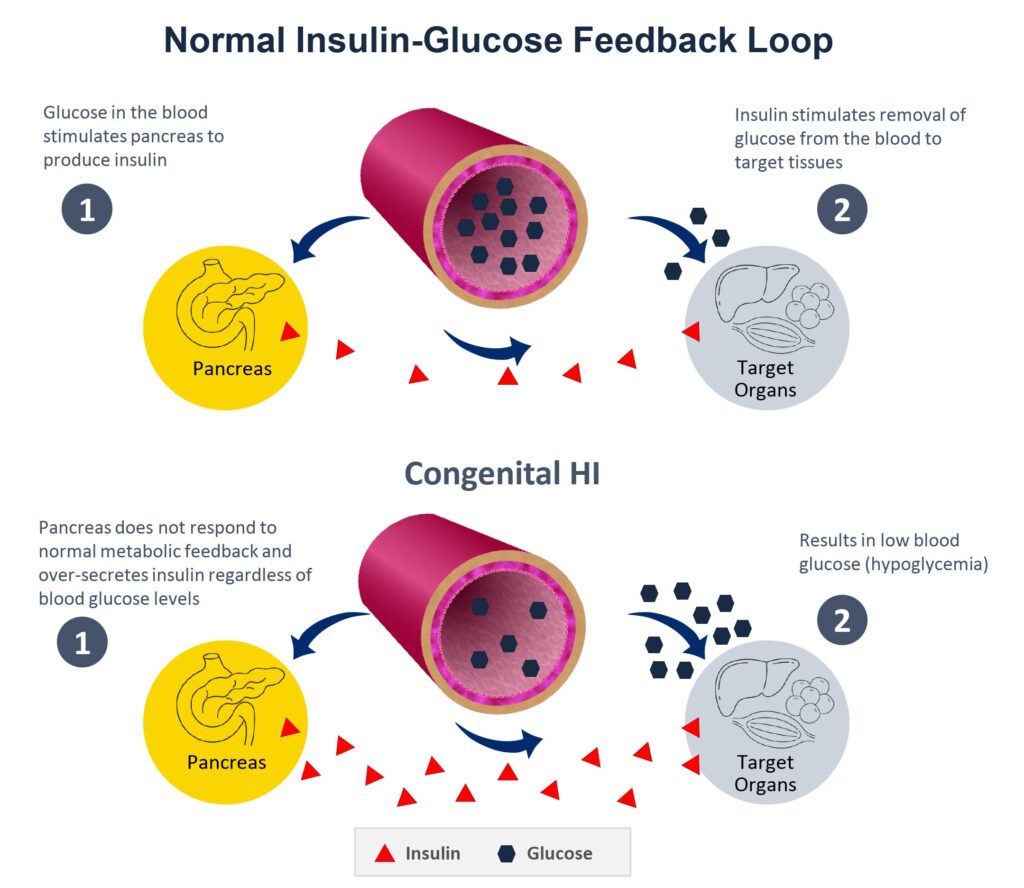 Persistent hypoglycemia in infants and children can starve the brain of energy and risk coma and death. Symptoms are often not recognized until they become life-threatening.
There is no FDA-approved therapy that addresses all forms of congenital HI, which affects 1-in-33,000 live births worldwide. Mr. Elam says current standard of care treatments are suboptimal because of side effects and significant persistent hypoglycemia.
The two most commonly used long-term medications, diazoxide and somatostatin analogs, are not FDA approved for all forms of this condition and often are ineffective or have significant side effects. In cases of congenital HI that are unresponsive to medical management, surgical removal of the pancreas may be required.
Mr. Elam explains that Rezolute's RZ358 is a human monoclonal antibody that is designed to work "downstream from the pancreas regardless of the causative genetic defect of HI." The antibody has the potential to counteract the effects of elevated insulin in the body by modifying insulin's binding, signaling, and activity to maintain glucose levels in a normal range, he suggests.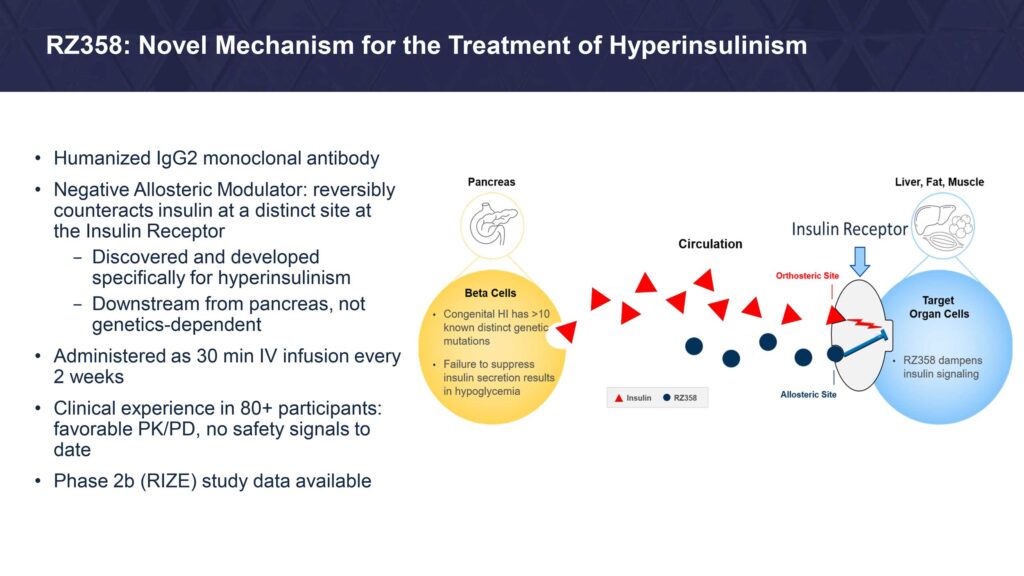 RZ358 has received orphan drug designation in the U.S. and European Union as well as pediatric rare disease designation in the U.S.
In a Phase 2a clinical study, RZ358 demonstrated proof-of-concept by restoring subjects with hypoglycemia to normal range and subjects with normal blood glucose levels remained the same, with the effect persisting for four weeks consistent with results of a Phase 1 study.
In Rezolute's Phase 2b clinical study with a young pediatric population, RZ358 demonstrated an approximate 50% improvement in hypoglycemia across all doses and cohorts and an approximate 75% improvement in hypoglycemia at the 6 mg/kg and 9 mg/kg cohorts, the likely two dosing levels to be studied in a Phase 3 clinical trial. There was no evidence of significant hyperglycemia.
"The study exceeded expectations for correction of hypoglycemia, which sets the stage to advance RZ358 into a Phase 3 registration program," Mr. Elam says.
• • • • •
To connect with Rezolute or any of the other companies featured on BioTuesdays, send us an email at [email protected].