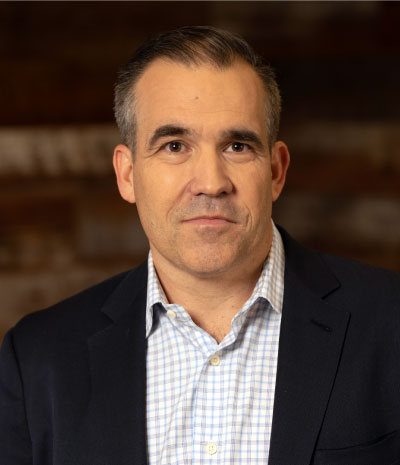 Closely-held KeifeRx is developing optimized, low dose, oral tyrosine kinase inhibitors (TKIs) for the treatment of multiple neurodegenerative and immune diseases.
"We have a portfolio of Phase 2/3 ready and preclinical TKI drugs that have been designed to penetrate the blood-brain-barrier, clear damaged cells, and treat neurodegenerative conditions through a bulk disposal of disease-causing toxic proteins, which kill nerve cells," Chris Hoyt, CEO of KeifeRx, says in an interview with BioTuesdays.
TKIs, which have been largely associated with cancer therapy, are a class of drugs that work by disrupting the signaling pathways that tyrosine kinases use to control cell growth and division. However, the challenge with TKIs is their off-target side-effects.
Mr. Hoyt explains that KeifeRx is leveraging mechanisms of action inherent to TKIs that have been underexploited, such as inducing autophagy and preventing release of toxic proteins by degrading them in the cell. In addition, he says that by targeting mast cells and simultaneously modulating peripheral and central immunity, TKIs have a therapeutic potential against inflammatory diseases.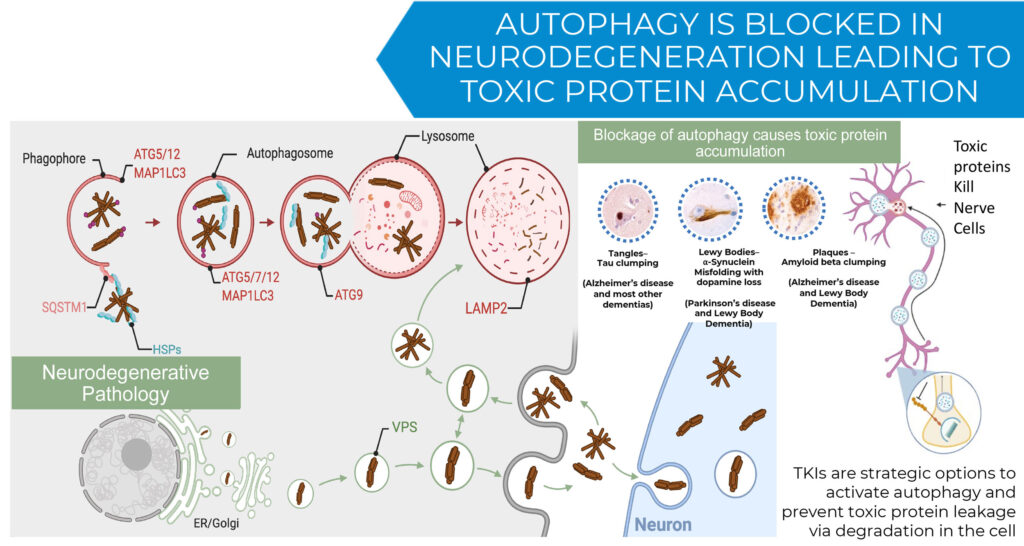 "These properties offer the potential to significantly improve on current neurodegenerative and immune disease treatments, which are primarily palliative and offer minimal and temporary benefits due to their inability to adequately eliminate toxic proteins and mitigate inflammation," he contends.
KeifeRx was formed in 2019 to license a set of TKI drug compounds developed at Georgetown University in the lab of Charbel Moussa, Ph.D., a co-founder of KeifeRx and director of its scientific board. Dr. Moussa is the director of the Georgetown University Medical Center Translational Neurotherapeutics Program, with 20 years of experience in scientific, regulatory, pre-clinical R&D and IND-enabling studies, clinical development through Phase 1 through 3 trials in academia and industry.
Mr. Hoyt says Dr. Moussa spent the better part of 10 years proving out the hypothesis that at lower doses, reformulated oncology drugs, such as nilotinib and bosutinib, could get into the brain and have a positive impact on toxic proteins.
"We've also seen another mechanism of action on the peripheral and central nervous system where TKIs have the potential to reduce growth of mast cells, which are implicated in immune diseases, such as allergies and Lyme disease."
Mr. Hoyt notes that Georgetown spent $27-million to de-risk two reformulated clinical assets and four new chemical entities that it licensed to KeifeRx.
The company's lead clinical asset, KFRX01, is a Phase 2/3 ready bioequivalent of Novartis' nilotinib, that KeifeRx is targeting for early Alzheimer's disease and Parkinson's disease. Nilotinib was approved for the treatment of leukemia in 2007.
"We have optimized a formulation of KFRX01 using a daily dose of 84 mg and 112 mg, compared with its cancer dosage of 600 mg to 1,200 mg," he points out. "We are triggering autophagy on four hours of treatment of every 24-hour cycle, which enables lowering the dose and improving safety."
Mr. Hoyt says KFRX01, which has a strong safety profile, has a unique mechanism of action to reduce amyloid on an intracellular basis in the brain while also reducing inflammation "making for a perfect complement to amyloid therapies, such as lecanemab." Besides removing toxic proteins like amyloid and tau, "our improved safety profile is achieved through reduced inflammation," he adds.
Georgetown is preparing to publish an article for a medical journal in the first half this year, detailing Phase 2 data that nilotinib protects against cell death by slowing hippocampus loss in the brain.
KeifeRx has an exclusive license on a method of use and composition of matter patents in neurodegenerative diseases owned by Georgetown. It also has a partnership with Sun Pharma who has a patent on a nilotinib bio-equivalent through 2036.
KeifeRx's second clinical asset is a Phase 2b ready oral compound, KFRX02, a repurposed formulation of Pfizer's leukemia drug, bosutinib, for the treatment of Lewy body dementia, which combines movement disorders associated with Parkinson's disease with the cognitive decline of Alzheimer's disease, and moves at a faster rate than either of those two diseases.
As part of a collaboration, Pfizer is supplying bosutinib to KeifeRx for a proposed Phase 2b clinical trial of KFRX02. KeifeRx has optimized the formulation to a lower dose of 100 mg to 300 mg, compared with its dose in cancer treatment of more than 500 mg daily.
Mr. Hoyt says bosutinib had a strong safety profile in a Phase 2 clinical trial conducted by Georgetown. The study also demonstrated that bosutinib directly inhibits two cytoplasmatic tyrosine kinase targets, ABL/SRC, which are involved in the development of malignancies and also significantly reduces the breakdown of dopamine in the brain.
KeifeRx's method of use patent for KFRX02 in neurodegenerative diseases runs through 2032.
In its preclinical program, Mr. Hoyt says the company's therapeutic strategy is focused on KFRX03 and KFRX04 for the treatment of neurodegenerative, neuro-and -systemic inflammation, as well as mast cell diseases.
"These compounds have the potential for high CNS exposure and inhibition of select tyrosine kinases, which provides an opportunity to address multiple diseases with no off-target side effects," he contends.
KeifeRx has raised $7-million to date, including seed financing in the summer of 2021 to move its programs forward. The company is currently raising $10-million to fund development of its preclinical new chemical entities, KFRX03 & KFRX04, through INDs to first-in-human studies and provide an operating expense runway through the first half of 2025.
Later in 2023, KeifeRx hopes to raise an additional $60-million to fund a Phase 2b clinical trial using bosutinib in Lewy body dementia and Phase 2/3 trial using nilotinib BE in early Alzheimer's disease with trials ready to start in 2023.
"Our financing strategy is essentially being driven by the current financing market and the fact that we're a relatively new company that's building executive leadership in the life sciences part of the business," Mr. Hoyt suggests.
"To continue KeifeRx's momentum, our belief is we can raise $10-million from existing and new investors during the first half of this year and go for the larger financing in the second half this year."
Pipeline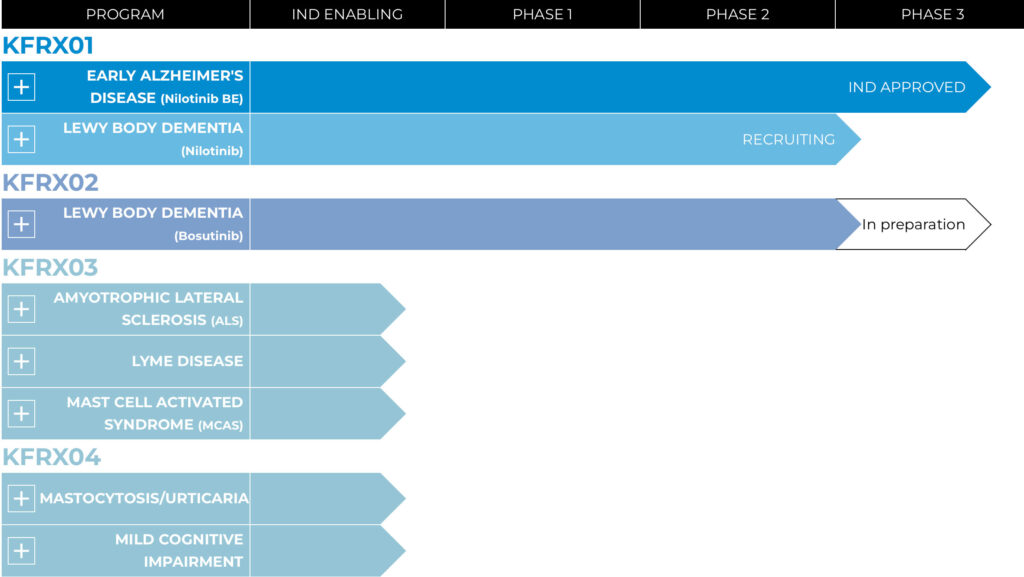 Editor's Note: This article does not constitute an offer to sell or the solicitation of an offer to buy any securities of KeifeRx, and shall not constitute an offer, solicitation or sale of any security in any state or jurisdiction in which such offer, solicitation or sale would be unlawful prior to registration or qualification under the securities laws of any such state or jurisdiction.
• • • • •
To connect with KeifeRx or any of the other companies featured on BioTuesdays, send us an email at [email protected].