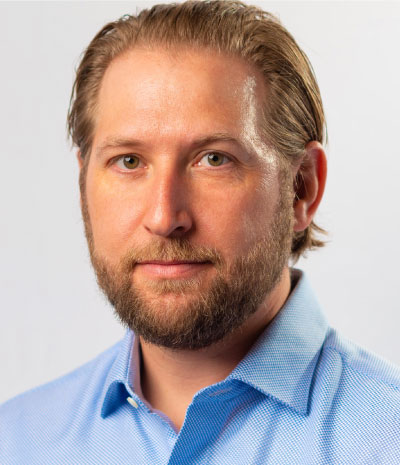 Fresh from a decision by the Center for Medicare Services to establish national pricing for its VENDAJE allografts for regenerative therapies, BioStem Technologies (OTCQB:BSEM) is gearing up for a new spurt of growth.
"VENDAJE allografts now offers healthcare providers and their Medicare beneficiary patients a proven effective, reimbursable treatment option for lower extremity non-healing wounds," Jason Matuszewski, CEO of BioStem, says in an interview with BioTuesdays.
"This will accelerate our momentum as we expand availability of VENDAJE to even more patients, thereby increasing adoption and creating better patient outcomes," he adds.
BioStem currently manufactures three perinatal tissue allograft products as a protective covering for various soft-tissue wounds: VENDAJE, VENDAJE AC and VENDAJE Optic. All VENDAJE products have a three-year shelf live and can be stored at room temperature.
Mr. Matuszewski explains that perinatal tissue allografts can provide the scaffolding required for cells and growth factors to connect and initiate regenerative activity to accelerate the healing process.
BioStem uses non-controversial tissues that would otherwise be discarded as medical waste, including the amnion and chorion layer of the placental membrane from healthy pregnancies that reach full term. The amnion and chorion layers are two nutrient-rich components of the human placenta that are essential to the function of BioStem's tissue allografts.
"Our proprietary BioRetain process is a unique tissue processing technique that is designed to isolate and separate amnion and amnion with chorion from a placenta while preserving growth factors and tissue structure," he adds.
"We don't harvest human placentas but work with a number of tissue recovery agencies across the U.S., with a focus on healthy mom and baby, and full term pregnancy donors."
BioStem's product portfolio includes:
VENDAJE, a dehydrated placental allograft that can be used for advanced wound care as a substitute for skin grafts or placed over open wounds to speed up and improve the healing process after surgery. VENDAJE retains only the amnion layer of the placenta.
VENDAJE AC, a thicker multilayer dehydrated placental allograft that retains all native layers of the placenta, including the amnion, chorion and spongy layers, which creates the thicker graft needed for use in more complex cases, such as burns or advanced surgical wound care recovery and ulcers.
And VENDAJE Optic, a dehydrated placental allograft, made up of the amnion layer alone and used to repair wounds or heal surgery incisions on the eye.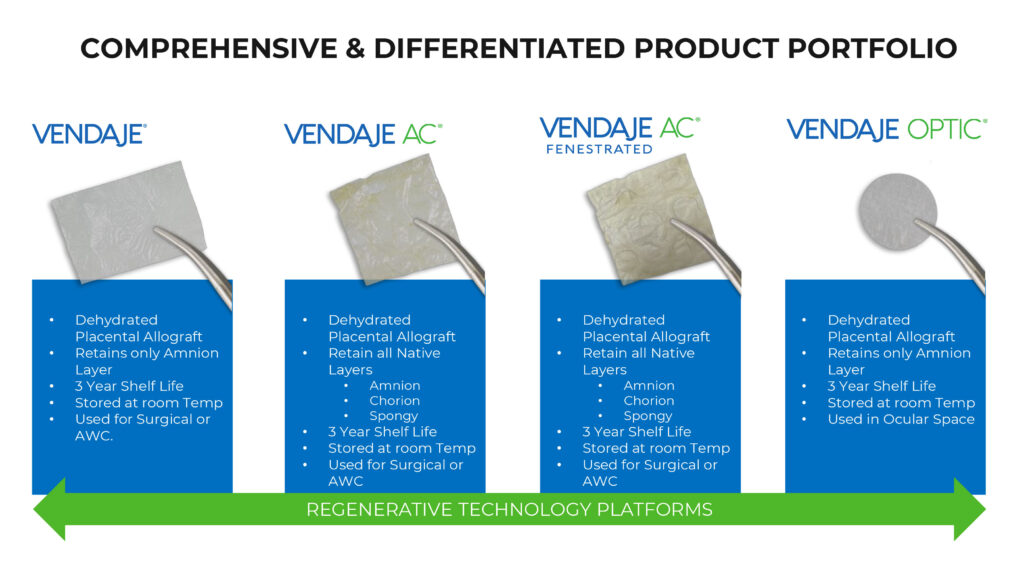 Established in 2014 with a focus on harnessing the elements of stem cells from bone marrow, BioStem pivoted to the perinatal space four years ago and acquired certain VENDAJE assets and built a manufacturing facility in Pompano Beach, Fla.
The company's fortunes began rising in 2021 after it received a Healthcare Common Procedure Coding System "Q" code from the Centers for Medicare and Medicaid for VENDAJE.
"The CMS code was an integral building block of our growth and reimbursement strategies as it provided greater access to our tissue allograft," Mr. Matuszewski says.
BioStem has applied for a Q code for VENDAJE AC and expects a decision in 2023. If issued, it would expand the company's CMS-reimbursable product portfolio and total addressable market.
"We believe our BioRetain process has a competitive advantage in the space because our allograft products retain elevated levels of the inherent beneficial biologic qualities and components of allograft products," he contends.
The strategy seems to be working. Gross profit for the nine-months ended Sept. 30, 2022, was $5.07-million, or 83% of revenue, compared with $1.94-million, or 62% of net revenue, a year earlier.
Mr. Matuszewski says the company's goal is to achieve 20% year-over-year increase in revenue for 2023 and launch four new products, with two in wound care and two in surgical recovery, in 2023 and 2024. The company also plans to initiate a random control trial of its VENDAJE AC allograft for the treatment of diabetic foot ulcers.
BioStem has a direct sales force of five reps in the field that Mr. Matuszewski sees growing to 25 by the end of the year along with additions to independent sales reps that would effectively double the company's commercial team.
In addition, the company is stepping up a program to engage with key opinion leaders in wound care as well as foot and ankle surgeons to penetrate additional sites of care, such as the operating room, and accelerate adoption of its products, Mr. Matuszewski says.
The stakes are huge. Globally, advanced wound care represents a $10.1-billion market. BioStem's niche of biologics accounts for 18% of the total market and includes a skin substitutes sub-market that is growing at a 12% compound annual rate and is expected to reach $2-billion by 2026.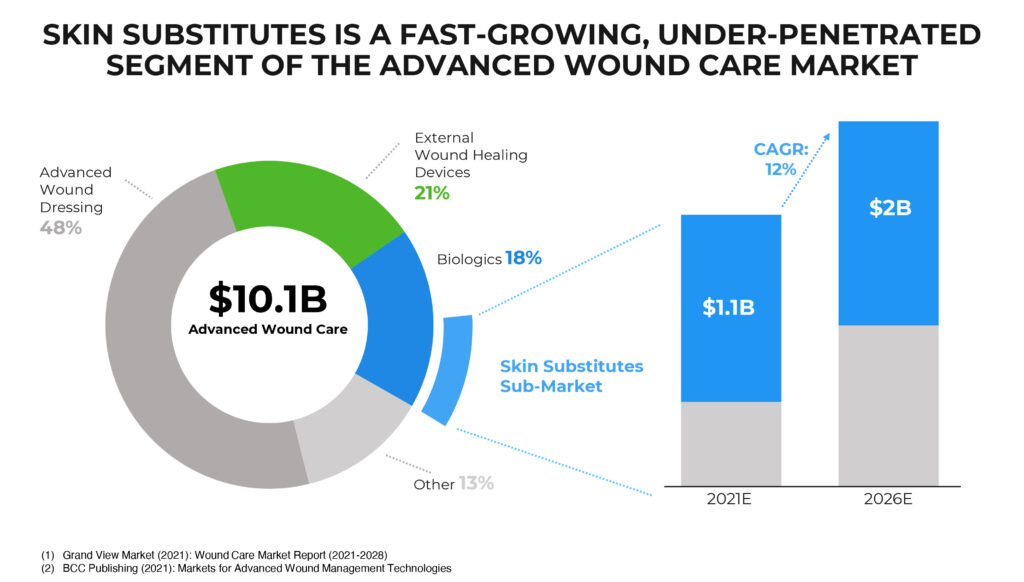 According to UT Southwestern Medical Center, more than 100,000 skin grafts are performed in the U.S. each year for issues such as infections causing skin loss, burns, cosmetic or reconstructive surgeries, other surgeries that need skin grafts to heal, as well as venous ulcers, pressure ulcers and diabetic ulcers.
For example, the annual incidence of diabetic foot ulcers worldwide is between 9.1 million and 26.1 million, while 15% to 25% of patients with diabetes mellitus will likely develop foot ulcers during their lifetime. The total medical cost for the management of diabetic foot ulcers in the U.S. ranges from $9-billion to $13-billion, excluding the costs to manage diabetes.
Mr. Matuszewski says the company's manufacturing facility is currently processing up to 50,000 square centimeters of tissue a month and capacity will double after an expansion of clean room space is completed in the second quarter this year.
"That would give us the ability to manufacture $17-million worth of product per month, which is more than we expect to sell on an annualized basis," he adds. "But it gives us the opportunity to know we have more than enough capacity to support our growth strategy."
• • • • •
To connect with BioStem Technologies or any of the other companies featured on BioTuesdays, send us an email at [email protected].