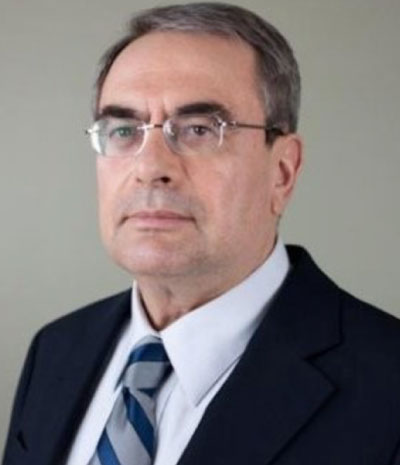 Theralase Technologies (TSXV:TLT; OTCQB:TLTFF) expects to complete enrollment and primary study treatment in early 2024 of a Phase 2 pivotal clinical study for non-muscle invasive bladder cancer (NMIBC) with its light activated, lead photo dynamic compound, TLD-1433.
Specifically, the company is pursuing patients with Bacillus Calmette Guérin (BCG)-unresponsive NMIBC with carcinoma in-situ (CIS), with or without resected Ta / T1 papillary tumors, who are not eligible for or have elected not to proceed with radical cystectomy or who are intolerant to BCG therapy.
"We are targeting bladder cancer from the inside-out, like a Trojan horse," Dr. Arkady Mandel, interim chief executive officer and chief scientific officer, says in an interview with BioTuesdays, adding that the company achieved encouraging clinical study data from an interim analysis in November 2022.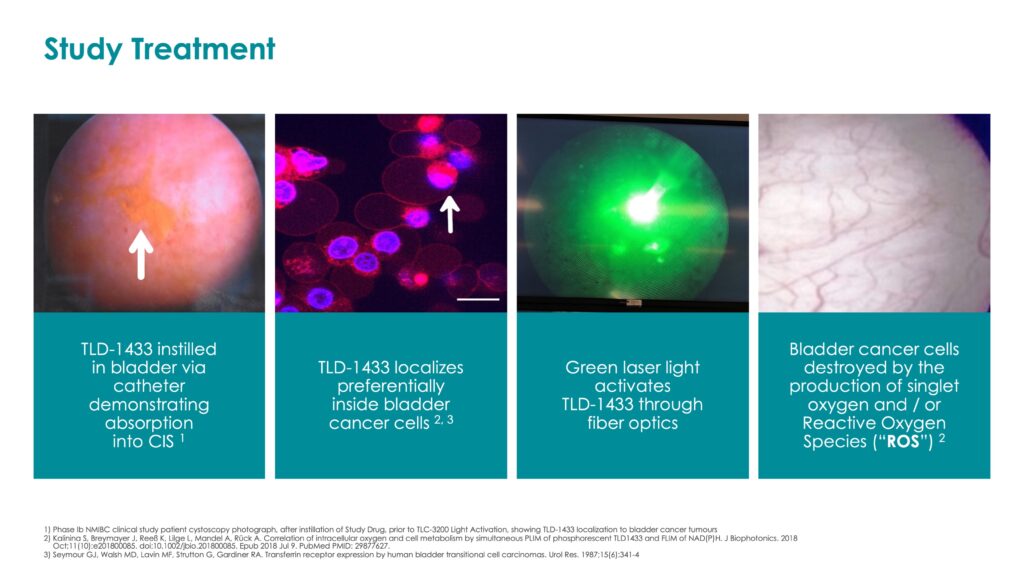 He explains that TLD-1433 solution is instilled into the bladder, where it is preferentially absorbed through transferrin receptors located on the surface of bladder cancer cells. A fiber optic is then inserted intravesically into the bladder to allow a green laser light to activate TLD-1433, to destroy the bladder cancer cells.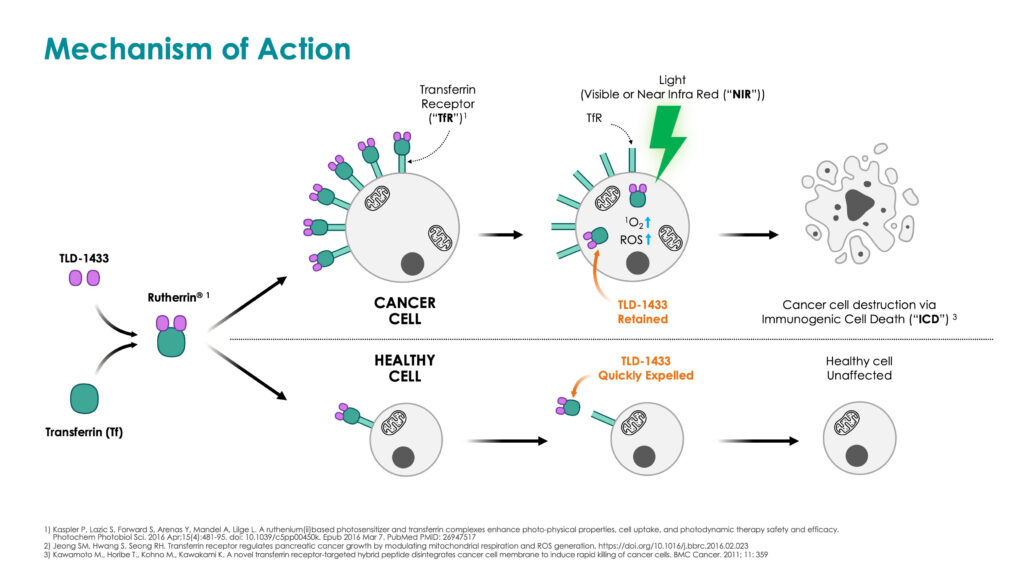 Dr. Mandel notes that bladder cancer cells are destroyed by the production of a violent form of oxygen, known as singlet oxygen and/or reactive oxygen species, inside the bladder cancer cell, which causes oxidative stress to the cancer cells, resulting in immunogenic cell death. Normal bladder cells are left unharmed, as they have far fewer transferrin cell receptors to absorb TLD-1433, he added.
TLD-1433 received U.S. FDA fast track designation in 2020.
Published clinical research has shown that intravesical BCG therapy is the current standard of care for NMIBC and that patients are able to achieve an initial complete response rate as high as 75% after one-to-two BCG courses of treatment; however, responses to BCG often are not durable and 50% of BCG treated patients recur within one year.
"Our target market with TLD-1433 is patients with NMIBC CIS who recur within one year after receiving two courses of BCG and are therefore considered to be BCG-unresponsive," Dr. Mandel says.
In addition, published clinical research acknowledges that there is a 20% to 40% risk of patients with BCG-unresponsive CIS progressing to muscle invasive bladder cancer, where approximately half of these patients develop metastatic disease, resulting in death in nearly all cases.
The standard of care for BCG-unresponsive CIS is life-altering radical cystectomy, or the removal of the entire bladder, often along with the prostate and seminal vesicles, in men, and the removal of the uterus, ovaries, fallopian tubes and part of the vagina, in women, who are then fitted with a urostomy bag to externally collect their urine.
"There is an urgent unmet need for a non-surgical alternative to radical cystectomy in this patient population and we are firmly committed to developing the next standard of care for NMIBC," Dr. Mandel contends.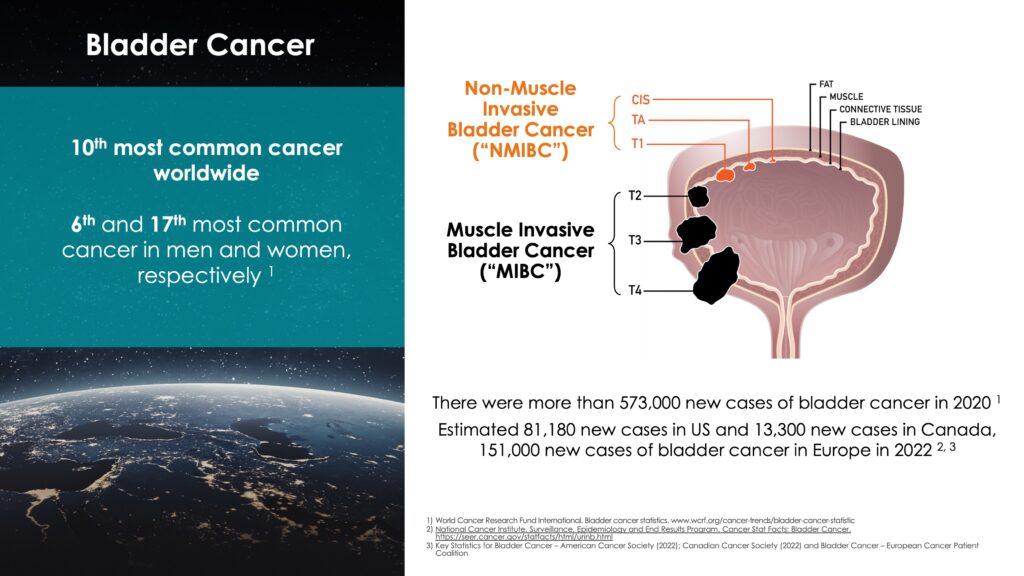 According to published clinical research, there were more than 573,000 new cases of bladder cancer in 2020. In 2022 there are estimated to be 82,000 new cases in the U.S., 151,000 in Europe and 13,000 in Canada. Bladder cancer is the 10th most common cancer worldwide, but 6th most common in men.
According to a research study by Global Data, bladder cancer has the highest lifetime treatment costs per patient of all cancers. From diagnosis to death, it can cost between $89,000 (U.S.) to $200,000 to treat a bladder cancer patient, reflecting the cost of constant surveillance for the disease.
"If we succeed with an alternative treatment to radical cystectomy for NMIBC, the market potential could be valued in the billions of dollars annually," Dr. Mandel suggests.
Theralase has spent 19 years developing its patented, light-activated photo dynamic compounds to destroy cancer, bacteria and viruses.
In addition to its lead cancer indication of NMIBC, in its pipeline, the company is also conducting scientific and preclinical research with photo dynamic compounds for glioblastoma multiforme, a deadly form of brain cancer; non-small cell lung cancer, one of the most common cancers in the world; and in the development of a vaccine for various enveloped viruses, including influenza, Zika virus, herpes simplex and coronaviruses, including SARS-CoV-2, responsible for the recent COVID-19 pandemic.
TLD-1433 is a ruthenium-based photo dynamic compound that has been designed to destroy solid core tumors, such as bladder, brain, lung and breast, when absorbed internally by the cancer cell and then light activated.
"TLD-1433 has been manufactured in kilogram batches to good manufacturing practice standards, with a high yield and 98% purity, allowing scale up for commercial use," Dr. Mandel says. "Less than a gram of TLD-1433 is required to provide a single study treatment per patient in the Phase 2 NMIBC study."
Theralase's intellectual property for its photo dynamic compounds and laser technology is protected by 46 issued patents and 23 patents pending in the U.S., Canada and internationally. A U.S. composition of matter patent runs until 2033 and may be eligible for a five-year extension, extending life on the base patent until 2038.
In a previously completed Phase 1b clinical study, with a primary objective of safety, the Theralase drug-device technology achieved a high safety profile and 66% complete response rate for patients treated with the therapeutic dose of TLD-1433, up to 540 days post-initial treatment.
The company is seeking to enrol 100-to-125 patients with BCG-unresponsive NMIBC CIS in its Phase 2 pivotal clinical study, which treated its first patient in August 2019.
"We are approximately halfway through enrollment, with 11 clinical study sites currently enrolling patients and plans to add up to an additional nine clinical study sites in 2023 for a total of up to 20 clinical study sites in Canada and the United States," according to Dr. Mandel.
Theralase's current clinical study sites in the U.S. include the University of Chicago, Urology Associates, MidLantic Urology, Carolina Urologic Research Center, University of Wisconsin at Madison and Urology San Antonio. Clinical study sites in Canada include University Hospital Network, McGill University, London Health Sciences Center, Nova Scotia Health Authority and the University of British Columbia.
Dr. Mandel says that the company plans to apply for FDA breakthrough drug designation in the first quarter of 2023 on the basis of the Phase 2 clinical study data collected to date.
According to FDA guidance in 2018, Theralase designed its clinical study on the hypothesis that TLD-1433 would demonstrate a durable complete response rate that is greater than 20% in patients with BCG-unresponsive NMIBC CIS, 12 months after initial complete response.
The pivotal clinical study includes the following objectives:
Primary – efficacy (Complete response rate at any point in time).
Secondary – duration of efficacy (Duration of complete response at 360 days, post-initial complete response).
Tertiary – safety (Incidence and severity of adverse events that do not resolve within 450 days post-initial treatment).
The Data Safety Monitory Board has determined that adverse events to date have not been directly related to the drug-device treatment, but rather to the disease, anesthesia and/or cystoscope being inserted into the bladder.
Dr. Mandel says that the FDA, in its 2018 guidance to industry, defined complete response for single-arm trials of patients with BCG-unresponsive NMIBC CIS disease to include one of the following:
Negative cystoscopy (no urothelial cell carcinoma (UCC) in the bladder) and negative urine cytology (no UCC detected in the urine).
Positive cystoscopy (if only low grade UCC detected in the bladder) and negative urine cytology.
Negative cystoscopy and positive urine cytology (if upper or lower tract UCC can be detected in the kidney, ureters, prostatic urethra or urethra).
"The FDA recognizes that an intravesical instillation inside the bladder does not address disease outside the bladder," Dr. Mandel adds.
In November 2022, Theralase reported encouraging interim clinical data from the pivotal clinical study, with 53% (43 evaluable patients) achieving a complete response at 90 days; 29% (34 evaluable patients) at 360 days; and 28% (29 evaluable patients) at 450 days.
Including patients with an indeterminate response (negative cystoscopy and positive urine cytology, where upper of lower tract UCC has not been identified but is still under investigation by the clinical study sites) patients exhibited a total response are 67% at 90 days; 44% at 360 days; and 38% at 450 days.
"Although the clinical data is early in its analysis, interim data to date is trending stronger than FDA approved KEYTRUDA produced by Merck," Dr. Mandel points out.
"If Theralase is able to complete enrollment and primary study treatment in early 2024, follow-up of the last patient enrolled (15 months post-initial treatment) would correspond with a complete data set in mid-2025, he adds.
Theralase's proposed regulatory pathway is an IND/NDA submission for the study drug, TLD-1433 and a premarket approval for the study device, which if successful, could lead to regulatory marketing approval in 2026.
Dr. Mandel also notes that the company expects to commence partnering talks with large pharmaceutical companies in 2023 / 2024 to commercialize the technology for BCG-unresponsive NMIBC CIS.
• • • • •
To connect with Theralase or any of the other companies featured on BioTuesdays, send us an email at [email protected].