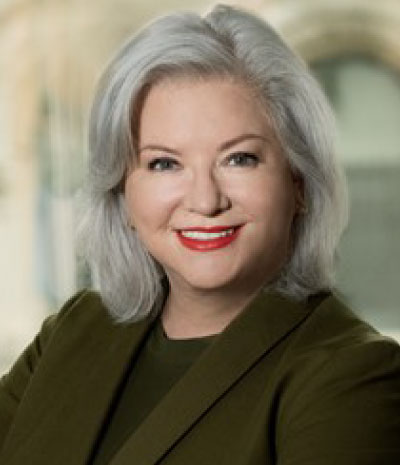 Closely-held OcuTerra Therapeutics is conducting a Phase 2 clinical study of a novel eye drop for earlier, non-invasive treatment of patients with moderate-to-severe diabetic retinopathy to preserve vision.
"We see an opportunity to address a tremendous unmet need by transforming treatment of diabetic retinal disease with our differentiated lead asset, OTT166," Kerrie Brady, president and CEO of OcuTerra, says in an interview with BioTuesdays.
She says OTT166 has been specifically designed to be administered as an eye drop by the patient at home before diabetic retinopathy has advanced to diabetic macular edema, a vision-threatening complication that involves swelling of the most visually sensitive parts of the retina, which interferes with vision.
Retinal damage in diabetic retinopathy is the leading cause of severe vision loss in people of working age. The highly prevalent condition is found in about 30% of people with Type 2 diabetes and about 80% in Type 1 individuals.
Ms. Brady suggests that the "watch and wait" current standard of care does not control the progression of the disease. "A better approach is active treatment that prevents or delays vision loss before it happens."
She contends that patients with moderate-to-severe non-proliferative diabetic retinopathy without diabetic macular edema or vision loss face an especially difficult decision to either "watch and wait" and risk progression to vision loss or begin anti-VEGF eye injections, with multiple drawbacks of repeat treatments. "The vast majority of patients are not eager to begin anti-VEGF therapy."
By potentially enabling earlier non-invasive treatment, OcuTerra's goal is to prevent progression, which would delay or completely eliminate the need for intravitreal injections and destructive laser procedures.
Studies suggest that 4.1 million people in the U.S. have moderate-to-severe non-proliferative diabetic retinopathy, of which 25% are untreated and will develop vision-threatening complications within six months. "Surveillance is most commonly recommended and anti-VEGF is not routinely given," she adds.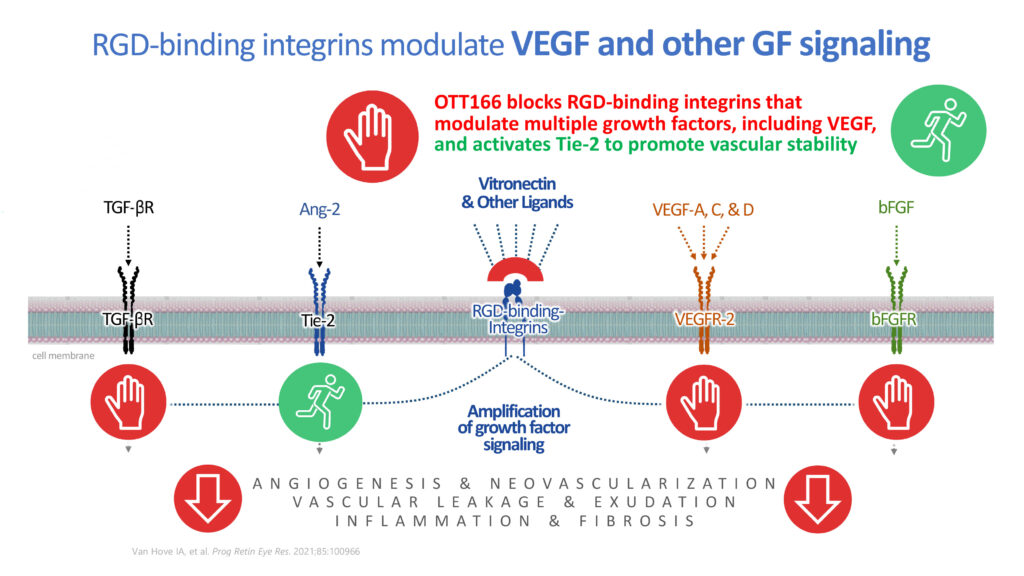 Ms. Brady explains that OTT166 is a small molecule RGD-binding integrin inhibitor that has been engineered to have an optimum balance of physiochemical properties to allow it to distribute to the retina in high concentrations after topical administration.
Integrins are transmembrane receptors that are the bridges for cell-cell and cell-extracellular interactions. They modulate the intricate molecular pathways and regulate the underlying pathological mechanisms in complex multifactorial retinal disorders like diabetic retinopathy, diabetic macular edema and age-related macular degeneration.
Blocking certain integrins stops multiple growth factors responsible for new blood vessel growth and vascular leakage. Inhibition of certain integrins also has the potential to reduce fibrosis, a long-term complication of retinal disease, even with anti-VEGF injection treatment.
Ms. Brady joined OcuTerra in June 2020 to bring the company through another stage of financing, which culminated in November 2021 with a $35-million series B raise to fund OTT166 through its Phase 2 milestones.
Since Ms. Brady's arrival, she also has renamed the company, recruited ex-Allergan CEO, Brent Saunders, as chairman of OcuTerra, and former Novartis ophthalmology senior executive, David Tanzer, M.D., as CMO, and beefed up the board with pharma veterans.
OTT166 has been tested in an extensive set of preclinical studies and shown to reach the back of the eye and be effective in validated in vivo models of macular disease.
In a Phase 1b first-in-humans study to determine safety and evidence of biologic activity, 44 diabetic retinopathy patients who also had the sight-threatening complication of diabetic macular edema were treated with two different concentrations of OTT166 twice-daily for 28 days and then monitored for 28 days with no further treatment.
There was a clinically meaningful reduction in mean and median central retinal thickness in both groups combined at the end of the study and 37% were deemed to be clinical responders as judged by three retina specialists. In addition, OTT166 was well-tolerated with no evidence of ocular or systemic toxicity, and no drug-related serious adverse events.
Based on these findings, OcuTerra in August 2022 began its 24-week Phase 2 DR:EAM study to evaluate safety and efficacy of OTT166 in about 200 adult patients with moderately severe-to-severe non-proliferative diabetic retinopathy or mild proliferative diabetic retinopathy with minimal vision loss.
The primary efficacy endpoint of the clinical trial is the percentage of patients that have a two-step improvement in the diabetic retinopathy severity scale.
Additional endpoints of the clinical trial include measuring the prevention of progression to vision-threatening complications, amount of delayed time to intravitreal injection and/or laser treatment, and exploratory imaging endpoints.
"OTT166, if approved, could shift the treatment paradigm in diabetic retinopathy by expanding the prescriber base for earlier diagnosis and treatment, increasing patient access and preventing disease progression," she says.
• • • • •
To connect with OcuTerra Therapeutics or any of the other companies featured on BioTuesdays, send us an email at [email protected].