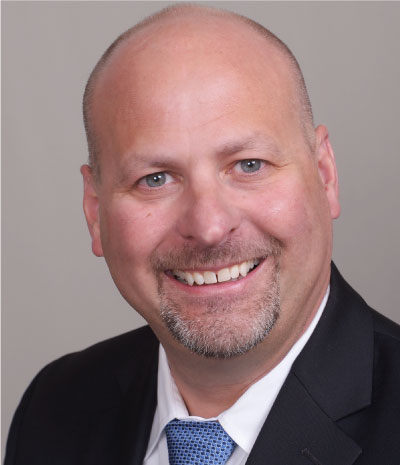 SeaStar Medical (NASDAQ:ICU) expects an FDA decision in the first quarter on a humanitarian device exemption application to use its Selective Cytopheretic Device (SCD) to treat the life-threatening effects of hyperinflammation in pediatric acute kidney injury (AKI) patients who are on continuous kidney replacement therapy (CKRT), or dialysis. The filing was accepted for review in July 2022.
In parallel with the pediatric AKI program, SeaStar Medical plans to initiate a pivotal trial in the first quarter for the same indication in adults.
"SCD is an innovative cell-directed extracorporeal therapy, not a blood filtering device, that works to restore immune system homeostasis," Eric Schlorff, CEO of SeaStar Medical, says in an interview with BioTuesdays.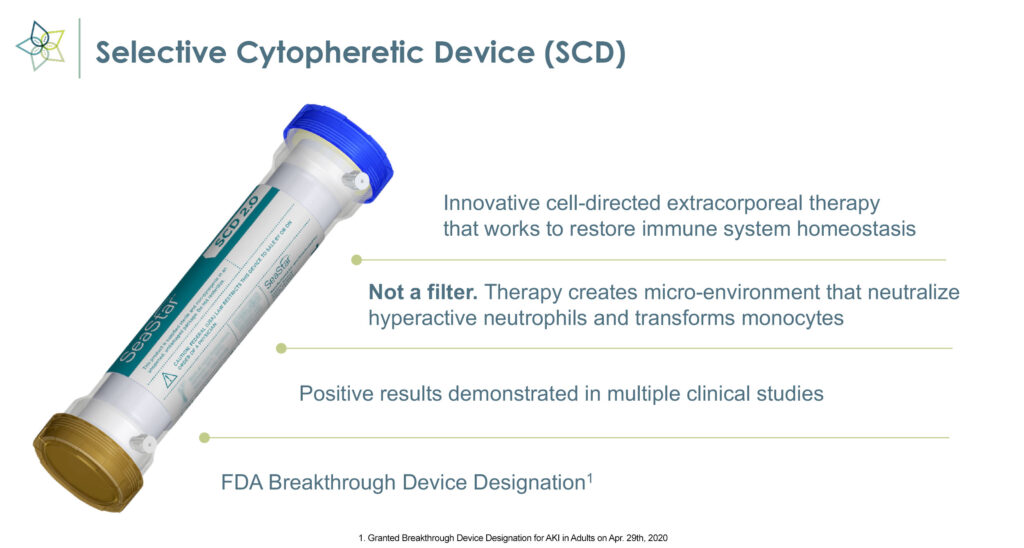 The medical device employs immunomodulating technology to selectively target proinflammatory neutrophils and monocytes and remove the cytokine storm that causes inflammation, organ failure, and possible death in critically ill patients.
Mr. Schlorff explains that SCD works with commercially available hemofiltration systems to enable precise fluid and solution balance control to selectively target and transition proinflammatory monocytes to a reparative state and promote activated neutrophils to be less inflammatory.
"This unique immunomodulation approach may reverse injury and eliminate the need for CKRT going forward," he adds. "In effect, the technology transforms key inflammatory messengers from agents of destruction to agents of repair."
Hyperinflammation or a cytokine storm develops when the immune system responds too aggressively to bacterial and viral infections, trauma and surgery, and can lead to permanent organ damage.
"By restoring reparative physiology, the SCD can help the body heal, potentially eliminating dialysis dependency and getting patients out of the intensive care unit (ICU) faster so they can return to their daily lives," he adds.
SCD, which received FDA breakthrough device designation in May 2022, uses existing CKRT equipment and can be set up in 15 minutes.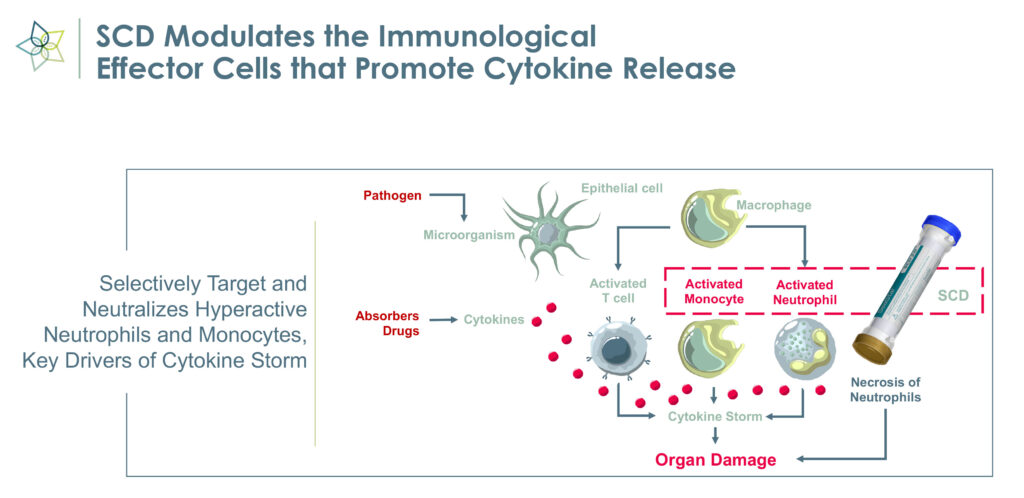 "Harmful neutrophils are taken out of circulation, deactivated and returned to the spleen, which signals that a cytokine storm has been quelled," Mr. Schlorff says, adding that "we have effectively created a feedback mechanism." The deactivated neutrophils may signal that the immune system now can focus on reparative functions, he adds.
According to Mr. Schlorff, it takes approximately four days for the therapy to reset the immune system to a reparative state in COVID-19 patients. The length of treatment depends on underlying co-morbidities and severity of patient illness.
SeaStar Medical went public in October 2022 through a business combination with publicly traded LMF Acquisition Opportunities, a special purpose acquisition company formed to effect a merger. More than $70-million has been invested to develop SCD since it was established in 2007.
In a $1.6-million FDA-funded open-label pilot study of SCD in 16 critically ill children aged 4-to-21 with AKI and multiorgan dysfunction, requiring dialysis, the SCD achieved its primary endpoint of safety, with zero SCD-related adverse events. In addition, 94% of patients survived SCD therapy, along with a 75% survival rate to ICU discharge.
"We also saw 100% renal recovery of ICU survivors, eliminating dialysis and normal kidney function at 60 days," Mr. Schlorff says.
The study results were presented at the American Society of Nephrology Kidney Week meeting in 2020.
In another pilot study with 22 COVID-19 patients with acute respiratory distress syndrome and acute kidney injury, SCD treatment significantly reduced elevated levels of many key predictive biomarkers of mortality in the cytokine storm including, IL-6, IL-2, IL-15 and IL-10, Mr. Schlorff points out.
SCD-treated subjects had a reduction in 60-day mortality to 50%, compared with 81% in the control cohort. The subjects who received greater than 96 hours of SCD treatment, per protocol, had a further reduction in mortality to 31%. In addition, SCD treatment demonstrated an acceptable safety profile with no device-related serious adverse events.
Results of the study were published in the May 2022 issue of the Society of Critical Care Medicine's peer-reviewed journal, Critical Care Explorations.
"We have the potential to make a therapeutic impact with SCD through an FDA device regulatory pathway, which enables us to conduct smaller clinical trials that are faster and at a fraction of the cost of a traditional therapeutic or biologic," Mr. Schlorff suggests.
Approximately 4,000 pediatric patients in the U.S. each year with AKI require CKRT and those patient profiles are associated with high morbidity and mortality. The mortality rate in children with AKI requiring dialysis is approximately 50% and children who survive an AKI episode are at risk of long-term conditions, including chronic kidney disease.
Mr. Schlorff says that about 20% of the top 50 children's hospitals in the U.S. have direct experience with SCD.
At the end of December 2022, Nuwellis of Minneapolis agreed to license and distribute SeaStar Medical's SCD in the U.S. for the treatment acute kidney injury in children.
"With Nuwellis, we have a proven, efficient means to reach our target customers while allowing SeaStar Medical to advance additional indications, including a planned pivotal clinical trial in the adult acute kidney injury population, which we expect to initiate during the first quarter of 2023," Mr. Schlorff adds.
In its adult program, SeaStar Medical initially is targeting some 210,000 annual cases of adult AKI patients requiring dialysis. The company hopes to file a premarket approval submission with the FDA in 2024, with a possible commercial launch in 2025.
Beyond AKI, Mr. Schlorff points to expansion opportunities for SCD, including a total addressable market of 200,000 patients with acute respiratory distress syndrome, 700,000 patients with hepato-renal syndrome and 400,000 patients with cardio renal syndrome.
"Much of this research work is being conducted at the University of Michigan to refine and de-risk patient selection for future clinical trials of SCD," he adds.
SeaStar Medical and the university have IP protection that covers modulating inflammation, composition of matter and methods of use that runs until 2032 but could be extended through regulatory approvals under the Hatch-Waxman Act.
"Backed by rigorous clinical research and robust scientific evidence, our patented approach with SCD is designed to support such goals as reducing dialysis dependency, improving outcomes, and saving lives, " Mr. Schlorff says.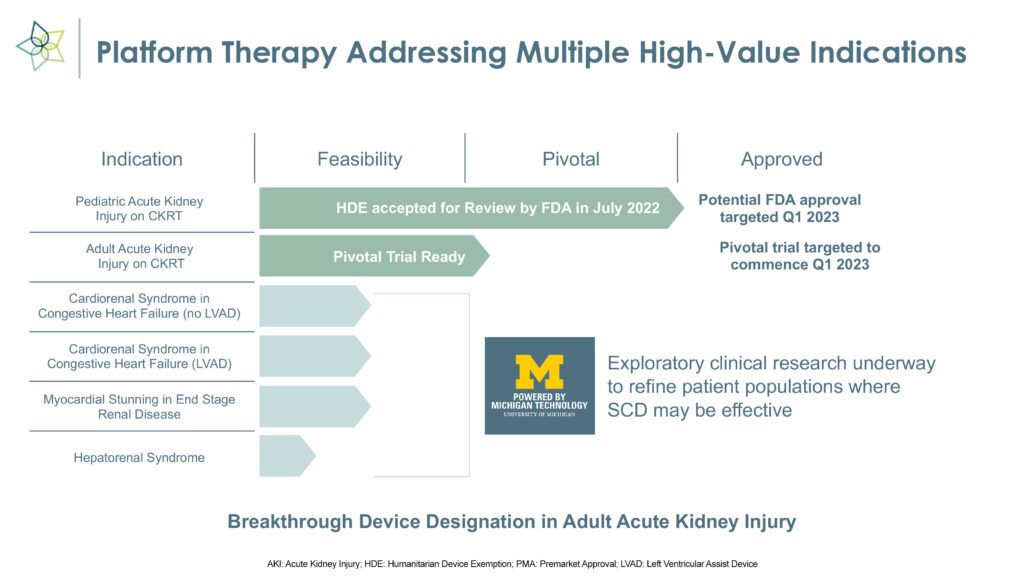 • • • • •
To connect with SeaStar Medical or any of the other companies featured on BioTuesdays, send us an email at [email protected].