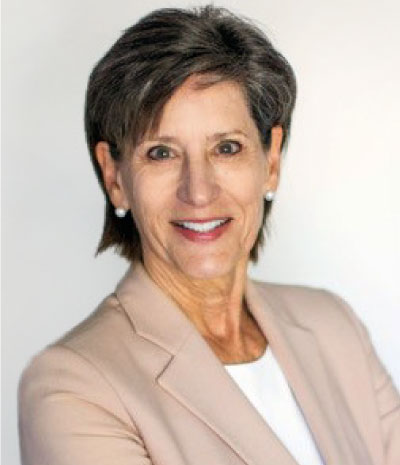 Ensysce Biosciences (NASDAQ:ENSC) is developing next-generation opioid products with its platform of two proprietary technologies to reduce abuse and overdose while relieving suffering for people with severe pain and CNS disorders.
"We are using trypsin-controlled chemistry to control release and activation of prescription drugs, with a main focus on improving safety," Lynn Kirkpatrick, Ph.D. and CEO of Ensysce, says in an interview with BioTuesdays. "The low hanging fruit for us is the opioid crisis."
Dr. Kirkpatrick explains that the company's trypsin activated abuse protection (TAAP) platform is a chemical approach designed to prevent drug abuse, and not just a simple coating or reformulation of an opioid, such as oxycodone.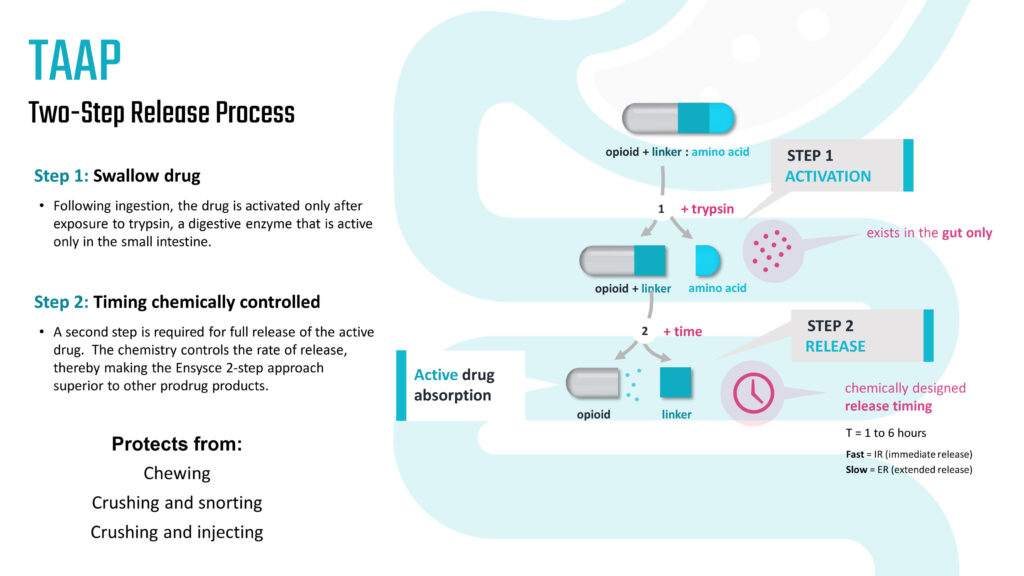 In a two-step process following ingestion, the company's lead investigational oxycodone prodrug, PF614, is activated after exposure to the digestive enzyme, trypsin, which is active only in the small intestine, she says. The second step involves a chemically controlled full release of the active drug and the rate of release. The controlled release is especially important for the product's abuse deterrent properties.
"As a two-step process, our TAAP technology has the potential to protect against chewing, crushing and snorting and crushing and injecting," Dr. Kirkpatrick contends. "Manipulation of our products should not lead to providing a sense of euphoria by these methods. They must be swallowed for the medication to work effectively and properly."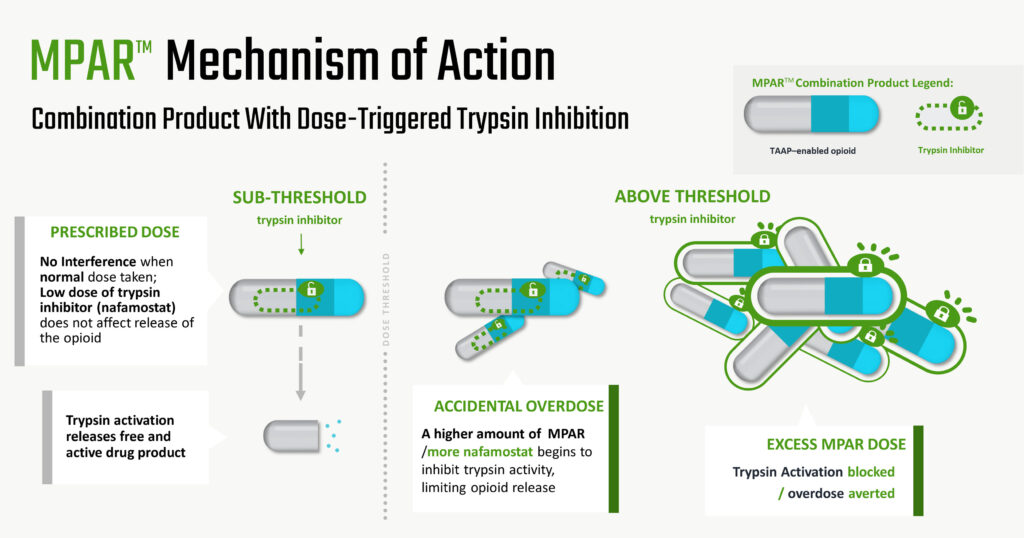 Ensysce's second platform – multi-pill abuse resistance (MPAR) – is a smart drug overdose protection, which combines PF614, with a trypsin inhibitor, nafamostat. "So, if someone takes too much of their medication by accident or purposely, the additional nafamostat inhibits trypsin activity, limiting opioid release to prevent an overdose," she contends.
Dr. Kirkpatrick says that while other companies have tried to use physical means to address opioid drug abuse, "we have demonstrated clinically that our chemical approach works and this allows us the potential to differentiate from other products on the market. We are the only company with a two-step chemical activation process as well as protection from overdose."
Ensysce's IP portfolio covers more than 100 patents issued in 25 countries, protecting underlying materials, pharmaceutical preparations and methods of use of both immediate and extended-release TAAP/MPAR prodrugs until the mid-2030s. "This unique patent protection provides an opportunity to partner globally," she adds.
PF614 is a next-generation opioid for severe pain that has fast track designation from the FDA, has completed Phase 2 studies, and is designed as an abuse-protective agent with TAAP's chemical modifications to prevent recreational drug abuse.
Most recently, in July, the company posted positive data from a bioequivalence study examining its TAAP opioid, PF614. The bioequivalence study followed successful completion of a multi-ascending, twice-daily dosing study of PF614 and compared the release of oxycodone from PF614 versus OxyContin administered to subjects in both fasted and fed states.
"The finding that the fed and fasting state has little effect on oxycodone absorption from PF614, in contrast to other commercial products, may prove important for ill patients lacking appetite when needing pain medication," Dr. Kirkpatrick says.
She suggests that the new data would be critical to understand future prescribing criteria for PF614 as a bioequivalent agent to OxyContin. The data also will support filing under the FDA's 505(b)(2) regulatory pathway, which provides an abbreviated and less costly path to FDA approval by referring to available safety and clinical data from an approved product.
"We believe the positive data from the bioequivalence study positions PF614 to be a safer alternative to OxyContin," she adds.
Ensysce plans to discuss its Phase 3 plans with the FDA at an end-of-Phase 2 meeting in 2023.
In an earlier Phase 1 program, Ensysce demonstrated that PF614 provided slow onset of action with maximum blood concentration reached four-to-six hours after swallowing, similar to OxyContin, with no unexpected adverse events.
The study also found that PF614 effectively converted to oxycodone after swallowing in a dose equivalency ratio of 2.5-to-1 of PF614-to-OxyContin.
In addition, the Phase 1 study determined that PF614's half-life is 12.7 hours, compared with 7.6 hours for OxyContin. "This means that our product would be a true twice daily medicine, compared with OxyContin, which some patients end up taking three times daily," Dr. Kirkpatrick suggests. "And by going in-and-out of pain, and possibly self-medicating with OxyContin, leads some patients to potential development of addiction."
Ensysce continues to evaluate PF614, including a completed human abuse liability study via intranasal administration, with data expected in the third quarter of 2022. It also plans to initiate a human abuse liability study via oral administration in the third quarter, with data expected in the first quarter of 2023.
In its MPAR program, Ensysce in May 2022 reported the first human data for PF614-MPAR in healthy volunteers, with PF614 administered alone or in combination with the trypsin inhibitor, nafamostat, to demonstrate overdose protection.
Data from Part 1 of the study demonstrated how the combination product PF614-MPAR reduced the trypsin activation and the release of oxycodone in a simulated overdose situation. It also demonstrated that PF614 in the systemic circulation did not convert to oxycodone.
"We believe this is the first step to identifying the first MPAR drug product that could be marketed in the coming years," Dr. Kirkpatrick contends. Data from Part 2 of the study are expected in the fourth quarter of 2022, with full data in 2023
To advance its clinical programs, Ensysce has tapped into non-dilutive funding. In 2018, the company received an up to $12-million four-year grant from the NIH for preclinical and clinical development of its MPAR overdose protection platform. And in 2019, it received an up to $15-million five-year grant from the National institute for Drug Abuse to develop its TAAP/MPAR platforms for the treatment of opioid use disorder.
"We have proven clinically what we saw preclinically, that our chemistry works, that we have a safe product and that we are executing on schedule," Dr. Kirkpatrick says. "In a market with five-or-six abuse-deterrent formulations, it can be confusing as to which one to take. Our message is pretty simple: we have something differentiated from the others."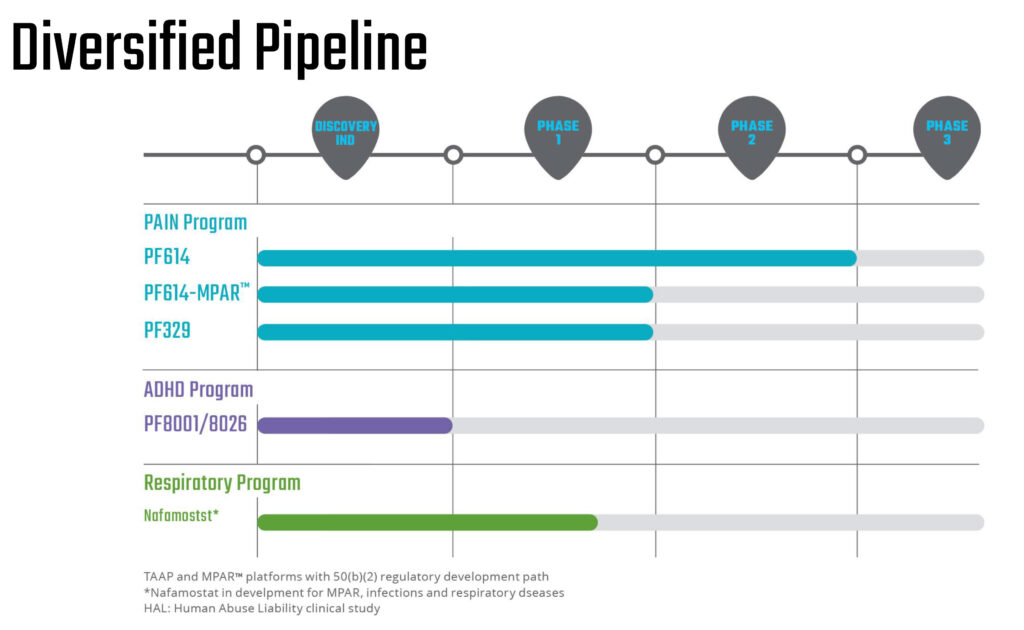 • • • • •
To connect with Ensysce Biosciences or any of the other companies featured on BioTuesdays, send us an email at [email protected].