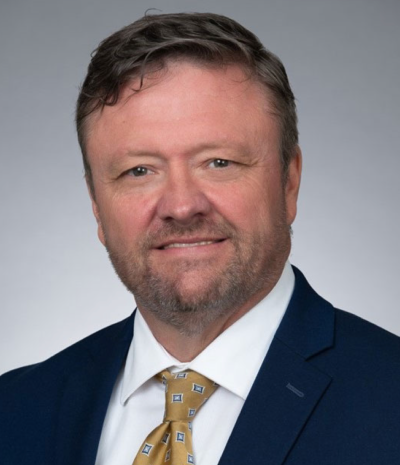 SAB Biotherapeutics (NASDAQ:SABS) is developing its novel DiversitAb platform to produce a new class of specifically targeted, high-potency, fully-human polyclonal antibodies, without the need for human donors.
"And because polyclonal antibodies are the way our body fights disease, these antibodies can be targeted against multiple therapeutic areas, including infectious disease, autoimmune disorders, and oncology," Eddie Sullivan, Ph.D., co-founder, president and CEO of SAB, says in an interview with BioTuesdays.
Dr. Sullivan explains that SAB has leveraged advanced genetic engineering plus antibody science to develop transchromosomic (Tc) fully-human polyclonal antibodies in cattle. Giving a herd of genetically modified cattle a target antigen triggers the production of fully human antibodies. The company then collects plasma from the cattle and isolates the human antibodies, resulting in an antibody medicine.
"The human antibody genes produced in cattle are contained in an artificial chromosome that has been engineered in such a way to allow the bovine to produce fully-human antibodies, rather than bovine antibodies," he adds. "We can vaccinate them and collect very large amounts of antibodies."
According to Dr. Sullivan, cattle were selected because they are large animals and as ruminants, they have a large bacteria mass as part of their digestive system, giving them a very robust immune response. Typically, cattle produce twice as much antibody as a human or rabbit.
"We further boost the response with a specialized vaccine formulation and strategy that maintains a high level and high avidity of antibody production over an extended period of time."
Dr. Sullivan says that as a large animal production system, greater volumes of neutralizing antibodies are generated and collected up to three times per month per animal. Production can be ramped up by simply continuing to immunize and collect plasma, and by adding more animal donors.
SAB has established a significant amount of proof of concept, part of which was funded through collaborations and government partnerships totaling more than $200-million.
Dr. Sullivan points out that SAB's platform has the ability to be a human antibody discovery and development engine, and a potential sustainable and "pandemic-proof" new source of human immunoglobulin, which is a very critical prophylactic and therapeutic, especially in immune compromised individuals, representing a multibillion-dollar market opportunity.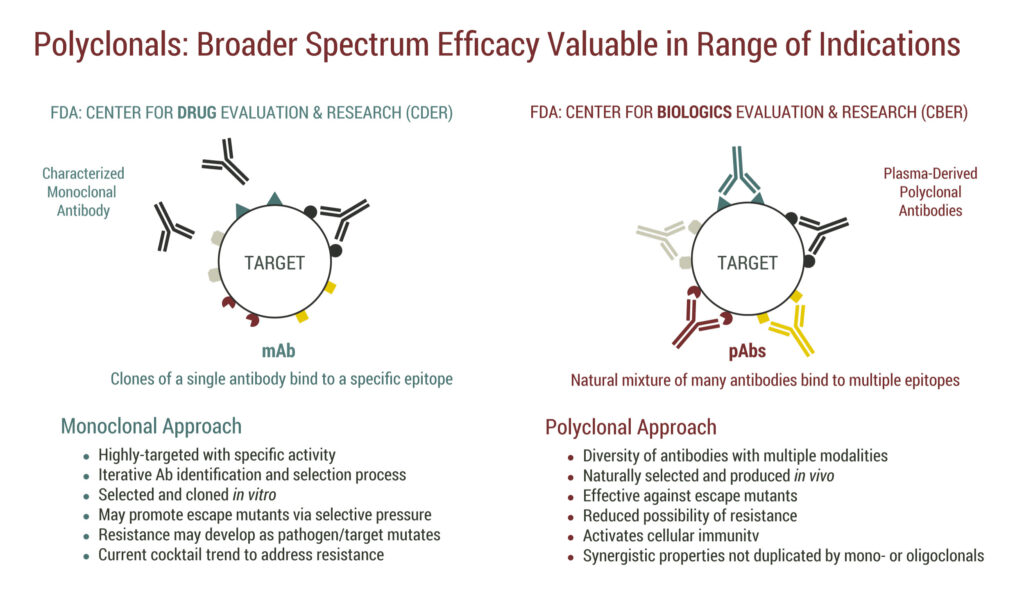 Polyclonal antibodies contain a natural mixture of many antibodies that bind to multiple epitopes or portions of a foreign protein, or antigen, that is capable of stimulating an immune response. Due to targeting multiple epitopes, polyclonal antibody treatments also have been shown to be effective against escape mutants and reduce the possibility of pathogen resistance.
SAB's intellectual property covers regulatory and patent exclusivity on the core platform and individual assets. "There is no guidance from the FDA for a biosimilar polyclonal antibody, which we think might be impossible to develop, so we like our position on regulatory exclusivity," Dr. Sullivan suggests.
SAB has a mid-stage influenza program and two assets in preclinical development for the treatment of Clostridioides difficile, or C. diff., and Type 1 diabetes.
The company recently discontinued its COVID-19 research and development agreement with the Department of Defense. The accord underwent significant modifications as a result of the pandemic and the government's evolving requirements no longer aligned with the goals of the agreement. SAB is negotiating to receive a multimillion-dollar payment as part of the closeout process.
In its respiratory program, SAB-176 has the potential to be a first and only biologic for the management of influenza in high-risk patients, including those who are immuno-compromised, hospitalized, or in long-term care facilities.
In a Phase 2a proof-of-concept influenza challenge study in the U.K. with 60 patients randomized one-to-one, SAB-176 met its primary endpoint of a statistically significant reduction in viral load and secondary endpoint of an improvement in symptomology at day 4, compared with placebo.
SAB plans to begin a Phase 2b study in the second half of 2023, comparing SAB-176 and standard of care against standard of care in 300-to-600 high-risk participants in the northern and southern hemispheres. Topline data would be available in 2024, setting the stage for a Phase 3 trial in 2025.
In the U.S., influenza causes 500,000 hospitalizations annually, resulting in 30,000-to-50,000 deaths a year, according to the CDC. Approved antiviral treatments may shorten duration of fever and symptoms, but are not effective against clinically meaningful endpoints or neuraminidase mutation, and have a limited efficacious window, Dr. Sullivan contends.
In its gastrointestinal therapeutic area , SAB is developing a first-in-class fully human polyclonal antibody treatment, SAB-195, with a dual mechanism of action to treat acute severe C. diff infection and reduce C. diff recurrence in high-risk patients long-term.
C. diff. is one of the most prevalent health care-associated bacterial infections, with about 500,000 infections a year in the U.S. and 30,000 deaths, according to the CDC. C. diff. symptoms, its spores, include abdominal pain, fever, diarrhea, nausea, and vomiting and complications of severe disease include kidney failure, toxic megacolon, bowel perforation, and death. The risk of death for patients with recurrent C. diff. is 33% higher, compared with those patients without recurrence.
Dr. Sullivan explains that SAB-195's potential dual mechanism of action includes targeting the surface antigen on C. diff. as well as multiple toxins and, unlike antibiotics, targeting several C. diff. toxins responsible for severity of the disease.
SAB is currently conducting preclinical and IND-enabling studies with SAB-195 and hopes to begin a Phase 1 study in 2024.
SAB also is developing SAB-142, an asset that Dr. Sullivan says has "multi-indication potential," with the company's initial IND focus on Type 1 diabetes. "We believe SAB-142 is a first-in-class fully human polyclonal antibody treatment aimed to provide superior efficacy for delaying onset of clinical Stage 3 Type 1 diabetes," he suggests.
SAB-142 also has a validated mechanism of action by a third party compound, showing reduction in the loss of C-peptide. The third party compound has a similar mechanism of action to SAB-142, but unlike SAB-142, it is a fully rabbit polyclonal antibody. C-peptide is a validated biomarker of Type 1 diabetes made in the pancreas and is an indicator of how much insulin the body is making.
Dr. Sullivan points out that in animal models, SAB-142 targets CD8 cells, which are an important arm of the antiviral immune response and protects T-regulatory cells.
SAB currently is conducting preclinical and IND-enabling studies with SAB-142, with hopes of beginning a Phase 1 proof-of-biological activity study in adults with Type 1 diabetes in 2024 and in children in 2025.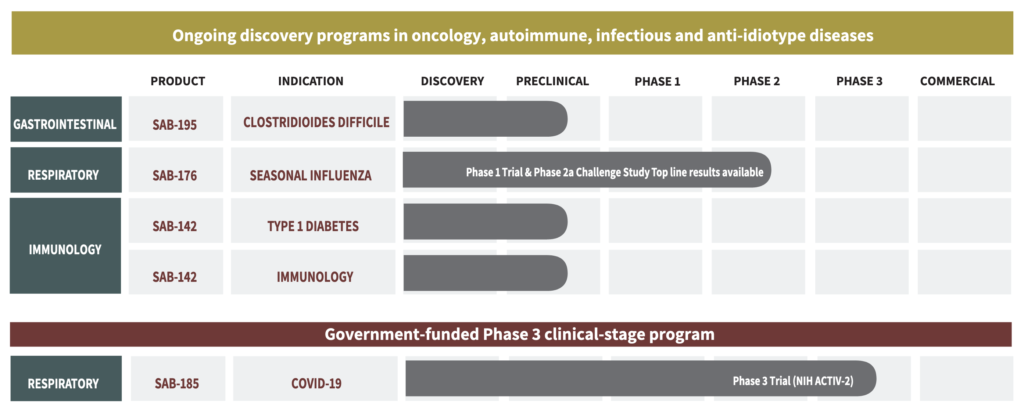 • • • • •
To connect with SAB Biotherapeutics or any of the other companies featured on BioTuesdays, send us an email at [email protected].