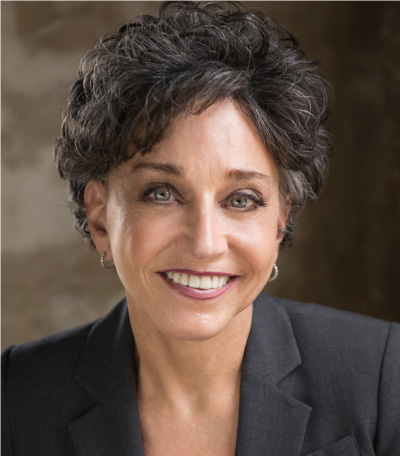 Annovis Bio (NYSE:ANVS) is developing a lead drug candidate, ANVS401, to inhibit more than one neurotoxic protein, improving the information highway of nerve cells, known as axonal transport, for the treatment of Alzheimer's and Parkinson's diseases, and an orphan indication, AD in Down syndrome (AD-DS).
"When this information flow is impaired, the nerve cell gets sick and dies," Maria Maccecchini, Ph.D., founder, president, and CEO of Annovis, says in an interview with BioTuesdays.
Last October, Annovis reported that in a Phase 2 trial, ANVS401 improved memory loss in AD/PD patients, as well as motor and motor function in patients with PD. The company also analyzed the biomarkers of the toxic cascade that starts out with high levels of neurotoxic proteins, leading to impairment in axonal transport, inflammation and nerve cell loss and found that neurotoxic protein levels and inflammation are reduced, and axonal and synaptic health is preserved.
"These positive efficacy results combined with the marker results expand on our previous data from AD and PD patients and add clarity to the benefits that ANVS401 may offer patients suffering from these chronic neurodegenerative diseases," Dr. Maccecchini points out.
Annovis has asked the FDA for end-of-Phase 2 meetings for the development of ANVS401 in AD and in PD and is waiting for further guidance from the agency on how to proceed into Phase 3 trials. Hopefully, the PD Phase 3 pivotal study can start in early 2022 and the AD study a little later.
Dr. Maccecchini suggests that ANVS401 is the only drug in development that targets multiple neurotoxic proteins and inflammation simultaneously to improve axonal transport and protect nerve cells from dying in AD, PD and AD-DS. The multiple ANVS401 targets include amyloid beta, tau and aSynuclein.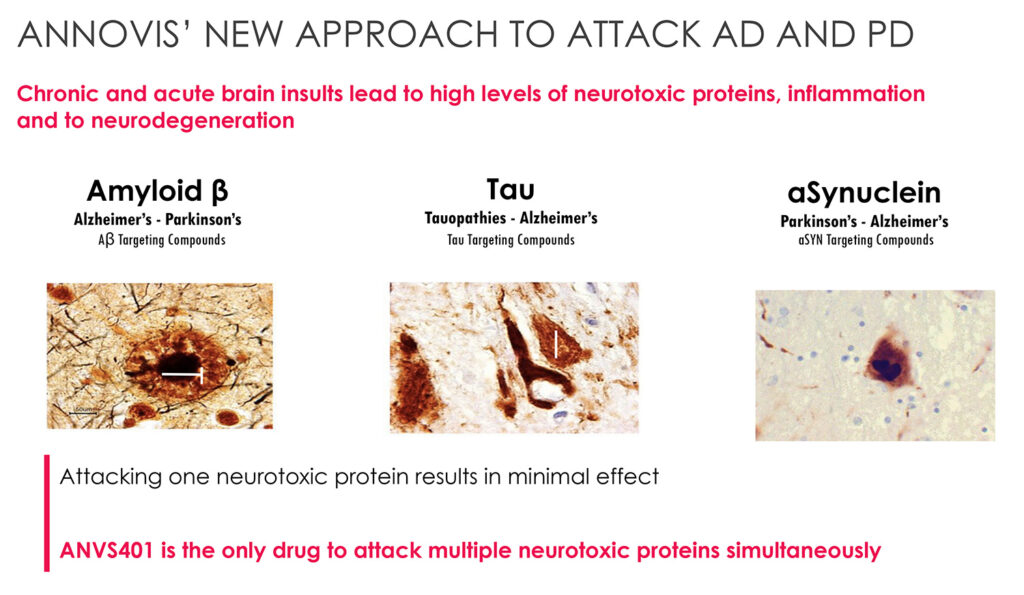 "By targeting multiple neurotoxic proteins, ANVS401 resembles a combination therapy approach, with the added convenience of being a single drug with a single drug target," she adds.
According to Dr. Maccecchini, neurotoxic proteins impair axonal transport and cause a toxic cascade; slow synaptic transmission; cause inflammation; death of nerve cells; and loss of cognitive and motor function.
On the other hand, ANVS401 has the potential to halt and reverse the toxic cascade; lowering levels of neurotoxic proteins to improve axonal transport; increasing synaptic transmission; inhibiting inflammation; maintaining healthy nerve cells; and improving cognitive and motor function.
In preclinical studies, Annovis demonstrated that in four animal models of memory and learning, AD mice, DS mice, stroke mice and traumatic brain injury rats fully recovered after treatment with ANVS401. A similar outcome was achieved in two models of movement disorders with PD and frontotemporal dementia mice.
"So, if ANVS401 worked in the brain and body of mice, we decided to try it in the eye and we induced glaucoma in rats. Left untreated, glaucoma causes pressure in the eye to go up, the retina dies, and the eye goes blind. When we treated our glaucoma-induced rats with ANVS401, the pressure in the eye increased, but the retina did not die and the eye did not go blind," Dr. Maccecchini says.
Annovis' Phase 2 trial enrolled 14 early-to-moderate AD patients and 14 PD patients, with an additional 40 PD patients recruited for the second part of the study for a total of 54 subjects. Dr. Maccecchini says AD participants received placebo or 80 mg of ANVS401 once daily, while PD patients received doses of placebo or 5 mg, 10 mg, 20 mg, 40 mg, and 80 mg once daily.
The primary endpoint was reversal of the toxic cascade, with efficacy as an exploratory endpoint. Safety and two psychometric assessments were conducted at day 0 and day 25, comparing ANVS401-dosed PD patients with placebo.
From baseline to 25 days in the ANVS401-treated AD group, Dr. Maccecchini says Alzheimer's disease assessment scale – cognitive 11-item (ADAS-Cog11) score improved by 4.4 points, a statistically significant improvement of 30%. Compared with placebo at 25 days, the treated group was 3.3 points better than the placebo, an improvement of 22%.
ADAS-Cog11 is designed to assess the level of cognitive dysfunction in AD and is considered the gold standard for measuring efficacy of antidementia treatments.
In addition, treated AD patients in the Phase 2 trial showed a statistically significant 23% improvement from baseline in the Wechsler Adult Intelligence Scale (WAIS) and PD patients a statistically significant 30.5% improvement, compared with placebo.
The WAIS coding subtest measures visual-motor dexterity, associative nonverbal learning, and nonverbal short-term memory. It also measures fine-motor dexterity, speed, accuracy, and ability to manipulate a pencil and perceptual organization.
Dr. Maccecchini says data from 54 PD patients showed the most improved function at doses of 10 mg and 20 mg of ANVS401 once daily. And across dose response patients, the WAIS coding test showed statistically significant improvements in speed of movement and coordination.
"Because our Phase 2 was a small study, we would have been happy to see any trends in cognition and motor function. The fact we achieved statistically significant results is very exciting. And the fact that the efficacious dose of 10 mg to 20 mg in humans was the same as in animals is a huge confirmation of what we were thinking," she adds.
Annovis has filed four new families of patents that expire between 2031 and 2042.
Dr. Maccecchini says patent estate is multi-layered with method of use protection of the mechanism of action for the prevention and treatment of acute and chronic disease; treatment of viral and bacterial infections of the brain; acute brain and nerve injuries like stroke and traumatic brain injury; and neurodegenerative diseases like PD and AD.
At the end of June 2021, Annovis had $49-million of cash, making the company fully funded through two anticipated Phase 3 trial and two years of operations.
"Ours is a novel approach to stop AD and PD, and our Phase 2 program demonstrated improvements in cognition in AD patients, and motor and brain function in PD patients," she says.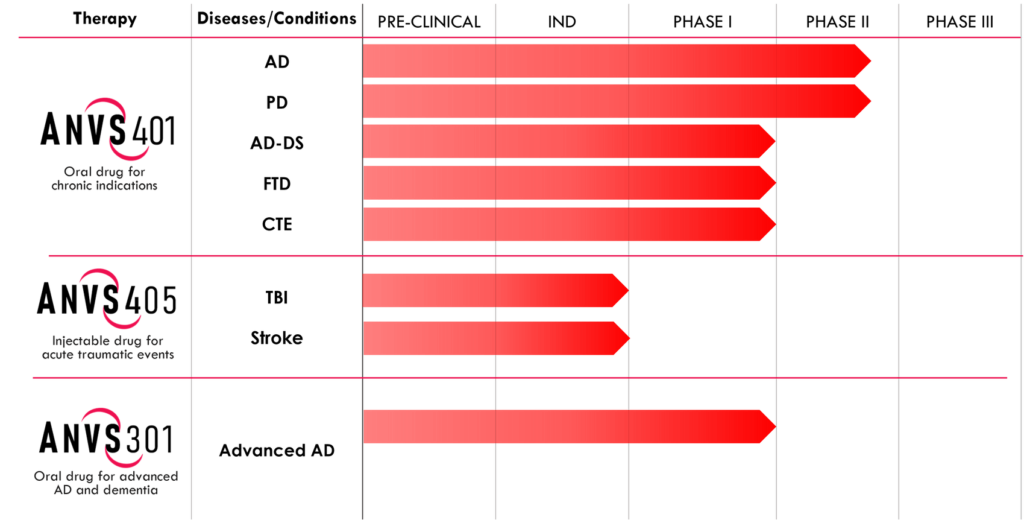 • • • • •
To connect with Annovis Bio or any of the other companies featured on BioTuesdays, send us an email at [email protected].