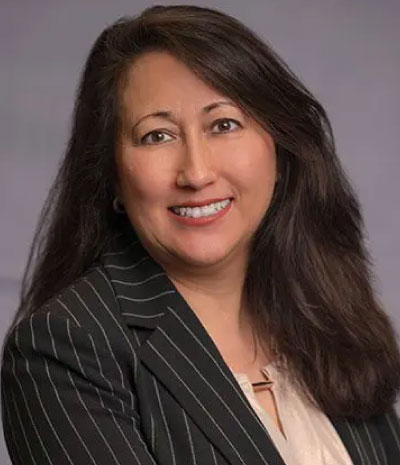 Femasys (NASDAQ:FEMY) is on a road to disrupt traditional approaches to women's reproductive health with proprietary diagnostics and devices that address global markets in infertility and permanent birth control.
"We are the only company we are aware of developing a minimally invasive, permanent birth control solution for women," Kathy Lee-Sepsick, founder, president and CEO of Femasys, says in an interview with BioTuesdays.
"Every woman reaches the point in her reproductive journey where she is done having kids or doesn't want to have any children at all, so we are in a unique position to offer an alternative to surgery. And other products introduced into the market have now been withdrawn," she adds.
"When I set out on this journey 18 years ago, I never anticipated we would be the only ones developing permanent solutions for such an important need."
Ms. Lee-Sepsick says the Supreme Court decision to overturn Roe v. Wade underscores the importance for women to have access to reproductive health options that are safe and reliable, which strongly coincides with Femasys' mission.
"Now more than ever, advanced and modernized reproductive health solutions, like those we are developing for women, are of paramount importance as options for family planning," she adds. "Safety and choice have always been core drivers in our mission to develop non-surgical solutions for women around the world."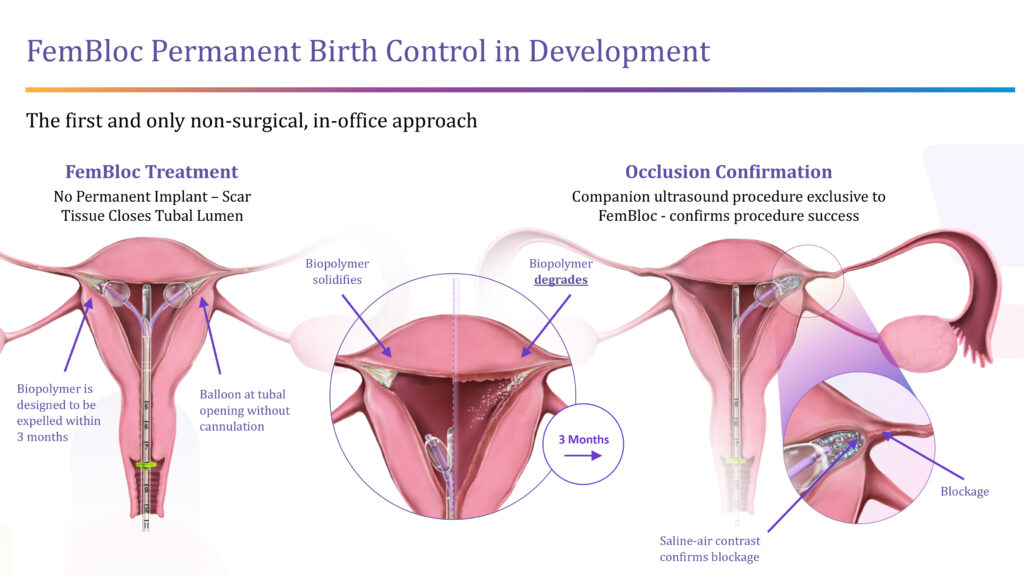 For permanent birth control, the company is developing FemBloc, a non-surgical approach that is an alternative to surgical tubal ligation. FemBloc places balloon catheters close to the opening of both fallopian tubes allowing for a degradable biopolymer to be delivered for occlusion of the tubes. The company's companion diagnostics – FemChec and FemCath – would confirm the success of the blockage after 90 days.
"FemBloc is the first and only in-office permanent birth control option in development with the potential to be the safest and most natural approach at half the cost of the long-standing surgical alternative," Ms. Lee-Sepsick contends. "FemBloc has the potential to be a game-changer for women."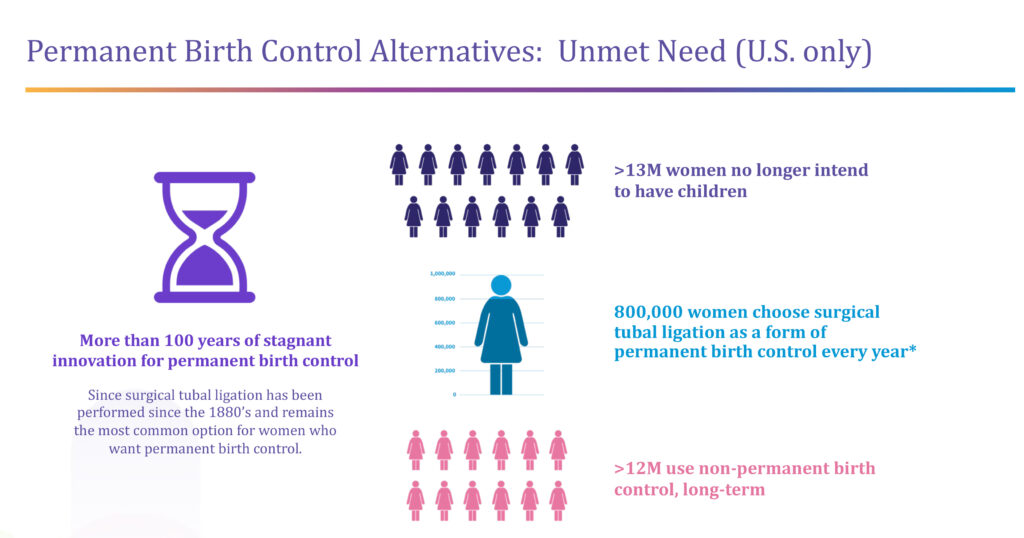 More than 13 million women in the U.S. alone no longer intend to have children, of which 800,000 a year choose surgical tubal ligation as a form of permanent birth control. "We can see from a sharp increase in appointments that this number is going up because of Roe v. Wade," Ms. Lee-Sepsick says, adding that more than 12 million women in the U.S. use non-permanent birth control options, such as hormonal pills and implants.
A study with 24,000 women published in the peer-reviewed journal, Fertility and Sterility, in 2022 found a higher than expected 6% failure rate for tubal ligation, which has been performed for more than a century, and a 5% failure rate for hysteroscopic sterilization.
Femasys expects to complete enrollment for its Stage 2 validation study of FemBloc in the third quarter of 2022 and file an IDE in the first quarter of 2023 for a pivotal trial to support pre-market authorization.
The pivotal study is expected to enroll some 500 subjects in the U.S., with a primary endpoint of the pregnancy rate at one year post a confirmation test and safety follow-up two-to-five years post market. Ms. Lee-Sepsick suggests that the data would be acceptable for European marketing submissions.
In an earlier safety study with 183 subjects, 96% of physicians assessed the FemBloc procedure to be extremely or very simple, and 99% of physicians assessed the procedure to be easier than tubal ligation surgery.
Permanent birth control, including women selecting tubal ligation surgery and men selecting vasectomy, represents a $2-billion annual market opportunity, with hormones and condoms expanding the market potential to $20-billion.
Femasys estimates the FemBloc procedure would cost around $3,000, or half the cost of tubal ligation, with a physician retaining a larger fee than with tubal ligation. "We expect FemBloc to be covered under the Affordable Care Act, with no cost to the patient," Ms. Lee-Sepsick suggests. In addition, the in-office procedure would expand physicians' practices and the "patient would walk out the door" after the procedure.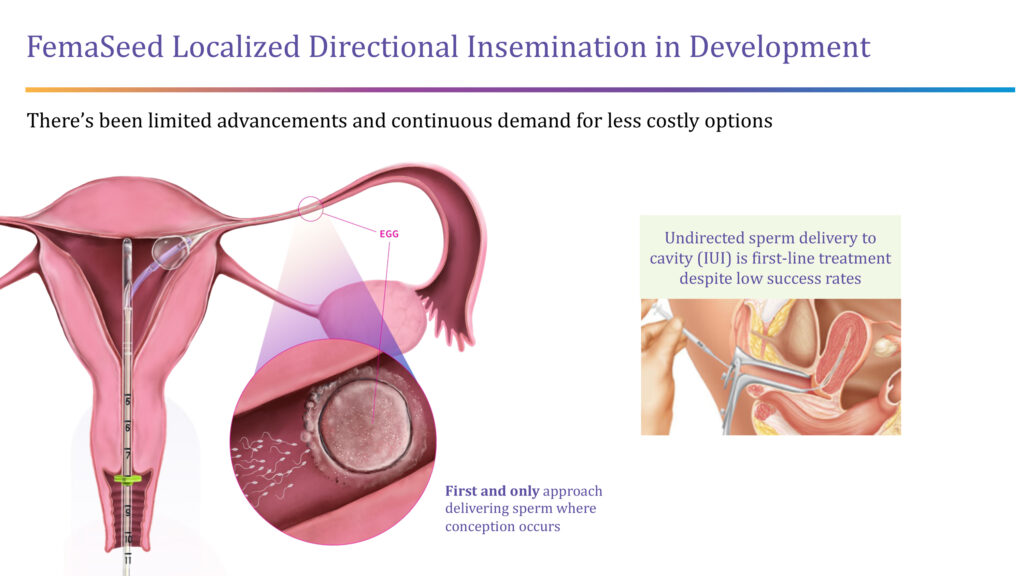 The company also is developing FemaSeed, an infertility delivery platform that places a balloon catheter close to the opening of a selected fallopian tube in order to deliver sperm directly to the ovulating side of the tube, where conception occurs.
"We are cultivating the natural fertilization process as a front-end solution for women," Ms. Lee-Sepsick points out.
She says FemaSeed would be a less expensive alternative to in vitro fertilization (IVF) and would go hand-in-hand with the company's FemVue diagnostic that assures the fallopian tubes are open, and a woman could get pregnant.
The FDA has given FemaSeed a de novo pathway for which there is no marketed predicate device.
Femasys treated the first patient in its LOCAL pivotal trial of FemaSeed in July 2021, with an interim analysis planned for the fourth quarter of 2022. The multi-center, unblinded, prospective trial is enrolling up to 792 patients who are diagnosed as infertile, with complete enrollment slated for the second quarter of 2023.
The primary endpoints of the study are to determine effectiveness, or the clinical pregnancy rate, and safety over a period of up to seven weeks.
In an earlier post-market study with 23 subjects of FemCath, which has the same delivery platform as FemaSeed, to deliver the company's saline-air contrast solution instead of sperm to assess tubal infusion, the technology achieved 89% success of sustained flow or exit into the peritoneal cavity, with no serious safety events.
Estimates put the number of women in the U.S. struggling with infertility at more than 10 million. Despite medical advancements, there have been no affordable new options in decades, despite continuous demand. The biggest advancement in care has been costly IVF, which uses a combination of medicines and surgery to implant a fertilized egg in the uterus.
However, a CDC report indicated that only 50% of IVF procedures in women aged 35 and under resulting in a live birth in 2018. And for women aged 42 and older, 3.9% of egg transfers resulted in a birth. "We hope to provide a safer and more cost effective option," Ms. Lee-Sepsick contends.
According to the CDC, there are about 200,000 IVF cycles performed annually in the U.S., which "means there are millions of women not seeking care, which we hope to change," she notes. "Add to that a significant decline in the fertility rate, and we could face major impacts in the labor force in a decade."
The near-term market opportunity of IVF and intrauterine insemination, including required tubal diagnosis, is about $800-million.
Femasys has three FDA-cleared diagnostics: FemVue, which allows physicians in-office to evaluate a woman's fallopian tubes with existing ultrasound equipment; FemCath, which places a balloon catheter for selective evaluation of a fallopian tube for directed contrast delivery; and FemCerv, a relatively pain-free capture and removal of cervical cells and tissue that the company hopes to launch by the end of 2022.
Femasys also is developing another diagnostic, FemEMB, for in-office uterine cavity biopsy for cancer assessment and in situations if a woman was bleeding or prior to an endometrial ablation.
"After extensive preparations last quarter, we are now readying to make two products available to the market in the fourth quarter, in line with broadening solutions to improve the continuum of healthcare options for women: FemCerv, our endocervical tissue sampler, and FemCath, our selective delivery catheter for fallopian tube evaluation," Ms. Lee-Sepsick says.
The two diagnostics will be added to the company's commercial portfolio along with FemVue, the first in-office ultrasound approach for fallopian tube evaluation prior to any infertility procedure.
FemVue, which is commercially available in the U.S. and Japan, and reimbursed using existing codes, creates a saline-air contrast that travels through fallopian tubes when they are open.
Femasys distributes FemVue from its web site in the U.S. and provides on-line training and support. The company also has an audited manufacturing facility in Georgia with in-house CMC and device infrastructure, along with the ability to scale and transfer production lines.
"With regulatory approval of our two product candidates, we hope to be commercially ready with a small infertility sales force by the end of 2023 or early 2024, targeting about 1,300 reproductive endocrinologists at 450 practices in the U.S., promoting FemaSeed and two companion diagnostics: FemVue and FemCath," Ms. Lee-Sepsick says.
FemBloc regulatory approval would support an expanded commercial effort, she adds, targeting more than 40,000 in-office gynecologists with both FemaSeed and FemBloc and three companion diagnostics.
Femasys has an IP portfolio with more than 150 patents granted and pending around the world. The patent estate covers utility and design, with directional delivery to the fallopian tubes; biopolymer composition for tubal occlusion; contrast material for ultrasound; and tissue sampling for cancer detection.
"Our technologies target areas of unmet need in women's health care where there has been little innovation and where we have an opportunity to change the standard of care," Ms. Lee-Sepsick says.
• • • • •
To connect with Femasys or any of the other companies featured on BioTuesdays, send us an email at [email protected].