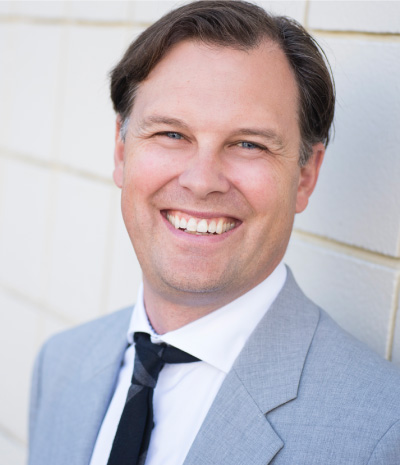 Eupraxia Pharmaceuticals (TSX:EPRX) is developing a unique diffusion-based polymer-particle technology initially to provide knee osteoarthritis (OA) patients with an injection in the knee for an extended release of drug at stable therapeutic concentrations, compared with the shortcomings of immediate-release conventional steroids.
"Our delivery technology is intended to provide the right dose of drug at the right place and for the right amount of time, which is absolutely critical for patients," James Helliwell, M.D. and CEO of Eupraxia, says in an interview with BioTuesdays.
"Most drugs have suboptimal pharmacokinetics in that they peak (C-max) and then trough," he points out. "And the problem with a peak is that's when safety and tolerability issues can occur and the trough is when you lose efficacy. Avoiding these peaks and troughs is foundational to our technology and approach."
As a former cardiac anesthesiologist, working in heart transplantation and artificial hearts, Dr. Helliwell says that to achieve the same precision as required in the operating room, Eupraxia opted to develop a diffusion-based microns-thin porous polymer shell membrane surrounding a solid crystal drug core, with an optimal volume-to-surface area shape, about the size of a grain of sand.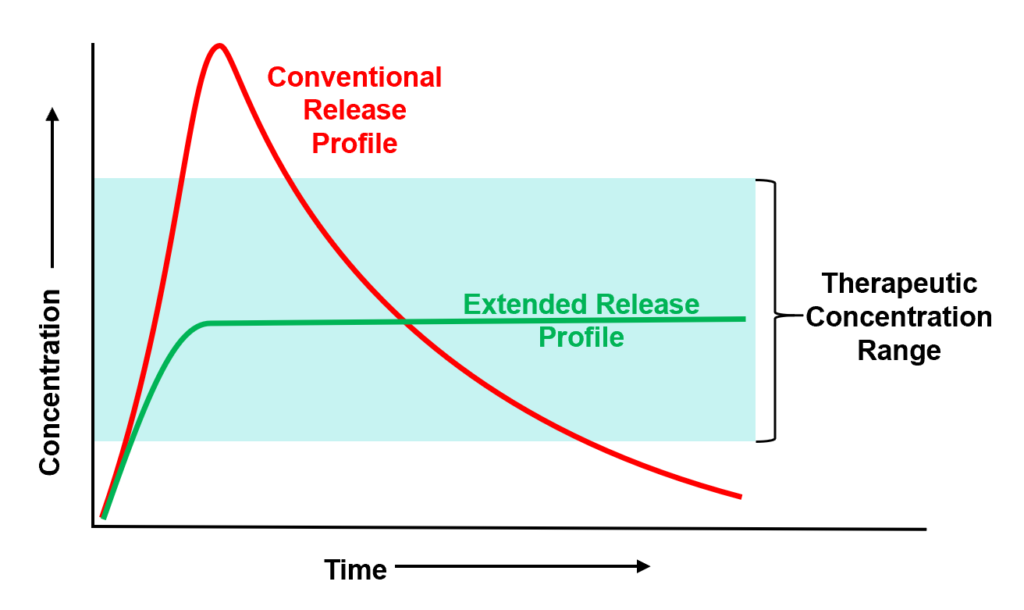 The technology offers "tune-ability" in terms of kinetics and duration far superior to classic polymer-based solutions that rely on degradation to release drugs, he adds.
After the shell and drug core are injected, body fluid enters the polymer shell and the solid core begins to dissolve resulting in high drug concentrations inside the microspheres. Because the solution is highly concentrated inside the membrane and it meets an area of low concentration in the knee, there is an initial high speed diffusion across the membrane. When it reaches its target concentration, the diffusion rate slows and maintains a steady, consistent drug release for as long as the microspheres have some crystal inside them.
"Superior kinetics, consistency and extended duration are the hallmarks of this unique approach by the company."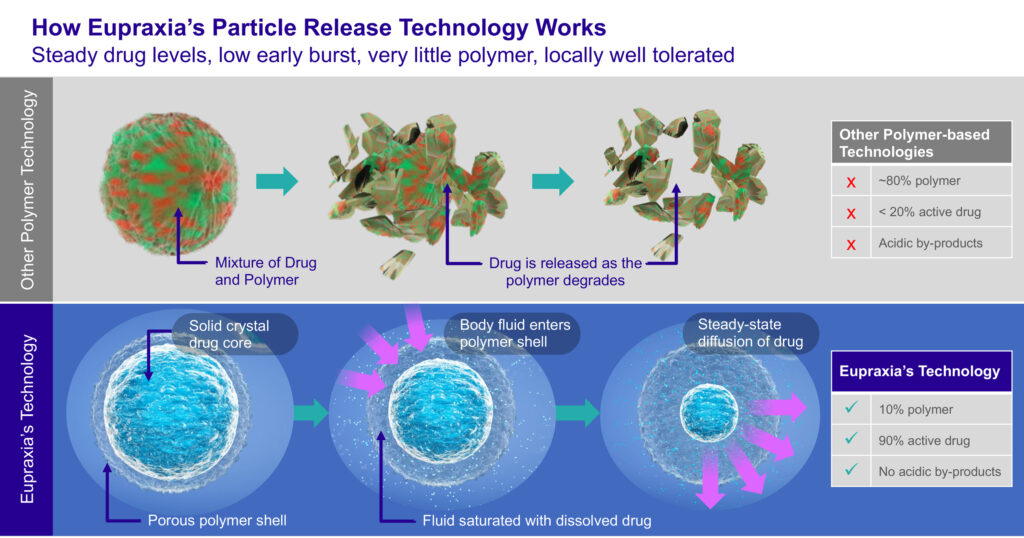 Dr. Helliwell points out that Eupraxia's lead investigational product, EP-104IAR, consists of 5% to 10% polymer by weight and about 90% active drug formulation of generic fluticasone propionate, a common high-potent steroid with an established safety record, and a biopolymer polyvinyl alcohol shell.
By comparison, existing technologies consist of a mixture of several polymers and active drug in an approximate 80% to 20% ratio by weight, respectively. Drug is released as the polymer degrades in disorganized chunks, resulting in peak-and-trough plasma concentrations and related safety issues. In addition, the polymer chunks are acidic and may irritate surrounding tissue.
In the competitive space for OA, several options are available today – none of which offer effective, chronic therapy for this chronic disease and its related pain.
NSAID's represent 30% of the market today with Celebrex leading the category. Analgesics represent a further 20% of the market while offering little relief from chronic pain. Hyaluronic acids represent 25% of the market and appear to be underwhelming patients, and again no pain relief.
Corticosteroids represent the 25% balance of the competitive offering today, however, most existing options represent significant safety issues for patients. The only extended-release steroid approved by the FDA is Zilretta, which is a single use product carrying safety issues that prevented the FDA granting a repeat dose label.
"Eupraxia's offering of a potential extended release product with superior safety profile and the potential for bi-lateral and repeat dosing represents chronic therapy for this chronic disease and its related pain," Dr. Helliwell points out.
He explains that Eupraxia's EP-104IAR delivers a steady state of 25 mg of active drug that may potentially last six months, with only 1.5 mg of polymer by weight.
"A lower initial burst of EP-104IAR has the potential to provide improved tolerability and prolonged drug concentrations that provide long-duration pain relief, with fewer systemic side effects, which is something patients and third party payers are keenly interested in," he adds. And an enhanced safety profile would also benefit the estimated 70% of knee OA patients that experience pain in both knees.
The CDC estimates that knee OA affects more than 30 million people in the U.S. alone. This includes 14 million that suffer with knee pain or some form of disability. Knee OA, the number one reason for visits to the doctor, also is associated with depression and loss of sleep, which can greatly affect quality of life.
The American College of Rheumatology and American Academy of Orthopedic Surgeons recommend only two treatments for knee OA: intra-articular steroids, which could include Eupraxia's EP-104IAR in the future, and NSAIDS. However, current therapies are challenged by poor safety, limited efficacy and limited duration of activity.
Earlier this month, Eupraxia received the Emerging Life Sciences Company of the Year Award from Life Sciences British Columbia, reflecting its accomplishments during the past year, including an IPO in March 2021 and advancing a Phase 2 trial in OA of the knee with EP-104IAR.
The company's IPO represented the first biotech IPO in more than 16 years on the TSX, a "testament to the potential within the company," Dr. Helliwell suggests.
The company raised $67-million from the IPO and two subsequent financing events, which provide a cash runway to support all current development programs to the fourth quarter of 2023.
The company's Phase 2b study, which is being conducted in Europe through a Danish contract research organization, is a placebo-controlled, double-blind, randomized trial evaluating the efficacy and safety of EP-104IAR in 300 patients with chronic knee OA.
The study represents potentially the first of two pivotal trials required for regulatory approval in the U.S. under a 505(b)(2) regulatory pathway. Under this pathway, the drug could be approved as early as 2025.
Patients in Europe are being randomized to receive either a single injection of 25 mg EP-104IAR or placebo, with a primary endpoint of change in the Western Ontario and McMaster Universities Osteoarthritis Index (WOMAC) pain score at week 12. Secondary endpoints include change in WOMAC function at week 12 and change in WOMAC pain score at week 24. There are additional endpoints relating to quality of life, disease state and use of rescue medication.
The company expects to dose the final patient in the trial in September, with top-line data set for release towards the end of the first quarter of 2023.
If successful, Dr. Helliwell says Eupraxia expects to conduct a second U.S. pivotal trial, probably with about 500 patients to meet an FDA requirement of a 500-person safety database.
The company is continuing to evaluate European approval pathways and intends to formalize a development pathway following the Phase 2 results. The company also will contemplate partnering opportunities for additional international markets.
In a large 10-month preclinical dog study approved by the FDA and completed prior to the pandemic, Eupraxia tested 216 beagles with three doses of EP-104IAR, placebo and 11 mg of biopolymer polyvinyl alcohol, its delivery vehicle.
The study found no evidence of cartilage damage at any dose, including a dose an order of magnitude larger than the Phase 2 clinical dose. "This important result is a key differentiator of EP-104IAR competitively," Dr. Helliwell notes.
He says medical research has shown that repeated use of instant-release corticosteroids that reach peak concentration quickly can lead to significantly greater cartilage loss, with advanced damage resulting in bone-on-bone contact, leading to more pain, bone spurs and joint replacement.
"The cartilage sparing result demonstrated in the dog study represents the potential for earlier, chronic and bi-lateral dosing with EP-104IAR," he contends.
Eupraxia's first-in-human Phase 1 study enrolled 24 patients that received 12.5 mg of EP-104IAR, or one-half the Phase 2 clinical dose, and eight placebo patients, who received a single knee injection and up to 42 weeks of follow up to evaluate safety and preliminary signs of efficacy.
Dr. Helliwell says the study demonstrated that cortisol, a normal human stress hormone, remained within a normal range for 19 of 24 patients treated, indicating that there was no suppression of cortisol by administering EP-104IAR. Five patients had a 20% mean cortisol suppression but recovered after one week.
By comparison, he notes that an immediate-release steroid given for knee OA causes 100% cortisol suppression, with recovery after two weeks but the drug only lasts for three-to-six weeks. Zilretta published data shows an immediate 40% cortisol suppression, before settling into close to 30% suppression for the duration of efficacy, he adds.
"The benefit of having no suppression of cortisol is that it opens the possibility of chronically treating how many joints are bothering a patient, which is normally two."
The Phase 1 study also demonstrated reduced pain and improved function, suggesting sustained activity of EP-104IAR based on WOMAC data.
In addition to knee OA, Dr. Helliwell says Eupraxia is using its platform to develop potential drug candidates in indications such as post-surgical pain and post-surgical site infection, each designed to improve on the activity and tolerability of approved drugs. The company is expected to announce additional drug development candidates later in 2022.
The company also has discussed its delivery technology with key opinion leaders in oncology as a potential solution to avoid delivering high concentration of chemotherapy to every cell in the body; instead allowing the targeting of tumor cells through direct injection into and around the tumor.
Dr. Helliwell says this approach is particularly applicable for complex tumors, such as brain and pancreatic tumors.
The company's board of directors includes top names in BC biotech. Dr. Simon Pimstone, former CEO and now executive chairman of Xenon Pharmaceuticals; Richard Glickman, former CEO of Aurinia Pharmaceuticals; and John Montalbano, former RBC Global Asset Management and current director of AbCellera Biologics.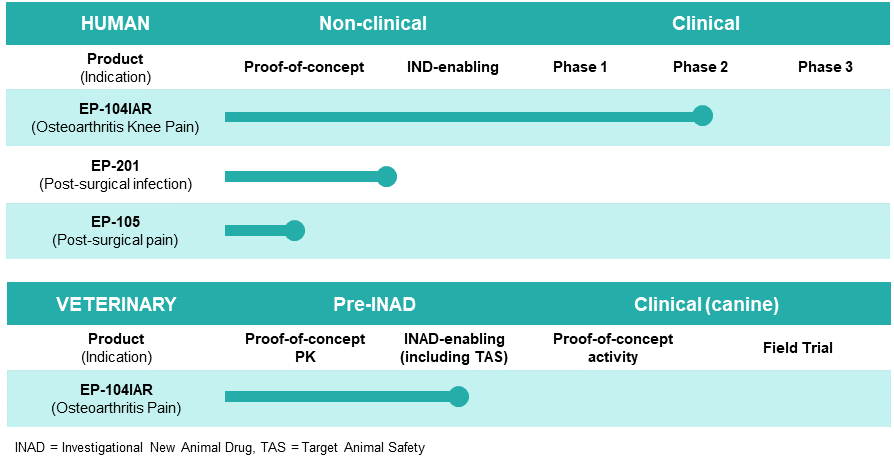 Eupraxia Pipeline
• • • • •
To connect with Eupraxia Pharmaceuticals or any of the other companies featured on BioTuesdays, send us an email at [email protected].