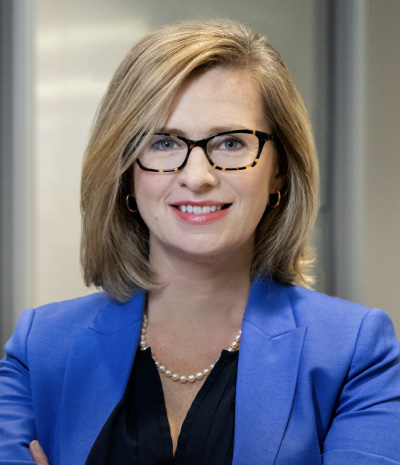 Synlogic (NASDAQ:SYBX) is advancing a new class of biotherapeutics, known as Synthetic Biotics, targeting validated biology in rare metabolic and immunological diseases.
"We are advancing a completely new class of biotherapeutics, called Synthetic Biotics, by using programmable, precision genetic engineering of well-characterized probiotics to exert localized activity for therapeutic benefit," Aoife Brennan, president and CEO of Synlogic, says in an interview with BioTuesdays.
"We set out to identify diseases where we could have a meaningful impact and demonstrate the power and potential of drugs based on synthetic biology, leading us to focus on diseases where a therapeutic dietary intervention has already demonstrated the benefit of a GI-based treatment that could consume the disease-associated metabolite. Our three lead programs all exemplify this: rare metabolic diseases including PKU and HCU as well as enteric hyperoxaluria," she adds.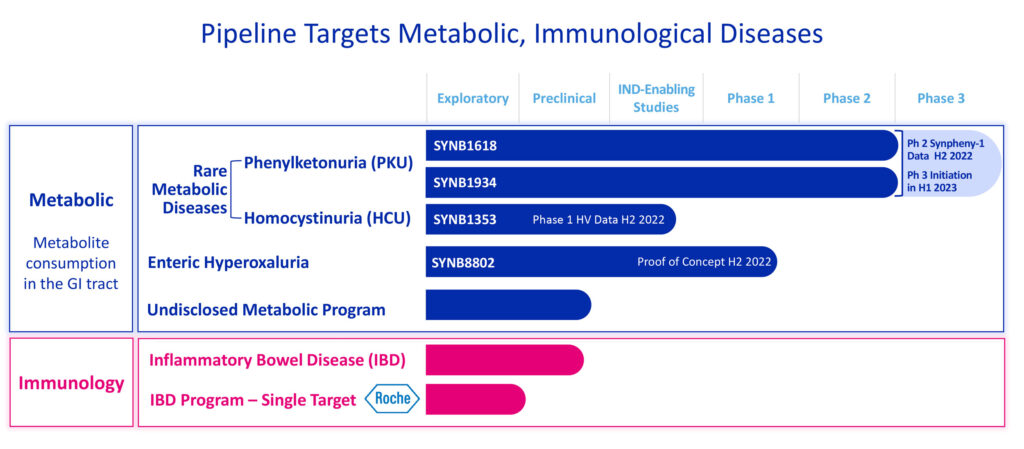 "Advantages of our approach include avoiding systemic absorption, thereby reducing the risk of associated adverse events, convenient oral administration, and the ability to target diseases in need of treatment or improved treatment options in ways that were not achievable previously," Dr. Brennan says.
Unlike other approaches to developing live biotherapeutics, Synlogic's products are designed to be non-integrating, non-colonizing, and are reversible via rapid GI clearance when dosing is finished, Dr. Brennan points out.
Synlogic's lead program is designed to transform treatment of PKU, or phenylketonuria, a rare metabolic disease caused by defects in PAH, an enzyme that metabolizes Phe, or phenylalanine, found in dietary protein.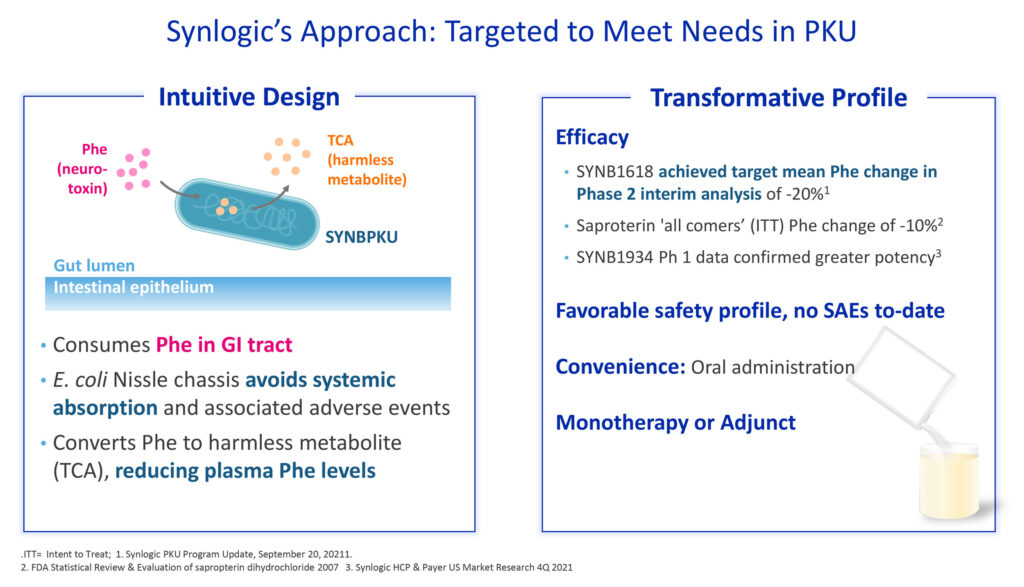 "We take a probiotic bacterium, E. coli Nissle, which has been taken by humans for decades to maintain good gut health, and apply precision genetic engineering so that it can work in the GI tract to consume the circulating and dietary Phe. We've designed our drug to metabolize Phe and convert it to a harmless metabolite," she says.
"Our drug in development is also well-suited to PKU patients' lifestyles, as we are developing it as a powder that can be mixed with a small glass of water and taken orally, and is being evaluated for use as a monotherapy or adjunctive treatment."
Dr. Brennan explains that a build-up of Phe can cause neurological damage and neurocognitive defects that can lead to intellectual disabilities, deficits in mental processing, and social and emotional problems.
To avoid permanent intellectual disability, patients must be diagnosed early and initiate a life-long, extremely restrictive diet to minimize Phe-containing natural protein starting in infancy. For this reason, PKU was one of the first diseases mandated to be included in newborn screening panels in the U.S. and many other countries. "PKU is attractive from a drug development perspective because 100% of patients are identified at birth," she adds.
There are about 17,000 PKU patients in the U.S. and two approved treatments: pegvaliase injection and sapropterin pills, which meet the needs of only about 25% of PKU patients, she contends.
Dr. Brennan says there is a significant unmet medical need for safe and effective treatment options as 75% of PKU patients are either non-responsive to sapropterin or not suitable for pegvaliase, generally due to safety concerns because of anaphylactic risk. In addition, those on sapropterin often could benefit from further reductions in Phe levels – an opportunity for an adjunctive treatment.
In September 2021, Synlogic's PKU program achieved proof-of-concept based on interim analysis data from the Phase 2 study (known as SynPheny-1) of SYNB1618, its lead Synthetic Biotic in development for the treatment of PKU.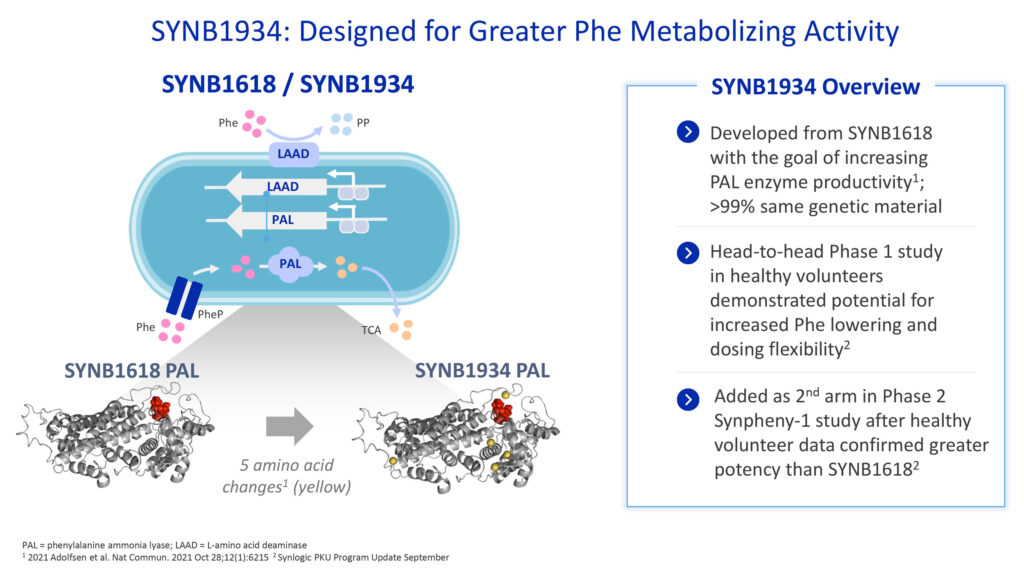 Four of the first eight patients in the analysis achieved the pre-specified responder definition of a greater than 20% reduction in plasma Phe, which represented "clinically meaningful efficacy," Dr. Brennan suggests. There were no serious adverse events or systemic safety issues identified.
SYNB1934, an enhanced potency strain evolved from SYNB1618, was evaluated in parallel in a Phase 1 head-to-head study, comparing safety and tolerability as well as biomarkers that indicate drug activity.
This study in healthy volunteers established the safety and tolerability bridge between the two candidates, and also demonstrated that SYNB1934 resulted in two-fold higher activity than SYNB1618, as measured by strain-specific biomarkers of Phe metabolism.
Dr. Brennan says based on these findings, Synlogic committed to advancing its PKU program to Phase 3, and initiated Phase 3 trial readiness activities. Synlogic also added SYNB1934 to an arm of the Phase 2 SynPheny-1 trial. After a review of the final complete set of Phase 2 data, Synlogic plans to confirm which PKU drug candidate will advance to Phase 3 and ultimately commercialization, pending approval.
Synlogic also is targeting a second rare metabolic disease, HCU, or homocystinuria, an inherited disorder caused by the loss of function of cystathionine beta-synthase, which results in excessive accumulation of homocysteine in blood and urine. This accumulation can lead to significant risks, including life-threatening strokes due to thromboembolism, lens dislocation, skeletal abnormalities and intellectual disability.
In November 2021, Synlogic unveiled SYNB1353, an orally-administered, non-systemically absorbed drug candidate, which was developed as part of a research collaboration between Synlogic and Ginkgo Bioworks for the treatment of HCU.
Dr. Brennan explains that SYNB1353 also is an engineered strain of the probiotic bacteria E. coli Nissle, which consumes methionine within the GI tract, preventing methionine absorption and conversion to homocysteine in plasma.
Synlogic holds worldwide development and commercialization rights to SYNB1353, which is expected to move from IND-enabling studies to a Phase 1 study in healthy volunteers, with data later in 2022.
Synlogic's third metabolic program is focused on enteric hyperoxaluria, a chronic, progressive disease characterized by risk of recurrent kidney stones due to excess absorption of oxalate, a contributor to the leading cause of recurrent kidney stones.
Dr. Brennan explains that enteric hyperoxaluria often occurs as a result of an injury to the GI tract that causes an individual to absorb too much oxalate from their diet. The build-up of oxalate crystals can damage kidneys and lead to severe pain and end-stage renal disease and dialysis, a costly element of health care.
There are approximately 200,000 patients with enteric hyperoxaluria in the U.S., of which 80,000 have severe disease and no approved treatment options.
SYNB8802 is a drug candidate designed to consume oxalate throughout the GI tract, creating a harmless metabolite, formate, for excretion, and preventing recurrent kidney stones.
In a Phase 1 study in healthy volunteers using a dietary model of the disease, Dr. Brennan says SYNB8802 achieved proof-of-mechanism showing dose-response and declines in urinary oxalate and fecal oxalate, with no serious or systemic safety events. Future studies could focus on enteric hyperoxaluria patients with existing renal disease, recurrent kidney stones because of enteric hyperoxaluria and secondary prevention in kidney stone patients.
Beyond its metabolic programs, Synlogic also has preclinical research efforts to develop novel Synthetic Biotics to treat inflammatory bowel disease, including a collaboration with Roche.
"We have important milestones coming up, with a full Phase 2 data readout in PKU and initiation of a Phase 3 trial; Phase 1 data from healthy volunteers in HCU; and proof-of-concept data in enteric hyperoxaluria," Dr. Brennan says, adding that Synlogic has a cash runway into 2024.
• • • • •
To connect with Synlogic Therapeutics or any of the other companies featured on BioTuesdays, send us an email at [email protected].