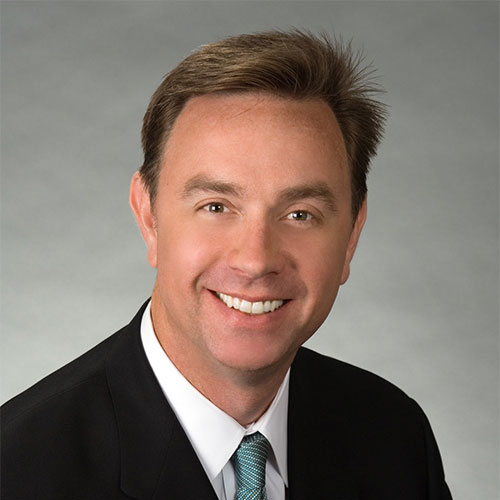 QSAM Biosciences (OTCQB:QSAM) began dosing bone cancer patients in a Phase 1 study in April 2022 with its next-generation radiopharmaceutical, CycloSam, which delivers the beta-emitting radioisotope, samarium-153, to generate clinical trial data to demonstrate the ability to halt or reverse primary and metastatic tumors in bone for both children and adults.
"Our product is the next generation of an already FDA-approved drug, with patented improvements that we believe will increase efficacy and utility, reduce toxicity, and streamline production from nuclear reactors," Douglas Baum, a co-founder and CEO of QSAM, says in an interview with BioTuesdays.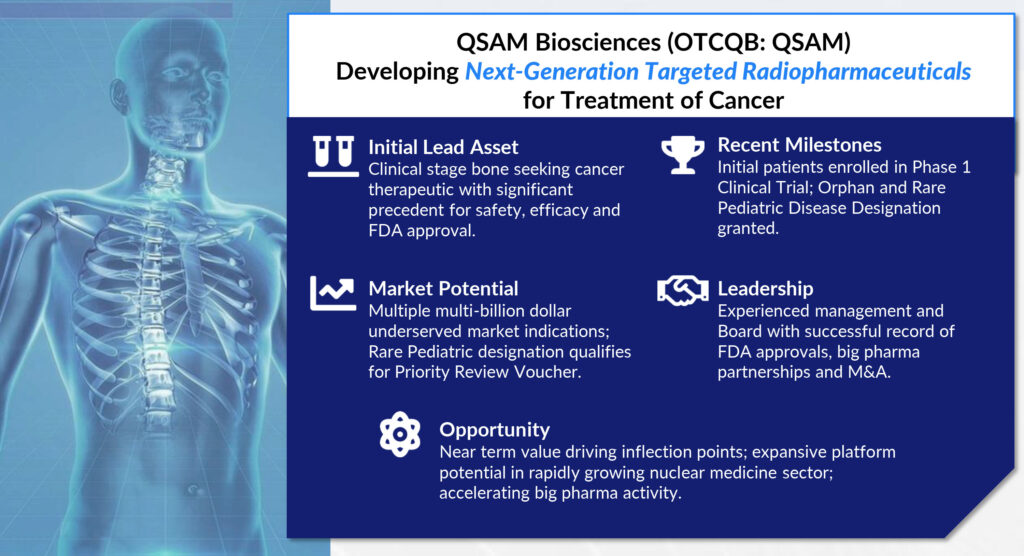 Therapeutic radiopharmaceuticals are intravenous forms of targeted radiation where a tumor-killing radioisotope is attached to a specific molecule that can seek out cancer cells, delivering radiation directly to the tumor site.
QSAM was launched in 2020 with an exclusive worldwide license from IGL Pharma to develop and commercialize CycloSam. The FDA cleared the company's IND in 2021 and the company is now enrolling 17 metastatic bone cancer patients at three clinical sites in a Phase 1 open-label, dose escalating study of CycloSam.
Patients with a wide group of tumors metastatic to the bone from prostate, lung, and breast cancer are eligible for the clinical trial. Interim data will be released by the end of 2022. QSAM also is hoping to close a $3-million private placement in mid-summer to fund operations through the data release.
Mr. Baum says CycloSam has received orphan and rare pediatric disease designations from the FDA, which qualifies for an FDA priority review voucher that has a potential value of more than $100-million. The voucher cuts the FDA review process of a drug application in half and can be sold and used by another company or used by QSAM.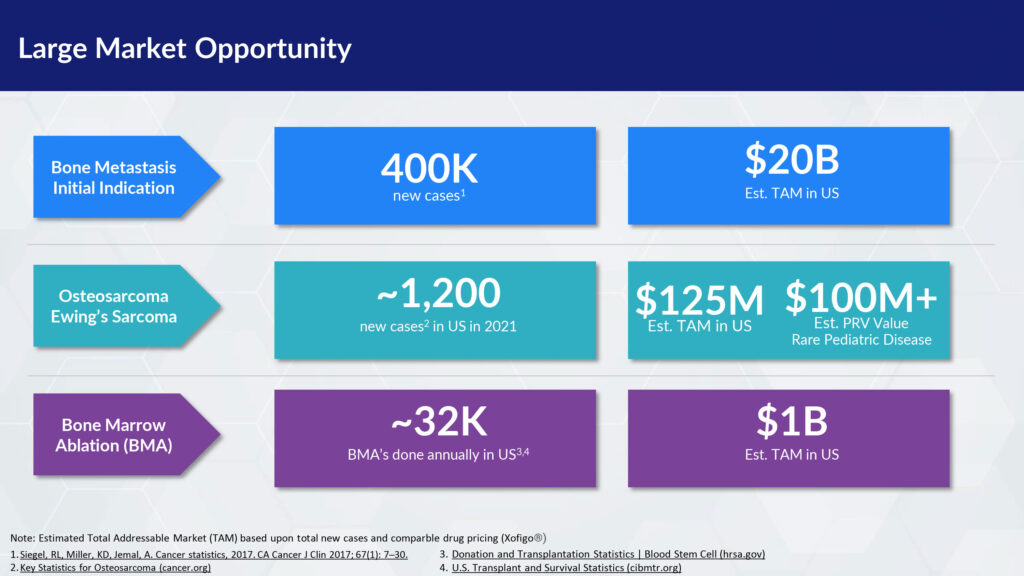 There are about 400,000 newly diagnosed cases of primary or metastatic bone cancer annually in the U.S. and 300,000 deaths. "It's clear from the numbers that the standard of care, which can include surgical amputation, chemotherapy and radiation, isn't working very well and there is a high unmet medical need," Mr. Baum contends.
Side effects of these current treatments include development of secondary cancers, heart and kidney damage, loss of hearing, thinking and memory impairment, learning problems, scarring of lungs and the liver, dental problems, loss of fertility and mobility issues.
In addition to metastatic bone cancer, QSAM's second indication with CycloSam is osteosarcoma and Ewing's sarcoma, the most common malignancies of bone cancer in children, which results in about 1,200 new cases a year in the U.S.
While patients with osteosarcoma or Ewing's sarcoma are eligible to participate in the company's initial Phase 1 trial, QSAM anticipates filing an amended protocol to its current IND application this year to commence clinical trials specifically for primary, pediatric bone cancers.
Two members of QSAM's scientific advisory board, Keith Frank, Ph.D., and Jim Simon, Ph.D., invented CycloSam's first generation predecessor, Quadramet, at Dow Chemical. Quadramet is FDA approved for bone cancer pain palliation but has been removed from the market in part because of impurities that limit its use in treating bone cancer disease.
"They knew the problems with the first generation Quadramet product and they made the enhancements and improvements in CycloSam before they entered into a licensing agreement with us," Mr. Baum points out, speaking about IsoTherapeutics. QSAM's IP is covered by 14 worldwide patents, several of which have already been granted/issued, across three distinct patent families extending through 2036.
Mr. Baum explains that a chelating agent known as, DOTMP, a critical component of CycloSam, which QSAM estimates to be superior to other radiopharmaceutical chelates, is designed to deliver CycloSam directly to the site of active bone cancer, with limited or no radiation impact on surrounding healthy tissue.
The potential benefits of the new formulation of CycloSam are reduced impurities and improved targeting, he adds, which makes higher and multi-dose regimens possible, with potential disease modifying effects, opening the door to new indications in larger markets.
While Quadramet is a single-dose treatment, Mr. Baum says CycloSam also can treat pain with repeated doses over a relatively short period of time and has the potential to treat the underlying bone cancer disease itself.
In addition, CycloSam has supply chain logistical advantages over Quadramet, which required cold-chain storage while CycloSam is room temperature stable. All of which, streamlines preparations and delivery and reduces costs, he points out.
In August 2011, Dr. Helmut Sinzinger published a study in the peer-reviewed journal, Nuclear Medicine and Molecular Imaging, which demonstrated that despite the limitations of Quadramet, it could still be used to effectively treat bone metastasis.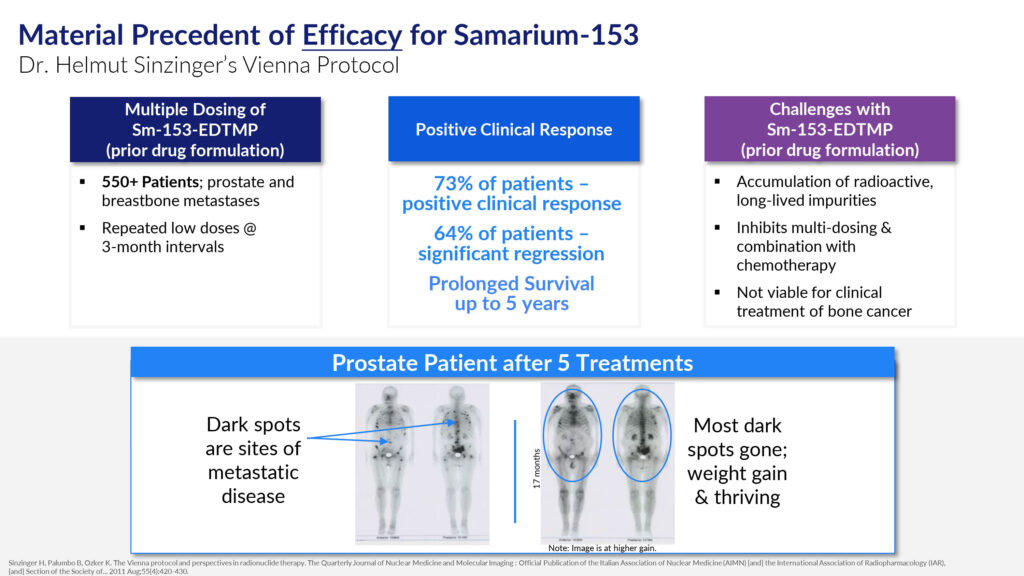 Known as the Vienna Protocol, Dr. Sinzinger treated 550 patients with prostate and breastbone metastases with repeated low doses of samarium-153 at three-month intervals during year one, followed by five treatments at six-month intervals, then five treatments at nine-month intervals, and then annually.
The Vienna study found that 73% of patients had a positive clinical response in tumor regression and 64% of patients had significant tumor regression, as well as prolonged survival of up to five years, at which point Dr. Sinzinger stopped following patients.
"We have a much purer version of that product so we can deliver higher doses over a much shorter period of time and treat the underlying bone cancer in addition to the bone cancer pain. And we would expect to show even better results that Dr. Sinzinger did in his study," Mr. Baum predicts.
QSAM's third indication for CycloSam is bone marrow ablation as a first step before a stem cell transplant, which is used in some cancer treatments and other diseases, such as Sickle Cell anemia.
In March 2020, physicians at the Cleveland Clinic successfully ablated the bone marrow of an FDA-cleared 25-year-old patient with osteosarcoma bone cancer and myelodysplastic syndrome, a rare blood disorder, prior to a bone marrow transplant. The terminally-ill male patient received a single high dose of CycloSam, 10 times greater than the highest dose currently being used in QSAM's Phase 1 study.
Mr. Baum says there were no serious adverse toxicity or tolerability events and the patient responded quite well. "Our product behaved exactly as we've seen in animal studies, with skeletal uptake but no lung uptake and very little uptake in soft tissues." The patient died five months after his stem cell transplant from a hospital-acquired infection unrelated to CycloSam.
While QSAM isn't pursuing the bone market ablation indication in the near term, Mr. Baum says the company may pursue a grant down the road to conduct a pilot study in bone marrow ablation.
Meanwhile, he says the company is conducting due diligence to license-in a second asset, which would target the treatment of soft tissue cancer.
Mr. Baum says the company has established an on-demand supply chain for patient-specific doses of CycloSam with Iso Therapeutics, which produces DOTMP kits and samarium-152 targets, and with the University of Missouri Research Reactor Center, which converts samarium-152 into radioactive samarium-153 to supply hospitals. That just-in-time process takes 24-to-36 hours.
"Over the next two-to-three years, we intend to expand our supply chain to be commercially ready to scale up," if CycloSam is approved, Mr. Baum says. "And we are currently in the process of qualifying two additional nuclear reactor sites and contract research organizations to reduce our future business risk and scale up for future anticipated demand."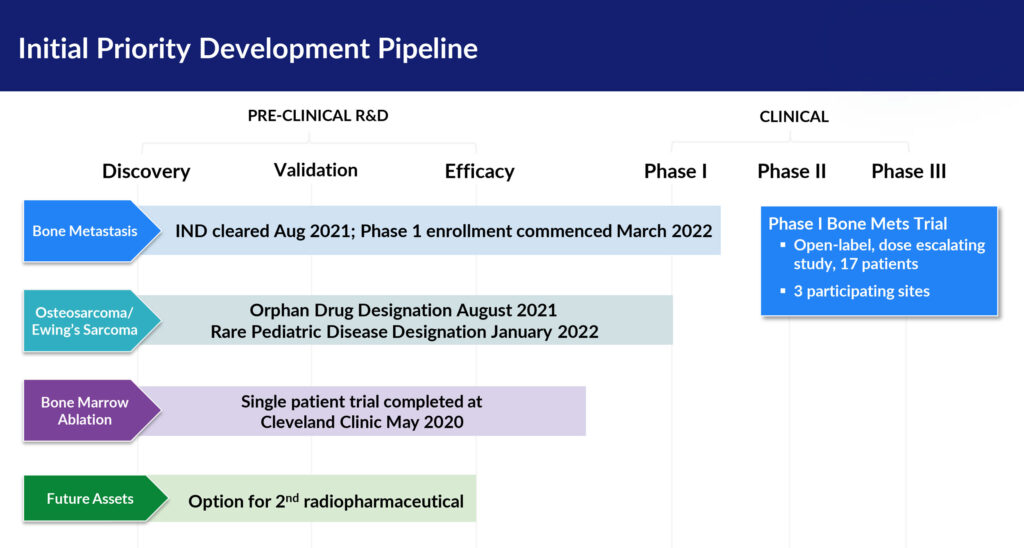 * Editor's Note: This article does not constitute an offer to sell or the solicitation of an offer to buy any securities of QSAM, and shall not constitute an offer, solicitation or sale of any security in any state or jurisdiction in which such offer, solicitation or sale would be unlawful prior to registration or qualification under the securities laws of any such state or jurisdiction.
• • • • •
To connect with QSAM Biosciences or any of the other companies featured on BioTuesdays, send us an email at editor@biotuesdays.com.