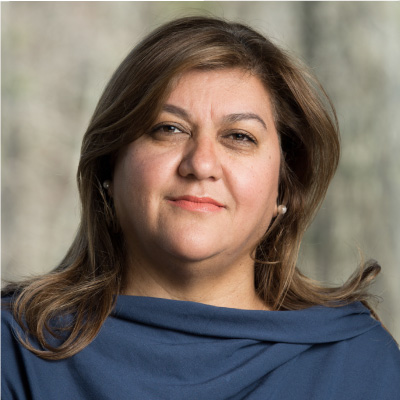 Precigen (NASDAQ:PGEN) is advancing a pipeline of next generation gene and cell therapies using precision technology in its core therapeutic areas of immuno-oncology, autoimmune disorders, and infectious diseases.
"We presented interim data in 2021 across three technology platforms – UltraCAR-T, AdenoVerse, ActoBiotics – with our clinical and preclinical programs continuing to produce positive results," Helen Sabzevari, Ph.D., president and CEO of Precigen, says in an interview with BioTuesdays.
"In 2022, we will continue to advance our clinical programs with a concentration on rapid paths to licensure for potential therapies addressing high unmet patient needs," she adds.
Dr. Sabzevari explains that UltraCAR-T is a multigenic autologous chimeric antigen receptor (CAR) T-cell therapeutic platform that utilizes Precigen's advanced non-viral system to simultaneously express an antigen-specific CAR to specifically target tumor cells. The technology also includes a membrane bound IL15 for enhanced expansion and persistence in the patient, and a kill switch to eliminate CAR-T cells for a potentially improved safety profile.
CAR-T therapy is a way to get immune T-cells, a type of white blood cell, to fight cancer by changing them in the lab so they can find and destroy specifically targeted tumor cells. CAR T-cell therapy, or cell-based gene therapy, involves altering the genes of T-cells to help them better attack the cancer.
Precigen's UltraCAR-T investigational therapies are manufactured via an overnight manufacturing process, using their proprietary UltraPorator electroporation system, at a hospital and administered to patients the next day. "Not only is this a less costly manufacturing process but a decentralized manufacturing facility is not required to enable UltraCAR-T therapy administration at the point of care for the patient," she adds.
"The overnight UltraPorator process, which has the potential to manufacture four billion T-cells in under 12 minutes, does not use viral vectors and does not require ex vivo activation and expansion of T-cells, potentially addressing major limitations of current T-cell therapies," Dr. Sabzevari says. "Conventional manufacturing expansion of CARs can typically take four-to-eight weeks, which is too much time for patients with advanced cancers."
The company's UltraCAR-T therapeutic pipeline includes:
PRGN-3006, which completed dose escalation and presented positive interim data from a Phase 1 trial in acute myeloid leukemia (AML), including an objective response rate of 50% in patients treated at the two lowest doses in the lymphodepletion cohort, and no dose limiting toxicity and no neurotoxicity.
PRGN-3005, which completed enrollment in dose level three of the IV and intraperitoneal arms of a Phase 1/1b trial in advanced, recurrent platinum-resistant ovarian cancer.
And PRGN-3007, which received IND clearance to initiate a Phase 1 trial targeting tyrosine kinase-like orphan receptor 1 (ROR1) in hematologic and solid tumors in 2022.
Dr. Sabzevari points out that PRGN-3006 targets CD33, a myeloid marker commonly used for the diagnosis of AML. Some 85% to 90% of AML patients show expression of CD33 on blast and leukemia stem cells.
According to the American Cancer Society, there were an estimated 11,000 deaths from AML in 2021 as the five-year survival for patients over the age of 65 is as low as 5%. The society also estimates there are more than 20,000 newly diagnosed cases of AML each year and more than 10,000 newly diagnosed myelodysplastic syndromes (MDS), a type of cancer occurring when blood-forming cells in bone marrow become abnormal.
In the first half of 2022, Dr. Sabzevari says Precigen plans to initiate a multicenter expansion phase with PRGN-3006 at dose level three with lymphodepletion. The company's 2022 plans also include incorporating repeat dosing in the PRGN-3006 clinical trial, and presenting additional Phase 1/1b trial data.
The company's second UltraCAR-T asset, PRGN-3005, also is an autologous CAR-T cell therapy engineered to express a CAR specifically targeting the unshed portion of the protein coding gene, MUC16, which is highly expressed on ovarian tumors, with limited normal tissue expression, as well as membrane-bound IL15, and a kill switch.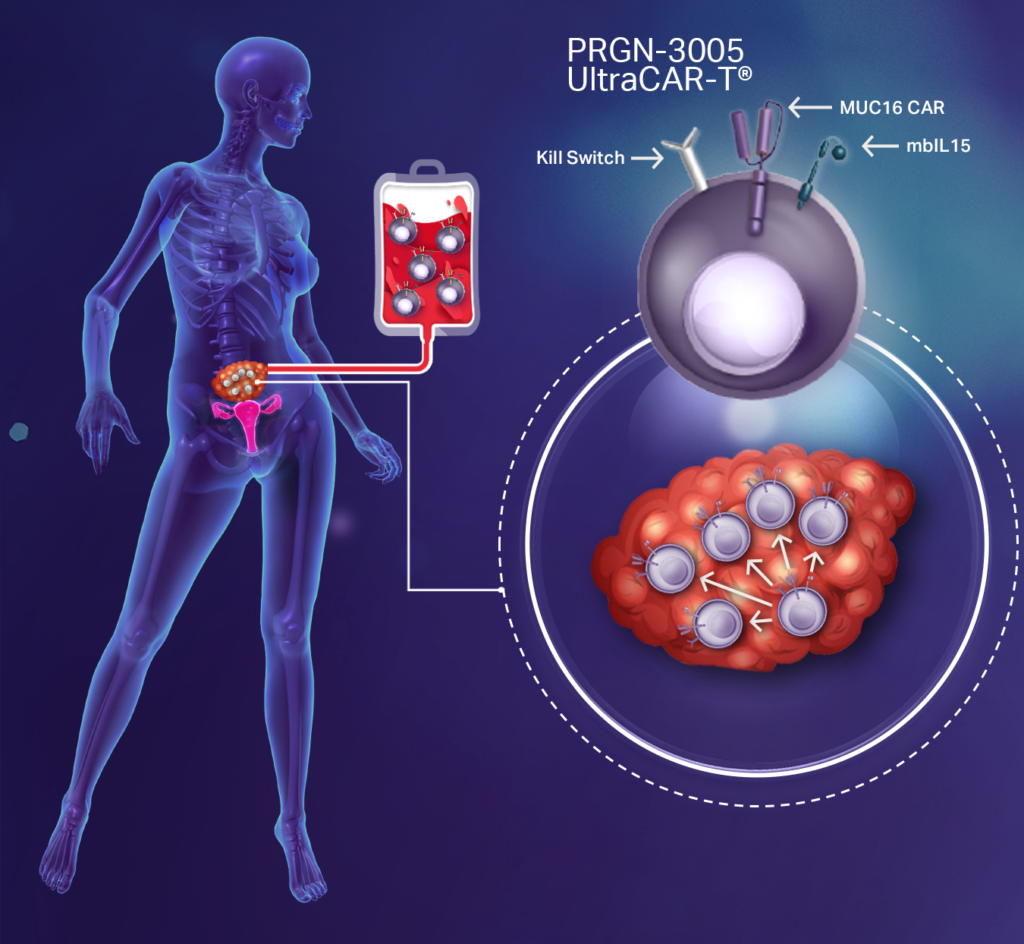 Ovarian cancer is the most lethal of the gynecologic malignancies, with stage four survival as low as 20%. There are some 22,000 newly diagnosed patients annually in the U.S. and 300,000 worldwide.
In an ongoing Phase 1/1b study at the University of Washington in Seattle and the Fred Hutchinson Cancer Research Center, PRGN-3005 demonstrated "excellent dose-dependent expansion and persistence, as well as an excellent safety profile in the intraperitoneal arm of the study," Dr. Sabzevari says.
In addition, Dr. Sabzevari says 50% of advanced ovarian cancer patients treated with PRGN-3005 at dose level one or dose level two in the intraperitoneal arm of the study experienced regression of target tumor lesion burden.
"No other CAR-T has shown any activity against solid tumors because after manufacturing, T-cells are exhausted and may only survive for two-to-three weeks," she adds. "Because we have data for expansion and persistence of T-cells, we are changing the paradigm of cancer treatment. And if the patient needs a different CAR to target a specific antigen, we can do that overnight."
In addition to ovarian cancer, MUC16 is overexpressed in other solid tumors, including pancreatic, lung, breast and endometrial cancers.
Precigen has received FDA clearance to incorporate lymphodepletion at dose level three of the IV arm in 2022. The company also plans to initiate a multicenter expansion phase with PRGN-3005.
Precigen's third UltraCAR-T asset, PRGN-3007, also is a multigenic, autologous CAR-T cell therapy engineered to simultaneously express CAR targeting ROR1, membrane-bound IL15, and a kill switch.
"Additionally, in this next generation of UltraCAR-T, we have added a novel mechanism to PRGN-3007 for the intrinsic blockade of PD-1 expression on UltraCAR-T cells to avoid systemic PD-1 checkpoint blockade and to reduce toxicity," Dr. Sabzevari says, adding that "ROR1 is an attractive target for hematologic and solid tumors."
ROR1 is aberrantly expressed in multiple hematologic tumors, including chronic lymphocytic leukemia, mantle cell leukemia, acute lymphoblastic leukemia, and diffuse large B-cell lymphoma, and in solid tumors, including breast adenocarcinomas, such as triple negative breast cancer, pancreatic cancer, ovarian cancer, and lung adenocarcinoma. ROR1 is minimally expressed in healthy adult tissues.
Another of the company's platform technologies, AdenoVerse, includes:
PRGN-2012, an investigational off-the-shelf therapeutic vaccine designed to use Precigen's gorilla adenoviral technology to elicit immune responses directed against cells infected with human papillomavirus (HPV) 6 or HPV 11 for the treatment of recurrent respiratory papillomatosis (RRP). Gorilla adenovectors have numerous advantages, including the ability for repeat administration, the inability to replicate in vivo, which may improve safety, and the ability to deliver large payload capacity.
And PRGN-2009, an off-the-shelf investigational immunotherapy designed to activate the immune system to recognize and target HPV-positive solid tumors.
PRGN-2012 is currently being evaluated at the NCI in a Phase 1 study and has completed enrollment of 15 RRP patients. Interim data demonstrated an excellent safety profile; neutralizing antibody data supporting repeated administrations of PRGN-2012; and encouraging clinical responses in RRP patients, including fewer surgical interventions following PRGN-2012 treatment.
"We intend to seek FDA guidance this year on a rapid regulatory strategy for PRGN-2012 in RRP, given the positive interim results and significant unmet patient need," Dr. Sabzevari says. The FDA previously granted PRGN-2012 orphan drug designation in RRP.
The company also plans to present additional Phase 1 expansion cohort clinical data from PRGN-2012 in the second half of 2022.
PRGN-2009 also is currently being evaluated at the NCI in a Phase 1/2 clinical trial. Enrollment has been completed in the Phase 1 monotherapy arm, with enrollment ongoing in the Phase 1 combination arm of PRGN-2009 and bintrafusp alfa, a bifunctional fusion protein, in previously treated patients with recurrent or metastatic HPV-associated cancers. Enrollment also is ongoing in the Phase 2 monotherapy arm in newly diagnosed patients with oropharyngeal squamous cell carcinoma.
Dr. Sabzevari says preliminary data for PRGN-2009 in the Phase 1 combination arm demonstrated an objective response rate of 40% and disease control rate of 60%, along with an excellent safety profile. "Encouraging objective responses suggest an attractive opportunity for potential combination of PRGN-2009 with checkpoint inhibitors in multiple HPV-associated cancers," she adds.
"Like PRGN-2012, we intend to seek FDA guidance this year on a rapid regulatory strategy for PRGN-2009, given the positive interim results and significant unmet patient need. We also plan to initiate a Phase 2 study this year in advanced HPV-associated cancer indications in combination with an approved anti-PD-1 checkpoint inhibitor."
Another of Precigen's technology platforms is ActoBiotics, which are targeted, microbe-based, and specifically designed agents that express and locally deliver potential disease-modifying therapeutics at disease sites, including the intestine, mouth and nasopharynx, to treat a range of disorders.
The company's lead ActoBiotics drug candidate, AG019, is an investigational therapy designed to induce oral immune tolerance to reverse Type 1 diabetes (T1D) and is currently under clinical evaluation for the treatment of early-onset T1D.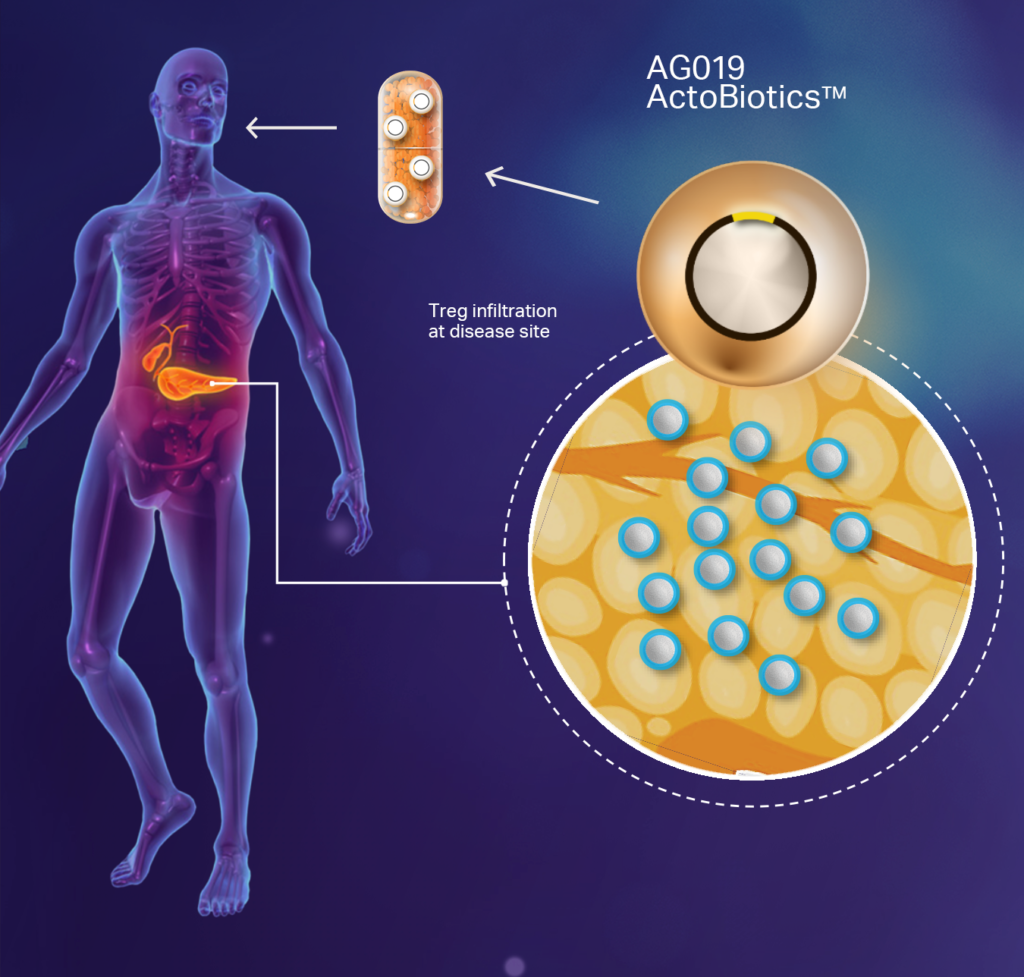 The company completed a Phase 1b/2a clinical trial with AG019 as a monotherapy and in combination with teplizumab. "We are currently in discussions with the FDA and EMA for a Phase 2/3 clinical trial design as a stepping stone to licensure," Dr. Sabzevari says, adding that the company also is scaling up manufacturing of commercial grade quantities of AG019.
In the Phase 1b/2a study, AG019, as monotherapy and in combination, had no serious adverse events; stabilized C-peptide levels, a biomarker for T1D progression; and stabilized HbA1c and IDAAic levels, which are indicators of long-term glycemic control in people with diabetes.
"We have positioned our portfolio to see which of our platforms has the highest possibility of success and we are delighted that up to this point, we have seen positive data from all of them," Dr. Sabzevari says. "This allows the portfolio to have many shots on goal and increases our chances of success."
• • • • •
To connect with Precigen or any of the other companies featured on BioTuesdays, send us an email at editor@biotuesdays.com.