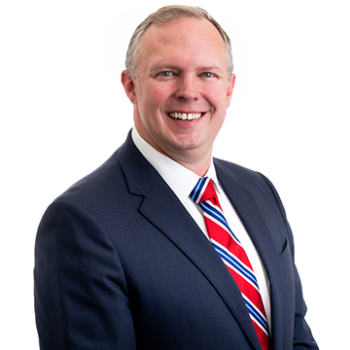 Palisade Bio (NASDAQ:PALI) is advancing therapies that help patients with acute and chronic GI complications, stemming from post-operative tissue damage, to speed recovery and reduce hospital stays.
"Decades of research have shown that surgical damage to the intestines can result in digestive enzymes leaking into surrounding tissue, causing inflammation and tissue damage, and a broad array of acute and chronic conditions," Tom Hallam, Ph.D., CEO of Palisade, says in an interview with BioTuesdays.
Palisade was created in an April 2021 merger of Leading BioSciences and Seneca Biopharma.
Dr. Hallam says the company's late-stage asset, LB1148, is an oral liquid protease inhibitor designed to be administered at home prior to major GI, abdominal, gynecological and cardiovascular surgeries. The drug is expected to be reimbursed by a patient's pharmacy benefit, with no cost to a hospital, and doesn't disrupt a surgeon's practice.
"LB1148 has demonstrated positive clinical results in two large indications: accelerating the return of post-operative bowel function and reducing post-surgical adhesions."
An adhesion is a band of scar tissue that binds two parts of tissue that are not normally joined together. Abdominal adhesions are a common complication of surgery, occurring in up to 93% of people who undergo abdominal or pelvic surgery.
Dr. Hallam says post-surgical adhesions are an unmet need, leading to the number one cause of lower bowel obstruction and secondary female infertility. In addition, adhesions are the tenth most frequent cause of emergency surgery and 80% of emergency surgery deaths. They account for $2-billion to $3-billion in medical costs annually in the U.S..
The time of post-operative GI recovery also represents an unmet need, Dr. Hallam says, adding that patients generally do not leave hospital until they have a bowel movement, which often takes three-to-five days at an average hospital expense per in-patient day of $2,400. "That's the number one reason surgical patients remain hospitalized."
Dr. Hallam explains that intestinal injury from surgery triggers a cascade of disease mechanisms from digestive enzymes leaking out of the intestine, attacking surrounding tissue and leading to post-operative complications, such as delayed recovery, ileus, adhesions and inflammation. "Our drug is designed to prevent intestinal damage and rapidly reseal the barrier."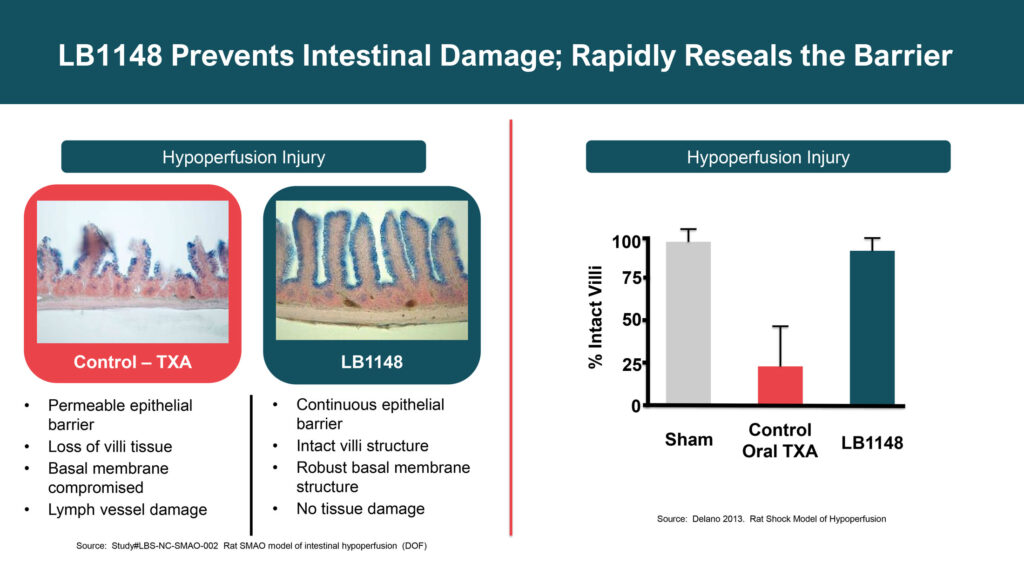 The FDA has granted LB1148 fast track designation for treating post-operative GI dysfunction in pediatric patients who undergo open-heart surgery and for post-surgical adhesions, positioning LB1148 for potential accelerated approval and priority review.
In a Phase 2 randomized, double-blind and placebo-controlled clinical trial with 120 patients undergoing elective bowel resection surgery, including laparotomy and laparoscopic surgical approaches, LB1148 demonstrated a 1.1-day to 1.3-day reduction in the length of hospital stay. The primary outcome was recovery of bowel function measured as the time from the end of surgery to oral food tolerance and passage of stool.
Palisade also is evaluating LB1148 in an ongoing Phase 2 study for the prevention of post-surgical abdominal adhesions. In preclinical studies, animals receiving LB1148 before surgery had 63% fewer adhesions.
In a Phase 1 study with three patients that required a second surgery unrelated to adhesions, zero adhesions and no evidence of inflammation followed treatment with LB1148. "Granted it's early days but it looks very promising," Dr. Hallam adds.
Subject to FDA approval, Palisade hopes to begin its Phase 3 clinical trial during 2022 with patients undergoing routine GI surgery. "I have a high degree of confidence because we have achieved consistent statistically significant efficacy in three completed clinical studies and our Phase 3 clinical trial is going to resemble our Phase 2, only bigger," he says.
Dr. Hallam points out that there is only one competitor for each of Palisade's two indications: Entereg, for return to bowel function and Seprafilm, for post-surgical adhesions. "They've shown us the way and we expect to follow the same regulatory pathway for FDA approval," he adds.
"In our Phase 2 study with LB1148, the accelerated return of bowel function was larger in magnitude than any of the five controlled studies that were submitted to the FDA for approval of Entereg," Dr. Hallam contends. Entereg sales have been dampened by a black box warning from the FDA because of increased incidence of myocardial infarction, or heart attack. "So, we think we can capture this market coming in with our oral therapy."
Seprafilm, an adhesion barrier, is the only product approved for abdominal surgery but cannot be used for laparoscopic procedures, which represent a growing percentage of the surgery market, Dr. Hallam says, adding that the film sheets only reduce adhesions between the abdominal wall and the underlying viscera. "Again, we think our oral drug can be the preferred product in this market."
Palisade has out-licensed the commercial rights to LB1148 for Greater China, excluding Taiwan, to Newsoara Biopharma of Shanghai, a spinout of Tigermed, the largest contract research organization in China. "We have a fantastic relationship with Newsoara under a co-development agreement," Dr. Hallam says, noting that Palisade's clinical studies in North America mirror those Newsoara conducts in China.
"LB1148 has a large global market opportunity," he adds, pointing to 6.7 million addressable patients in the U.S. who would be eligible for treatment with LB1148. A 20% to 40% market penetration could translate to more than $2-billion in annual revenue.
"One of our early investors was a hospital system, so we know that market well and believe we can commercialize LB1148 by marketing to 5,000 hospitals in the U.S. with our own sales force," Dr. Hallam says. "And we still have the potential to partner in Europe and the rest of the world so, we have a bright future ahead of us."

• • • • •
To connect with Palisade Bio or any of the other companies featured on BioTuesdays, send us an email at editor@biotuesdays.com.