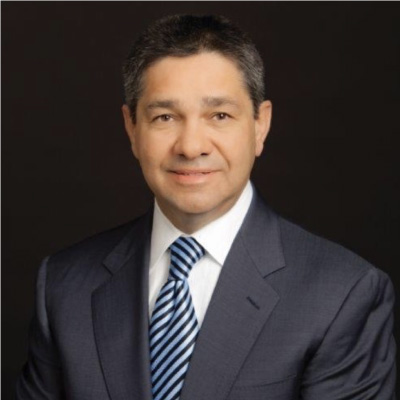 Ampio Pharmaceuticals (NYSE American:AMPE), citing a significant impact from COVID-19 on its second confirmatory Phase 3 trial of Ampion for the treatment of severe osteoarthritis of the knee (OAK), hopes to meet with the FDA in the first half of 2022 to discuss a proposed modified intent-to-treat efficacy analysis for AP-013, its second pivotal trial.
"We believe a proposed modified intent-to-treat analysis of AP-013 will confirm the consistency of results with our first Phase 3 trial, AP-003-A, to support filing a biologics license application for Ampion with the FDA," Michael Martino, chairman and CEO of Ampio, says in an interview with BioTuesdays.
The AP-003-A trial previously demonstrated a statistically significant reduction in pain and a statistically significant improvement in function with mild, moderate and severe OAK patients, compared with saline, at 12 weeks.
The FDA accepted AP-003-A as the first of two required pivotal studies and acknowledged that Ampion had demonstrated efficacy in OAK. In their evaluation of the AP-003-A data, the FDA noted a strong Ampion signal in the severe OAK subpopulation and commented that reduction of pain in severe OAK patients would address a high unmet medical need. Ampio management subsequently decided to target severe OAK patients in the AP-013 trial.
"We believe that if the FDA agrees with the modified intent-to-treat efficacy presentation for study AP-013, the trial would have substantially confirmed the benefits for severe OAK patients that we saw in the original trial," Mr. Martino suggests.
In addition, the company believes it has compiled the largest safety database for any drug to treat severe OAK. "Across four earlier clinical trials, there have been no drug-related severe adverse events, including in one trial in more than 100 patients who received repeated injections of Ampion over 52 weeks," he adds. "We believe the AP-013 study will confirm Ampion's safety profile."
According to a recent estimate published in The Lancet, around 650 million people worldwide suffer from OAK, an inflammatory, progressive, incurable disease characterized by elevated cytokines in the joint space. Beyond being a mere quality of life issue, people who suffer from osteoarthritis have a significantly higher mortality rate than the general population.
There are currently no FDA-approved drugs for pain reduction and function improvement from severe OAK, making it an unmet medical need, according to the FDA. And there are few treatment options for patients with severe OAK other than opioids and a total knee replacement.
As a result of the COVID-19 pandemic, Mr. Martino says the FDA asked the company to conduct a sensitivity analysis to detect potential biases related to the pandemic during the AP-013 study. "We followed FDA's guidance, completed a top-line analysis, and performed the FDA-recommended sensitivity analysis, with the resulting data demonstrating a statistically significant impact from the pandemic."
Last week, Ampio released results from study AP-013, noting that the pandemic resulted in large chunks of missing data in both the Ampion treatment and saline arms. Mr. Martino points out that two dozen clinical sites either closed their doors completely or stopped allowing monitoring visits during the pandemic and other sites stopped performing discretionary procedures for the safety of patients and staff.
Instead of 1,043 intent-to-treat patients in study AP-013, an analysis of 618 patients who met the target conditions and were not impacted by the pandemic demonstrated a statistically significant reduction in pain and a trend towards improvement in function at 12 weeks with Ampion treatment, compared with saline.
The AP-013 protocol also included an analysis of the per-protocol patient population to eliminate patients with major deviations from protocol. This analysis resulted in an efficacy analysis of 580 patients and "in this population, we demonstrated a statistically significant improvement in pain reduction and a statistically significant improvement in function," Mr. Martino says.
Mr. Martino notes that both the modified intent-to-treat and per-protocol analyses maintain the principles of randomization and balance between the two arms. However, based on guidance from clinical advisors and precedent, he believes the modified intent-to-treat will likely be more acceptable to the FDA than the per-protocol population for determining the appropriateness of AP-013 as a stand-alone trial to support a BLA.
"As a result, we will be asking the FDA to accept the modified intent-to-treat efficacy analysis of study AP-013, supported by the per protocol analysis, and acknowledge that AP-013 represents a second, well controlled trial of Ampion to support the filing of a BLA, hopefully in early 2023," he adds.
"If we obtain a label from the FDA for superiority of pain reduction with a trend towards improvement in function, we would consider that to be a huge win."
Mr. Martino, who joined the Ampio board in October 2021, moved into the executive suite a month later, replacing Mike Macaluso, who took medical leave. "When I joined the board, I believed Ampion was a real drug, with a longer-term opportunity to be a platform biologic we could expand to treat osteoarthritis of other joints."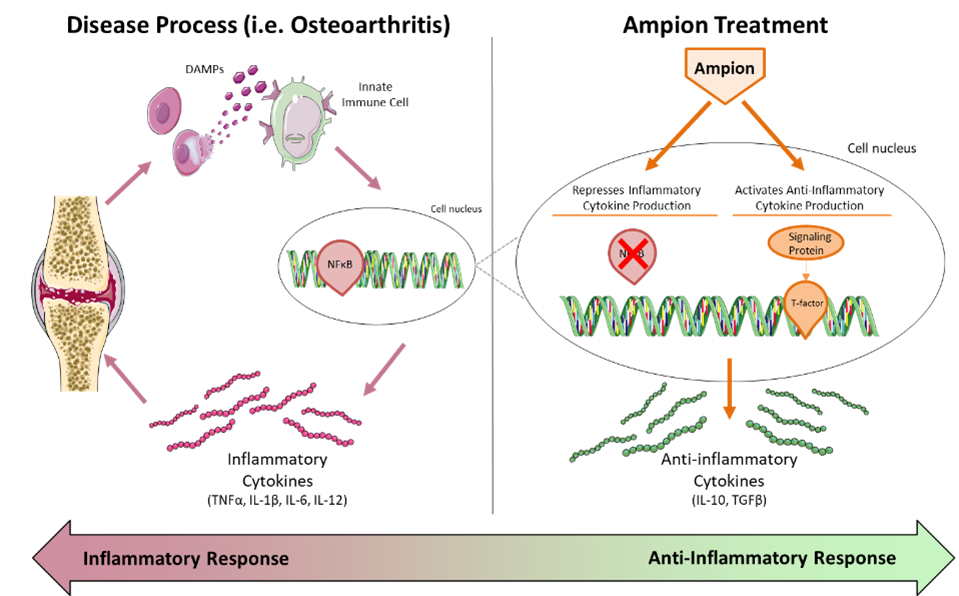 Ampion is a novel biologic drug containing a cyclized peptide and small molecules that target multiple pathways in the innate immune response characteristic of inflammatory disease.
According to Mr. Martino, these ingredients work together to achieve an anti-inflammatory effect to treat a variety of inflammatory conditions, including osteoarthritis, respiratory illness, and other inflammatory diseases. "The secret sauce is a proprietary manufacturing process that isolates these anti-inflammatory factors."
Ampio's in-house, low-cost manufacturing has a current capacity of eight million vials of Ampion a year, which Mr. Martino says is more than sufficient for a potential launch of Ampion.
"If we go the route of signing a partnership to complete development and potential commercialization of Ampion, we would retain the right to continue manufacturing Ampion," he adds. "And I am pleased at the significant level of interest and activity to date with potential partners."
Ampion, which has been in clinical development since 2012, has been studied in more than 1,500 patients who have been treated with Ampion. The company's extensive IP protection extends through 2037 and includes 25 issued patents in the U.S. and 12 pending, along with 57 issued patents outside the U.S. and 28 pending.
Mr. Martino explains that Ampion shifts the cycle of inflammation back towards tissue repair, remodeling and healing by suppressing inflammatory proteins, such as tumor necrosis factor-alpha, and interleukins, 1-beta, 6 and 12, and activating anti-inflammatory proteins, such as IL-10.
"We have previously published preclinical and studies that suggest Ampion may contribute to cartilage regeneration and joint preservation," he adds. "This could be a distinctive feature of Ampion going forward and we are continuing to study this preclinically at this point."
Mr. Martino suggests that Ampion's mechanism of action may be useful with other inflammatory indications, such as other joints, including the hip, shoulder, wrist and hand, along with sports injuries.
In addition, he notes that the company has ongoing studies in systemic inflammatory conditions and other respiratory diseases related to COVID-19. "Enrollment has been slow because of competing studies in the space but we expect to evaluate the data in the first half this year and if it's outstanding, we would pursue the indication opportunistically," he adds.
"The benefit of the COVID-19 trials is that it has allowed us to validate alternative delivery routes for Ampion, specifically IV for systemic delivery and inhalation."
• • • • •
To connect with Ampio Pharmaceuticals or any of the other companies featured on BioTuesdays, send us an email at [email protected].