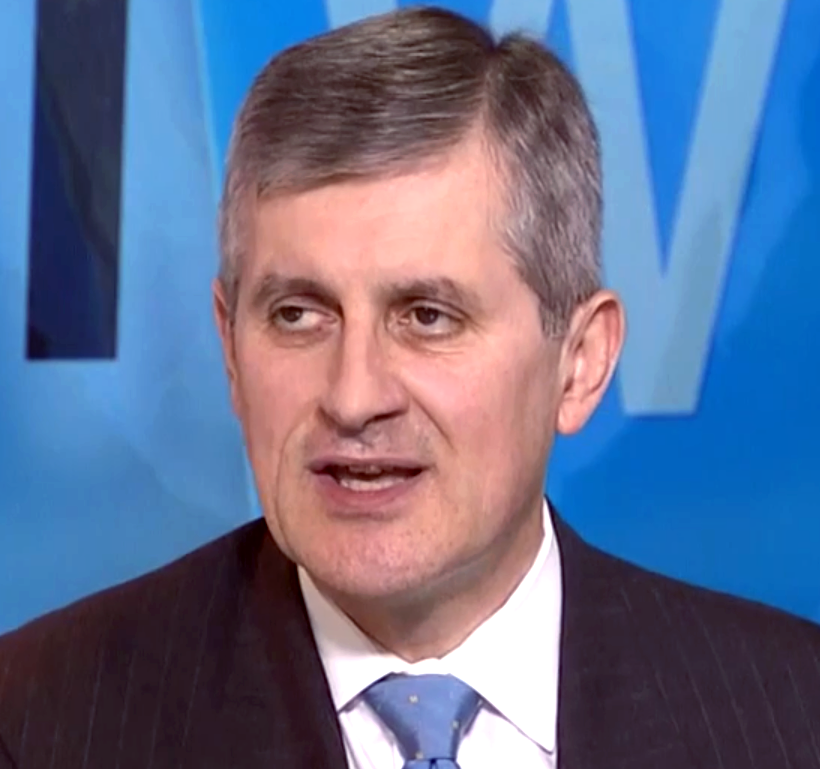 Cyclacel (NASDAQ:CYCC) is developing several innovative therapies that target various phases of cell cycle control for the treatment of solid tumor and blood-borne cancers, such as leukemia.
"In cancer patients certain innate mechanisms which control proliferation and induce cancer cells to commit suicide, via apoptosis, are malfunctioning. This enables cancer cells to develop resistance to cancer medicines and ultimately become immortal. New classes of drugs, called CDK and PLK inhibitors, have the potential to reactivate the body's ability to destroy cancer cells by restoring apoptosis," Spiro Rombotis, president and CEO, says in an interview with BioTuesdays.
"We are establishing a leadership position among apoptosis-enabling compounds in clinical development," he adds.
Cyclacel is developing two clinical-stage candidates, fadraciclib and CYC140, which can be delivered by either intravenous or oral administration. Fadraciclib, selectively inhibits cyclin-dependent kinases, CDK2 and CDK9, two complementary cancer pathways, and CYC140, selectively inhibits polo-like kinase PLK1, which plays a central role in cell division, or mitosis, and regulates the DNA damage checkpoint.
The target profiles of fadraciclib and CYC140 were proposed by the company's two scientific founders, Professors David Lane and David Glover, respectively.
"Fadraciclib, which is a little further ahead, has demonstrated clinical proof-of-mechanism as a single agent. It is the first CDK2/9 drug candidate to show durable suppression of the myeloid cell leukemia-1 (MCL1) anti-apoptotic protein and anticancer activity in patients," Mr. Rombotis points out.
Cyclacel is in the process of starting a streamlined Phase 1b/2 study in solid tumor patients in the first half of 2021 with oral fadraciclib as a single agent and in combination with standard of care. The purpose of the study is to demonstrate proof of concept in one or more solid tumor types and lead to "registration-enabling outcomes," Mr. Rombotis says.
"The aim of our fadraciclib program is to restore the apoptotic machinery, by suppressing anti-apoptotic proteins, resulting in tumor reduction."
Mr. Rombotis explains that in early clinical development, fadraciclib, given intravenously as a single agent, was well tolerated, showed a short half-life, and acted by the expected biological mechanism based on pharmacodynamic markers.
Although it was dosed sparingly, fadraciclib demonstrated durable partial response and stable disease in patients with advanced solid tumors, he adds. In particular, a patient with endometrial cancer and elevated levels of MCL1 achieved a durable partial response with continuing shrinkage of target lesions reaching 96% and is still on treatment with intravenous fadraciclib for nearly two years.
In another clinical study in patients with leukemia intravenous fadraciclib was tested in combination with venetoclax, an approved anti-apoptotic drug for leukemia, which suppresses the BCL2 protein.
Patients with chronic and acute leukemia had received venetoclax alone after failing standard-of-care front-line therapies. Venetoclax clears leukemia cells from bone marrow and peripheral blood but not the lymph nodes, which leads to minimal residual disease (MRD), a prognostic factor for poor survival. Patients with chronic leukemia treated with the combination converted to MRD negative status and patients with acute leukemia experienced reductions in leukemic blast cells.
In October 2020, Cyclacel reported Phase 1 clinical data demonstrating good oral bioavailability of fadraciclib in patients with advanced solid tumors.
Mr. Rombotis says the data support clinical development of fadraciclib as an oral medicine in an upcoming Phase 1/2 study. The study, which is slated to start in the first half of 2021, will test fadraciclib in patients with multiple tumors.
The trial design includes a dose escalation stage leading to a proof-of-concept stage with up to eight tumor cohorts, including patients with advanced breast, endometrial/uterine and ovarian cancer. There will also be a basket cohort, the goal of which is to take patients with different tumor types enriched for elevated levels of the cyclin E, MCL1 and/or MYC biomarkers."
The objective of the first stage is safety and determination of a recommended Phase 2 dose to be used in the cohort stage. A prespecified statistical rule based on observed response will determine if the cohort should be expanded. Data from the initial cohorts could be available in about a year from first patient treated.
"We believe that our findings to-date support fadraciclib's ability to address key cancer pathways in solid tumors indicating its potential as a precision medicine," he adds.
Along with safety and efficacy, the Phase 1b/2 study will evaluate biomarkers, which are relevant to fadraciclib's mechanism of action, such as cyclin E, MCL1 and/or MYC.
According to industry surveys, second line, high-grade serious ovarian cancer has a prevalence of about 80,000 patients in the U.S. and the cyclin E biomarker is amplified in about 35% of those patients. Second line endometrial/uterine cancer has a similar prevalence but shorter survival. Cyclin E amplification is observed in about 20% of these patients. Second line hormone receptor positive breast cancer, which is the largest breast cancer subgroup, has a U.S. prevalence incidence of about 735,000 and cyclin E is amplified in about 30% of these patients.
"In addition to our studies in solid tumors, we are encouraged by evidence of anti-leukemic activity in our studies of fadraciclib in hematological malignancies," he suggests.
A second Phase 1b/2 study will use a similar design to evaluate oral fadraciclib as a single agent and as combination in patient cohorts with relapsed/refractory acute myeloid leukemia, myelodysplastic syndrome and possibly chronic lymphocytic leukemia.
In Cyclacel's anti-mitotic program, the company has optimized CYC140 as a highly potent and selective PLK1 inhibitor with a short half-life. CYC140 has demonstrated compelling preclinical activity in liquid and solid cancers. Cyclacel is also preparing a streamlined Phase 1b/2 oral solid tumor study to start in the second half of 2021.
Mr. Rombotis said that cancer cells are very sensitive to PLK1 depletion, when compared to normal cells with intact cell cycle checkpoints, "suggesting that a wide therapeutic window is possible."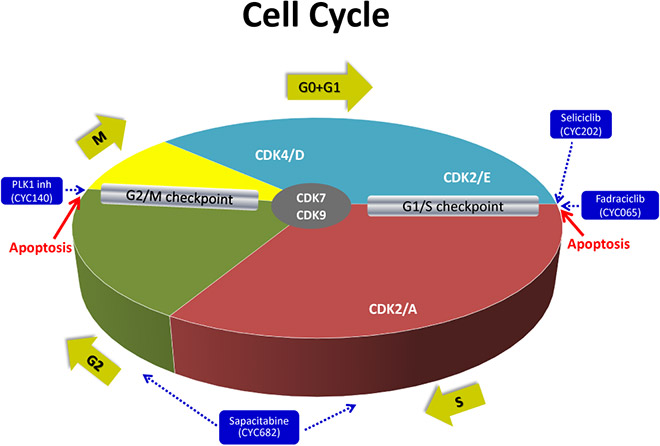 Recent success with onvansertib, the only other PLK1 inhibitor in clinical development, in patients with metastatic colorectal cancer with KRAS mutations has created excitement for the potential of this class to treat multiple KRAS mutated cancers.
In terms of overall business strategy Mr. Rombotis says the goal of the fadraciclib and CYC140 programs is to compile a registration-enabling data set to discuss with regulators.
The company has built up its current cash position to approximately $50-million to fund its clinical programs. Cyclacel is planning to fund four protocols in a staggered basis – two for fadraciclib and two for CYC140 – over a two and a half year period to achieve several data readouts by early 2023.
"Our two clinical stage assets offer multiple near- and mid-term inflection opportunities in solid tumors and leukemias, with the goal of overcoming cancer cell resistance and inducing apoptosis," Mr. Rombotis contends. "We believe they are highly competitive assets addressing substantial patient populations with unmet medical needs."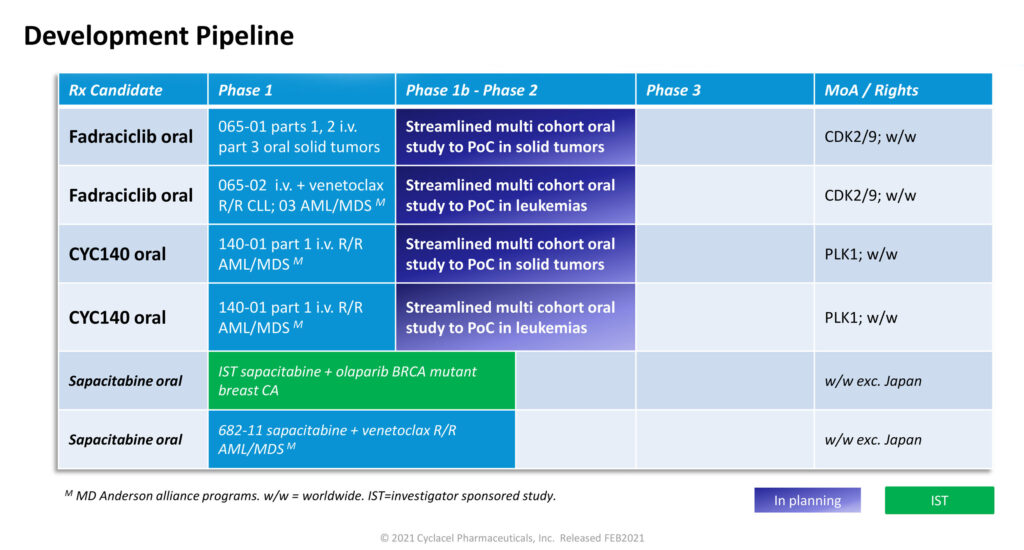 • • • • •
To connect with Cyclacel or any of the other companies featured on BioTuesdays, send us an email at editor@biotuesdays.com.