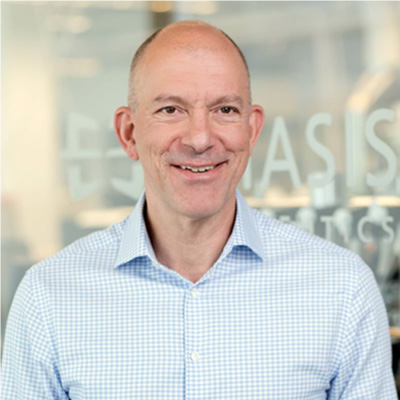 Entasis Therapeutics (NASDAQ:ETTX) is developing a clinical and preclinical pipeline of potential first- and best-in-class targeted antibiotics to treat serious multidrug-resistant pathogens, with two assets in Phase 3 testing.
"Antibiotics traditionally have been developed against infections at specific body sites, and while a majority of pneumonia and skin infection can be effectively treated with safe, efficacious and often generic drugs, these drugs don't work for people infected with a multidrug-resistant pathogen and that's where we think the medical need is," Manos Perros, Ph.D., president and CEO, says in an interview with BioTuesdays.
"Our focus is on the resistance mechanisms of multidrug-resistant pathogens," he adds.
The company's small-molecule approach has produced a pipeline of product candidates, including IV sulbactam-durlobactam (SUL-DUR), targeting Acinetobacter infections; zoliflodacin, targeting N. gonorrhoeae infections; oral ETX0282CPDP, targeting Enterobacteriaceae infections; ETX0462, an IV targeting multidrug resistant Pseudomonas aeruginosa; and NBP-2, an IV treatment for Gram-negative infections.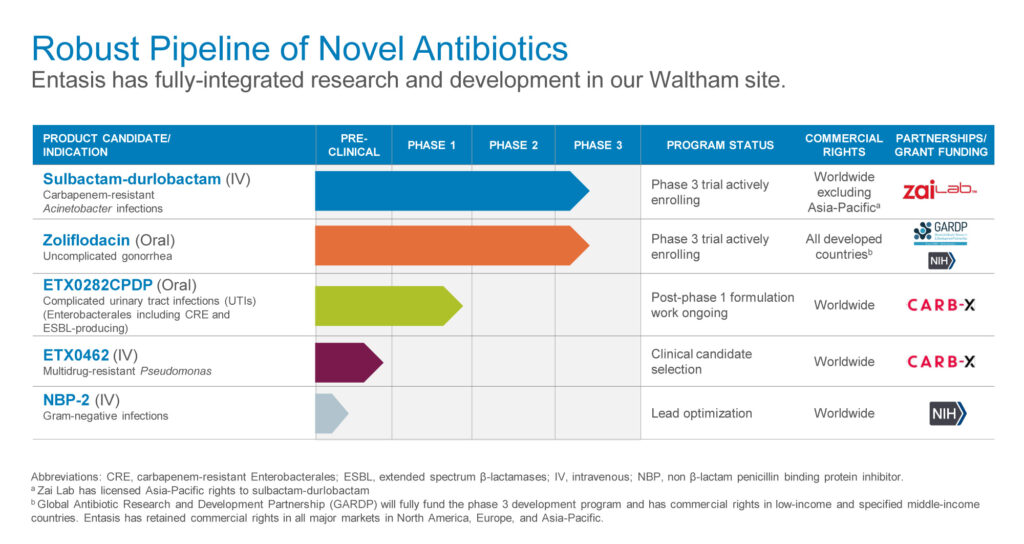 The CDC considers Acinetobacter, N. gonorrhoeae and Enterobacteriaceae to be "urgent" medical threats and Pseudomonas aeruginosa to be a "serious" threat, Dr. Perros says.
Entasis was spun out of AstraZeneca with two early-stage programs and a discovery platform in 2015 when the multinational reduced the number of its R&D programs. AstraZeneca is no longer the majority shareholders in Entasis.
"We developed our drug discovery platform not by thinking about lung or urinary tract infections, but by identifying the pathogen or family of pathogens that create the medical need, and their mechanisms of resistance," Dr. Perros explains.
The company's differentiated business model also includes a streamlined development and regulatory strategy, with a single pivotal trial, and FDA fast track and qualified infectious disease product designations for its two Phase 3 programs.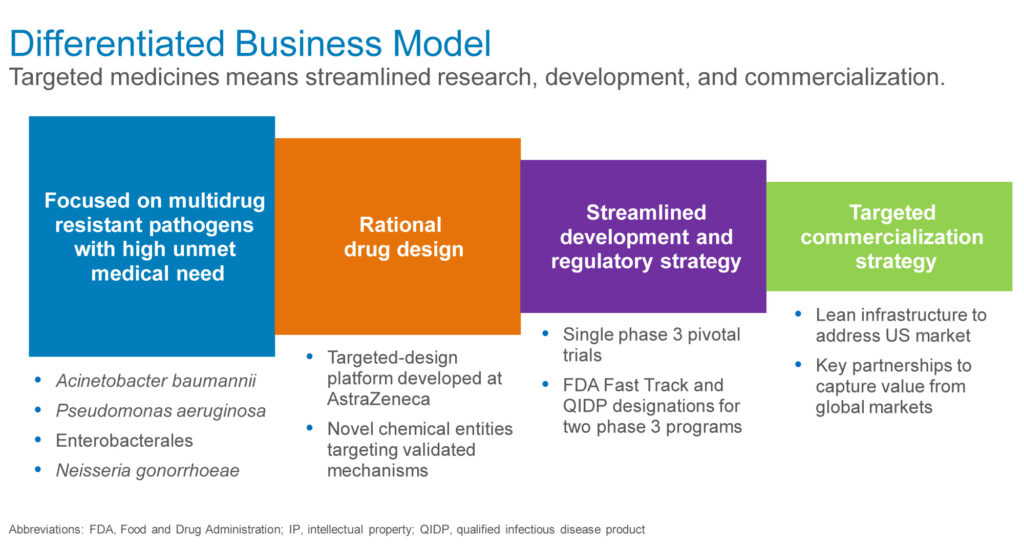 In addition, he suggests that the company's targeted medicines would lend themselves to a lean commercialization strategy in the U.S. and key partnerships in global markets.
SUL-DUR was well tolerated in a Phase 2 and three Phase 1 clinical trials, including at doses that are well in excess of the Phase 3 dose. "SUL-DUR has the potential to restore the antibiotic activity of sulbactam against multi-drug resistant Acinetobacter," Dr. Perros says.
The ATTACK Phase 3 clinical trial looks to evaluate SUL-DUR on a background of imipenem for the treatment of patients with pneumonia and bloodstream infections caused by carbapenem-resistant Acinetobacter. The study would support regulatory submissions in the U.S., Europe and China.
Some 120 carbapenem-resistant Acinetobacter patients will be evaluated for efficacy and safety, as well as additional exploratory pharmacoeconomic endpoints, such days in intensive care, days on ventilator, and days of treatment and length of hospital stay, compared with colistin plus imipenem, an antibiotic medication used as a last-resort treatment for multidrug-resistant Gram negative infections, including pneumonia.
Since the start of the trial, three pre-specified reviews by an independent data safety monitoring board advised Entasis to continue the ATTACK pivotal trial without modification.
Dr. Perros says the company entered 2021 with improved momentum for its Phase 3 registration clinical trials, addressing multidrug-drug resistant Acinetobacter infections and uncomplicated gonorrhea, despite the continued headwinds of the COVID-19 pandemic.
Acinetobacter can cause serious infections in the lungs, blood, and brain, and also may cause urinary tract and wound infections. It can be spread by direct contact and may be found on skin, food, water, or soil. The mortality rate for multi-drug resistant Acinetobacter is about 40% with standard-of-care colistin or polymyxin in the U.S.
The company's ATTACK pivotal trial with its SUL-DUR intravenous treatment for Acinetobacter is enrolling patients across approximately 95 clinical trial sites in 17 countries, including China, where Zai Lab is managing the Phase 3 study under a 2018 agreement.
Entasis granted Zai Lab an exclusive license to develop and commercialize SUL-DUR in specified countries in the Asia-Pacific region, including Japan, in exchange for milestone and royalty payments. Entasis owns worldwide rights to SUL-DUR in the rest of the world.
The ATTACK trial has randomized 160 patients and Dr. Perros estimates that completion of the trial will require enrollment of approximately 170 patients to achieve the target of 120 evaluable patients.
Based on the observed trailing 12-month enrollment rate, the company anticipates completion of enrollment in the ATTACK trial in coming months, with top-line data readout in the second half of 2021.
The estimated annual incidence of carbapenem-resistant Acinetobacter stands at 20,000-to-40,000 in the U.S., 45,000-to-60,000 in Europe and the Middle East, and more than 150,000 in China, representing a global addressable market of more than $1-billion, he adds.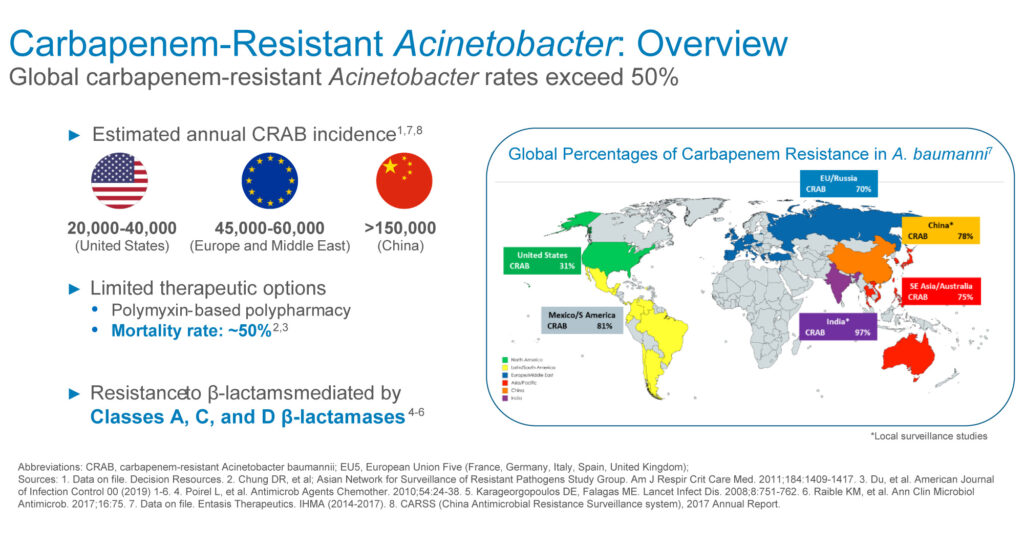 In its second pivotal program, Dr. Perros says Entasis continues to support its partner, the Global Antibiotic Research and Development Partnership (GARDP), and its Phase 3 registration trial of oral zoliflodacin for the treatment of uncomplicated gonorrhea.
GARDP plans to activate up to 16 clinical trial sites across the U.S., the Netherlands, South Africa and Thailand, with some additional site activations occurring in the first half of 2021.
Dr. Perros says the trial will assess the safety and efficacy of oral zoliflodacin versus the current standard-of-care combination of intramuscular injections of ceftriaxone plus oral azithromycin. The trial is actively enrolling patients with uncomplicated gonorrhea, including infections potentially caused by multidrug-resistant strains of N. gonorrhoeae.
The New England Journal of Medicine in 2019 published results of a Phase 2 study of oral zoliflodacin, sponsored by the NIH, that showed urogenital efficacy in 47 out of 47 patients. Zoliflodacin was generally well tolerated at clinically effective doses.
GARDP is a not-for-profit R&D organization that addresses global public health needs by developing and delivering new or improved antibiotic treatments while endeavoring to ensure their sustainable access. The accord would give GARDP commercialization rights for zoliflodacin in most low-and select middle-income countries, while Entasis would retain commercial rights in high-income markets, Dr. Perros points out.
The WHO estimates there are 87 million worldwide annual cases of gonorrhea, with a CDC surveillance study finding the incidence has been growing more than 10% since 2009. The global addressable market is forecast at more than $1-billion. There are no oral antibiotics recommended as an alternative to ceftriaxone injections for the treatment of N. gonorrhoeae infections.
In its early-stage programs, Dr. Perros says ETX0282CPDP is an oral antibiotic designed initially to target some one million hospital complicated urinary tract infections resistant to oral treatments.
The compound successfully completed a Phase 1 study, and the company is now developing an extended release clinical formulation to take forward in the clinic to assess its safety and pharmacokinetic profile.
CARB-X is providing funding for ETX0282CPDP and Entasis' other early program, ETX0462, an IV treatment for Pseudomonas infections. CARB-X is the world's largest public-private partnership devoted to early-stage antibacterial R&D, with funding from UK charity Wellcome Trust, Health and Human Services' BARDA and the NIH's NIAID.
"As antibiotic resistance continues to rise, it is crucial to identify new effective, well tolerated agents with activity against multi-drug resistant infections," Dr. Perros says.
• • • • •
To connect with Entasis or any of the other companies featured on BioTuesdays, send us an email at editor@biotuesdays.com.