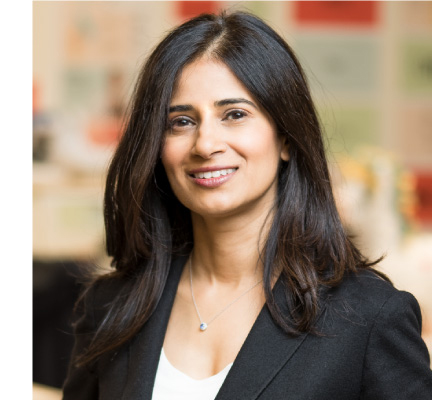 As CEO of closely-held Nurx, the leading female-focused telehealth platform offering patients transparent pricing and judgment-free care, Varsha Rao brings decades of experience balancing mission-driven companies with a strong commitment to company culture. She has served as COO of Clover Health where she brought operational leadership to the health insurance start-up and as head of global operations for Airbnb, managing its market expansion. Ms. Rao also has served as CEO of Singapore-based SingTel Digital Media, and was a co-founder and co-CEO of eve.com, an online cosmetics company. In this interview with BioTuesdays, Ms. Rao discusses how Nurx is transforming telehealth with a unique approach to sensitive health issues.
Let's begin with a short history of Nurx.
Hans Gangeskar and Dr. Edvard Engesaeth founded the company in 2015 and I was an early investor in 2016, so I knew the founders before I came on board as CEO in April 2019. Early on, we were colloquially known as the "Uber of birth control" because of our focus on making birth control accessible for women. From there we naturally evolved into increasing access to PrEP, or pre-exposure prophylaxis, for the prevention of HIV infection. And through 2019 and 2020, we launched additional services, such as migraine treatment, home testing for sexually transmitted infections, genital and oral herpes treatment, and home HPV screening. Nurx is now a true healthcare platform.
How did Clover Health and Airbnb prepare you for the top job at Nurx?
Clover Health gave me a deep understanding of the challenges of health care and the importance of compliance and regulatory issues, and especially the logistics for how people are able to access health care. At Airbnb, we focused on scaling for growth but at the same time, preserving a mission and sense of inclusion. These are values that we are incredibly proud of at Nurx. We are all about increased access to care in an inclusive manner. While we are female-focused, we are inclusive to all, which is not the case for a lot of companies.
Tell us about Nurx's mission to provide convenient and affordable care for sensitive health needs.
We're on a mission to transform health care, expanding what's possible for both patients and medical providers; understanding what patients' needs are and how we can help. The Nurx team is comprised of world class physicians, business leaders, and industry experts. And together, we're working to make healthcare more accessible and simpler for everyone. Our services make it easy for anyone, regardless of circumstance, to get medication, tests and ongoing care, quickly, discreetly and affordably.
Who is your typical patient?
Females aged 20-to-30 represent 60% of our patients and we serve more than 300,000 patients a month. We listen to our patients to understand their needs. For example, 36% of our patients told us they experience migraine, which led us to providing a migraine treatment service, and 50% of our patients told us about their acne, so at the beginning of March, we introduced a new dermatology service.
How do you make money?
We operate not only a telehealth platform but also an integrated pharmacy. Patients share their comprehensive health histories and our medical providers do an evaluation and may write a prescription for medication, which our pharmacy then fills and delivers, or patients can choose to fill it at a pharmacy near them. We charge for the consultation and medications can be paid for in cash or through an insurer. The cost of our medications are comparable or lower than chain pharmacies. For example, we provide dozens of different birth control medications, including pills, rings, the shot and the patch.
How did Nurx come through the pandemic in 2020?
Essentially, we build brand awareness through social media, digital marketing and word of mouth. In 2020, we experienced a 50% increase in requests for birth control, a 100% increase in home STI testing, almost 200% increase in requests for herpes treatment, and 300% increase in emergency contraception requests. Nurx now has provided more than one million medical consultations and had seven million touchpoints with patients. Revenue grew 80% year-over-year for core services in 2020, and we are on track to achieve profitability in 2021.
How has the pandemic affected the space?
First of all, people have become more comfortable with telehealth. Second, since work has become more flexible and mobility has increased, people are looking for new provider relationships. And finally, we're seeing an increase in people's interest in preventive health, especially when it's more difficult to see a medical provider. Telehealth is facilitating access to preventive health, which can save people money in the long run. So, I'd say people are taking better care of themselves rather than letting a health situation get out of hand.
What about mental health?
Isolation and sheltering at home have exacerbated mental health issues and many patients have had to see their therapist and receive ongoing therapy through a video consult. Overall, I think patients and providers have become more comfortable with telehealth, maintaining good outcomes.
How has Nurx reimagined the healthcare experience?
The wait for an appointment with a physician for non-urgent care can take weeks, if not longer, but on our site, a patient can get a consultation with a healthcare provider and a prescription, usually within 24 hours. So, we've dramatically shortened the time to get care. In addition, there is no need to schedule an appointment on our auto-synchronous platform; a patient can go on when it's convenient for them, which is a game-changer. Plus, we can deliver prescriptions directly to a patient's home, which is what 90% of our patients want. And we've dramatically reduced the stigma associated with some of our sensitive treatment areas like PrEP, birth control and STI testing and treatment, for example.
Have you seen any hesitancy in people turning to telehealth?
Pre-Covid, telehealth was a second or third option for patients but now, with what people went through in 2020, telehealth has become the first choice for many people seeking healthcare. We've seen no hesitancy at all.
What's different about Nurx from other competitors out there?
We are the leading female-focused direct-to-consumer telehealth company and we are more clinically-focused than other companies in this space. The conditions we're treating are safe and appropriate to treat via telehealth, and we can provide more efficacy and higher-quality care than many primary care settings. We're focused on areas of true healthcare, without taking a wellness approach to healthcare at this point. Researchers at Harvard and UC Davis published an article in the New England Journal of Medicine in September 2019 that found Nurx to be comparable and even more compliant to birth control prescribing guidelines than in-person clinics.
Talk about your new expansion in dermatology and acne.
More than half of our current patients have told the medical team that they struggle with acne. Because acne is often caused by hormonal fluctuations, and hormonal acne can be improved by certain birth control formulas, our healthcare providers are uniquely qualified also to help patients improve their skin. Nurx is treating acne with unbranded prescription medications — both topical treatments and oral medications, including antibiotics, spironolactone and combination birth control — which the Nurx pharmacy will fill and mail to patients' homes. If a new patient is already taking hormonal birth control, a Nurx medical provider will advise them on whether their contraceptive formula is the best one for their skin. While we are starting with acne, we will be announcing additional services within dermatology, such as anti-aging and rosacea, in the coming months.
• • • • •
To connect with Nurx or any of the other companies featured on BioTuesdays, send us an email at [email protected].