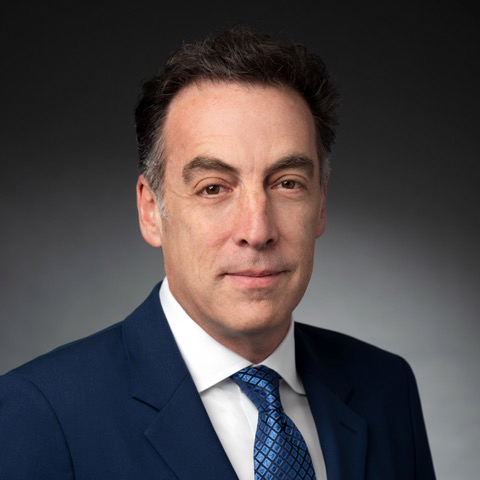 InspireMD (NYSE American:NSPR) is awaiting a decision from the FDA for an investigational device exemption as a steppingstone for a pivotal trial of its CE Mark-approved CGuard Carotid Stent System for the prevention of stroke caused by carotid artery disease.
"We are trying to improve the standard-of-care in the management of carotid artery disease by demonstrating the superiority of our CGuard stent technology as we focus on commercial growth within existing markets and building new markets and indications for our future," Marvin Slosman, president and CEO of InspireMD, says in an interview with BioTuesdays, referring to the company's MicroNet platform.
MicroNet is a thin, 20-micron mesh designed to trap and maintain plaque against the arterial wall, protecting blood flow to eliminate embolic events, which can lead to heart attack, stroke and death.
"MicroNet is the key differentiator of our commercial products and has the potential to
revolutionize the field of vascular stenting," he contends.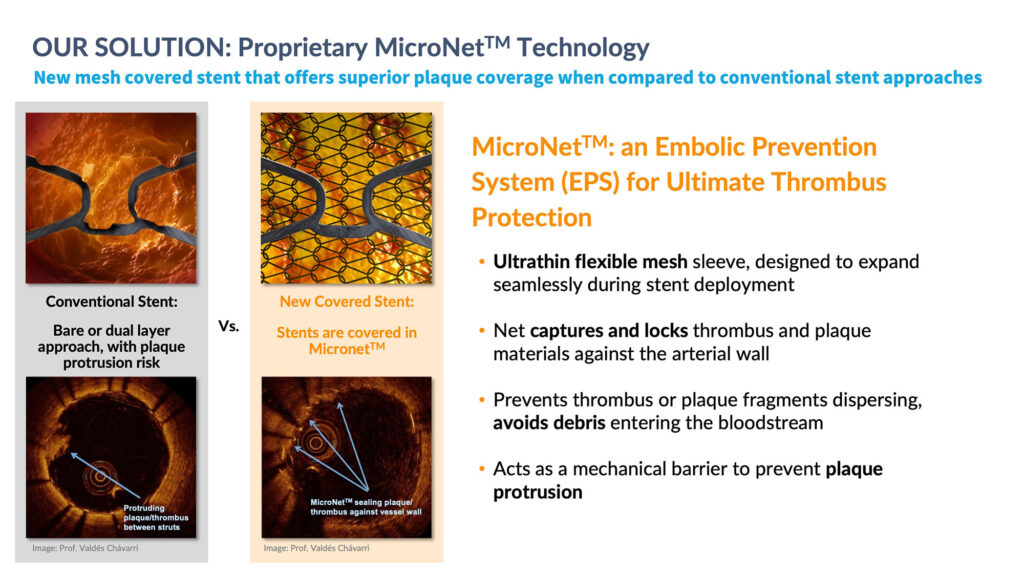 The innovation of the MicroNet platform can be used for embolic prevention throughout the vascular system but given the proximity of the brain in carotid stenting, this extra layer of protection is particularly valuable for the company's lead product, CGuard EPS for stroke prevention, he adds.
In addition, the company is developing a pipeline of new products that are designed to broaden its carotid portfolio as well as addressing neurovascular and peripheral indications.
Mr. Slosman, who moved into the executive suite in January 2020, says the company works primarily with third-party distributors in 39 countries where its products are approved in Europe, South America and certain Asian countries. InspireMD has sold more than 18,000 devices and looks to rapidly expand through channel and market growth.
Last month, the company was cleared to sell CGuard in Brazil. It also is hoping to launch in France this year; initiate CGuard's registration in China with a local strategic partner, with the goal of a market launch in 2022; and advance distribution options in Japan and Korea.
The FDA has already approved InspireMD's proposed pivotal trial design, which aims to obtain safety and efficacy data to support a premarket approval application to commercialize the CGuard Carotid Stent System in the U.S.
Mr. Slosman says the U.S. study's primary endpoints are a composite of the incidence of major adverse events, including death, stroke and myocardial infarction, through a 30-day post-index procedure, plus ipsilateral strokes from a follow up of 31-to-365 days.
The trial is designed to enroll 315 patients at a maximum of 40 sites. Enrollment is expected to take approximately 12 months, with 12 months of follow up.
In a recent report, H.C. Wainwright analyst Vernon Bernardino pointed to early indications that certain European healthcare systems are beginning to reopen to elective procedures, "we believe InspireMD is in a strong position for a rebound in business that could be a positive catalyst in the third quarter of 2020."
Stroke is the second biggest cause of death globally, affecting an estimated 15 million people annually. And carotid artery disease is a major risk factor for stroke. Some 85% of all strokes are ischemic, which result from lack of blood flow to the brain. And 20% of ischemic strokes are believed to be caused by carotid artery disease.
According to a Health Research International Market Report, some 600,000 patients with high-grade carotid stenosis required stenting or surgery for carotid artery disease in 2017.
Mr. Slosman suggests that conditions such as cerebral aneurysms, coronary artery disease, abdominal aortic aneurysms and peripheral arterial disease, have been largely converted to endovascular procedures from surgery.
"But surgery still accounts for some 80% of procedures for carotid artery disease, so there is a significant market opportunity available to endovascular conversion," he contends. "Converting patients to a minimally invasive procedure with CGuard EPS would represent an addressable market of more than $1-billion," he estimates.
Mr. Slosman also points out that carotid endarterectomy surgery, the standard of care for carotid artery disease, "which people would prefer to avoid," and conventional bare metal stents each pose risks, including procedural and post-procedural stroke, myocardial infarction and cranial nerve injury, if embolic particles break away from blood vessels.
"Our MicroNet solution is designed for ultimate thrombus protection," he contends, noting that the ultra-thin flexible mesh is designed to expand as the stent is deployed in a minimally invasive procedure.
As a result, the net captures and locks thrombus and plaque materials against the arterial wall, preventing embolic fragments from dispersing into the blood stream post procedurally and causing stroke.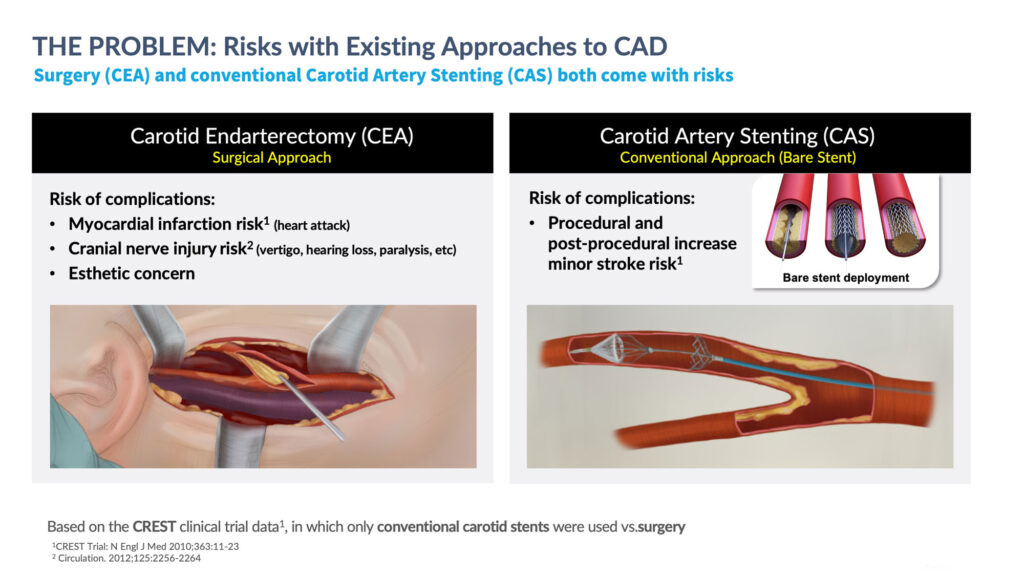 "Our five-year data is supportive of this residual protection," he adds. "Our mesh-covered technology has been studied in more than 1,550 patients in peer-reviewed publications and clinical studies, most recently in the randomized SIBERIA trial, which produced superior results, compared with the conventional stent in the control arm.
InspireMD's IP is protected by 14 issued patents in the U.S. and 33 in the rest of the world, with an additional 17 patents pending worldwide. "We will be strengthening and broadening our patent protection globally to enable future pipeline products," he adds.
Mr. Slosman recalls that historical studies of surgery and conventional bare metal stents found similar rates of death, stroke and myocardial infarction of about 5% after 30 days. However, there was a statistically significant higher rate of heart attacks after surgery, compared with conventional stents, which led to a statistically significant higher rate of stroke. "Surgery became the standard of care because doctors preferred to deal with a potential heart attack than a stroke," he says.
In eight completed clinical studies with InspireMD's CGuard, the 30-day rate of death, stroke and myocardial infarction was 1.80%, Mr. Slosman says, adding that no major strokes occurred with CGuard in the eight studies. Minor stroke was reported in 20-of-1,557 patients. Four clinical trials are ongoing.
"We believe that CGuard EPS has the potential to be the new standard of care for carotid artery disease, supported by a strong and growing body of clinical data," he contends.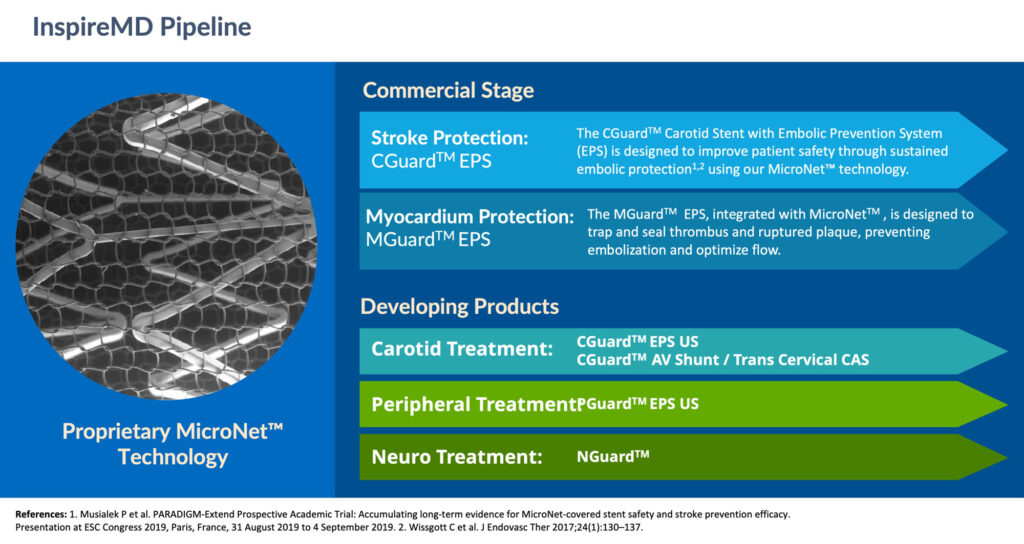 • • • • •
To connect with InspireMD or any of the other companies featured on BioTuesdays, send us an email at editor@biotuesdays.com.