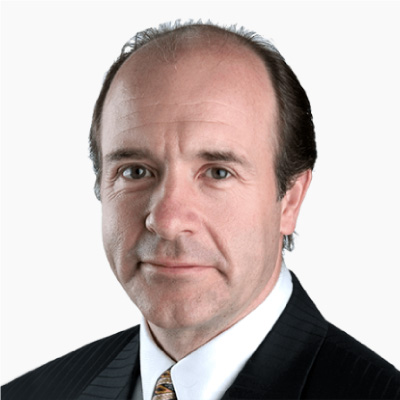 Soliton (NASDAQ:SOLY) has filed a 510(k) submission for FDA clearance of its Rapid Acoustic Pulse (RAP) technology for reduction in the appearance of cellulite, which affects between 80% and 90% of women. The FDA has accepted the filing for substantive review.
"Our breakthrough acoustic shockwave device induces mechanical disruption to targeted cellular level structures and vacuoles, without collateral tissue damage or pain," Wally Klemp, executive chairman of Soliton, says in an interview with BioTuesdays.
The FDA filing is based on results of Soliton's pivotal cellulite clinical trial. The second-generation RAP device demonstrated an average reduction of 32.5% in the cellulite severity score, with 91.9% of subjects agreeing or strongly agreeing their cellulite appeared improved.
The results were generated by a single, 20-to-30-minute, non-invasive treatment that required no anesthesia and caused no unexpected or serious adverse events. The treatment was well tolerated by the trial subjects, with an average pain score of 2.4 out of 10. The majority of existing non-invasive cellulite treatment options now on the market recommend four-to-six treatments, Mr. Klemp points out.
The FDA previously approved Soliton's first-generation RAP device as an adjunct to 1064 Q-switch lasers for the removal of unwanted tattoos, representing a global market opportunity of more than $4 billion a year by 2023. According to Mr. Klemp, nearly one-in-three Americans have at least one tattoo, but some 44 million Americans want some sort of tattoo removal.
Mr. Klemp explains that the most common tattoo removal technology uses short-pulsed lasers. Besides pain, thermal damage to the skin, and lack of predictable results, laser tattoo removal often requires 10 or more treatment sessions over one-to-two years at a cost of about $3,500 to completely remove an average tattoo. "It's no surprise that many people simply drop out of the treatment process due to dissatisfaction," he adds.
Existing lasers can remove only 10% to 15% of tattoo ink in a single visit before skin blistering and puffiness prevent a second treatment. Patients are usually sent home to heal for six-to-eight weeks before their next treatment.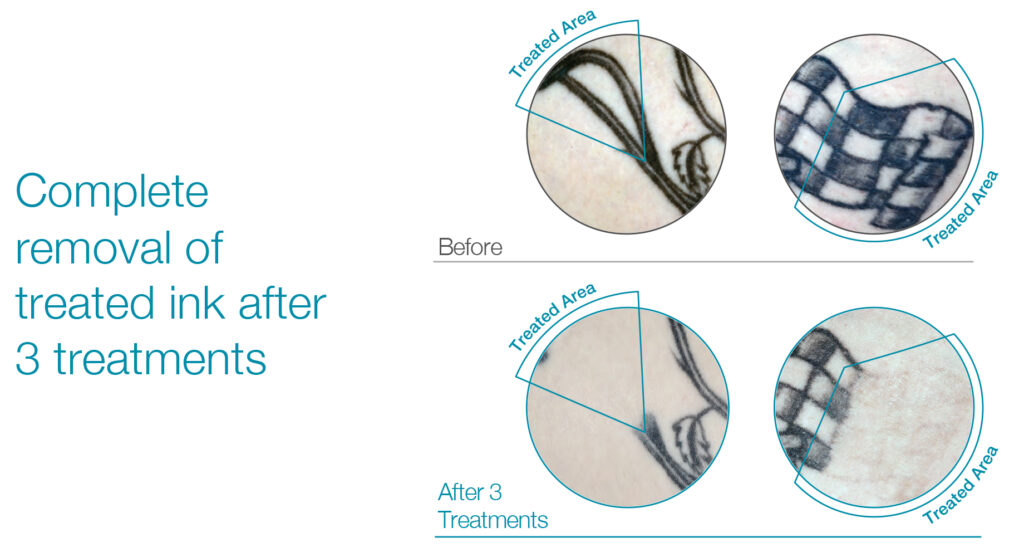 "What our technology does is that instead of sending the patient home, a dermatologist can put down a laser and use our RAP device for 30-to-60 seconds to eliminate the laser-induced steam vacuoles that appear like blisters on the skin surface and within the dermis and begin a second treatment," Mr. Klemp says. "RAP has enabled up to five laser treatments in a single office visit."
Soliton should receive a decision on its cellulite 510(k) submission by the end of September. "However, should the FDA deem our choice of a predicate device to be inadequate, we would convert our application to a de novo request, which we estimate would extend the filing and review process by six-to-nine months," Mr. Klemp suggests.
Mr. Klemp explains that Soliton's acoustic wave RAP device uses electro-hydraulics by forming a plasma arc, which produces very high energy in the range of 3,000 volts at nearly 3,000 amps, forming a shockwave that repeats at 100 times a second. The custom shaped acoustic waves eliminate heat, are virtually painless and result in no collateral skin damage, he contends.
The technology is protected by more than 100 issued and pending patents based on a worldwide exclusive license from MD Anderson Cancer Center. Soliton plans to either sell or lease the RAP console and use a "razor-razor blade" revenue model with a replaceable cartridge for each patient visit, he adds.
Cellulite appears when subcutaneous septa contracts and becomes sclerotic, holding portions of the skin with a non-flexible length of septa. This results in areas of the skin being pulled down while adjacent sections bulge outward resulting in dimples and ridges. "Our rapid acoustic shock wave pulses are transmitted through the skin to break apart or shear the fibrotic septa," Mr. Klemp points out.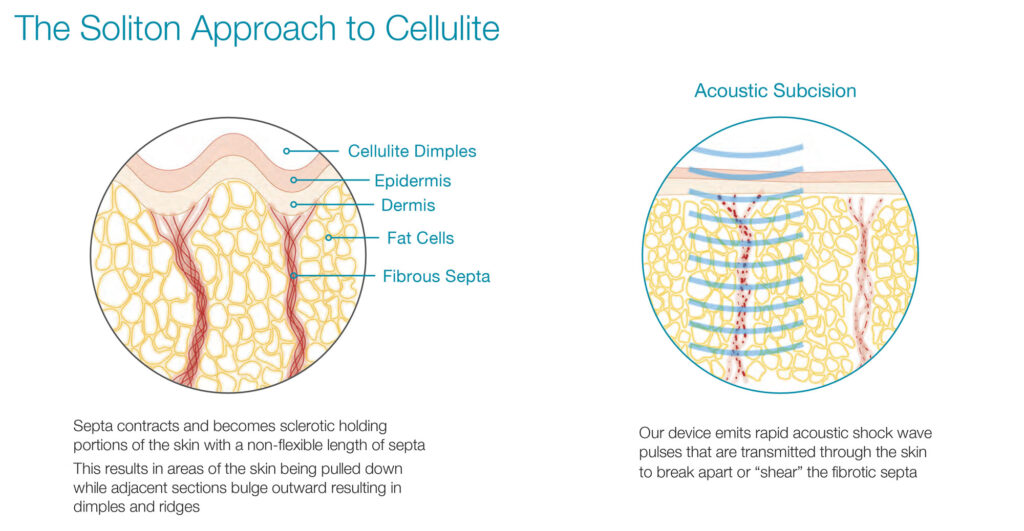 According to Medical News Today, improving the appearance of cellulite could reach a $4-billion market opportunity by 2025, with a 5% market share representing the equivalent of $200-million of revenue.
Soliton's third potential indication is treatment of keloid and hypertrophic scars. In a proof-of-concept study with 10 patients and 11 keloid scars, RAP reduced average scar volume by approximately 30% following a single, six-minute treatment, with no unexpected adverse events. All patients stated that RAP treatment was tolerable, with an average overall pain score of 2.2 on a 10-point scale.
The current standard of treatment for keloid scars is steroid injections directly into the scar, which can be painful because these scars are very dense.
Mr. Klemp says Soliton hopes to emulate the strategic marketing demand that has made CoolSculpting a household name in non-invasive body fat removal. Soliton attracted two current and former employees of CoolSculpting to its board and seven-of-eight members of Soliton's science advisory board are also members of CoolSculpting's medical advisory board.
Mr. Klemp says the COVID-19 pandemic forced Soliton to delay the June launch of its RAP device for tattoo removal as some 80% of cosmetic dermatology offices in the U.S. were forced to close and are now slowly reopening. "There was no point even considering introducing our machine into the teeth of COVID-19."
As a result, Soliton revised its commercial launch timetable to incorporate both the tattoo and cellulite reduction indications, if approved by the FDA. The company's new launch target is the first half of 2021, subject to the status of the pandemic and whatever the new normal is for dermatologists. "This would be a limited launch, placing some 25 devices with key opinion leaders and potentially heavy users," he suggests.
Soliton hopes to use the limited launch to determine the best messaging to consumers and consumer response, and whether the RAP device is performing as designed. The company expects to build a sales force for a full rollout, which is tentatively set for the first half of 2022, subject to the pandemic.
"Two indications would make the RAP device even more attractive to clinicians and a huge advantage to a sales force," Mr. Klemp contends.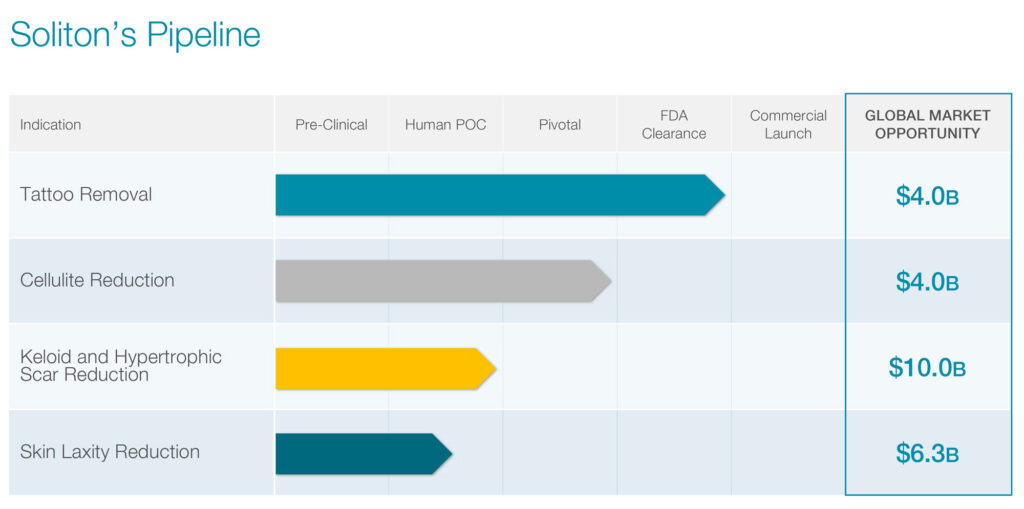 • • • • •
To connect with Soliton or any of the other companies featured on BioTuesdays, send us an email at [email protected].