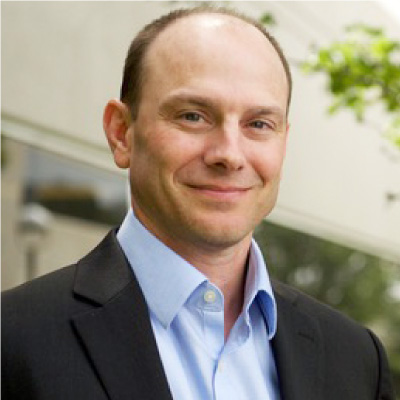 Fueled by decades of research in protein dysregulation and fundamental neuroscience, Prothena (NASDAQ:PRTA) is advancing a pipeline of therapeutic candidates with the potential to change the course of diseases such as Parkinson's, Alzheimer's and ATTR amyloidosis, a protein misfolding disorder that can lead to organ failure.
"Our expertise comes from a deep scientific knowledge in neuroscience and the ability to integrate insights around neurological dysfunction and the biology of misfolded proteins," Gene Kinney, CEO, says in an interview with BioTuesdays, citing the company's mid- and early-stage pipeline of proprietary and partnered drug candidates in multiple neurodegenerative and peripheral amyloid disease indications.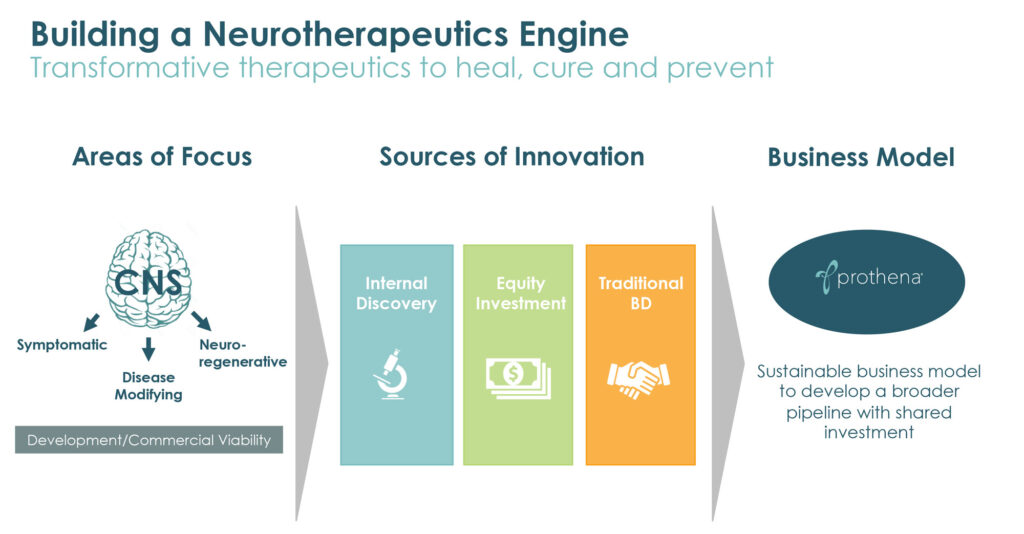 The amino acid sequence of a protein and its environment determines its 3D structure and folding of proteins into their correct structure is typically key to their normal function. Failure to fold properly can result in toxic proteins that malfunction and cause a number of degenerative and progressive diseases.
"Our approach to developing new therapies for diseases caused by protein dysregulation is to specifically target and clear the misfolded, toxic form of the protein without impacting the native, healthy form," Dr. Kinney explains.
Prothena traces its roots to 1986 with the founding of Athena Neurosciences, where scientists advanced an understanding of Alzheimer's disease and cell adhesion molecules, leading to the development of the earliest clinical candidates tested as anti-amyloid beta antibodies and vaccine therapeutics for Alzheimer's disease, and also the drug, Tysabri, which was approved for the treatment of relapsing multiple sclerosis and Crohn's disease. Ireland's Elan acquired Athena in 1996 and then spun out Prothena in 2012, with several of the technical team at Athena still with Prothena.
Prothena's lead program is an antibody for the potential treatment of Parkinson's disease. Dr. Kinney contends that Parkinson's is a full body disease, with early symptoms in many patients beginning in the periphery, such as in the gastrointestinal system. Loss of smell and sleep disturbances can also be predictive of later motor issues, such as tremors and rigidity, as well as cognitive impairment and mood alterations, he adds.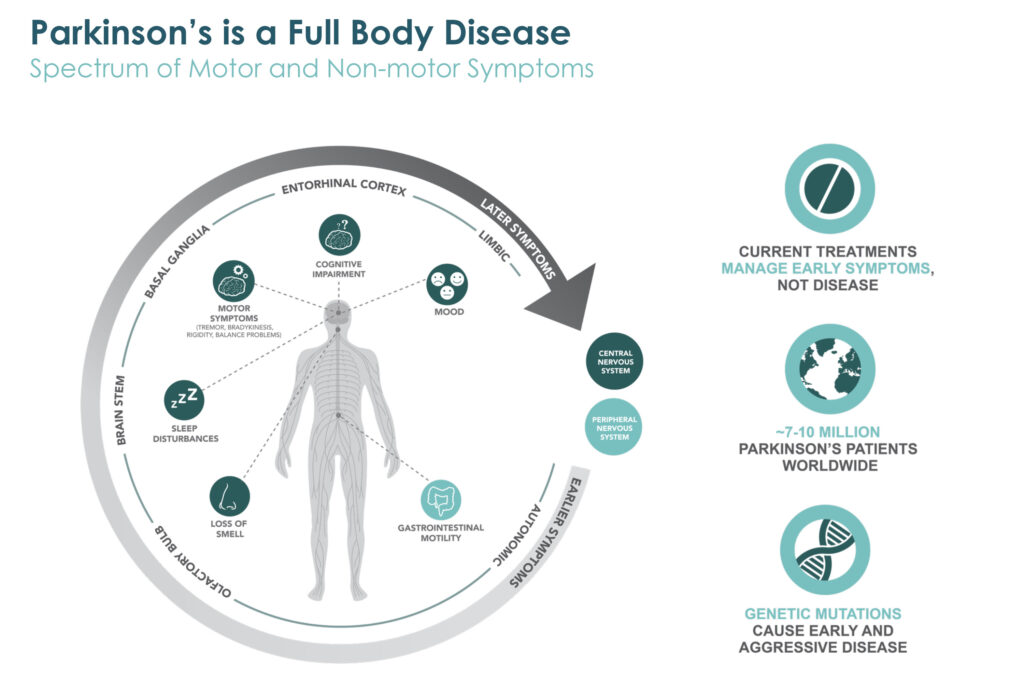 "So, it was with this understanding of protein dysregulation and how to optimally target the aggregated forms of alpha-synuclein, the protein that is strongly implicated in Parkinson's disease pathology, that we embarked on our program to develop our lead drug candidate, prasinezumab," Dr. Kinney explains.
He says prasinezumab is being developed through a worldwide collaboration with Roche as a potentially disease modifying therapy to slow or reduce neurodegeneration associated with alpha-synuclein misfolding and its transmission.
Under the accord with Roche, Prothena has already received $75-million in milestones and is in line for up to an additional $525-million of potential clinical, regulatory and sales milestones as well as options to co-develop and co-promote prasinezumab in the U.S., and up to double-digit royalties outside the U.S.
Results of a positive Phase 1 single ascending dose study with healthy volunteers and Phase 1b multiple ascending dose study in patients with Parkinson's disease were published in the peer-reviewed Movement Disorders in 2016 and the Journal of the American Medical Association's Neurology in 2018, respectively.
"Prasinezumab was generally safe and well tolerated in these studies, and there were no severe or serious treatment-emergent adverse events and no anti-drug antibodies observed," Dr. Kinney points out.
After being deemed safe and well-tolerated and seen to efficiently lower alpha-synuclein in the blood of Parkinson's patients in Prothena's Phase 1b study, Roche launched the PASADENA Phase 2 study to assess signals of prasinezumab's ability to prevent the progression of Parkinson's disease symptoms in patients.
The two-part trial included 316 patients diagnosed within the past two years, who were not on dopaminergic therapy and were not expected to need it for at least one year. Participants were recruited at 65 clinical sites across the U.S., France, Germany, Austria, and Spain.
The main goal of PASADENA is to determine if prasinezumab slows the progression of motor and non-motor symptoms over the first year as measured by changes in the movement disorder society-unified Parkinson's disease rating scale. Secondary goals include clinical and patient-reported measures of effectiveness. The level of neurodegeneration of dopamine-producing neurons, cognitive function, and need for dopaminergic therapy also is being evaluated.
In PASADENA's first part, patients were assigned randomly to a mid-prasinezumab dose, a high-prasinezumab dose or a placebo, administered via intravenous infusions once every four weeks for one year. Those who finished the one-year treatment then were eligible to enter the trial's second part, in which all patients will receive prasinezumab for one more year.
Baseline demographics for those in the PASADENA study were recently presented at the AD/PD conference and Dr. Kinney notes that patients in the trial are "representative of the wider Parkinson's population and suitable to investigate therapies acting on disease progression, such as prasinezumab."
In April, Roche and Prothena reported that Part 1 of PASADENA did not meet the primary objective but showed signals of efficacy, was well-tolerated, and had a favorable safety profile. These signals of efficacy were observed on multiple prespecified secondary and exploratory clinical endpoints. Dr. Kinney says Roche is evaluating data from Part 1 to determine its next steps while Part 2 is ongoing. "Based on ongoing evaluation of the data, a further update on prasinezumab is expected later this year," he adds.
Prothena's lead wholly-owned program is PRX004, a potential treatment for ATTR amyloidosis. According to Dr. Kinney, the monoclonal antibody is designed to target non-native structures of transthyretin (TTR) protein associated with pathology that forms amyloid fibrils.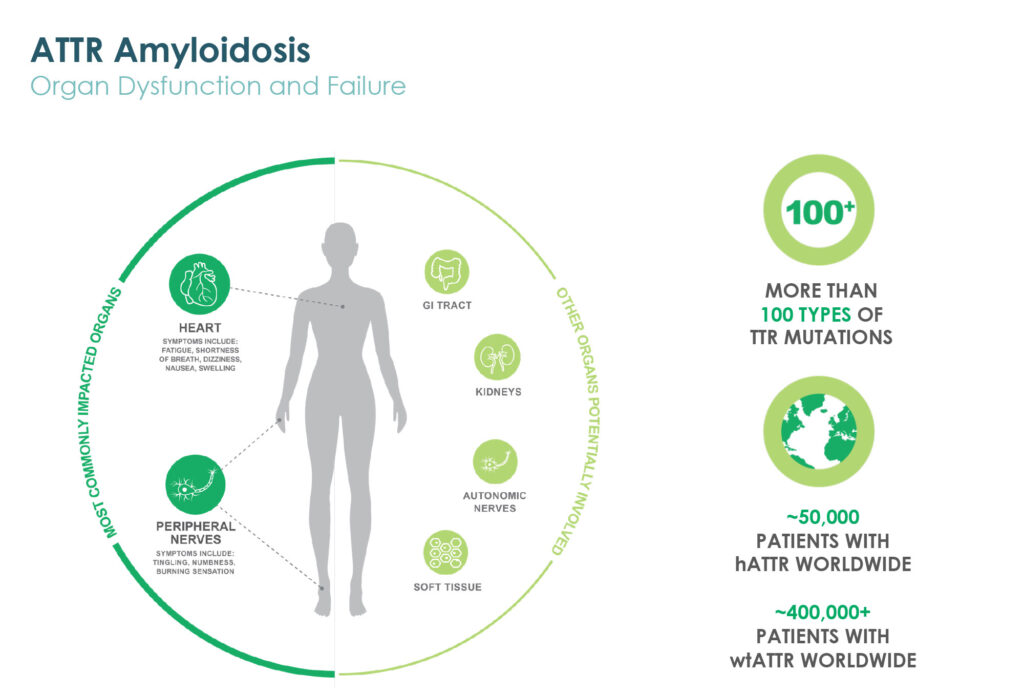 A Phase 1 multiple ascending dose study of PRX004 in patients with hereditary ATTR amyloidosis is fully enrolled. Patients in all six cohorts have received three infusions and assessments that comprise the dose-escalation portion of the sstudy.
Dr. Kinney says interim dose-escalation data from cohorts one-through-five found that all five dose levels of PRX004 were generally safe and well tolerated. "Target engagement was demonstrated by a dose-dependent decrease in levels of unbound, non-native forms of TTR protein in plasma of study patients, and consistent with the proposed mechanism of action, PRX004 administration did not impact levels of normal TTR," he points out. Additional dose-escalation data is expected in 2020.
At the conclusion of the dose-escalation portion of the study, patients meeting eligibility requirements were given the option to enroll in a long-term extension portion of the study, which allows for up to 15 additional infusions per patient and is designed to further assess safety, tolerability, pharmacokinetics and pharmacodynamics of PRX004.
Patients in cohorts one-through-five in the long-term extension have completed at least their month 12 assessment and one patient in cohort six has completed a month 10 assessment.
Dr. Kinney said the company currently expects additional data from the dose-escalation and long-term extension portions of the study, as well as an update on next steps for clinical development, to be reported later this year.
Prothena also has a worldwide neuroscience collaboration with Bristol Myers Squibb valued at up to $2.2-billion, including an upfront payment and equity investment; future potential option payments; regulatory and commercial milestones; and additional global commercial royalties.
As part of the collaboration, Prothena this year is advancing IND-enabling activities for an internally discovered tau antibody for the potential treatment of Alzheimer's disease, progressive supranuclear palsy, frontotemporal dementia and chronic traumatic encephalopathy. The accord with Bristol covers two additional programs that are in various discovery phases.
The company also is advancing its wholly-owned preclinical amyloid-beta antibody program targeting Alzheimer's disease as well as a vaccine in this space. "Ultimately, moving from treatment to prevention of Alzheimer's altogether remains our ultimate goal," Dr. Kinney says.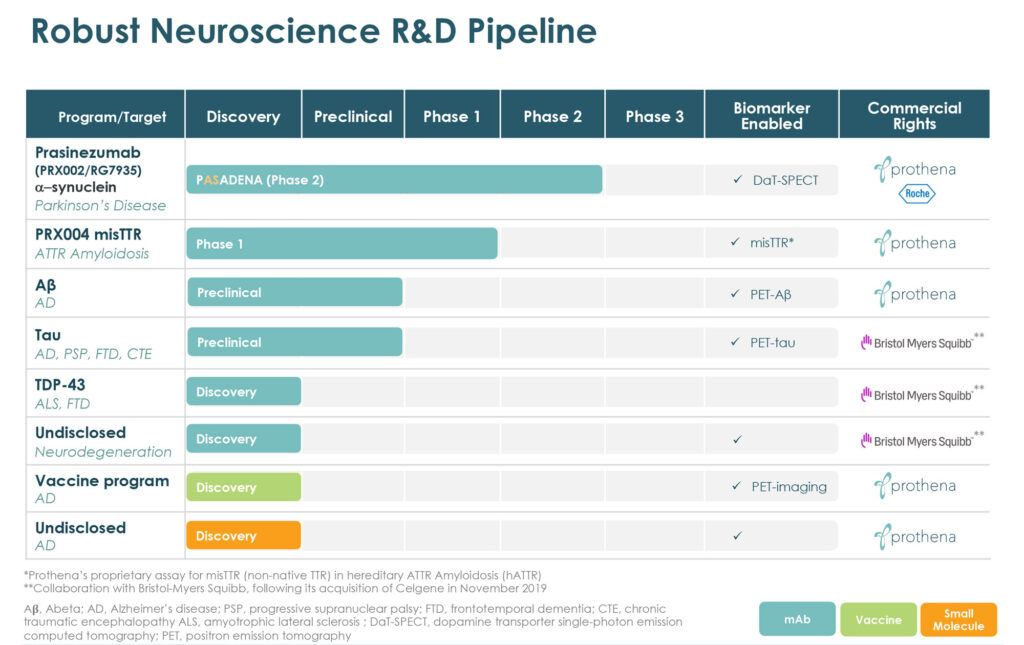 • • • • •
To connect with Prothena or any of the other companies featured on BioTuesdays, send us an email at editor@biotuesdays.com.