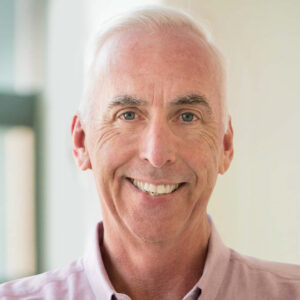 As chairman and CEO of Kleo Pharmaceuticals, a private immuno-oncology company developing next-generation bispecific compounds designed to enhance the activity of biologics, Dr. Doug Manion has a distinguished pedigree in drug development, with more than 20 years in senior positions with Bristol-Myers Squib (NYSE:BMS), GlaxoSmithKline (NYSE:GSK), and DuPont Pharmaceuticals. Dr. Manion started out as a civil engineer working with NGOs during the HIV-AIDS epidemic in sub-Saharan Africa in the late 1970s and early 1980s, which inspired his decision to become a board-certified doctor in internal medicine. Dr. Manion left Big Pharma to join start-up Kleo based on the company's focus of using synthetic chemistry against cancer as well as his desire to help rush drugs to patients. In this interview with BioTuesdays, Dr. Manion discusses Kleo's three technology platforms, the development advantages of Kleo's technology and a planned Phase 1/2a study with lead drug candidate, KP1237, in combination with natural killer cells, to treat post-transplant multiple myeloma patients.
Let's begin with a brief history of Kleo.
The company was founded in 2015 by Dr. David Spiegel, a Prof. of chemistry and pharmacology at Yale, who is now CSO of Kleo, and his friend, Roy Prieb, who is CFO and COO of Kleo. I joined the company in 2017. The premise behind Kleo is that if you are clever from a chemistry prospective, you can do with synthetic molecules what others can only do with large protein biologics, like antibodies, to activate the immune system to kill tumor cells and infectious diseases. With the recent approval of our IND for the multiple myeloma study, we've transitioned from a research and discovery company to a clinical stage company.
Can you touch on Kleo's financing accomplishments to date?
David and Roy originally completed a $13-million A round in 2016 that was led by BioHaven Pharmaceuticals (NYSE:BHVN). In 2018, we closed a $21-million B round that included Tokyo-based PeptiDream (TYO:4587). We already had a strategic partnership with PeptiDream to provide us with exclusive access to leading peptide and small molecule binders to advance small molecule immunotherapies into the clinic.
Kleo's lead drug candidate, KP1237, came out of the Antibody Recruiting Molecules (ARMs) platform. Can you describe how ARMs work?
ARMs are bispecific molecules that recruit endogenous antibodies, originating in the body, to target cancer cells for immune destruction. They are comprised of two distinct binding domains connected by a tunable linker. One binding domain attaches to circulating antibodies and the other attaches to tumor cells. The ARM's tumor-binding domain binds tightly to specific molecules expressed on the tumor cell's surface. ARMs coat the tumor with antibodies, marking it for elimination by natural killer cells and macrophages. Because of our discovery, we can redirect 90% of all human immunoglobulin G, the most abundant type of antibody in the body, against a single foreign antigen.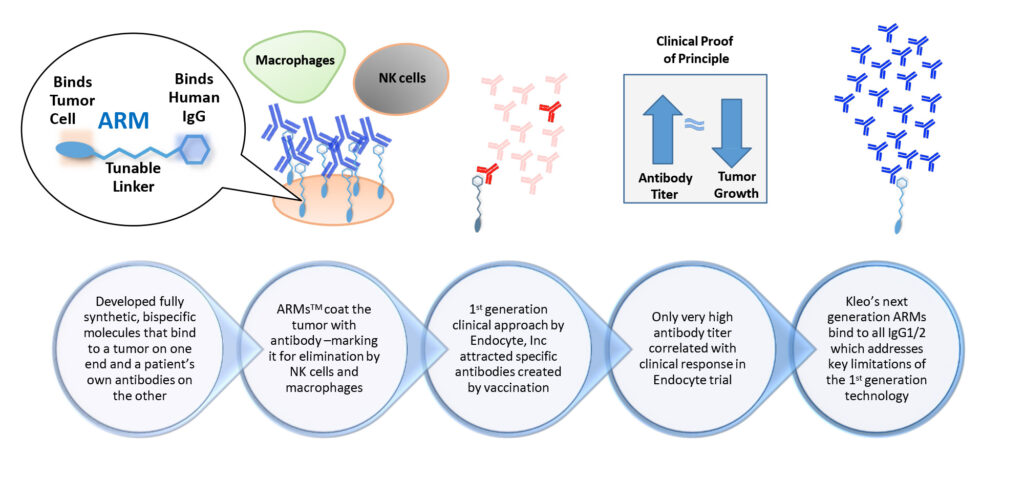 Kleo's Antibody Recruting Molecules (ARMs)
What's the advantage of this approach?
Like biologics, ARMs engage a patient's immune system to destroy cancer cells by connecting target cancer cells with components of the immune system. But ARMs are more versatile than biologics because they are smaller and have better tissue penetration. They also have the potential to be safer and more effective because they can attach to a wider range of binding sites on tumor cells. They are fully synthetic and modular in design, making them much faster and less costly to produce, compared with biologics.
Does Kleo's ARM platform have any application against COVID-19?
We have created a potential therapeutic that could be tested against COVID-19 and we have shared our information with potential government, philanthropic and private investors. Our ARM mechanism technology allows for very rapid identification of therapeutics such as this, a major advantage of our platform.
What does Kleo hope to demonstrate in the Phase 1/2a multiple myeloma study?
We will be studying the safety and tolerability of combining KP1237, a CD-38-targeting ARM, with patients' own natural killer cells, to treat multiple myeloma in post-transplant patients. The single-arm study at the Dana-Farber Cancer Institute in Boston expects to begin enrolling 25-to-30 patients by the middle of the year. Exploratory endpoints will assess a minimal residual disease conversion rate at 90-to-100 days after transplantation. KP1237 is being investigated as a cell-homing molecule to target the patient's activated natural killer cells to the CD38-expressing tumor. Approximately 30,000 individuals are diagnosed with multiple myeloma in the U.S. each year, with at least one-third of those patients undergoing autologous stem cell transplants. We hope to have top-line data in the second half of 2021.
Kleo's next platform is a Monoclonal Antibody Therapy Enhancer (MATE). How does it work?
Rather that modify the genetic sequence for cellular manufacturing of antibodies, we can take a commercialized antibody that you would give to a patient and, with a single chemical engineering process, we can add a binder and activator to enhance and turn on natural killer cells. By conjugating off-the-shelf therapeutic antibodies, we can even add a new function to the antibody like binding with T-cells to kill tumor cells. As a result, we are developing a full suite of chemical modifiers that have the potential to revolutionize antibody engineering.
What's the next step with MATE?
We are already in discussions with many antibody-manufacturing companies to license our MATE technology so they would be able to create better second-generation commercial assets in a simpler, faster and less expensive process. Besides licensing, we're also looking to acquire antibodies that, for one reason or another, did not reach commercialization. By chemically engineering them, we could develop them and make them much more valuable.
Kleo's third platform is Synthetic Antibody Mimics (SyAMs). At what stage is this platform?
Instead of using little bits of an antibody to create a bispecific biologic that can turn on NK-cells, T-cells and macrophages against a tumor, we're using synthetic chemistry. The goal is to have SyAMs attach to immune cells in a patient's body and the tumor micro-environment and target them against tumor cells, triggering an immune response that leads directly to killing the tumor cell.
What else is in the pipeline?
We're developing KP1237 for another indication: relapsed/refractory multiple myeloma, which could enter the clinic before the end of 2020. We also have two other ARM compounds that are close to IND-enabling studies. One is KP0832, targeting prostate-specific membrane antigen, which is overexpressed in prostate cancer cells. We haven't publicly discussed the other ARM compound, but it is a well-validated target for solid tumors. After we de-risk the platform with KP1237, we should be in a position to rapidly develop additional molecules that we can develop ourselves, partner or out-license.
Kleo's Development Pipeline
• • • • •
To connect with Kleo Pharmaceuticals or any of the other companies featured on BioTuesdays, send us an email at [email protected].