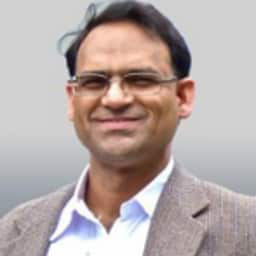 Using its nanomedicine platform and the capabilities of its cGMP manufacturing facility, NanoViricides (NYSE American: NNVC) is developing therapeutics for a variety of viral infections, including herpes simplex viruses (HSV-1 and HSV-2), varicella zoster virus (VZV) and most recently, early work on the coronavirus.
"Our technology overcomes the major issue associated with antibodies and other antivirals, which is the loss of efficacy when a virus mutates," Anil Diwan, president and executive chairman, says in an interview with BioTuesdays.
Viruses infect cells via receptor-mediated fusion, entering the host cell by binding to receptors on its surface. Dr. Diwan explains that the company's antiviral therapeutics, called nanoviricides, consist of a nanomicelle flexible polymer and a virus-binding ligand, which is engineered to mimic the host cell surface receptor.
When nanoviricides bind to viral particles, the nanomicelle flexible polymer interacts with the viral lipid membrane. The nanoviricide then encapsulates the virus so it's unable to infect other host cells.
"The nanoviricide, which is more densely covered with ligands than the host cells, is effectively a decoy," says Dr. Diwan, adding that viral resistance to nanoviricides is unlikely because even when a virus mutates, it will still bind to the same host cell surface receptor.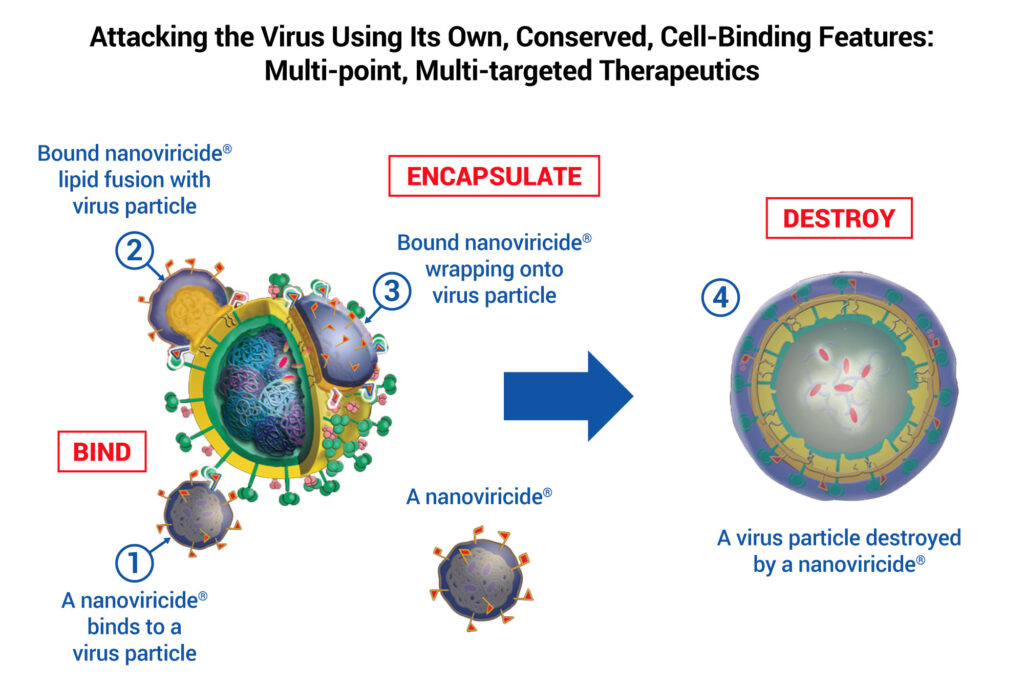 A nanoviricide attacking a virus particle
A key differentiating factor of NanoViricides is its own cGMP manufacturing and nanomedicine characterization facility, which opened in 2015. "We recognized that there is a high risk associated with nanomedicine manufacturing and that characterization has to be done very carefully, so we brought them in-house.
"We initially reached out to pharma companies capable of manufacturing complex drugs, and the estimated cost to manufacture 500 grams of product, with two years of additional technology transfer work, was $25-million. We built our facility for $15-million and saved the time and money associated with technology transfer," he recalls.
NanoViricides' facility is capable of manufacturing clinical supplies of nanoviricides in injectable, oral, topical and nebulized formats. "We are able to go from the lab bench to cGMP manufacturing in a matter of three-to-six months," Dr. Diwan contends, noting that while NanoViricides' initial manufacturing capacity was 500 grams a year, it's now capable of manufacturing several 25 kg batches per year.
The facility's R&D capabilities include screening of numerous molecules that could serve as virus-binding ligands, and NanoViricides has amassed a large library of potential candidates. This library, as well as a state-certified biosafety level (BSL)-2 lab with three separate virology suites, which enables work on three different viruses at once, might allow NanoViricides to contribute to the effort of developing a treatment for the novel coronavirus.
In addition to HIV, avian influenza, and Ebola, the company has previously worked on nanoviricides for the MERS coronavirus that first emerged in 2014. Having designed multiple small chemical ligands for coronaviruses, the company began working on SARS-CoV-2 when it was discovered that it binds to the same host cell surface receptor as the 2002 SARS coronavirus, namely, angiotensin converting enzyme 2, or ACE2.
"We're not funded to do this work, but we decided to undertake the task due to the urgency that we felt when the virus initially broke out in China in late 2019, and then how rapidly it spread there," Dr. Diwan explains. "Because we already had suitable compounds in our library, we've completed the discovery stage and have very promising candidates."
The company recently developed antiviral drug testing assays and acquired two low-threat circulating coronaviruses to test its SARS-CoV-2 drug candidates in its BSL-2 lab. Dr. Diwan points out that testing of these drug candidates in COVID-19 would need to be conducted at a facility such as the one at NIH or the US Army Medical Research Institute of Infectious Diseases, which NanoViricides has previously worked with on several occasions.
NanoViricides' nanomedicine manufacturing capabilities largely determined its product pipeline, which focuses on drug candidates that have shorter development timelines and could be easily manufactured in-house. The company selected VZV, the virus that causes chickenpox and shingles; and HSV, the viruses that cause herpes.
NanoViricides' lead drug candidate, NV-HHV-101, is a topical cream for the treatment of shingles rash. Shingles is a painful rash that occurs in some individuals who previously had chickenpox, when the dormant virus reactivates in nerve tissue. There are some one million cases of shingles in the U.S. per year, which Dr. Diwan says translates to a more than $1-billion market, even with GlaxoSmithKline's Shingrix vaccine, whose demand outstrips supply.
"We used to see shingles almost exclusively in immunocompromised individuals and those aged 60 or older, but we are now seeing it in individuals as young as 35," Dr. Diwan points out, adding that the trend is likely due to the common use of the chickenpox vaccine, which has paradoxically led to decreased immunity to shingles.
The company is preparing to file an IND with the FDA for NV-HHV-101 and plans to begin a Phase 1/2a clinical trial by mid-year. Trial results are expected about one year following trial initiation.
NanoViricides plans to apply its work on VZV to HSV-1 and HSV-2, which cause cold sores and genital ulcers, respectively, and hopes to begin HSV clinical trials in approximately one year from now. The company is also developing a nanoviricide-based eyedrop for the treatment of herpes keratitis, which is an infection of the eye's cornea. "Following our IND application for NV-HHV-101, we're targeting an additional IND filing each year thereafter," Dr. Diwan says.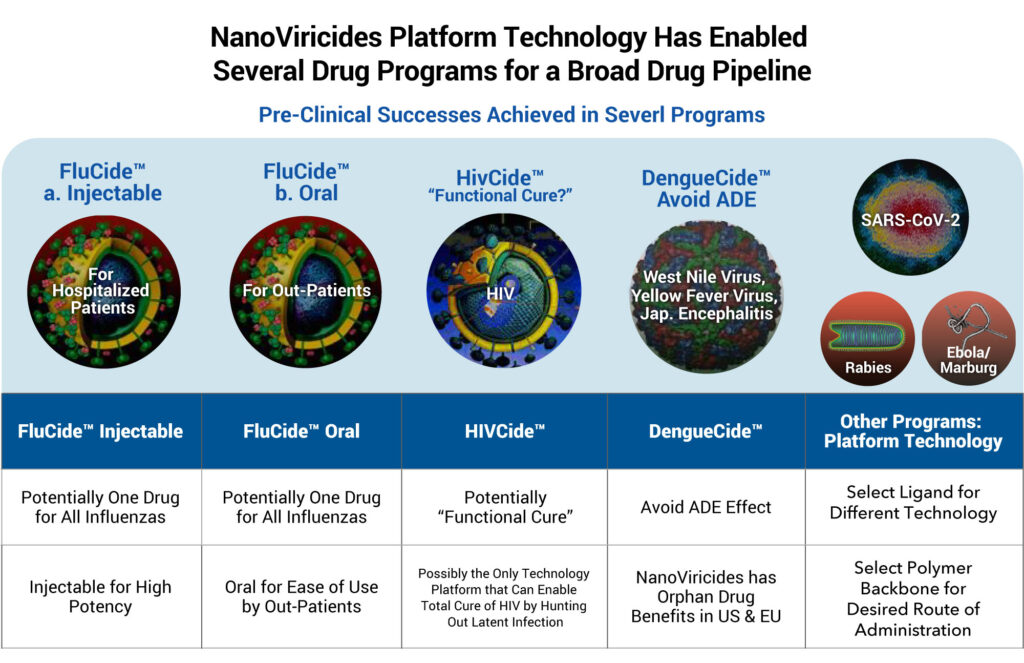 • • • • •
To connect with NanoViricides or any of the other companies featured on BioTuesdays, send us an email at editor@biotuesdays.com.