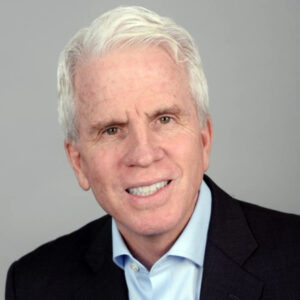 Spring Bank Pharmaceuticals (NASDAQ:SBPH) will be reporting clinical data readouts throughout 2020 as it advances a portfolio of three drug candidates for the treatment of chronic hepatitis B virus (HBV) as well as early data from a second-generation agent that activates the STING pathway in selected cancers.
Spring Bank uses its small molecule nucleic acid hybrid chemistry platform to design compounds that are small segments of nucleic acids. These compounds selectively target specific proteins implicated in various diseases, producing a high therapeutic benefit, compared with current therapies.
"We are funded into 2022 with multiple data readouts and potential catalysts over the next 15 months," Martin Driscoll, president and CEO, says in an interview with BioTuesdays.
HBV can lead to progressive liver disease and possible death. There are more than 250 million people chronically infected with HBV globally, including some 17 million people in the U.S. and Europe.
"Attaining a functional cure for chronic HBV will likely require modulation of the immune system, which our lead candidate, inarigivir, has been designed to do," Mr. Driscoll says, explaining that oral inarigivir binds the cellular protein, RIG-I, to inhibit viral replication and induce intracellular interferon signaling pathways for antiviral defense.
"There is a significant unmet need for HBV therapies that are easily administered and have a favorable safety profile and can achieve functional cure during a finite course of treatment," he suggests. "We believe inarigivir has the potential to be the backbone immunomodulator for a simple, safe and selective combination treatment modality that elevates the functional cure rates for patients with chronic HBV."
During the first quarter of 2019, Spring Bank completed a successful Phase 2 global ACHIEVE clinical trial in 80 non-cirrhotic patients infected with chronic HBV using escalating doses of 25mg to 200mg of inarigivir for 12 weeks. Following inarigivir treatment, patients continued on Gilead Sciences' nucleoside HBV treatment, Viread, as a monotherapy for 12 weeks.
The study met its primary endpoints of dose-dependent HBV DNA reduction, a key FDA requirement for approval of new HBV treatments and for safety. In addition, secondary endpoints of reductions in HBV RNA, and/or hepatitis B surface antigen (HBsAg), and hepatitis core antigen (HBcrAg), were also met. There were no interferon-like side effects.
After the initial low-dose (25mg) cohort of the ACHIEVE trial, Gilead proposed testing its new treatment for chronic HBV, Vemlidy, in combination with inarigivir 50mg in a 12-week Phase 2 study. The collaboration with Spring Bank and Gilead has since been expanded to include two additional dose-escalating cohorts – inarigivir 200mg and 400mg – in combination with Vemlidy.
Last month, Spring Bank reported encouraging interim top-line results at 12 weeks from the first low-dose (50mg) cohort of 30 patients in the ongoing combination study being conducted by Gilead. At week 12, seven of the 30 patients, or 23%, were HBsAg responders and met the primary efficacy study endpoint of having greater than or equal to 0.5 log 10 IU/mL reduction in HBsAg from baseline.
These were the first data from a clinical trial examining co-administration of inarigivir with a HBV nucleoside analog (NUC) in chronic HBV patients.
"We are very encouraged that these preliminary results suggest that the addition of a low dose of 50mg of inarigivir plus NUC therapy could enhance the size of the HBsAg response, compared with the 50mg monotherapy dose of inarigivir in our Phase 2 ACHIEVE dose escalation trial," Mr. Driscoll says.
Data from the remaining two cohorts of 60 patients receiving higher doses of inarigivir (200mg and 400mg) plus Vemlidy are expected in the first half of 2020.
Spring Bank and Gilead also are collaborating in two global Phase 2b studies being conducted by Spring Bank – CATALYST 1 and 2 – with newly diagnosed and virally suppressed HBV patients, respectively. Both studies are employing 400mg doses of inarigivir, which could be the dose selected for a Phase 3 program.
The CATALYST 1 trial will evaluate inarigivir in combination with Vemlidy for 24 weeks, a longer duration than the 12-week co-administration period in the study being conducted by Gilead. The goal of CATALYST 1 is to evaluate functional cure rates for HBV in terms of reduction of HBV DNA, HBV RNA and hepatitis B surface antigen.
The key endpoints in CATALYST 2, in virally suppressed patients, are loss of HBsAg and other viral markers, including HBV DNA and HBV RNA.
In the second quarter of 2020, Spring Bank expects to release 24-week data from the CATALYST 2 trial, while 24-week data from the CATALYST 1 trial is anticipated in the second half of 2020.
According to Mr. Driscoll, the standard of care treatment with a NUC achieves a functional cure in less than 2% of chronic HBV patients, while an interferon plus a NUC provides an 8% to 10% chance of a functional cure. "What we're trying to do is beat that with a safe therapy involving inarigivir."
By the end of next year, with data from Gilead's 12-week study and the two CATALYST studies, "we should be in a position to decide the pathway for a Phase 3 program," he adds.
In addition to inarigivir, Spring Bank's chronic HBV portfolio includes SB 9225, an oral fixed-dose combination of inarigivir and tenofovir disoproxil fumarate 300mg, and SB 527, a chimeric antisense oligonucleotide.
Mr. Driscoll points out that SB 9225 could be optimal to treat newly diagnosed HBV individuals. "There is a key strategic opportunity for this compound in China, which has the world's largest chronic HBV population."
Spring Bank hopes to conduct a bioequivalence study with SB 9225 in 2020, using dose escalation data from several other studies, and potentially launch a Phase 3 trial with SB 9225 by the end of 2020 or first half of 2021.
The company also is developing SB 527 that contains an antisense oligonucleotide linked to inarigivir. When combined with a NUC, there is a potential to achieve functional cure for high viral burden chronic HBV patients.
Mr. Driscoll says the company has demonstrated SB 527's proof of concept in preclinical studies in reducing all viral parameters, including HBsAg. IND-enabling toxicology studies for SB 527 are scheduled for the first half of 2020, with plans for a first-in-human trial before the end of 2020.
"We are excited about the prospects of our innovative programs to achieve functional cure in HBV based on our world class expertise in HBV and a deep clinical collaboration with Gilead," he adds.
Spring Bank also has prospects beyond the HBV space. Before the end of 2019, the company plans to dose the first patient in a Phase 1 study of SB 11285, its second-generation STING (stimulator of interferon gene) agonist candidate to evaluate safety, tolerability and initial anti-tumor activity in patients with advanced solid tumors.
Mr. Driscoll explains that by targeting STING to activate the body's innate immune system, SB 11285 has the "potential to enhance the activity of other therapeutic modalities, such as immune checkpoint inhibitors."
Preclinical studies have indicated that SB 11285 could be administered in humans by multiple routes, including intratumorally or intravenously. Part 1 of the Phase 1 trial is an IV dose-escalation study, with SB 11285 as monotherapy followed by combination with a checkpoint inhibitor, and the trial is designed to determine a recommended Phase 2 dose, he added.
Part 2 of the trial will explore IV SB 11285 antitumor activity in combination with a checkpoint inhibitor in selected tumor types. The trial will be conducted at multiple sites in the U.S. The company plans to report top-line results in mid-2020.
"We're pretty excited about the potential of the STING program to be IND ready by the end of 2020," Mr. Driscoll says. "Our hallmark, though, is world class expertise in HBV and a deep clinical HBV collaboration with Gilead."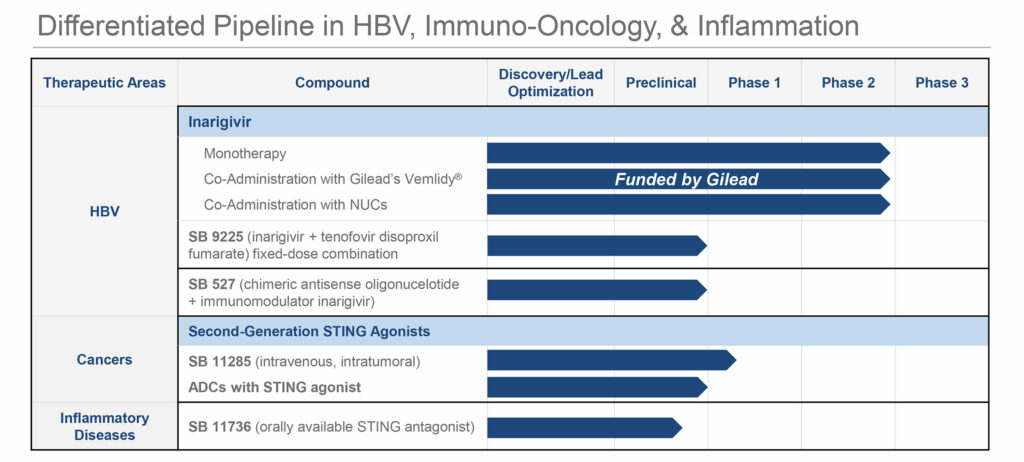 • • • • •
To connect with Spring Bank or any of the other companies featured on BioTuesdays, send us an email at editor@biotuesdays.com.