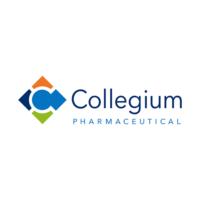 William Blair & Co. has initiated coverage of Collegium Pharmaceutical (NASDAQ:COLL) with an "outperform" rating and price target of $35. The stock closed at $19.25 on Thursday.
Collegium's lead product, Xtampza ER, an extended-release oxycodone-based product with abuse-deterrent technology (ADT), has received tentative approval from the FDA for the treatment of chronic pain that requires around-the-clock opioid analgesia for an extended period.
The current opioid market is characterized by abundant opioid abuse, and while new ADT formulations have been approved, Collegium's Xtampza ER is "best-in-class and validated by what we believe is the best (although tentatively approved) label in the extended-release opioid class," writes analyst Tim Lugo.
If and when Xtampza ER receives final regulatory approval, Mr. Lugo said it will tap into a $6-billion extended-release opioid market with the potential to reach more than $600-million in peak sales with relatively conservative market penetration assumptions.
"We believe the best-in-class abuse-deterrent profile and product label of Xtampza ER should lead to penetration among physicians who view OxyContin as a tarnished brand," he added.
The large market for chronic-pain medications is entering a period of rapid change after Purdue Pharma recently lost litigation against generic companies attempting to bring generic OxyContin products to the market.
Mr. Lugo said these same patents were at the core of a case between Purdue and Collegium, and "we now expect the FDA to convert the tentative approval of Xtampza ER to a full approval in the near term, allowing for a commercial launch late in the second quarter into the large chronic-pain market with a best-in-class label for abuse deterrence."