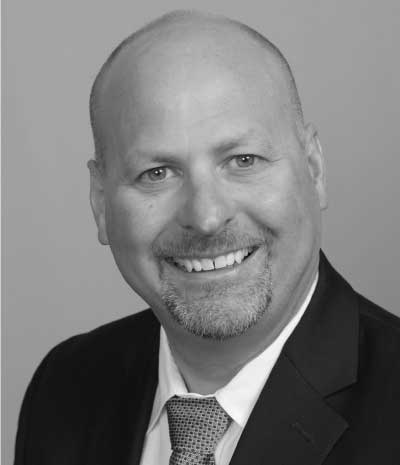 SeaStar Medical (NASDAQ: ICU) expects an FDA Approval Order in the coming months for the company's Selective Cytopheretic Device (SCD) Pediatric (SCD-PED) under a humanitarian device exemption (HDE).
"Now that we have the FDA's approvable letter for SCD-PED – which outlines the conditions required for formal marketing approval including revisions to product labeling and post-market registry protocols – we can finalize preparation for commercialization in early 2024," Eric Schlorff, CEO of SeaStar Medical, says in an interview with BioTuesdays.
The HDE for the cell-directed extracorporeal therapy would apply to children weighing 10 kilograms or more with acute kidney injury (AKI) and sepsis or septic condition who require continuous kidney replacement therapy (CKRT).
AKI is caused by several factors, including direct damage to the kidneys from sepsis and the degree of inflammation that occurs with cytokine storms.
"Cytokine storms can be caused by many different kinds of what we call insults, which include surgery, physical trauma and viral and bacterial infections," Mr. Schlorff explains.
"Any of these events are considered insults to immune cells, specifically neutrophils and monocytes, which are the first responders. The activated cells are what cause the cytokine storm that can quickly get out of control and may lead to organ damage and death."
Designed to restore immune system homeostasis, SCD works in tandem with commercially available hemofiltration systems. The device selectively targets proinflammatory neutrophils and monocytes to attenuate the cytokine storm that causes inflammation.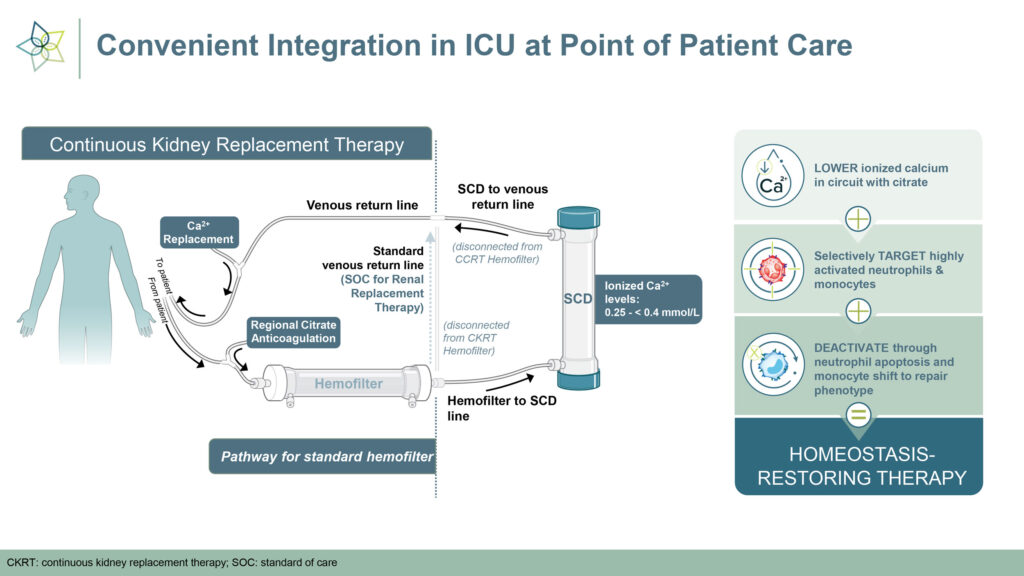 The device works by deactivating neutrophils and returning them to the spleen, which signals that the cytokine storm is over and the immune system can begin to repair itself. SCD has received FDA breakthrough device designation for AKI in adults on CKRT; hepatorenal syndrome; and cardiorenal syndrome in congestive heart failure.
To date, SeaStar has conducted six studies of SCD for the treatment of AKI. "To give you an idea of the kinds of patients we're treating, 50-to-60% are septic, they have an average of three organs that have failed, and all are in the intensive care unit, so these are very sick patients," he points out.
The adult and pediatric AKI studies demonstrated SCD's safety, with no device-related infections or adverse events. Mortality reduction was significant, ranging from 19-to-56%, and no SCD-treated patients were dependent on dialysis after 60 days, compared to 15-to-20% in the control group.
"The clinical results speak for themselves," Mr. Schlorff contends. "Not only did we reduce mortality rates by up to half, but we demonstrated the reparative effect of SCD by eliminating dialysis dependency."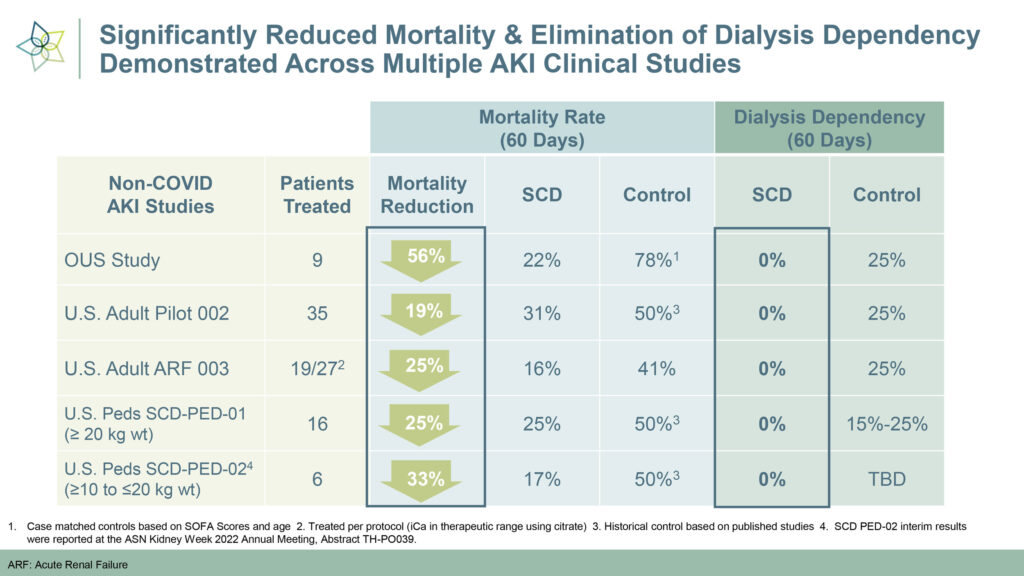 SeaStar is already preparing for the market launch of SCD-PED: it is readying a commercial SCD supply with its manufacturing partner, Fresenius Medical Care, and has engaged Nuwellis as its license, distribution and sales partner.
"There are 220 children's hospitals in the U.S. with some 4,000 pediatric AKI patients," he says. "More than half of these patients are at the top 50 children's hospitals, so we're confident that we can penetrate the pediatric AKI market with a relatively small salesforce."
Mr. Schlorff says that the SCD-PED program is an important step toward validating the technology and points to the significant opportunity for SCD in adult patients.
Some 210,000 adults in the U.S. have AKI, representing a market about 50 times larger than the pediatric market. "In terms of value proposition, it costs about $100,000 to treat an AKI patient with dialysis for a year. The cost for a full course of treatment with SCD, which is three-to-seven days, ranges from $10,000-to-$20,000," Mr. Schlorff adds.
The company is currently conducting a pivotal randomized controlled study, called NEUTRALIZE-AKI, to assess the safety and efficacy of SCD in adult patients with AKI requiring CKRT. Three trial sites have been activated, with SeaStar planning to expand the study to 20-to-30 sites across the U.S. Two patients have been enrolled to date, and the company is targeting enrollment of one patient per site per month.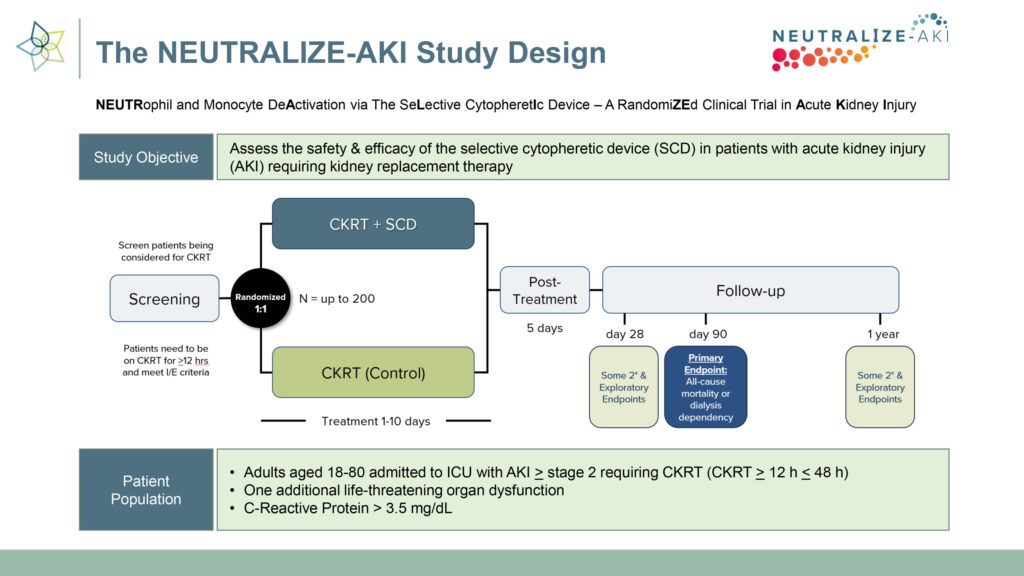 "The first line of defense against AKI is CKRT, which just addresses the symptom of kidney malfunction," he says. "When the cause is hyperinflammation, rather than administering corticosteroids to suppress the immune system–which has its own risks–SCD presents an opportunity to bring the immune system back into homeostasis."
The trial's endpoints are all-cause mortality and dialysis dependence at 90 days. The trial will include some 200 patients who will be followed for a year to determine SCD's durability. Should the trial be successful, SeaStar expects FDA premarket authorization in the first half of 2025.
"While we are currently focused on kidney damage, it's important to note that the effects of a cytokine storm are organ-agonistic: the liver, lungs, heart and brain are all impacted by the same underlying mechanism," Mr. Schlorff points out. "With minimal to no organ-specific modifications needed, the SCD has the potential to treat multiple acute and chronic high-value indications.
• • • • •
To connect with SeaStar Medical or any other companies featured on BioTuesdays, send us an email at [email protected].