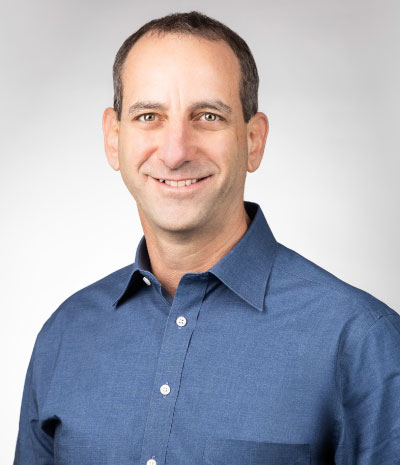 Closely-held Hygieia, a digital therapeutics company for insulin therapy, is reforming how physicians and people with type 2 diabetes manage insulin with its breakthrough proprietary mobile app, d-Nav, which autonomously adjusts insulin dose recommendations to correspond with a patient's changing needs, and its d-Nav Insulin Management Program offering virtual and clinical support.
"d-Nav is an ultra-personalized, easy-to-use tool that is safe and effective because it autonomously adjusts insulin doses on average every seven days, assisting physicians with insulin management between patient visits and taking the guesswork out for patients by ensuring they are always taking the right amount of insulin," Eran Bashan, Ph.D., CEO, and co-founder of Hygieia, says in an interview with BioTuesdays.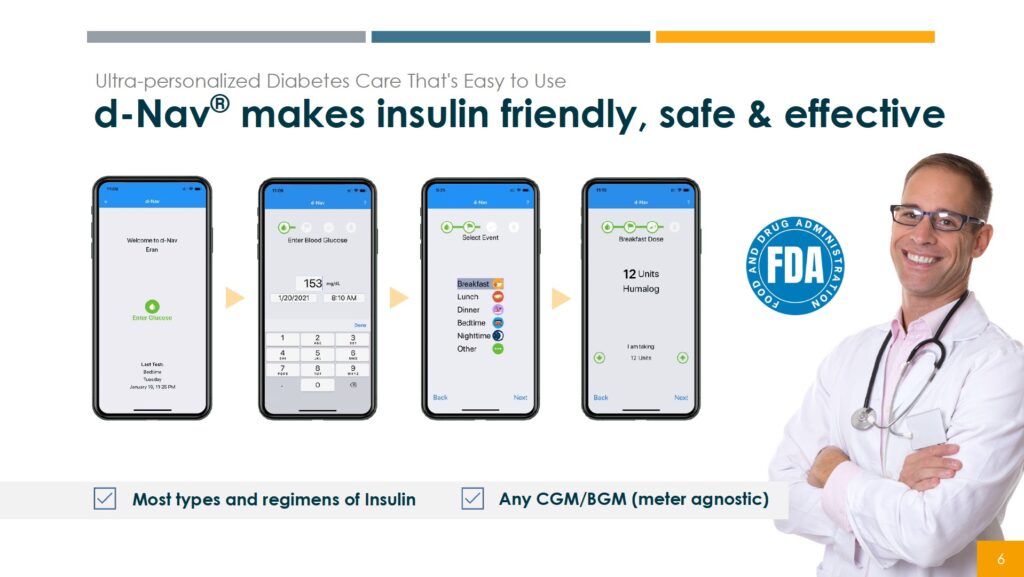 The only AI-driven, FDA-cleared, CPT-coded technology to autonomously optimize insulin doses in type 2 diabetes direct to patients, d-Nav automates dose recommendations for each insulin injection aiming to improve A1c scores, the key outcome metric in diabetes care. d-Nav is the equivalent of a closed-looped system for people with type 2 diabetes who inject insulin. The d-Nav Insulin Management Program includes clinical support specialists who monitor the data, initiate physician interventions when needed, and periodically follow up with users to provide personalized support.
Recognizing the urgent need for a monumental shift in insulin management for people with type 2 diabetes, Dr. Bashan recalls how he and Dr. Israel Hodish, MD, Co-Founder, and Medical Director of Hygieia, made it their mission to rethink and reform how insulin is used and to empower patients with the ability to adjust dosages without having to see their physician every time. Hence, the diabetes navigator app, d-Nav.
"There are more than seven million Americans with type 2 diabetes using insulin and less than 25 percent of them are achieving their target A1c levels of seven percent or below," Dr. Bashan says.
Maintenance of A1c at about seven percent or lower avoids complications, slows disease progression, and prevents premature death, Dr. Bashan says. The current standard of care for insulin therapy does not adequately address the root cause of most therapeutic failures in that the insulin dose is not being adjusted or titrated with enough frequency to meet the body's perpetual change in insulin needs, he adds.
Dr. Bashan explains that since insulin therapy is mandatory for many patients with type 2 diabetes, it is imperative that the diabetes care community find ways to make it more effective, affordable, and easier for patients to inject and manage its effects. "d-Nav can help achieve all of those objectives in a scalable way," Dr. Bashan points out. "It provides a practical, cost-effective solution for making frequent dose adjustments to meet a patient's ever-changing insulin needs which is the key to achieving and maintaining A1c goals."
"The frequency of dose adjustments is the most important factor in optimizing the efficacy and safety of insulin therapy," Dr. Bashan says. "An individual's insulin requirements constantly change but physicians are only able to alter dosages during patient visits which on average occur once every three-to-six months."
The combination of d-Nav's autonomous insulin adjustment guidance with the clinical support from healthcare professionals offers superior glycaemic control when compared with support from providers alone*, Dr. Bashan contends.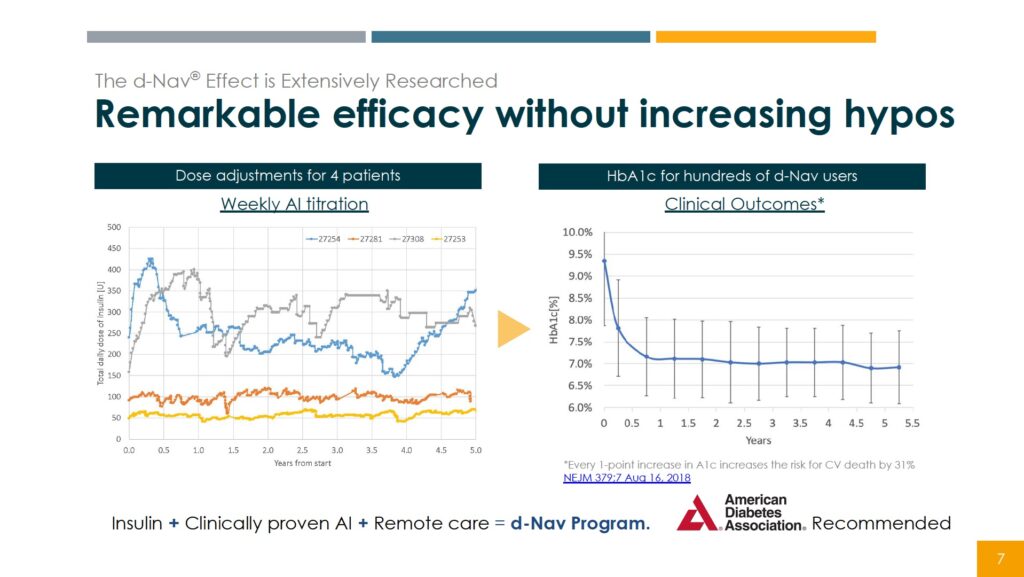 "Our studies revealed that nearly 90 percent of people using d-Nav reported lower A1c scores in just three months without increasing the risk of hypoglycemia**," Dr. Bashan says. "Not only is d-Nav a game changer for how patients and physicians manage insulin, but it also establishes the standard of autonomous insulin dose adjustment," he adds.
In 2021, d-Nav Technology was recognized as a standard of medical care in diabetes by the American Diabetes Association for the prevention of hyperglycemia in type 2 diabetes patients.
Hygieia launched its first virtual endocrinology d-Nav clinic in Livonia, Michigan in 2020. "The clinic is staffed with a team of nurses who actively engage with patients from the initial downloading of the app to ongoing support and care," Dr. Bashan says. "It has been extremely successful, both clinically and financially, because endocrinology is a visit-driven business, type 2 diabetes is a progressive condition, and d-Nav enables continuous care."
The company aims to build the leading, d-Nav Technology-driven network of diabetes care centers in the U.S. via partnerships. d-Nav clinical partnerships for endocrinology practices treating patients with type 2 diabetes are currently located in Michigan, Texas, Arizona, and North Carolina. Hygieia plans to expand with clinics nationwide.
"Hygieia's partnership model is a win-win," Dr. Bashan says. "Patient outcomes are improved with autonomous dose adjustments while endocrinology practices have the opportunity for additional revenue without increasing physicians' time commitment," he adds.
• • • • •
To connect with Hygieia or any other companies featured on BioTuesdays, send us an email at [email protected].
• • • • •
*As shown by Bergenstal et. al.
**As per Schnieder et. al.