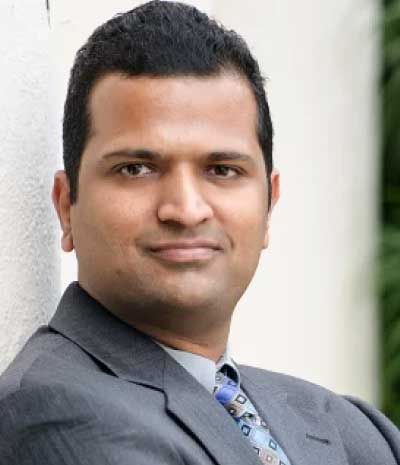 Closely-held Jeeva Informatics has developed a centralized electronic clinical platform that aims to help clinical trial sponsors increase the efficiency of their clinical trials, while expanding trial access to patients across the globe.
"While my passion for accelerating the development of treatments for rare diseases drove the creation of this platform, the technology that Jeeva ended up building helps to expedite clinical trials for a vast array of indications," Harsha Rajasimha, PhD, founder and CEO of Jeeva Informatics, says in an interview with BioTuesdays.
Dr. Rajasimha set out to create Jeeva's technology platform because of the significant risk, time and cost associated with conducting clinical trials. He points out that only 10% of drug candidates successfully make it through clinical trials, in a process that takes big pharmaceutical companies an average of eight-to-nine years to complete.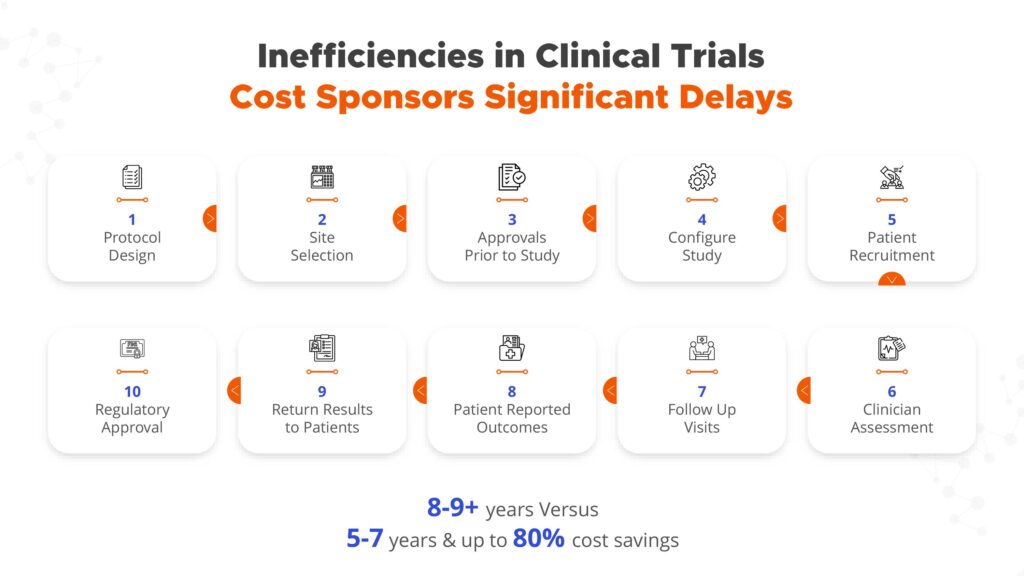 "The cost of each successful drug candidate is some $2.5-billion when you take into account the cost of all the failures," he says. "And, if you add the time it takes for the regulatory aspects of drug development, you're looking at a total development time of 10-to-12 years."
While conducting stakeholder discovery interviews, Jeeva found that clinical trial sponsors' greatest challenge was patient recruitment and retention.
"The vast majority, some 85% of clinical trials are delayed by at least 30 days, while 30% of clinical trials are terminated because of delays in patient recruitment," he notes. "For the trials that do advance, about 30% of patients drop out of the study due to several factors that include poor patient engagement."
Trial sponsors also noted challenges related to managing trial protocol amendments and the use of multiple software tools. "Clinical trial protocols are typically written by a subset of individuals involved in the trial, so it's common for other stakeholders to point out the need to amend the protocol as the trial is activated, which poses operational challenges," Dr. Rajasimha explains. "And, for any given clinical trial, there may be 20-to-30 software or database tools necessary for the trial's success; stitching together these independently developed point solutions results in poor user experience."
With these challenges in mind, Jeeva created a unified electronic clinical trial platform that contains all the tools needed to efficiently manage a clinical trial, which "can decrease drug development time to five-to-seven years, and trial costs buy as much as 80%," he contends.
Platform features include electronic data capture; lab report uploads; electronic informed consent; patient screening and enrollment; and protocol amendment. It supports reporting of concomitant medications, adverse events, and electronic clinical outcomes assessments that include performance outcomes; and patient-, clinician- and observer-reported outcomes. In addition, the platform has a consolidated schedule of patient visits and televisits; and an optional patient portal to support effective remote patient engagement between scheduled site visits.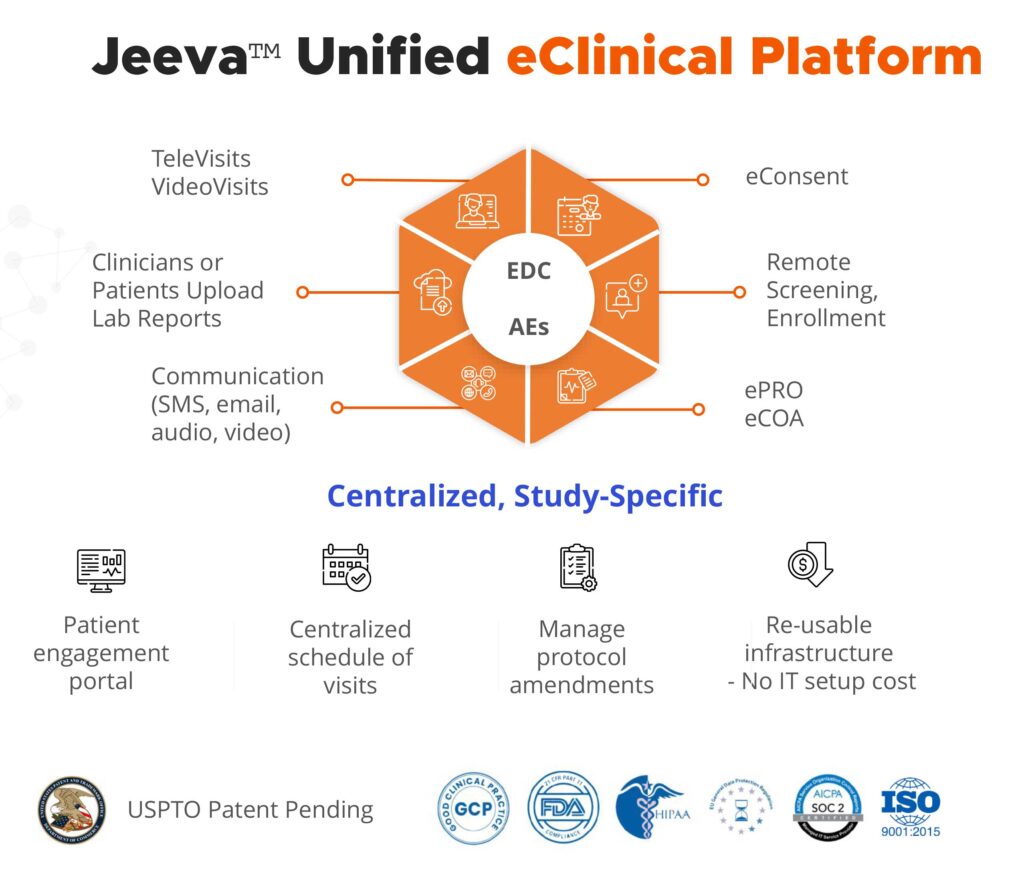 Dr. Rajasimha identifies the platform's configurability as a valuable feature: the technology can be easily customized to align with most complex clinical trial designs and protocols. "For example, the platform can be configured to automatically schedule patient appointments based on the design of oncology trials, which typically involve multiple treatment cycles," he says.
The centralized platform makes it possible for all clinical trial coordinators, investigators, and sponsors to log into the system on any device and obtain up-to-date trial information. "If there is a protocol amendment, they can make those changes easily and conveniently in a single place," Dr. Rajasimha adds.
The patent-pending platform consists of reusable infrastructure and is hosted by Amazon Web Services, so companies can save on IT-related costs. It also supports several compliance programs including Good Clinical Practice; the Health Insurance Portability and Accountability Act; EU General Data Protection Regulation; and FDA electronic records and signatures guidelines.
Still early in its evolution, the company has 15 active clinical trials and has completed five clinical trials to date. Dr. Rajasimha says that Jeeva has entered into partnership agreements with some 15 contract research organizations (CROs) that offer Jeeva's technology platform when bidding on clinical trials.
The company operates on a transparent, pay-per-milestone pricing model, as opposed to the variable hourly fee model often used by CROs. Dr. Rajasimha attests that, after an initial client meeting, it can generate a program proposal in a matter of days and initiate the clinical trial in as little as three-to-four weeks.
Recognizing that emerging biotechnology sponsors meaningfully contribute to life science innovations, Jeeva created an emerging biopharma company program; a protocol-to-publication program for academic investigator-initiated trials; and an emerging markets program to enable clinical trial sponsors execute studies in low- and middle-income countries. Under the emerging biopharma program, Jeeva accepts payment in a combination of cash and equity to support affordable industry innovation.
Dr. Rajasimha sees significant opportunities for clinical trial sponsors evaluating gene or cell therapies. "Trials of gene therapies, or cell therapies such as CAR-T, often involve a one-time administration of the therapy and a subsequent follow-up period ranging from 10-to-20 years. Our platform is uniquely positioned to offer a cost-effective solution to long-term patient follow up and monitoring."
Looking ahead, he envisions applying Jeeva's digital platform to make clinical trials universally accessible. "More than 80% of new therapeutic clinical trials occur in the U.S. and the European Union, representing less than 10% of the global population. Using our technology, sponsors and patients can engage in clinical trials on our digital platform from anywhere in the world, with little or no travel to the investigator site."
He expects that most of these clinical trials will have a 'hybrid' model – with both in-person and virtual visits – supported by a platform roadmap that includes artificial intelligence; machine learning; enhanced automation; voice recognition; internationalization with more language support; personalization; and integration of wearables and medical monitoring devices.
• • • • •
To connect with Jeeva Informatics or any other companies featured on BioTuesdays, send us an email at [email protected].