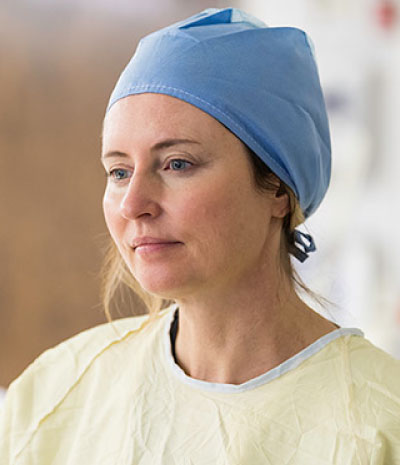 Closely-held EndoGlow, a medical device company, is revolutionizing minimally invasive surgery and improving patient outcomes by enhancing visualization through its proprietary Tissue Reveal Technology (TRT), a polymer that can be molded to any shape and provides fluorescent transillumination when activated by near-infrared (NIR) imaging.
"When surgical tools using TRT are exposed to NIR, the fluorescence transilluminates tissues, enabling the visualization of sub-surface tissue pathology, surgical planes, anatomical borders, and relative tissue depth up to a centimeter," Paula Jaye Doyle, M.D., MPMRS, founder and Chief Medical Officer of EndoGlow, says in an interview with BioTuesdays.
In August 2023, EndoGlow launched the Green Egg, a fluorescent pelvic manipulator built using the TRT polymer. The Green Egg is an FDA-cleared, Class I, 510(k) exempt, medical device designed to enhance visualization by fluorescing behind tissues during laparoscopic and robotic gynecological, urological, and colorectal surgeries. Power-free, the Green Egg illuminates with NIR, eliminating the need for batteries and power cords. Designed with a familiar pelvic manipulator shape, the Green Egg can be used in the same manner as a traditional manipulator, preserving the surgical flow.
Dr. Doyle, a specialist in female pelvic medicine and reconstructive surgery, explains that the proprietary polymer, TRT, was born out of frustration over not being able to see what lay in or underneath tissue because of the scarring and anatomical distortion she was increasingly encountering during surgery. Further, she was unable to feel tissue during robotic surgeries that lack haptic feedback. After colleagues shared similar concerns and frustrations, Dr. Doyle researched various chemistries, materials, and formulations to create TRT polymerized products, such as the Green Egg fluorescent pelvic manipulator.
"By building our surgical products with TRT, we are able to highlight surgical planes while exposing anomalies giving surgeons the visual information they would not otherwise have to make safe and effective real-time decisions," Dr. Doyle points out.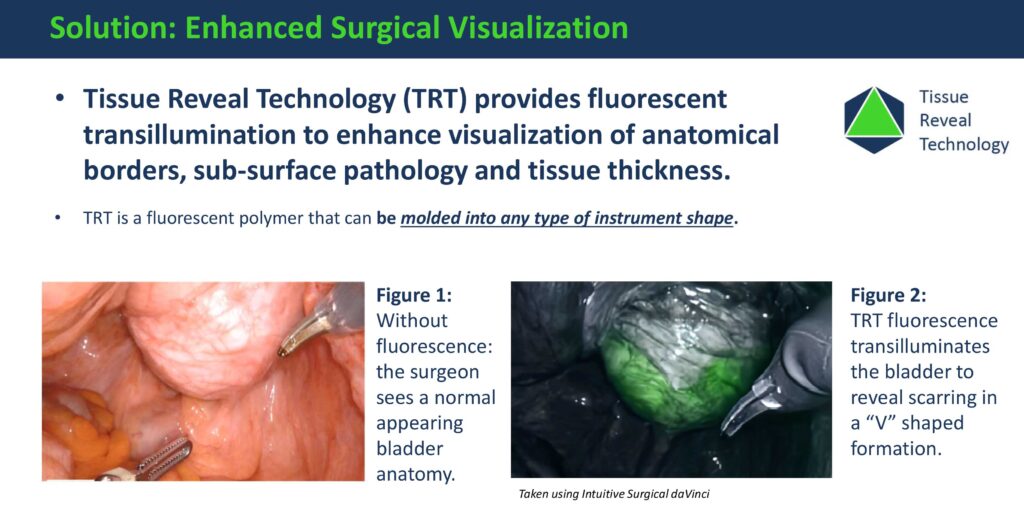 EndoGlow's TRT devices aim to reduce surgical errors, enhance surgical efficiencies, improve patient outcomes, and decrease medical costs.
"Surgical error costs the U.S. healthcare system $1.5 billion per year largely because surgeries in general are becoming more complicated," suggests Dr. Doyle. "Our patient population is aging, obesity is more prevalent, and the average American is having nine surgeries in a lifetime so navigating scar tissue, inflammation, and distorted anatomy has become a real issue."
Dr. Doyle recalls in one of several pilot studies conducted at the University of Rochester consisting of 40 procedures utilizing the Green Egg, anatomic distortions were realized 60% of the time. Moreover, when given the choice to discontinue using the Green Egg fluorescent manipulator during the study, Dr. Doyle says 100% of the surgeons chose to continue using the fluorescent device.
"We were also surprised to identify several unexpected value-adds during our studies," says Dr. Doyle. "In addition to enhancing the visualization of surgical planes, we found that OR communication between surgeons and surgical assists was dramatically improved as the assists were able to see for themselves and understand what the surgeon was talking about with the fluorescent transillumination from the Green Egg."
Focused on scaling and innovation, Dr. Doyle says EndoGlow is looking to partner with or become part of a larger medical device company that has the infrastructure and expertise in place to expand Green Egg adoption and the TRT product line. Currently conducting clinical and economical studies, EndoGlow is also poised for 3D printing of fluorescent medical devices and using AI with transillumination to determine tissue depth.
"We have a robust product roadmap," says Dr. Doyle. "TRT broadens the scope of how fluorescence can be used and expands the number of procedures that would benefit from fluorescent-guided surgery."
Annually, approximately 4.7 million global robotic and laparoscopic gynecology, colorectal, urology, and teaching-specific minimally invasive surgeries are conducted – a $2.1 billion total addressable market (TAM) for the Green Egg, Dr. Doyle contends. "The U.S. market alone for the Green Egg is just under $1 billion," she adds.
The Green Egg is the only manipulator that provides NIR-compatible, injection-free fluorescence for tissue visualization. "We are highly differentiated and competitive in the market," says Dr. Doyle, "and very encouraged about the potential of TRT and the Green Egg."
• • • • •
To connect with EndoGlow or any other companies featured on BioTuesdays, send us an email at [email protected].