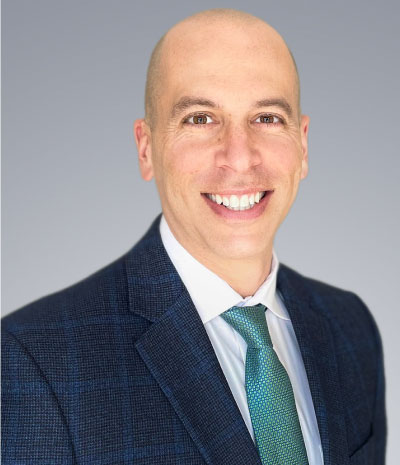 Closely-held Inbound Health is enabling its health system partners to provide hospital and skilled nursing facility (SNF)-level care to patients in the comfort of their own home.
"Health systems are extremely complex, so trying to build new business units or care models to cost-effectively increase capacity is very hard to do, unless you address the pain points of the existing infrastructure while connecting to the health system's operations," Dave Zimmerman, Inbound's SVP, Growth, says in an interview with BioTuesdays.
In 2019, Allina Health – one of the largest health systems in Minnesota – was looking at advanced care models and new business lines to diversify revenue, based on what it thought hospitals and health care would look like in the future.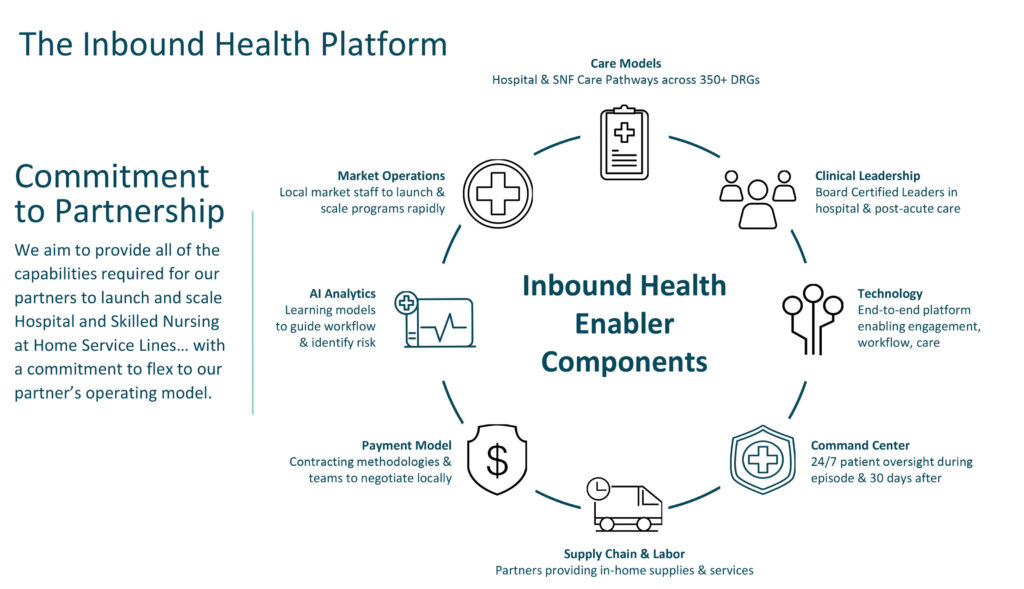 "One of the things Allina evaluated was hospital-at-home programs and performed a comprehensive build-buy partner assessment. When it didn't find a fit, Allina decided to build its own hospital-at-home capability. About four months later, COVID-19 hit, and Allina launched the program" Mr. Zimmerman recalls.
He says that over the course of 2020 and 2021, Allina began to see that they could treat a greater number of patients with acute and post-acute events in the home with SNF-level care, across a broad array of conditions.
"We started seeing traction and were getting a lot of requests to help other health systems around the country build and scale similar programs," he adds.
Allina recognized the opportunity, and in 2022 – with venture capital support – made the decision to spin the business out as Inbound Health. Today, Inbound is focused on building and scaling similar acute and post-acute care programs in the home for health systems all over the country.
To date, Inbound has logged nearly 7,000 treatment episodes across more than 350 diagnostic-related groups. While some patient episodes involve hospital replacement, where patients are given acute-level care in the home following a visit to the emergency department, Mr. Zimmerman says that about 70% of Inbound's volume comes from its SNF at-home program.
Inbound has examined three different cohorts of patients who recently visited the hospital: those that receive in-home care, those that go to a SNF, and those that become hospital inpatients. "We've consistently found that we're treating higher acuity patients at home than those that go to an SNF or stay in the hospital, and yet we're beating those cohorts from a readmission standpoint." He adds that since the program's inception, Inbound has achieved a net promoter score of more than 86% on average, reflecting a positive patient experience.
Inbound's bespoke in-home care model includes a virtual command center with a team of health providers; and skilled triage and biometric monitoring nurses that virtually oversee patients' care. The command center also includes medical supply chain coordination and logistics, so patients efficiently receive the drugs and medical supplies they need. Virtual patient monitoring is complemented by daily in-home visits from nurses, and visits from community paramedics as needed.
Mr. Zimmerman explains that Inbound's custom-built technology and analytics platform is what enables the company to help health systems to build and then cost effectively scale their own programs. Inbound's tech stack focuses on four key areas: in-home hardware, engagement, workflow, and AI analytics.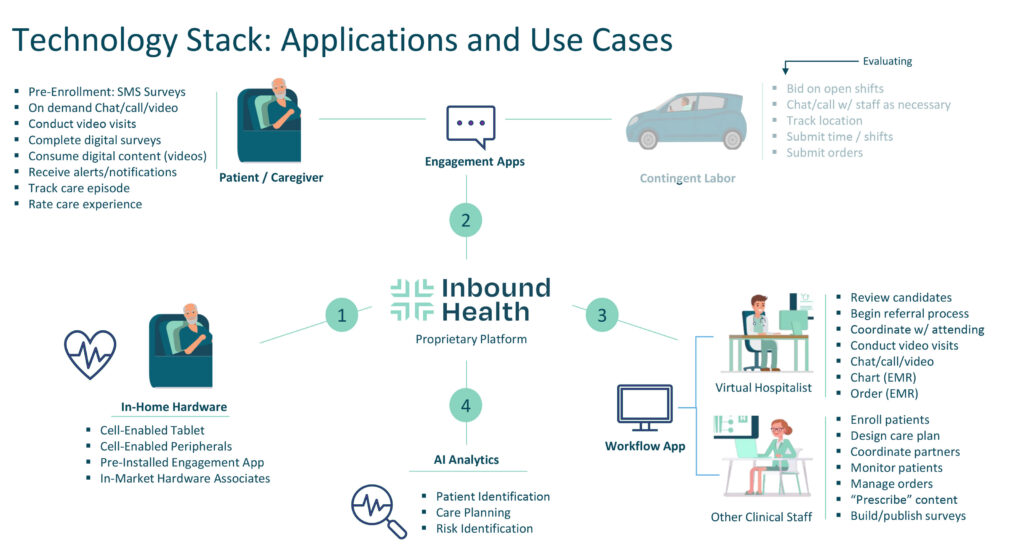 The company procures its own hardware, which is used to track patient biometrics. "Our research found that bluetooth-enabled peripherals have a 20-to-30% error rate, so our peripherals, including a tablet through which patients can communicate with their care team, are all cell-enabled."
The tablet is provided to patients with Inbound's engagement app pre-installed, so patients and their caregivers can communicate with their virtual and in-home care providers. "The app serves as a hospital call button, although our response time is about 30 seconds, which probably beats the hospital response time," Mr. Zimmerman suggests. The tablet also comes with daily digital surveys to ensure patients are taking their medications and eating regularly.
Inbound's workflow-facing application allows nurses and other clinical staff to manage and coordinate every aspect of a patient's in-home care, including organizing the supply chain; placing orders; and monitoring and managing the patients.
The platform's AI and analytics capability involves a machine learning model that has ingested data from Inbound's 7,000 episodes. "We've created an admission, transfer and discharge data feed from our health system partners that provides continuous data upload. Our algorithm
uses almost 200 different clinical and demographic data to identify which patients are best suited for the program, and to identify and associated risks. We share the results with our discharge planning teams and clinicians, so a doctor can use the data to determine which patients are most likely to benefit from the program."
Inbound is currently operating in the Minnesota market, with plans to launch in Wisconsin by year end. In addition, the company expects to add a second Minneapolis-based health system partner early next year. "We were also selected as the vendor of choice by a large health system in the Southwest, where we plan to launch in 2024. We expect that, by the end of next year, we'll be in some seven-to-10 markets across the country."
Inbound's growth will be supported in part by the $30 million Series B funding round it closed last month. "We are operating in an industry that I think will grow dramatically in the next decade. Now, with multiple years of cash runway, we are excited to scale our home-based care models, with a long-term vision of expanding them upstream to primary care groups."
• • • • •
To connect with Inbound Health or any other companies featured on BioTuesdays, send us an email at [email protected].