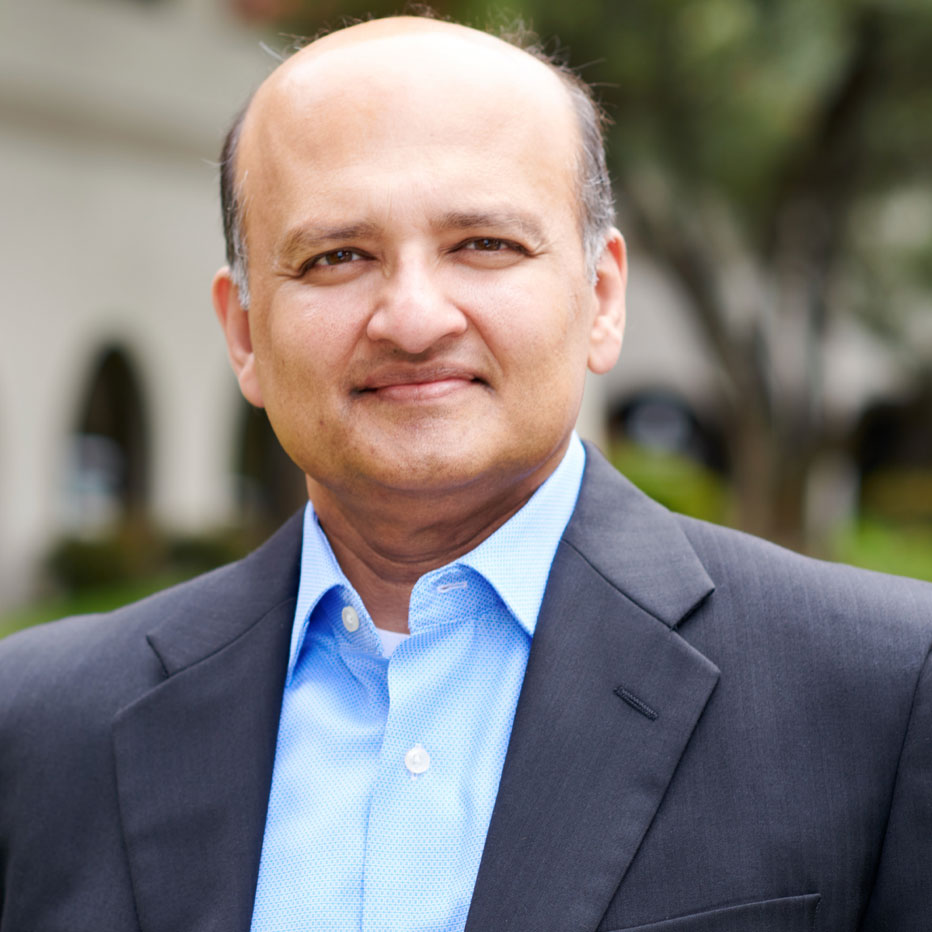 Anixa Biosciences (NASDAQ:ANIX) is targeting a unique technology in two early-stage, first-in-class prophylactic cancer vaccines with the potential to prevent cancer cells from forming into breast and ovarian tumors.
In a separate program, the company also is targeting ovarian cancer with a chimeric antigen receptor T-cell (CAR-T)-based immuno-therapy drug, which is designed to genetically engineer a patient's own immune cells to fight cancer.
"We are initially focused on aggressive and deadly triple negative breast cancer (TNBC), but have confidence our vaccine may be successful in preventing multiple types, and perhaps all types, of breast cancer," Amit Kumar, Ph.D., chairman and CEO of Anixa, says in an interview with BioTuesdays.
"Consequently, if our current trials and additional future trials are successful, we may have the opportunity to eliminate breast cancer as a disease," he says aspirationally.
The technology was invented at Cleveland Clinic, which is currently conducting a Phase 1 trial of the breast cancer vaccine that has been licensed to Anixa. The trial is funded by a grant from the U.S. Department of Defense to Cleveland Clinic.
Dr. Kumar explains that researchers at Cleveland Clinic identified a "retired" tissue-specific protein called alpha-lactalbumin that is present in healthy breast tissue only when a woman is lactating and disappears when she stops nursing her child.
Alpha-lactalbumin is not present in any other organ in the body. However, it does show up in many types of breast cancer, including the majority of TNBC.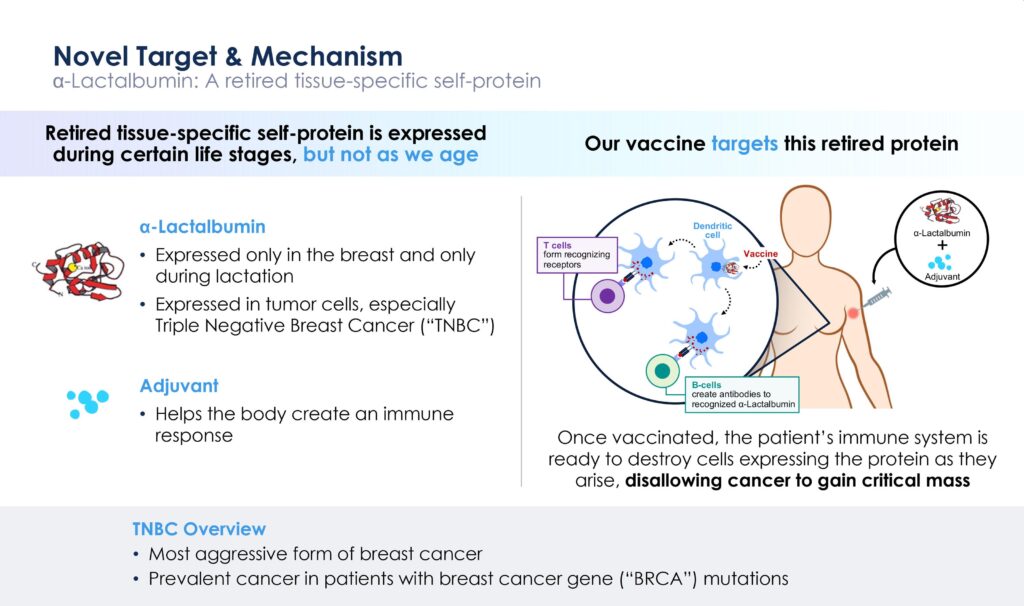 "Our vaccine targets this retired protein," Dr. Kumar points out. "Once vaccinated, the patient's immune system has the potential to destroy cancer cells expressing the protein as they arise, disallowing the cancer cells to gain critical mass and become a tumor that can be seen on a mammogram."
In a preclinical study conducted at Cleveland Clinic, 100% of alpha-lactalbumin vaccinated mice did not develop breast cancer, while 80% of unvaccinated mice developed breast cancer.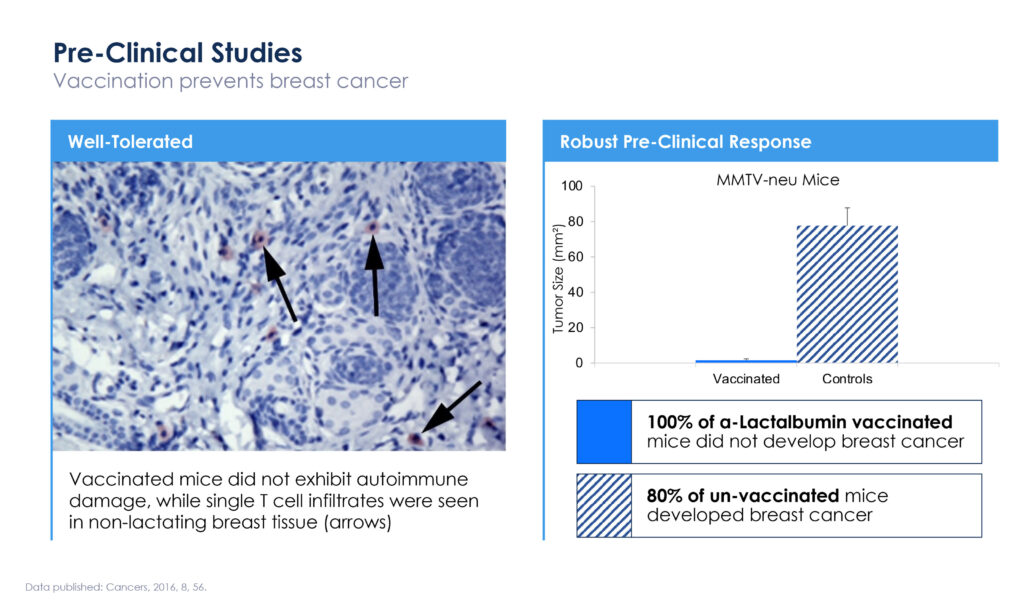 At the 2023 American Association for Cancer Research in April 2023, Cleveland Clinic researchers presented Phase 1a data from 10 women treated with the vaccine.
In vaccinated women who had been tested to date, various levels of antigen-specific T-cell responses were observed at all dose levels. The study also is testing for a maximum tolerated dose to enable future clinical studies.
Dr. Kumar says 15 patients have been dosed as of July 2023, with no safety concerns. For the women who have been comprehensively evaluated, immune responses were observed at all dose levels, and all patients had some immune response, with a varied intensity of responses. Additional data will be released in December at the San Antonio Breast Cancer Symposium.
Cleveland Clinic hopes to enrol 18-to-24 subjects in the Phase 1a study. All participants are women who have had TNBC within the last three years and were successfully treated with standard of care. At the time of vaccination, participants were tumor-free but at high risk of recurrence. They will receive three vaccinations, each two weeks apart, and they will be closely monitored for safety and immune responses.
Dr. Kumar says a new cohort of patients is being opened in the Phase 1a portion, combining the vaccine with Merck's KEYTRUDA to see if the vaccine in combination with Keytruda is synergistic. KEYTRUDA plus chemotherapy currently is effective in 30% to 40% of breast cancer patients in treatment.
In the Phase 1b portion, which is now enrolling, Cleveland Clinic will examine breast tissue from vaccinated healthy women following a voluntary mastectomy from women at high risk to monitor antibody and T-cell response in the resected tissue.
"This is a unique opportunity to garner supplemental data after studying breast tissue to determine if T-cells are surveilling the tissue without any visible cancerous tumors on a mammogram," Dr. Kumar suggests.
"If this vaccine works as we hope and expect, in further clinical trials, every woman in the world, concerned breast cancer will be eligible."
In 2024, Anixa expects to launch a Phase 2 clinical trial with 500-to-600 patients at up to 20 sites, including Cleveland Clinic. Among other things, the study will attempt to resolve why the intensity of responses to the vaccine varied with patients.
There are more than 3.8 million breast cancer survivors in the U.S., according to the National Cancer Institute, but millions more harbor mutations placing them at high risk. In addition, more than 80 million women are aged 40 or older in the U.S., and generally considered to be beyond child bearing years.
Earlier this month, the U.K.'s Daily Mail website featured an article on the Phase 1 clinical study of the breast cancer vaccine, pointing out that women with TNBC who have received the Anixa vaccine have been in remission. Some have been in remission for close to five years even though they have received the vaccine within the last two years. The recurrence rate for women who have been treated for TNBC is roughly 40%.
Dr. Kumar says, "Anixa's plan is to focus initially on TNBC and other breast cancer survivors. The Phase 2 trial being planned will seek to demonstrate that the vaccine will prevent many of the expected recurrences. After that, Anixa plans to evaluate the ability of the vaccine to prevent TNBC in women who have never had cancer. Assuming these trials are successful, Anixa will focus on the prevention of other types of breast cancer. Anixa hopes the vaccine will be available to the first segment of the market in five-to-seven years."
Dr. Kumar also notes that with prophylactic vaccines, "it is very important to verify safety. At this time, at the maximum tolerated dose and higher doses, there were no significant side effects, and no impact on organ function and systemic issues. The only side effect observed to date is irritation at the site of injection."
Anixa is adopting a similar technology approach with an ovarian cancer vaccine and a different "retired" tissue-specific self-protein.
In this indication, Cleveland Clinic researchers have identified that the extracellular domain of anti-Mullerian hormone receptor II (AMHR2-ED) is expressed in normal ovaries, and nowhere else in the body, with this expression declining with age and ceasing after menopause. However, the protein also is expressed in cancerous ovary cells and some other gynecological malignancies.
Though the vaccine is still at the preclinical stage, Dr. Kumar reiterates that "if we properly immunize a woman against the AMHR2-ED protein after she has reached menopause, we should be able to prevent ovarian cancer since the majority of ovarian cancer diagnoses occur after menopause."
Preclinical vaccine data was published by Cleveland Clinic researchers in 2022 in the peer-reviewed journal, Clinical and Experimental Vaccine Research.
The journal article highlighted study data demonstrating formulation of the AMHR2-ED vaccine with an AddaVax adjuvant induced high serum titers of immunoglobulin G and significant inhibition and destruction of epithelial ovarian cancer with significantly enhanced overall survival of animals in both prevention and therapeutic protocols.
"Similar to the breast cancer vaccine, If the vaccine works as we hope and expect, once trialed approved, every woman in the world past menopause could be a candidate," Dr. Kumar suggests.
The National Cancer Institute is supporting preclinical development of the vaccine through an IND submission, with hopes of a first-in-human study in 2024.
Anixa again is taking a novel approach for potentially making a CAR-T therapy work in multiple solid tumors, beginning with ovarian cancer. CAR-T technology has made great inroads liquid tumors in B-cell leukemias and lymphomas, but conventional CAR-T has not worked clinically in solid tumors.
Dr. Kumar notes that in current CAR-T programs, T-cells are engineered to recognize and kill cells with a CD-19 protein expressed on the surface of cancerous B-cells. But this approach also will kill healthy cells where CD-19 is present.
Anixa's technology is based on a follicle stimulating hormone receptor, which is only found on cells in the ovary in women and testes in men. "Our approach is based on T-cells engineered with an attached follicle stimulating hormone that recognizes and kills cells with a follicle stimulating hormone receptor on the cell surface," he adds.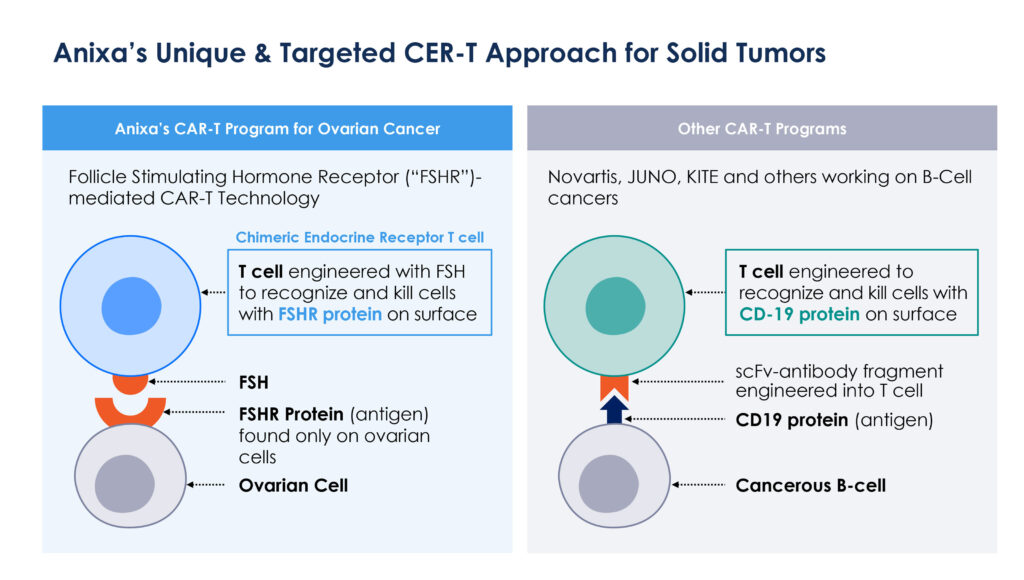 In addition, a study published in the New England Journal of Medicine suggested that follicle stimulating hormone receptor is present on blood vessels of tumors and may induce the formation of new tumor vasculature.
"Our follicle stimulating hormone receptor-targeted CAR-T may offer a dual mechanism of action, destroying not only the tumor itself but also destroying the blood vessels, or vasculature, in the tumor," Dr. Kumar suggests.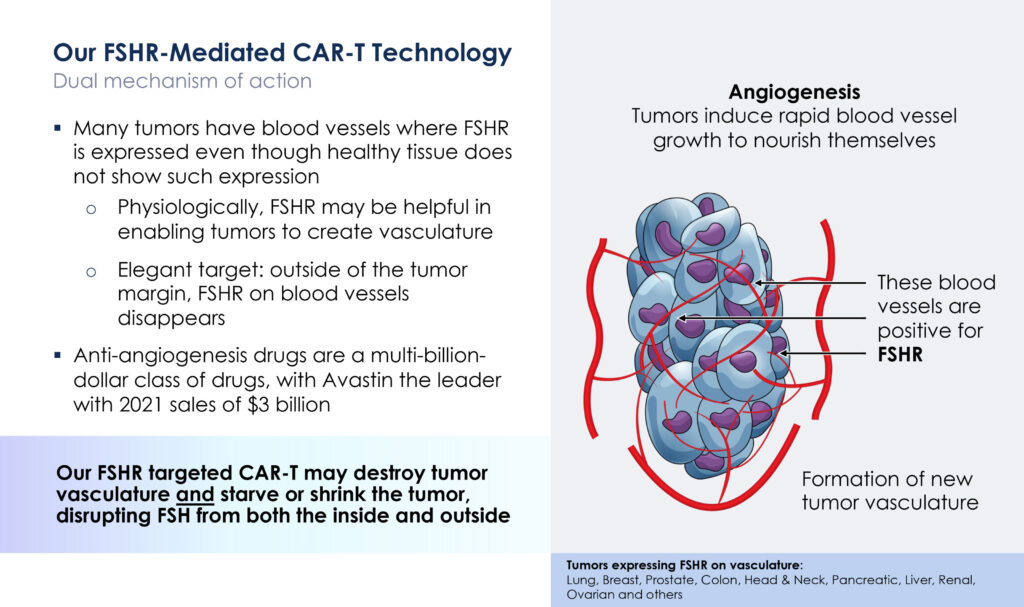 Anixa licensed the CAR-T technology from the Wistar Institute and enlisted the Moffitt Cancer Center for a dose-escalation Phase 1 trial to evaluate safety, determine the maximum tolerated dose of follicle stimulating hormone receptor T-cells and a preliminary assessment of clinical activity.
Dr. Kumar says two patients have been treated to date with low doses of CAR-T cells, with no major safety concerns and evidence that the treatment has arrested the growth of tumor lesions. A third patient in the three-patient cohort will soon be treated. The next three-patient cohort will receive a higher dose of CAR-T cells. "As we increase the dose, we hope to see tumor lesions reduced in size and numbers, which could indicate a potential cure for the disease," he adds.
Besides developing CAR-T treatments for previously incurable blood cancers, Big Pharma has made billion dollar acquisitions in early CAR-T programs, such as Celgene's $9-billion acquisition of Juno Therapeutics and Gilead's $11.9-billion deal for Kite Pharma.
Dr. Kumar says that by developing multiple programs with partners, Anixa has been able to adopt a low-cost business model, with a low overhead and cash burn. At April 30, 2023, the company had $27-million in cash against an annual burn of about $6-million, or about four years of cash runway. It plans to out-license late-stage clinical development to Big Pharma.
"We are operating in multi-billion-dollar markets, with data generated at the top cancer hospitals in the U.S. and funding from the Department of Defense and NCI, all of which adds a degree of credibility to our programs," Dr. Kumar says.
• • • • •
To connect with Anixa Biosciences or any of the other companies featured on BioTuesdays, send us an email at [email protected].