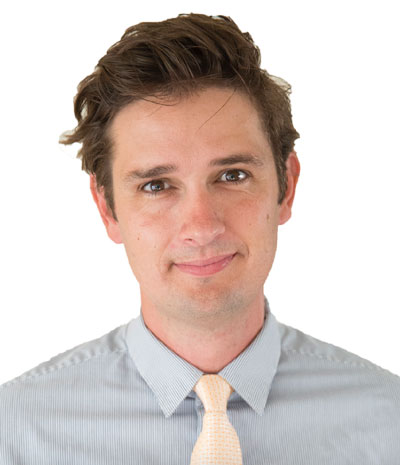 Monogram Orthopedics (NASDAQ:MGRM) is working to advance the standard of care with its next-generation robot and 3D-printed implants that match a patient's precise anatomy, decreasing the number of incisions and bone loss during knee replacement surgery.
"Some 88% of knee replacements are still manual procedures, and manual cutting with 'one size fits none' implants leads to poor patient satisfaction," Ben Sexson, co-founder and CEO of Monogram, says in an interview with BioTuesdays.
"Current robotic solutions also do not meet customer demands because they are slower – about 30 minutes longer than manual surgery, which can add $3,000 to the cost." In addition, he says current robotic technology may be outdated and isn't harnessing the full potential of robotics.
Mr. Sexson explains that Monogram has developed a prototype surgical robot and FDA-cleared implants that can scan and map a patient's knee and use precision cuts to install the implant.
Earlier this year, the company created headlines with a live demonstration of a New York City-based orthopedic surgeon remotely controlling its Austin-based robot to successfully complete a total knee replacement surgery on a cadaver in front of a virtual audience of more than 1,000 people.
"What makes the Monogram robot potentially so effective is seven degrees of freedom to boost the range of motion and closed-loop tracking for additional safety," he adds. "We also have first mover advantage with active sagittal cutting."
The workflow of the Monogram robotic system begins with a CT scan to create a 3D model of a patient's bone structure and patient-specific surgical plan. In the future, the company plans to generate a customized implant that is 3D printed to match the patient's anatomy. The CT scan is also used to develop a detailed preoperative plan for the surgeon to insert the orthopedic implant into the personalized cavity made by the robot.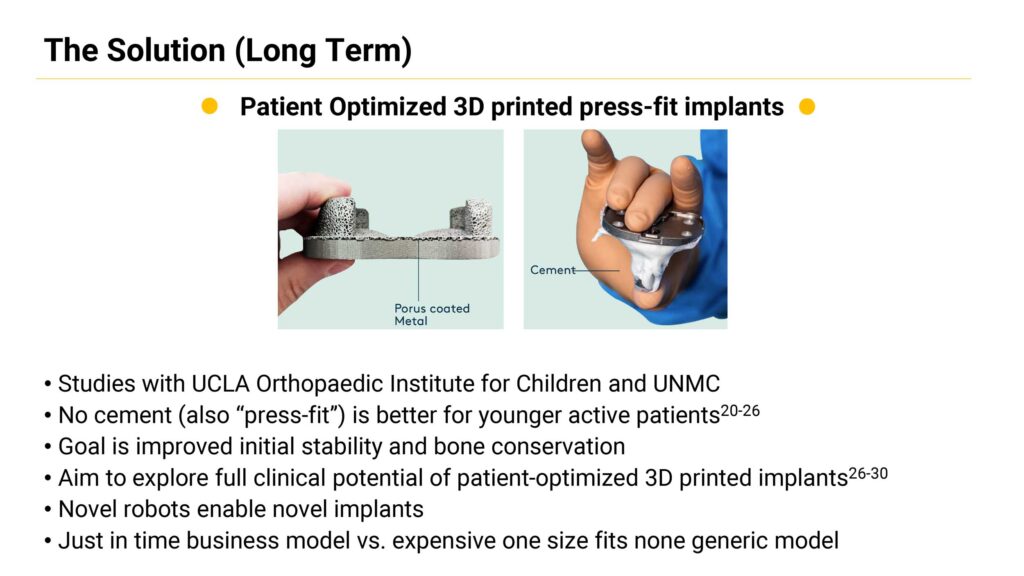 In its simplest terms, Mr. Sexson says robotics is about "arithmetic surgery, using machine learning to generate the surgical plan and then making cuts where they need to go and not so much about surgeon skill and planning."
Founded in 2016, Monogram has made 20 patent filings for its novel implants and robot system. The company went public in May 2023, raising $ 17.2-million.
A total knee replacement is a scary surgery, Mr. Sexson says matter-of-factly, noting that there are 100,000 failed procedures annually because joint replacements are generic. Patients may face complications like infection, revision, implant breakage, and chronic pain.
According to Monogram, only 66% of patients believe their knee feels normal, and 54% experience residual symptoms. "We think robotics can address that with our emerging clinical data," he adds.

In addition, over 90% of joint replacements use cemented implants, which can loosen over time, leading to high failure rates. "Our system is designed to use only uncemented, or so-called press-fit, implants," Mr. Sexson points out. The company is also working on a press-fit partial knee for robot-only placement, which it believes is an open opportunity.
"We believe considerably more than 14% of the market will be cementless over the next decade. Technology today is not harnessing the full potential of robotics."
Only 12% of all total knee replacements, 3% of hips, and 3% of shoulders are robotic today. He says the advantage of robotics is to move away from conventional alignment methods where everybody gets the same joint line. "We believe patient-specific surgical planning with a CT-based surgical robot is essential," Mr. Sexson says. "And we can make tweaks in the surgery that you can't easily make with manual instruments."
Mr. Sexson says Stryker's (NYSE:SYK) Mako robotic system currently accounts for 90% of robotic cases and a 70% share of the cementless knee market, the two holy grails of the orthopedic knee market. The robotic and cementless knees market opportunity is expected to double by 2025 from about $2.1-billion in 2022.
"We've spent a lot of time looking at the Mako system and opportunities for improvement," he adds. "Our focus is significantly faster surgical times to drive adoption and more of a Swiss army knife robot for more clinical indications."
Mako generated sales of about $100-million and took 20% of the partial knee replacement market within five years after its IPO in February 2008. "This is a trajectory we intend to try and follow after regulatory approval," Mr. Sexson says. "We have a press-fit total knee that is competitive with the state-of-the-art; novel implants we plan to introduce over time; and a compelling robot based on surgeon feedback."
Monogram is pursuing a 510(k) regulatory pathway with the FDA using the Mako robot system as its predicate, with verification and validation studies planned for the third quarter of 2023.
On a parallel path, the company is also considering using real patient data from outside the U.S. to bolster its FDA filings. "There are jurisdictions outside the U.S. that are very amenable to approval of new technology," he adds.
• • • • •
To connect with Monogram Orthopedics or any of the other companies featured on BioTuesdays, send us an email at [email protected].