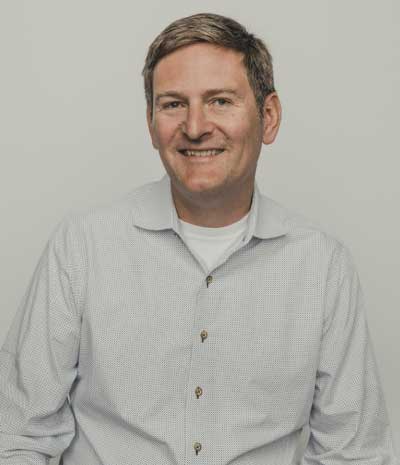 Chinook Therapeutics (NASDAQ:KDNY), which is developing three drug candidates to change the course of kidney care as well as a precision medicine pipeline of R&D programs, received a shot in the arm this month when Novartis agreed to buy Chinook for $3.5-billion.
"Our mission is to make dialysis and transplant unnecessary for kidney patients by developing therapies to delay or stop the progression of kidney disease," Eric Dobmeier, president and CEO of Chinook, says in an interview with BioTuesdays.
"We continue to treat chronic kidney disease much the way we have for the past 30 years, as very few therapies have come along to halt disease progression."
And dialysis and transplant have limitations too, he adds, pointing out the life expectancy on dialysis can often be shorter than metastatic cancer and kidney transplant recipients must take immunosuppressant drugs for life, putting them at further risk for cancer and infectious disease. And a new kidney only lasts for 10-to-20 years, requiring young patients to face multiple transplants.
But he says the kidney space is changing as there are now more than 40 late-stage drugs in development. Mr. Dobmeier cites increased understanding of underlying disease biology; new and more validated drug targets; and the FDA recognizing surrogate endpoints for drug approval for the increased drug development.
"The FDA used to require hard outcomes like time to disease progression and kidney failure for approval, which often required large numbers of patients in trials that could take more than five years," he notes.
"Now, the FDA is recognizing surrogate markers, such as proteinuria, or the level of protein in urine, and eGFR, or estimated glomerular filtration rate, as registrational endpoints, with the potential for accelerated approval in six-to-nine months and full approval in two-to-three years," Mr. Dobmeier says.
"We are pleased that Novartis recognizes the significant value that the Chinook team has built with our pipeline of clinical and preclinical programs for patients with rare, severe chronic kidney diseases," Mr. Dobmeier said in a statement.
"We believe this transaction is great news for kidney disease patients and the programs we have built at Chinook. Through this merger, Novartis can apply its substantial resources to pursue broader development efforts and commercialization of atrasentan, zigakibart (BION-1301) and other programs in our pipeline to build its global renal therapeutic area," he added.
Chinook's lead program, atrasentan, is currently in two clinical studies: the Phase 3 ALIGN trial in patients with IgA nephropathy (IgAN) and the Phase 2 AFFINITY basket trial in patients with proteinuric glomerular diseases who are at risk of progressive loss of renal function.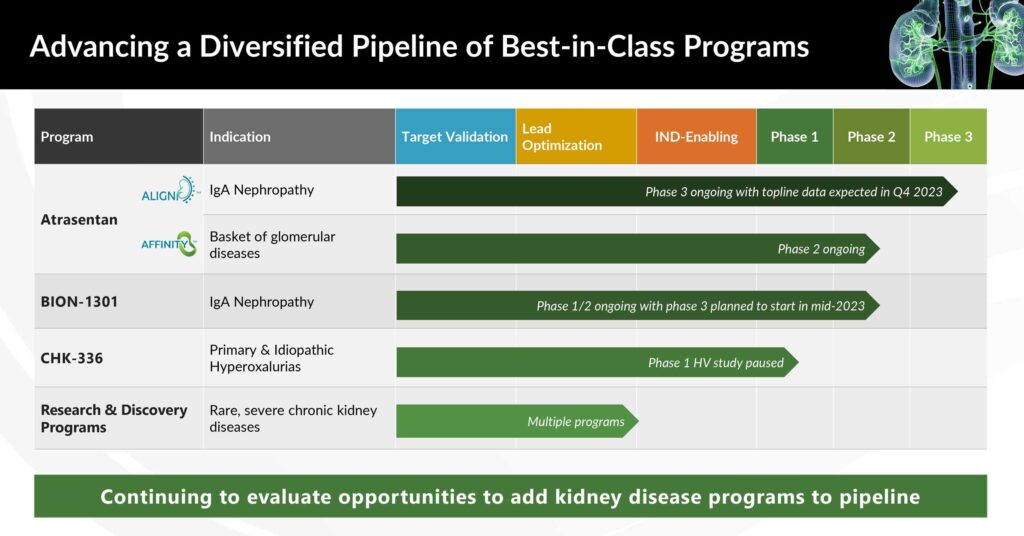 Mr. Dobmeier explains that IgA nephropathy is a chronic autoimmune kidney disorder. In patients with IgA nephropathy, plasma cells secrete abnormal, galactose-deficient IgA, known as Gd-IgA1. Generation of autoantibodies to Gd-IgA1 leads to the formation of immune complexes, which deposit in the kidney causing inflammation and organ damage, and leading to dialysis.
IgAN is the most common primary glomerular disease globally and requires chronic treatment. There are about 150,000 biopsy-confirmed IgAN patients in the U.S., 200,000 in Europe and several million in Asia.
In the U.S., about half of patients have more than a gram per day of protein in their urine, which is a "marker that predicts rapid progression to kidney failure," he suggests. About 25% have less than one gram per day of protein in their urine and are considered high risk. Normal proteinuria is up to 0.3 grams per day.
Mr. Dobmeier says 30% to 45% of IgAN patients progress to end-stage kidney disease over 20-to-25 years. "But if you reduce proteinuria by 30%, you could extend kidney life by more than a decade."
Atrasentan is a potent and selective endothelin A receptor antagonist with the potential to provide benefit in IgA nephropathy and other glomerular diseases by reducing proteinuria, he says.
Interim results from the Phase 2 AFFINITY basket study across glomerular diseases demonstrated a greater than 50% mean reduction in proteinuria at 24 weeks. Atrasentan was also well-tolerated with no treatment-related severe adverse events and no weight gain or other evidence of significant fluid retention.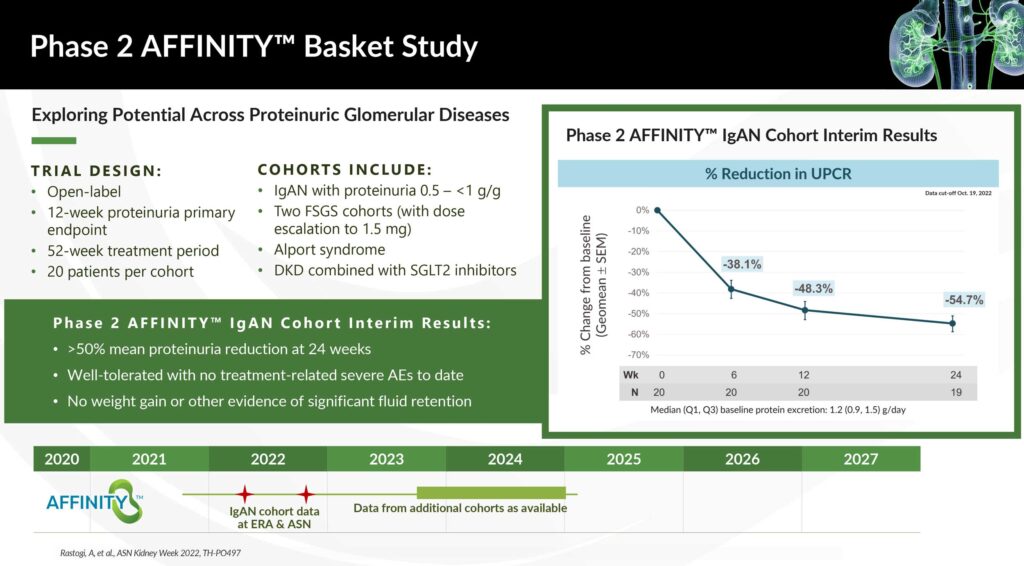 In the main stratum of the Phase 3 ALIGN clinical trial, Chinook has enrolled about 320 IgAN patients at high risk for disease progression. Subjects are being randomized one-to-one in treatment and placebo arms at about 170 sites in 22 countries. The primary endpoint is proteinuria measured at 36 weeks in order to seek accelerated approval and eGFR at 2.5 years for full approval.
The company also plans to soon start the Phase 2 ASSIST trial to show safety and reduction of proteinuria with the combination of atrasentan and blood glucose lowering sodium-glucose cotransporter-2 inhibitors.
Chinook also is targeting IgA nephropathy with a second compound, zigakibart or BION-1301, a potentially disease-modifying anti-APRIL monoclonal antibody by depleting the pathogenic Gd-IgA1.
Mr. Dobmeier explains that the APRIL family blocks immune complexes from forming in the first place. In an ongoing Phase 1/2 trial, zigakibart demonstrated rapid and durable reductions in IgAN and Gd-IgA1, with proteinuria reductions up to 70% by one year and beyond in patients with a range of disease severity.
Chinook plans to begin the Phase 3 BEYOND trial with zigakibart soon, targeting 200-to-300 IgAN patients at risk of disease progression. The trial will have many similarities to the ALIGN trial. The main difference will be enrollment of some patients already on an endothelin receptor antagonist and a SGLT2 inhibitor to be consistent with the standard of care.
Chinook is also in early development to treat primary and idiopathic hyperoxaluria, an important risk factor for kidney stones, caused by overproduction of oxalate by the liver.
Primary hyperoxaluria (PH) 1, 2, and 3 are ultra-rare diseases, affecting 5,000-to-7,000 Type 1 patients in the U.S. and Europe. Idiopathic hyperoxaluria is much more common with patients who have high oxalate in the urine without a known cause.
Mr. Dobmeier says Chinook's oral small molecule, CHK-336, has an engineered liver-targeted tissue distribution profile, which targets its activity to the primary site of oxalate production and has the potential to inhibit LDHA (lactate dehydrogenase), the final step in production of oxalate in the liver.
Preclinical studies have demonstrated that CHK-336 produces significant and dose-dependent urinary oxalate reductions in PH 1 mouse models and significantly reduced urinary oxalate excretion in a PH 2 mouse model, he adds.
CHK-336 is advancing through a Phase 1 single-and multiple-ascending dose clinical trial with healthy volunteers. The study was paused in April 2023 because of a potential hypersensitive or allergic reaction in one healthy volunteer in the 125 mg multiple ascending dose cohort.
The adverse event had a rapid onset and rapid recovery and follow-up is ongoing. Previously, CHK-336 was generally well-tolerated in healthy volunteers at single doses up to 500 mg and multiple doses up to 60 mg daily for 14 days.
In 2021, Chinook formed a joint venture in China, known as SanReno Therapeutics, with an investor syndicate to develop and commercialize atrasentan and BION-1301 for the large IgAN patient population in Asia.
• • • • •
To connect with Chinook Therapeutics or any of the other companies featured on BioTuesdays, send us an email at [email protected].