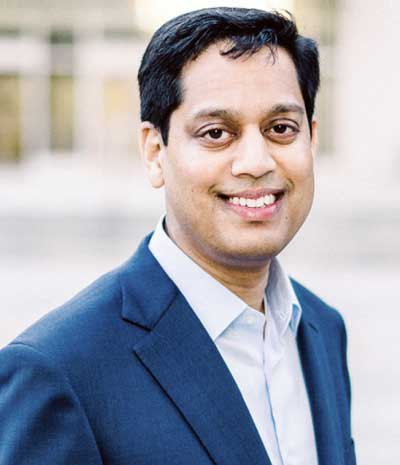 Centessa Pharmaceuticals (NASDAQ:CNTA) is developing a portfolio of innovative drug candidates with small, focused R&D teams, a model it calls "asset-centric."
"We believe this is a cost-effective approach to drug development that also helps us make the best decisions for each asset without constraints or bias stemming from the needs of other programs in the portfolio," Saurabh Saha, M.D., Ph.D. and CEO of Centessa, says in an interview with BioTuesdays.
"Our teams work on only one project each to maintain a tight focus, and we operate with the conviction that each one of our programs has the potential to change the current treatment paradigm and establish a new standard of care," he adds.
"Equally important, we are a 'patient-centric' company. We are focused on developing medicines in areas of unmet patient need. We pursue difficult to treat diseases, unconstrained by therapeutic area or technology, where the need is great and there are no good options for patients today."
Dr. Saha says Centessa's programs span discovery-stage to late-stage development and cover a range of high-value indications in rare diseases and immuno-oncology, all with billion-dollar market opportunities.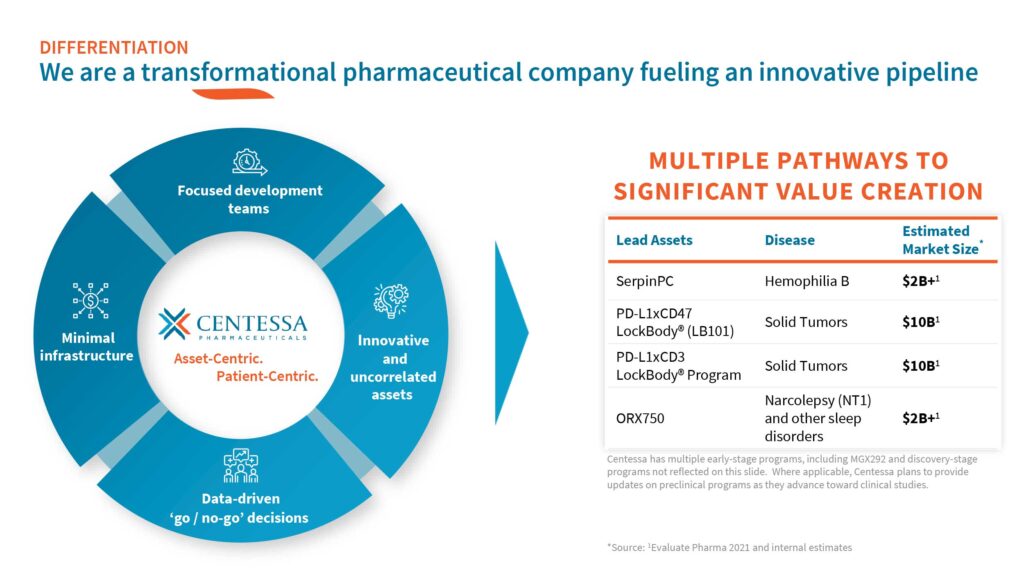 "We are advancing a registration program for SerpinPC for the treatment of hemophilia B; dosing subjects in the ongoing Phase 1/2a clinical trial with LB101, our first LockBody molecule for the treatment of solid tumors; and conducting IND-enabling activities for our newest product candidate, ORX750, for the treatment of narcolepsy, with potential expansion into other sleep disorders," he points out.
Backing Centessa's programs is a cash position of about $346.2-million at March 31, 2023. "We believe we are well positioned with a cash runway into 2026 to support multiple clinical readouts across our programs," Dr. Saha contends. The company went public in 2021.
Centessa's most advanced program is SerpinPC, a subcutaneously administered novel inhibitor of activated protein C (APC), being developed as a potential treatment for hemophilia B, regardless of severity or inhibitor status. SerpinPC may also be developed to prevent bleeding associated with other bleeding disorders.
The estimated global prevalence of hemophilia A and B is some 500,000, with the standard of care being weekly or biweekly IV infusion of a missing clotting protein, factor 9. There is a high proportion of patients outside the U.S. and Europe that do not have access to treatment, and manifest with crippled arthritis and severe joint pain.
"If approved, SerpinPC would allow persons with hemophilia B to subcutaneously administer at home without the need for an IV infusion," Dr. Saha says. Last month, SerpinPC received fast track designation from the FDA.
Dr. Saha explains that the company designed SerpinPC with a novel mechanism of action that has been shown to significantly reduce bleeding and have a favorable safety and well tolerated profile in persons with hemophilia in clinical studies to date. "SerpinPC's inhibition of APC has the potential to increase thrombin and improve clotting, along with a feedback loop designed to prevent excess thrombin generation."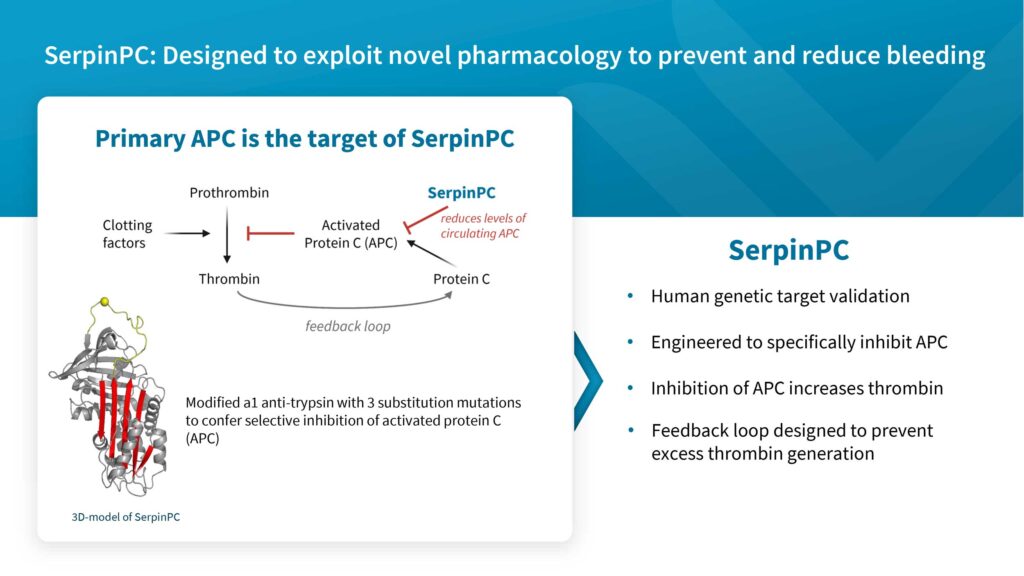 In December 2022, the company presented data from a Phase 2a study showing SerpinPC to have a favorable safety and tolerability profile, as well as evidence of sustained efficacy in patients with hemophilia as measured by a reduction in the all-bleeds annualized bleeding rates.
Centessa's registrational program for SerpinPC in hemophilia B includes a set of clinical studies with multiple components. The company is enrolling subjects in PRESent-5, an observational feeder study, and is preparing to begin dosing in its two pivotal trials, PRESent-2 and PRESent-3.
PRESent-2 will study moderately severe-to-severe hemophilia B patients without inhibitors, and severe hemophilia A with and without inhibitors. PRESent-3 will enroll hemophilia B patients with inhibitors.
An inhibitor is an immune system response to infused clotting factor concentrates, which renders standard replacement therapy ineffective. An estimated one-in-three to one-in-five people with severe hemophilia A and 1% to 4% of those with severe hemophilia B may develop an inhibitor.
Centessa's LockBody technology platform aims to redefine immuno-oncology treatment for patients with cancer. LockBody drug candidates are designed to selectively drive potent effector function activity, such as CD47 or CD3, to the tumor micro-environment while avoiding systemic toxicity.
Dr. Saha explains that the company's first LockBody candidate, LB101, is a conditionally tetravalent PD-L1xCD47 bispecific monoclonal antibody that has been designed as a single agent systemic treatment, combining PD-L1 targeted anti-CD47 delivery. LB101 has demonstrated robust preclinical activity, demonstrating a potential wide therapeutic index.
LB101 delivered systemically in a mouse model exhibited significant tumor regression and was observed to be well tolerated with no weight loss. And in non-human primates, a very high dose of LB101 did not cause anemia or thrombocytopenia, or a low platelet count, with pathology, clinical chemistry and coagulation parameters unchanged.
LB101 is now in a Phase 1/2a open-label, dose escalation clinical trial as monotherapy in about six tumor types with patients who previously were resistant to immuno-oncology drugs. Part 1 of the study will determine safety and a recommended dose for expansion into Part 2, which will further evaluate safety, efficacy, tolerability, pharmacokinetics and immune response to LB101. The study is also expected to provide insights on the LockBody technology platform in a clinical setting.
Dr. Saha says Centessa also is conducting IND-enabling activities for its newest product candidate, ORX750, for the treatment of narcolepsy Type 1, with potential expansion into other sleep/wake disorders.
Narcolepsy is a rare neurological condition that affects the brain's ability to regulate the normal sleep-wake cycle, making patients fall asleep randomly- with an estimated global prevalence of about three million people. Narcolepsy Type 1 (NT1) affects approximately 50% of all narcolepsy patients and is caused by a profound loss of orexin neurons in the brain, he explains. ORX750 is designed to reactivate orexin signalling in the brain.
"We believe we are one of the few companies out there that has cracked the chemistry with an oral orexin receptor 2 agonist that is designed to target the orexin receptor and directly address loss of orexin," Dr. Saha says.
Preclinical data also supports ORX750's potential indication expansion beyond NT1 to other sleep/wake disorders including NT2, idiopathic hypersomnia and into excessive daytime sleepiness associated with other disorders.
"We believe ORX750 has the potential to be a best-in-class therapy for the treatment of narcolepsy and other sleep disorders, and we look forward to sharing the candidate profile at a scientific meeting later this year."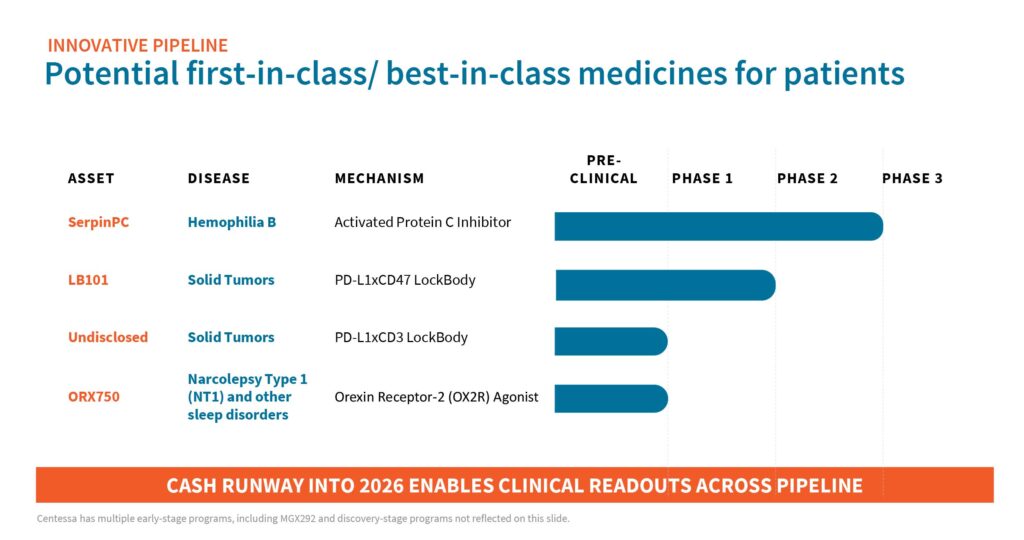 • • • • •
To connect with Centessa Pharmaceuticals or any of the other companies featured on BioTuesdays, send us an email at [email protected].