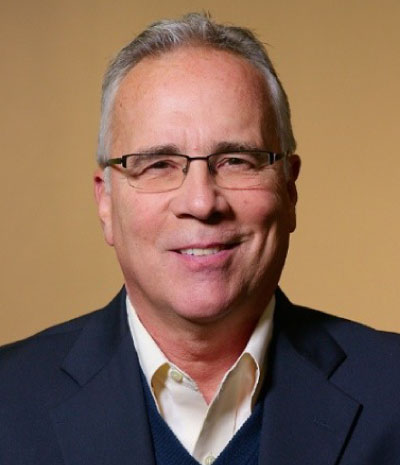 HDT Bio is developing messenger RNA vaccines addressing diverse indications in infectious diseases and oncology, and is utilizing regional partnerships for manufacturing, clinical development and commercialization.
"Our model is designed to ensure that companies familiar with regional healthcare systems can maximize the probability of getting these vaccines to patients, saving lives and generating revenue," Steven Reed, Ph.D., co-founder and CEO of closely-held HDT, says in an interview with BioTuesdays.
He says tech transfers also eliminate many barriers to entry in developing countries.
"Our products under development represent a paradigm shift away from expensive, bioengineered RNA vaccines and therapies, and towards simple, inexpensive treatments that not only attack the infectious disease, but also enlist a patient's own immune system to join in the fight," he adds.
Dr. Reed explains that the company's AMPLIFY mRNA vaccine platform is based on self-amplifying RNA (repRNA) combined with its lipid inorganic nanoparticles (LION) to address infectious diseases and cancer.
"Delivery of repRNA has the potential to achieve similar immunological effects, compared with existing RNA vaccines used during the pandemic, for example, but at a fraction of the dose, which significantly reduces the risk of side effects," he adds. "These toxicity issues have prevented other companies from developing self-amplifying RNA human vaccines," he suggests.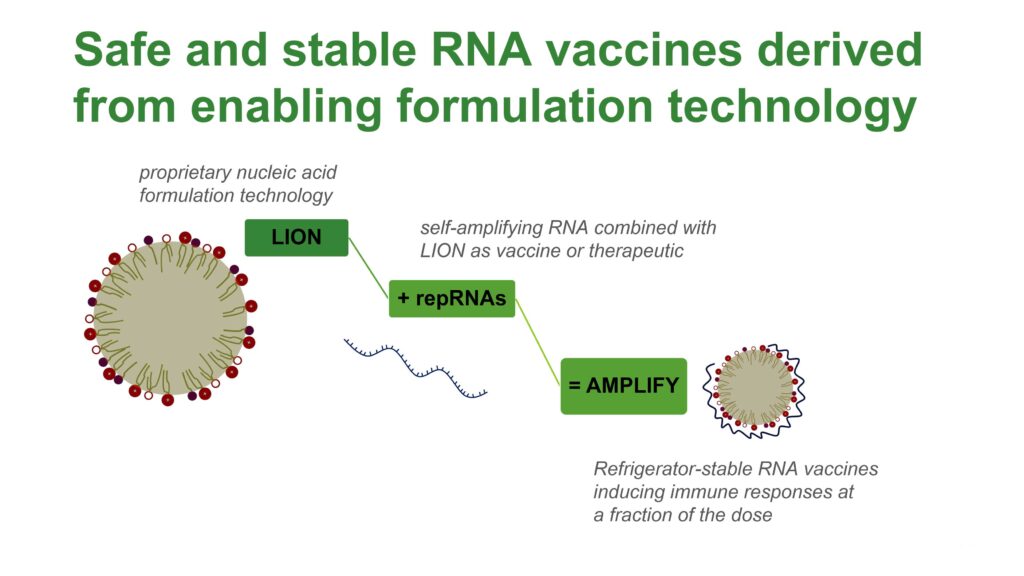 Compared with current RNA vaccines, HDT's AMPLIFY technology enables simplified manufacturing, enhanced temperature stability and improved safety, which facilitates multivalency for more effective vaccine products.
And vaccines built on HDT's repRNA platform can be freeze-dried and stored at refrigeration temperatures, significantly reducing costs and eliminating barriers for distribution in developing nations.
According to Dr. Reed, HDT's LION technology stabilizes, protects and transports RNA during formulation and administration of immune stimulants. "Once expressed, stimulants combine with antigens to amplify the immune response in the body in a target-specific manner, which has the potential to eliminate existing disease or protect against future infection."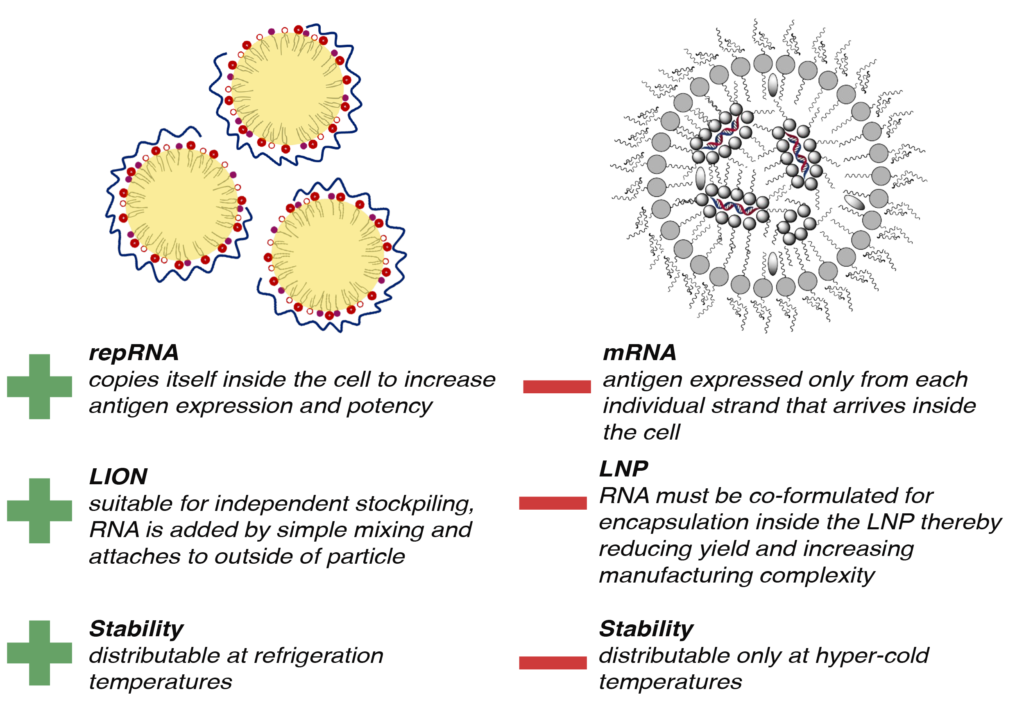 The company's IP is covered by broad composition of matter claims with follow-on filings that protect specific methods of manufacturing and diverse methods of use. They include more than 100 issued or pending patents owned by HDT or exclusively licensed.
HDT's AMPLIFY vaccine technology is the first authorized self-amplifying RNA platform based on Phase 3 data generated in India, where it received emergency use authorization in early 2022.
HDT-301 continues in early clinical development for COVID-19 vaccines in the U.S., Korea and Brazil, with non-dilutive financing support from the NIH and licensing partners. The trials have helped generate broader interest from multiple partners in various countries, Dr. Reed points out.
Data from the trials in the U.S, Korea and Brazil is expected in 2023. Dr. Reed says the company has funding in place for a registration trial in Brazil, which is very interested in developing a local COVID-19 vaccine supply.
In addition to HDT-301, the company is developing vaccines for many emerging viral threats, including Crimean-Congo hemorrhagic fever virus and Nipah virus, under a partnership with BARDA and other regulatory agencies. Nipah virus is a bat-borne virus that causes infections in humans and other animals and has a high mortality rate.
Dr. Reed says HDT also has an active program underway for a respiratory vaccine, which is a combination of influenza, respiratory syncytial virus and COVID.
Prior to the pandemic, HDT was working on oncology vaccines because of a need for safe and effective ways to target self-amplifying RNA against a variety of antigens linked to pancreatic, colorectal, prostate and other cancers, as well as viral diseases that lead to cancer.
"While unexpected, COVID afforded us the opportunity to advance our platform and obtain clinical data. Going forward, oncology represents a huge opportunity for us because our platform can generate strong T-cell responses, which is a limitation of current RNA vaccines. This has been shown for years through multiple failures by the industry until the pandemic came along and there was a success with an RNA vaccine."
HDT's vaccine program received a boost from a collaboration with the National Cancer Institute, which led the NCI to select HDT's repRNA/LION platform for the PREVENT Vaccine Program, which is funded in part by Cancer Moonshot.
"The idea is to screen individuals to find pre-cancerous mutations and prevent cancer with a safe and effective platform," he points out, adding that platform vaccines have already demonstrated an ability to prevent multiple cancer types in mice. "Our goal is to file one or two INDs with the FDA in 2023 for clinical testing in 2024."
He says the collaboration with the NCI is targeting prostate and pancreatic cancers, with another program at the University of Washington targeting breast cancer.
"These are exciting opportunities to apply our self-amplifying technology to stimulate a safe and effective immune response to kill cancer cells and make a difference in patients' lives," Dr. Reed says.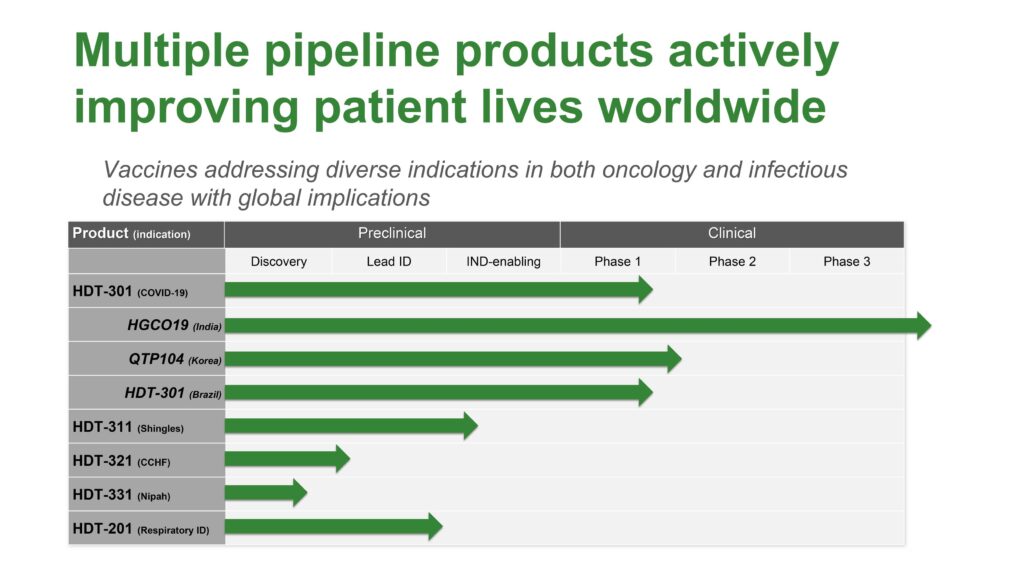 • • • • •
To connect with HDT Bio or any of the other companies featured on BioTuesdays, send us an email at [email protected].