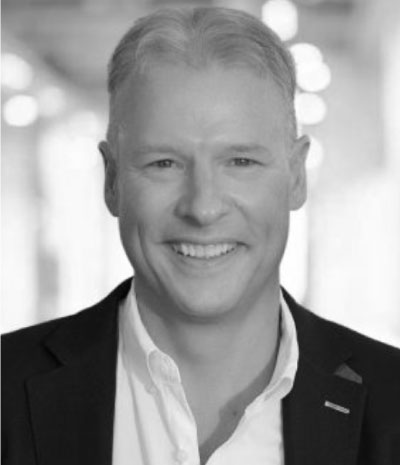 Closely-held ADvantage Therapeutics is awaiting regulatory approval in Europe to proceed with a Phase 2b confirmatory clinical trial of its lead drug candidate, AD04, for the treatment of mild Alzheimer's disease (AD).
"We consider AD to be an autoimmune disease," Jeffrey Madden, CEO of ADvantage, says in an interview with BioTuesdays.
"And, instead of going after the consequences of AD, such as tau-protein and amyloid aggregates, we analyze immunological and neuroinflammatory events in specific parts of the brain. We believe these are causes of brain shrinkage and cognitive decline seen in AD," he contends.
By targeting neuron inflammation, AD04 has been designed to "prime the peripheral immune system and reduce neuroinflammation in the brain. Early clinical results suggest that this approach, which disrupts conventional thinking, may circumvent the amyloid hypothesis."
Mr. Madden explains that AD04 is an injectable immunotherapy that has been used as an adjuvant in human and animal vaccination programs for decades and generated a well-established safety record.
AD04 traces its roots to a Phase 2 study in 2014 where it served as a control arm for an unsuccessful vaccine against amyloid-beta peptides in mild AD. But researchers discovered the 2 mg dose AD04 control arm demonstrated a statistically significant slower decline in cognition and quality of life than other arms of the trial.
Importantly, the AD04 control group showed slower decline in MRI-measured hippocampus volume as a biomarker of AD progression. The hippocampus is the part of the brain that harbors memory and orientation functions.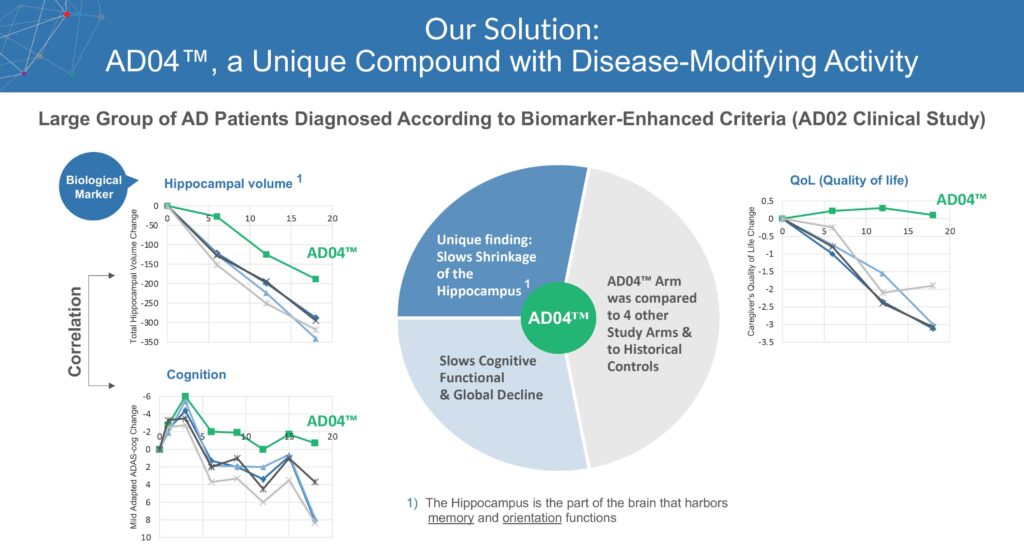 In labs at the Vienna BioCenter, Mr. Madden points out that ADvantage's scientists have used animal studies to identify the mechanism of action for AD04 that connects to an important interleukin known to modulate the activation of microglia in the brain.
Specifically, AD04 decreased the number of inflammatory microglial cells in the hippocampus of mouse models. An increase of inflammatory microglial cells in the hippocampus is commonly associated with the eventual development of amyloid-lipid plaques in the brain.
"In layman terms, think of this interleukin as a Wi-Fi signal that communicates to the brain to switch from neuroinflammation to neuroprotection to regain homeostasis," he suggests.
In April 2023, the UK's Medicines and Healthcare Products Regulatory Agency granted AD04 an Innovation Passport for the treatment of AD under the innovative Licensing and Access Pathway (ILAP), which accelerates patient access and commercialization. AD04 is only the second Alzheimer's drug candidate to receive this designation.
The Innovation Passport facilitates working with the National Institute for Health and Care Excellence regarding reimbursement during the Phase 2b study and patient access during the Phase 3 trial.
ADvantage has applied for clinical trial authorization at 16 sites in France, Germany, Austria, Bulgaria, Poland, and Slovakia for a randomized, placebo-controlled, double-blind Phase 2b study with 122 participants to further confirm proof of concept and establish the safety and efficacy of AD04 in mild AD patients.
The 12-month study will measure standard clinical parameters plus hippocampal volume as an objective biomarker endpoint. Other measured outcomes include immune response, neuroinflammation and lipid metabolism, in addition to exploratory biomarkers from preclinical studies.
Founded in 2021, ADvantage has privately raised more than $10-million. Looking forward, an additional $10-million will be required to complete its Phase 2b clinical trial and $5-million for preclinical research and corporate purposes not covered by grants. This is expected to fund operations until the interim readout of the Phase 2b study in the second half of 2024, Mr. Madden says.
ADvantage also is in preclinical development to improve the bioavailability of the Klotho protein, which is also known as the longevity gene that may play a role in neurodegeneration in the brain, including AD.
Preventing the normal decline in Klotho during aging may protect against age-related diseases through the mitigation of oxidative stress and inflammation, Mr. Madden points out. While Klotho levels decline with age, higher Klotho levels are associated with higher cognitive reserve and a lower rate of dementia.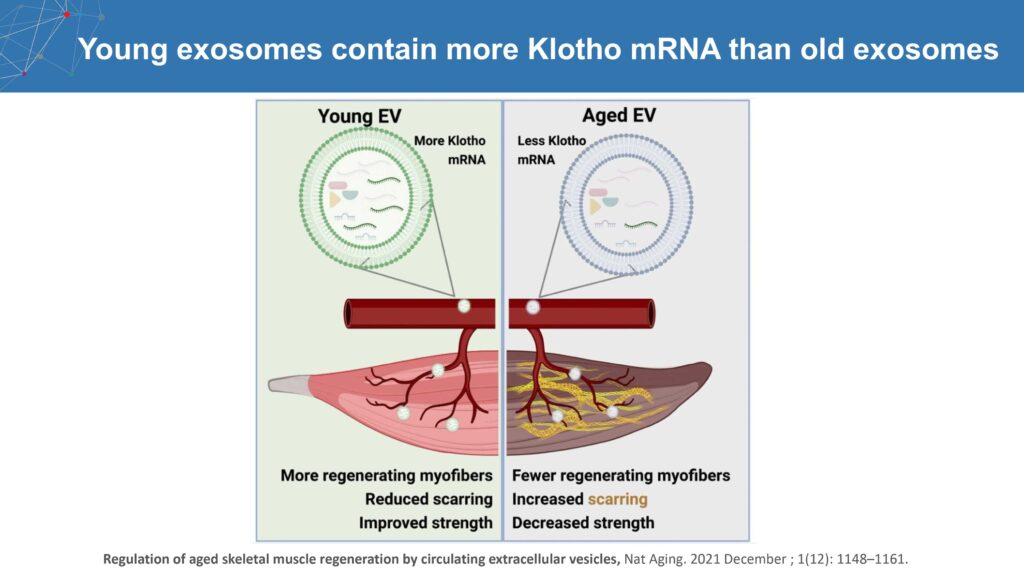 "We are enthusiastic about ADvantage's preclinical research in raising Klotho expression," he contends. "Our proprietary Klotho mRNA is more than five times as potent as the native Klotho mRNA."
ADvantage filed a patent for its Klotho discovery in March 2023. In total, the company has 22 patents issued and six pending that protect aluminium oxyhydroxide for use in the treatment and prevention of AD; as the active agent and use at specific minimum doses for the treatment of AD; as well as aluminium salts in a method of treatment of AD.
About 44 million people worldwide suffer from AD, with six million to eight million new cases each year. AD is the sixth leading cause of death in the industrialized world. And according to the World Health Organization, total worldwide costs of dementia are forecast to reach $2-trillion by 2030.
In June 2021, the FDA approved Biogen's Aduhelm (aducanumab), a monoclonal antibody that targets amyloid beta found in the brains of people with AD to reduce its buildup.
However, many researchers contend that aducanumab did not show a strong signal for cognitive decline in pivotal studies. The FDA's scientific advisory panel recommended against approving the antibody in an eight-to-one vote, and three panel members resigned after the FDA authorized it anyway.
When compared to historical studies for aducanumab, donanemab, lecanemab and solanezumab using the GST (global statistical test), AD04 shows superior treatment effect sooner, Mr. Madden says.
Relative to monoclonal antibodies, he says AD04 has a low manufacturing cost, simple storage, and can be easily administered subcutaneously. "If safety and efficacy continue to be demonstrated in additional clinical trials, AD04 has the potential to democratize Alzheimer's treatment and provide patients with affordable access to a better life."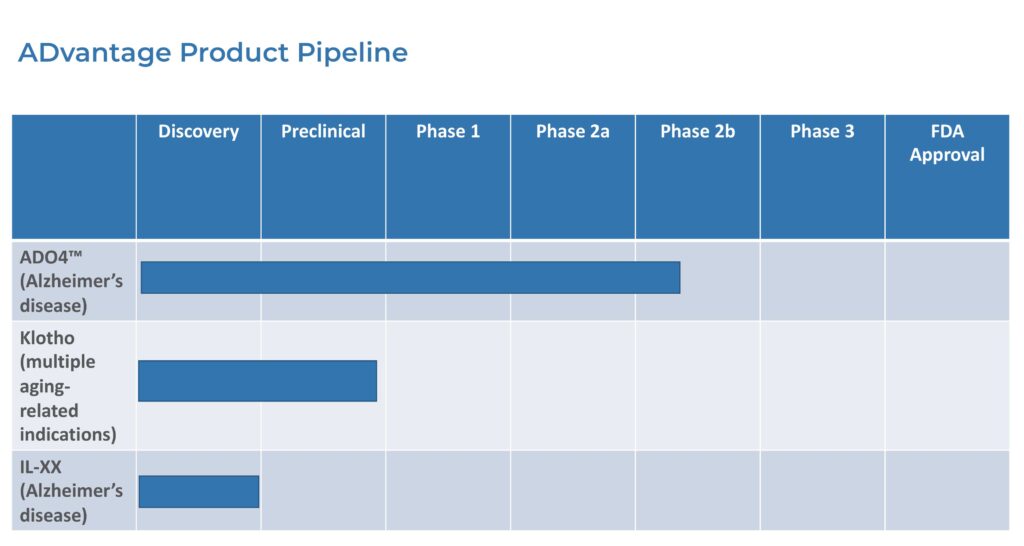 Editor's Note: This article does not constitute an offer to sell or the solicitation of an offer to buy any securities of ADvantage, and shall not constitute an offer, solicitation or sale of any security in any state or jurisdiction in which such offer, solicitation or sale would be unlawful prior to registration or qualification under the securities laws of any such state or jurisdiction.
• • • • •
To connect with ADvantage Therapeutics or any of the other companies featured on BioTuesdays, send us an email at [email protected].