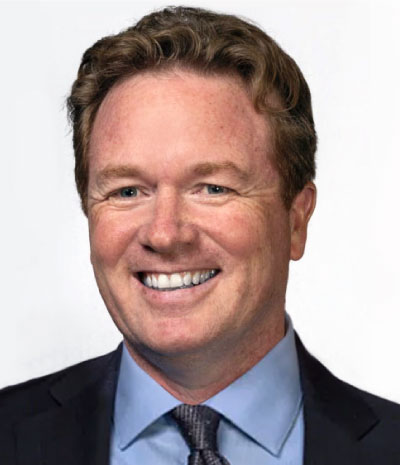 Enveric Biosciences (NASDAQ:ENVB) has created a library of more than 500 new chemical entities from its drug platform, including next generation psilocybin analogues for the treatment of anxiety, depression, and addiction disorders.
"By developing novel, small-molecule therapeutics, we are somewhat of an outlier in the psychedelics space," Joseph Tucker, Ph.D., co-founder and CEO of Enveric, says in an interview with BioTuesdays.
"We are one of the few companies in this space taking a Big Pharma approach by creating new compounds and conducting lots of early-stage testing before moving into human clinical trials with a lead drug candidate," he adds.
Dr. Tucker says all of Enveric's new molecules have been designed with altered metabolic and pharmacokinetic properties to achieve greater benefits to patients, compared with the natural compound and the standard of care.
Psychedelics made a big splash in 2020 after Oregon became the first state to legalize psilocybin, the active ingredient in magic mushrooms, and academic research about the medical potential of classic molecules, such as LSD and psilocybin, gained widespread media attention. Dr. Tucker believes psychedelics may gradually become decriminalized and some medical uses even legalized, following the path of legalized cannabis in many places.
Enveric's platform is largely the product of research by Peter Facchini, Ph.D., chief innovation officer of Enveric and a professor of plant biochemistry at the University of Calgary, Canada. By deploying active enzymes taken from natural systems, and performing synthetic biology and traditional chemistry, Enveric has been able to make hundreds of new molecules, with the ability to file very broad patents, Dr. Tucker contends.
Specifically, Enveric has filed more than 15 patents covering more than one million possible molecules.
The company's discovery platform comprises Psybrary, a library of molecules that is larger and more diverse than what chemistry techniques alone can achieve, and PsyAI, a machine-learning program combined with 3D structure generation to pinpoint pharmaceutical candidates best suited to treat specific mental health indications.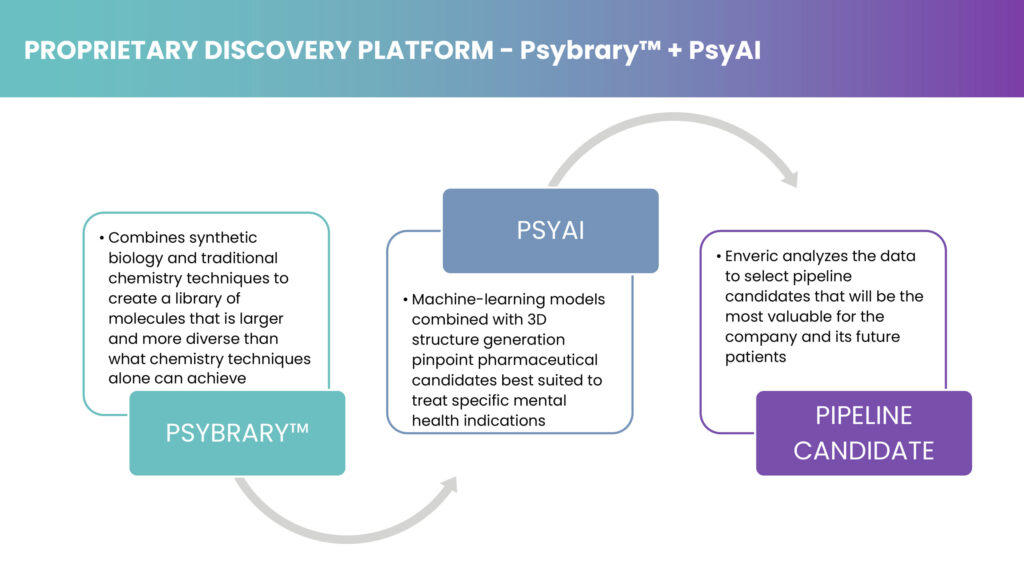 Enveric's lead pipeline program, EVM201, has been designed to address anxiety disorder, with an IND (or local equivalent) filing for lead molecule, EB-373, set for the fourth quarter and first-in-human studies in 2024.
Anxiety disorders rank second among the most common CNS disorders, after headaches and before sleep disorders. "Anxiety disorders are chronic conditions that remain poorly controlled despite available treatments, with the last FDA-approved drug to treat generalized anxiety disorder cleared nearly 20 years ago," he points out.
Dr. Tucker suggests that existing anxiety pharmacologic treatments, including anxiolytics, such as benzodiazepines and serotonin/norepinephrine reuptake inhibitors, have limited long-term efficacy; safety and tolerability issues, such as GI upset and sexual dysfunction; and risk of abuse and dependence.
In addition, first generation psilocybins are limited by slow onset of action of up to one hour; a prolonged and inconsistent psychedelic experience of six-to-eight hours; and safety and tolerability issues, including GI upset, sexual dysfunction, serotonin toxicity, and more.
On the other hand, Dr. Tucker says Enveric's Psybrary has led to development of the EVM201 series, the next generation synthetic psilocybin analogues that are considered prodrugs of the active metabolite – psilocin.
Psilocybin, the "psilocin-prodrug archetype" that Enveric is trying to improve on, is now undergoing Phase 3 clinical trials by a competitor for depression, and has already demonstrated early indications of efficacy in numerous Phase 2 clinical trials of anxiety, depression and other mental health disorders.
According to Dr. Tucker, EVM201 molecules have enhanced drug-like properties and can be administered via oral, intra-nasal, buccal or intravenous routes. EVM201 molecules were designed to have faster access to the brain than psilocybin and avoid first-pass metabolism through the intestine and liver. They also have the potential to provide a therapeutic benefit at lower doses.
In preclinical studies, the numerous EVM201 test molecules evaluated demonstrated a range of exposure of psilocin in plasma and time courses sufficient to enable proper modulation of a hallucinogenic experience. In addition, he says a single dose demonstrated "complete rescue of anxiety in a stressed animal model on day-1 and up to day-7 post-treatment."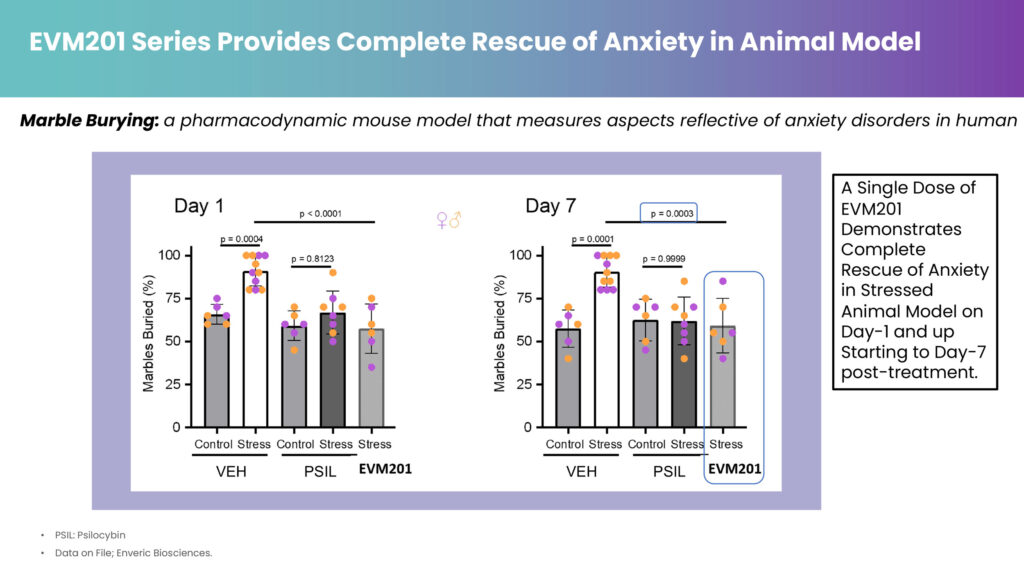 Enveric's third generation of drug candidates – the EVM301 series – is designed to treat CNS disorders by targeting known brain receptors that are implicated in disease manifestation and progression, such as several types of serotonin, norepinephrine, dopamine and other brain receptor systems.
In addition to increasing and prolonging the therapeutic response in target indications, the EVM301 molecules are designed with the potential to minimize unwanted side-effects on "off-site" receptors, Dr. Tucker points out.
The goal of the EVM301 program, which is in the discovery phase, is development of an efficacious and well-tolerated drug that could be prescribed for daily and/or episodic maintenance treatment of anxiety, mood disorders and/or addiction, and to be self-administered safely at home without incurring detrimental hallucinatory effect.
Dr. Tucker says the company has designed hundreds of EVM301 molecules through its Psybrary and PsyAI platform and plans to select a lead EVM301 candidate later this year and begin IND-enabling studies in 2024. "A new product with long-term treatment benefit for mental disorders could have a blockbuster potential," he adds.
"Our mission is to pioneer new and innovative solutions that deliver life-changing medicines for diseases affecting the brain and meaningfully improve the benefit for patients and their families," he says.
• • • • •
To connect with Enveric Biosciences or any of the other companies featured on BioTuesdays, send us an email at [email protected].