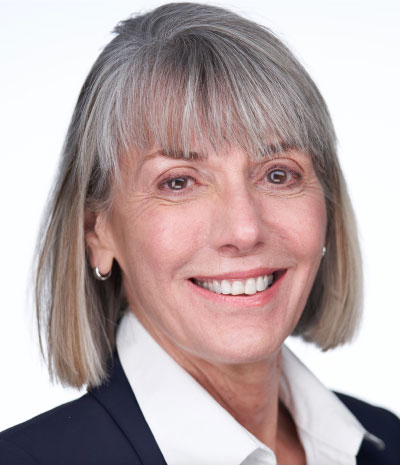 bioAffinity Technologies (NASDAQ:BIAF) is rolling out CyPath Lung, an accurate, non-invasive and cost-effective test for the early detection of lung cancer, in the U.S. Southwest before a staged nationwide launch.
"We are based in San Antonio and we know this part of the country best, so we're starting out close to home to make sure we have everything right before we go nationwide," Maria Zannes, founder, president and CEO of bioAffinity, says in an interview with BioTuesdays.
CyPath Lung is designed to stratify patients into one of two risk groups after a low dose CT scan results in a suspicious finding. Patients deemed "likely or very likely" would proceed to more aggressive treatment, while those deemed "unlikely or very unlikely" would continue imaging surveillance.
"Our mission is to detect cancer at an early stage when early diagnosis increases long-term survival," Ms. Zannes contends.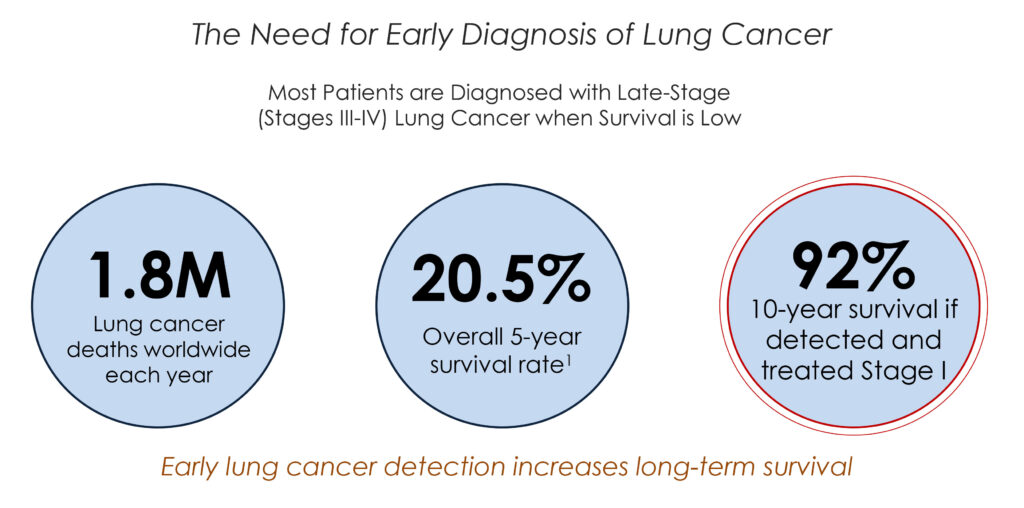 She points out that most patients are diagnosed with late-stages 3 and 4 lung cancer when survival is low. The overall five-year survival rate, including patients at all stages, is 20.5%, but the 10-year survival is 92% if lung cancer is detected and treated at stage 1. There are an estimated 1.8 million lung cancer deaths worldwide each year.
Ms. Zannes explains that patients collect their sputum at home over three days with the assistance of a patient coach. The sample is then shipped to a lab for analysis. Physicians receive the test results in three days after the lab receives the sample.
"Sputum is in close contact with any tumor and pre-cancerous area in the lung so cancer and pre-cancerous cells are shed directly into the sample," she adds.
CyPath Lung uses advanced flow cytometry to profile the micro-environment of the lung by labeling cancer and cancer-related cells with a specific porphyrin, TCPP, to classify high-risk and cancer with high accuracy," she says. Flow cytometry is widely used in the diagnosis of blood cancers and HIV. "We've taken it one step further using sputum to determine whether lung cancer is present."
In addition, CyPath Lung uses proprietary automated data analysis developed by AI to identify cell populations that signal lung cancer in people at high risk for the disease, including current and former heavy smokers.
The automated flow-based approach using AI analysis can be put into routine lab use without requiring expert evaluation of samples or being subject to operator bias. "By removing human error, our standardized results can guide physicians in the next steps of patient care."
In researching porphyrins' selectivity for lung cancer, Ms. Zannes says bioAffinity discovered novel therapies that kill cancer cells without harm to normal cells in vitro and has established a subsidiary, OncoSelect Therapeutics, to focus on advancing discoveries related to broad-spectrum cancer therapeutics.
"We will continue with animal studies to advance our discoveries," she adds. "Our research also looks to attach cancer-killing cytotoxic drugs to porphyrins, a cancer-selective molecule that is taken up by tumors in much greater amounts than by non-cancer tissue."
CyPath Lung is currently licensed to CAP/CLIA-certified Precision Pathology Services of San Antonio for sale as a laboratory developed test.
In a multi-site, 150-patient validation study with Stages 1-4 cancer patients, CyPath Lung demonstrated 82% sensitivity and 88% specificity overall. Sensitivity is the ability to correctly identify cancer in a person with the disease, while specificity is the ability to correctly identify a person without cancer.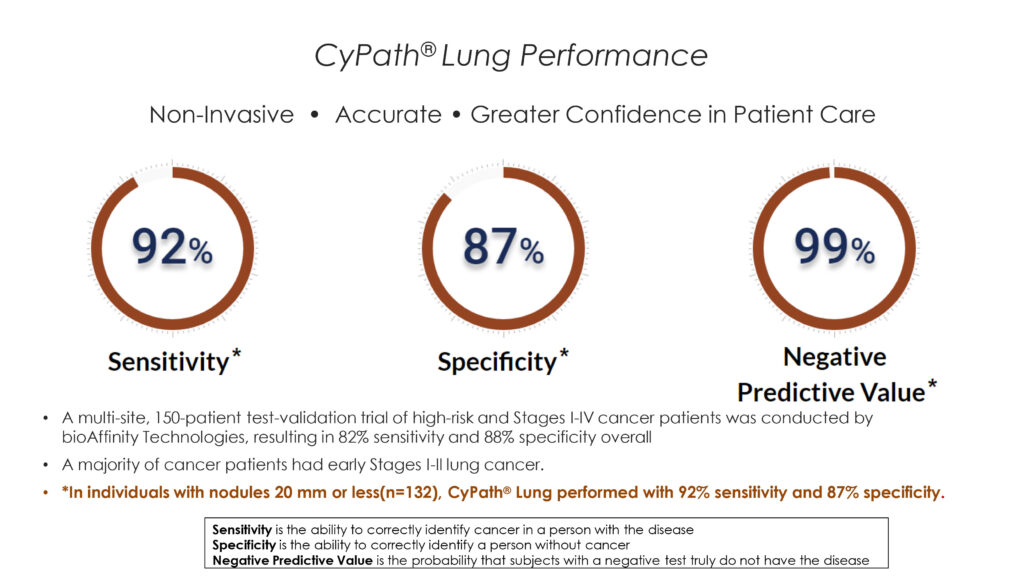 A majority of cancer patients in the validation study had early stages 1 and 2 lung cancer. In 132 individuals with nodules 20 mm or less, which are more difficult to identify as malignant, CyPath Lung demonstrated 92% sensitivity and 87% specificity. In addition, the study resulted in a 99% negative predictive value for people with these smaller nodules. Negative predictive value is the probability that subjects with a negative test truly do not have the disease.
The validation study was published in the peer-reviewed journal, Respiratory Research, in January 2023.
"Our value proposition is increasing long-term survival, reducing unnecessary invasive procedures, lowering medical costs, and improving the positive predictive value of screening," she contends. For example, tomography has a positive predictive value of 3.8%, which means that out of 100 positive results that can lead to an invasive follow-up, only four individuals have lung cancer.
"We are not replacing the standard of care but instead triaging who should go for more expensive and invasive tests and who should be followed," Ms. Zannes says. Tests such as PET scans and biopsy have good sensitivity and specificity but their cost is orders of magnitude greater than CyPath Lung.
bioAffinity's IP is protected by three patents in the U.S. and 11 foreign patients in Australia, Canada, China, France, Germany, Hong Kong, Italy, Mexico, Spain, Sweden and the UK, as well as 19 patents pending.
Beyond the current controlled market launch of CyPath Lung, Ms. Zannes says the company plans to seek FDA approval in 2023 for a pivotal trial to further expand the U.S. market. The trial is expected to enroll 1,800 patients at 20 clinical sites, and the company has a contract research organization in place. If successful, the company would seek broader claims from the FDA and pursue higher reimbursement for CyPath Lung.
bioAffinity also plans to begin distribution of CyPath Lung in Europe in 2024, selecting The Netherlands as its first entry followed by a stepped EU expansion to occur before the end of 2025 by partnering with established labs and sales forces.
And noting there are more than 350 million smokers in China, Ms. Zannes says expansion to Southeast Asia is "in our sights after the U.S. and Europe."
In addition to the advantages of CyPath Lung, Ms. Zannes says bioAffinity's technology represents a platform not only to expand in lung cancer but other tests, such as COPD, asthma, and bronchoscopy. "Our R&D is not standing still."
• • • • •
To connect with bioAffinity Technologies or any of the other companies featured on BioTuesdays, send us an email at [email protected].