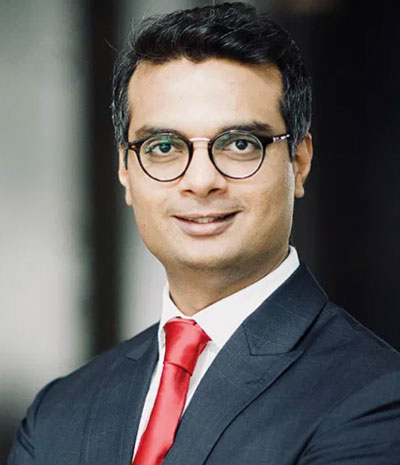 With two clinical and two preclinical assets, AUM Biosciences is developing precision oncology therapeutics designed to reverse cancer resistance through multi-targeting approaches.
"We have multiple shots on goal and multiple future candidates in R&D," Vishal Doshi, chairman and CEO of Singapore-based AUM, says in an interview with BioTuesdays, noting that AUM has strategic partnerships with Merck, Roche and China-based Newsoara Biopharma, which has licensed three AUM products for potential sales in China.
Last October, AUM announced plans to go public on NASDAQ via a merger with a publicly-traded special purpose acquisition company and begin trading under the stock symbol, AUMB.
The transaction reflects a pre-money equity value of $400-million for AUM and is expected to close in the first quarter of 2023. The transaction also is expected to provide AUM with approximately $69-million of cash (assuming no redemptions).
Mr. Doshi explains that AUM's lead compound, AUM001, is a highly selective translation inhibitor of MNK 1/2 kinase, which blocks phosphorylation of eIF4E. This, in turn, interferes with certain RNA translations, impairing growth signals involved in cancer development, progression and resistance to therapies, he adds.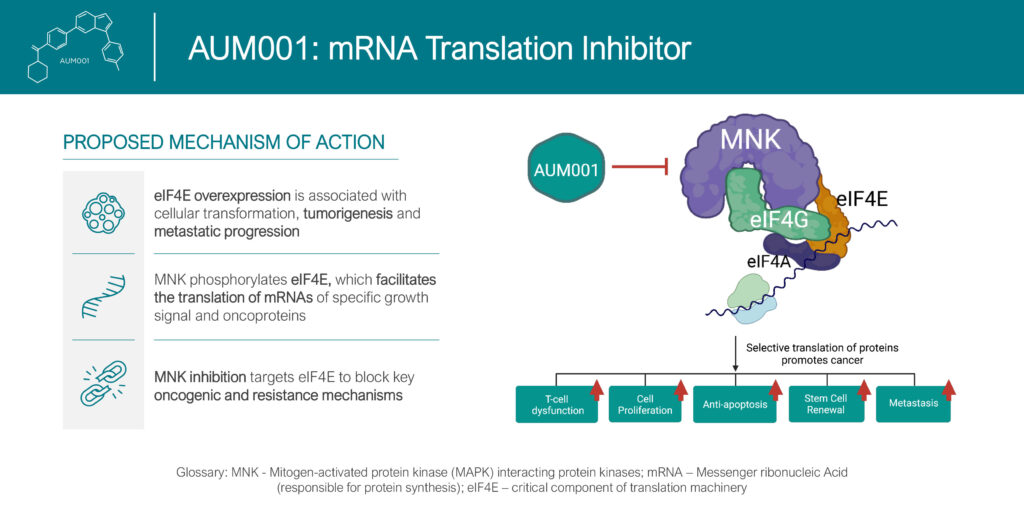 In addition, MNK is important in tumor microenvironment regulation, shifting the balance towards tumor inhibition that also decreases the production of the pro-inflammatory cytokines. "This suggest that MNK kinases play a pivotal role in regulating the innate and adaptive immune systems, with the potential to turn "cold" tumors "hot," increasing the proportion of tumors susceptible to immunotherapies," he adds.
AUM001, which is partnered with Merck, has completed two Phase 1 clinical trials in Singapore and Australia with a highly favorable safety profile and no severe adverse events, including no cardiotoxicity or hepatic toxicity.
AUM is now enrolling up to 110 patients with "microsatellite stable" colorectal cancer (MSS CRC) in a global Phase 2 clinical trial with AUM001 as monotherapy and in combination with KEYTRUDA (pembrolizumab) and separately with CAMPTO (irinotecan) in the first module of the study.
A cohort expansion in the second module would evaluate AUM001 in combination with KEYTRUDA in MSS CRC patients and AUM001 plus irinotecan in metastatic CRC.
A topline readout from the monotherapy portion of the open-label study is expected in the second quarter of 2023.
Mr. Doshi says AUM's second clinical product, AUM601, is an oral small molecule that binds to tyrosine kinase (TRK) fusions and resistance mutations, which are associated with the initial formation of a tumor.
"AUM601 is differentiated from current treatment options as it has no neurotoxicity, is highly selective and potent against kinases, and has potential superiority to current standard care, including larotrectinib, selitrectinib, entrectinib and repotrectinib," he adds.
In vivo studies demonstrated that AUM601 had 22 times higher concentration of drug in tumors as compared to plasma as well as higher tumor exposure.
In a Phase 1 study with 17 patients, no neurotoxicity was observed with AUM601. AUM is preparing for a global Phase 2 clinical trial with AUM601 at 25 international sites to evaluate patients with TRK fusion and mutated cancer as a first line therapy outside the U.S. and EU, and as a second line therapy in the U.S. and EU.
AUM601, which is partnered with Handok Inc. and CMG Pharmaceutical, received orphan drug designation from the FDA in August 2022 for the treatment of solid tumors with the neurotrophin tyrosine receptor kinase fusion gene.
AUM's lead preclinical drug candidate, AUM302, is a potential first-in-class oral kinase inhibitor designed to uniquely combine pan-PIM kinase, pan-PI3K and mTOR inhibition in a single agent in order to inhibit multiple key intracellular pathways, increasing its ability to inhibit cancer cell growth and prevent the emergence of resistance, Mr. Doshi suggests.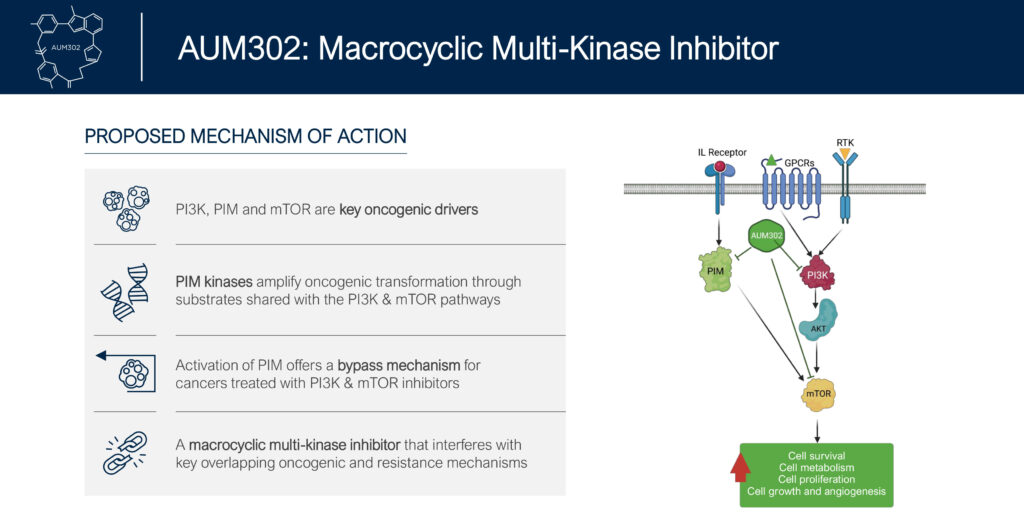 In in vitro studies, AUM302 demonstrated significant inhibition of tumor growth in combination with cisplatin, the standard of care for the treatment of neuroblastoma at sub-therapeutic doses, suggesting the combination may be a less toxic medicine.
"We see an opportunity to be the first multi-kinase inhibitor class of drug in neuroblastoma," Mr. Doshi says. AUM302 has received orphan drug designation from the FDA to treat neuroblastoma.
In other in vitro studies, AUM302 has demonstrated 100 times sensitivity in lung cancer, compared with the chemotherapy, alpelisib, as well as 80% tumor growth inhibition in breast cancer. "Superiority to alpelisib, if proven, may open a huge breast cancer opportunity," he adds.
AUM302 was awarded an orphan drug designation for the treatment of neuroblastoma, and a rare pediatric designation by the FDA, which makes it potentially eligible for a priority review voucher.
AUM's second preclinical compound, AUM003, is a blood-brain-barrier penetrating mRNA translation inhibitor with the potential to be developed for the treatment of glioblastoma and sarcoma.
While AUM003 has shown potentially superior cytotoxicity with current MNK inhibitors and strong synergy with temozolomide, which is used to treat specific types of brain cancer, Mr. Doshi suggests the combination could be a target the more than 65% of glioblastoma patients with limited response to temozolomide.
"We are building a portfolio of precision therapeutics to reverse cancer resistance by deploying multi-faceted cancer inhibition approaches," Mr. Doshi says. "Our hope to conquer one of the most common causes of mortality and make cancer a chronic disease, with tolerable side effects, so that patients can function in society."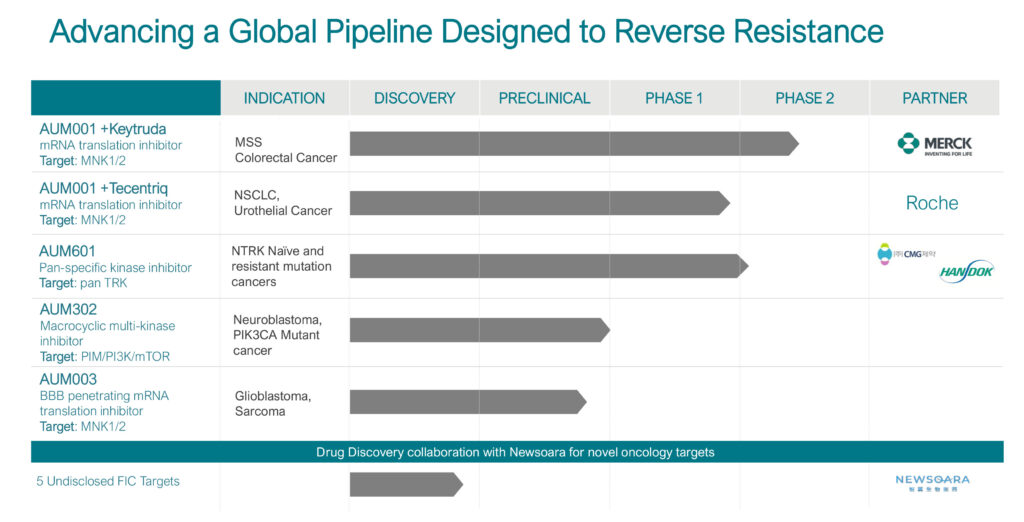 • • • • •
To connect with AUM Biosciences or any of the other companies featured on BioTuesdays, send us an email at [email protected].