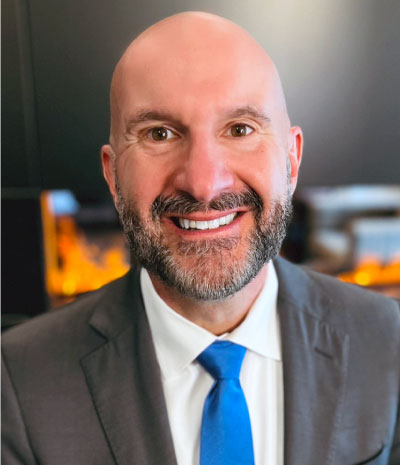 Privately-held Conavi Medical's Novasight Hybrid System represents a breakthrough imaging platform for use by interventional cardiologists during common minimally invasive heart procedures.
"This patented technology is the first and only commercially-available system that enables simultaneous and co-registered imaging of coronary arteries with both intravascular ultrasound (IVUS) and optical coherence tomography (OCT) through a single catheter," Thomas Looby, CEO of Conavi, says in an interview with BioTuesdays.
There are more than four million coronary angioplasty and stenting procedures performed annually around the world. All of these percutaneous coronary interventions (PCIs) use angiography, where visualization is limited to blood flow.
"Newer intravascular imaging technologies, such as IVUS and OCT, use sound waves or near-infrared light, respectively, to guide PCIs and enable physicians to see inside coronary arteries," Mr. Looby says. Intravascular imaging is currently used in 600,000 cases a year and growing, he adds.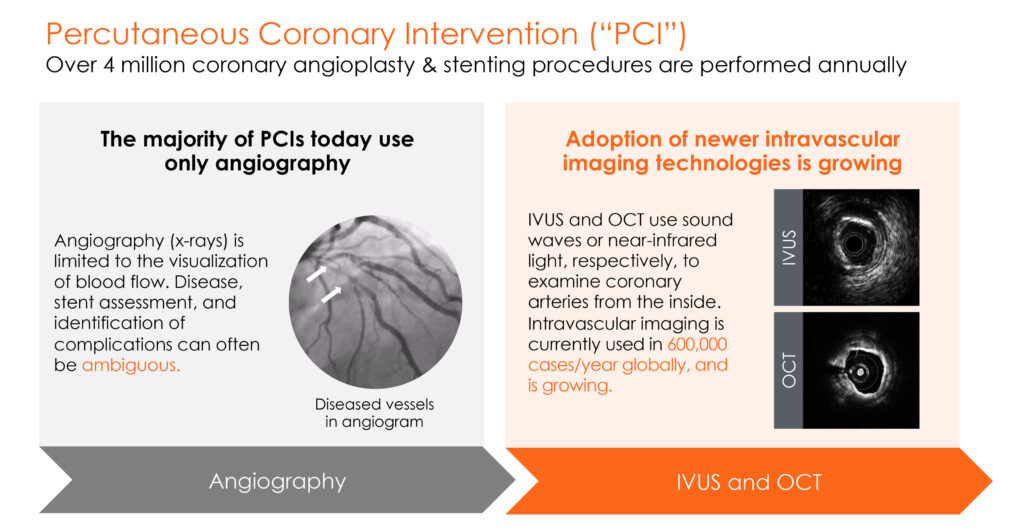 In addition, Mr. Looby says compelling academic studies are driving awareness, acceptance and adoption of these new technologies. Two recent randomized controlled studies demonstrated a 50% reduction in adverse cardiac events as a result of using IVUS.
For example, out of 100 people undergoing angiography-guided PCI, 10 people will suffer an adverse event five years after the procedure, which drops to five people after an IVUS procedure, he points out.
Several new studies – IMPROVE and ILUMIEN IV – are underway in the U.S., comparing standalone IVUS and standalone OCT to angio-guided PCI. Mr. Looby figures these studies could influence changes in cardiology guidelines and reimbursement, "with the potential to increase imaging utilization by two-to-three times."
Each modality has unique advantages and physician specialists, he points out.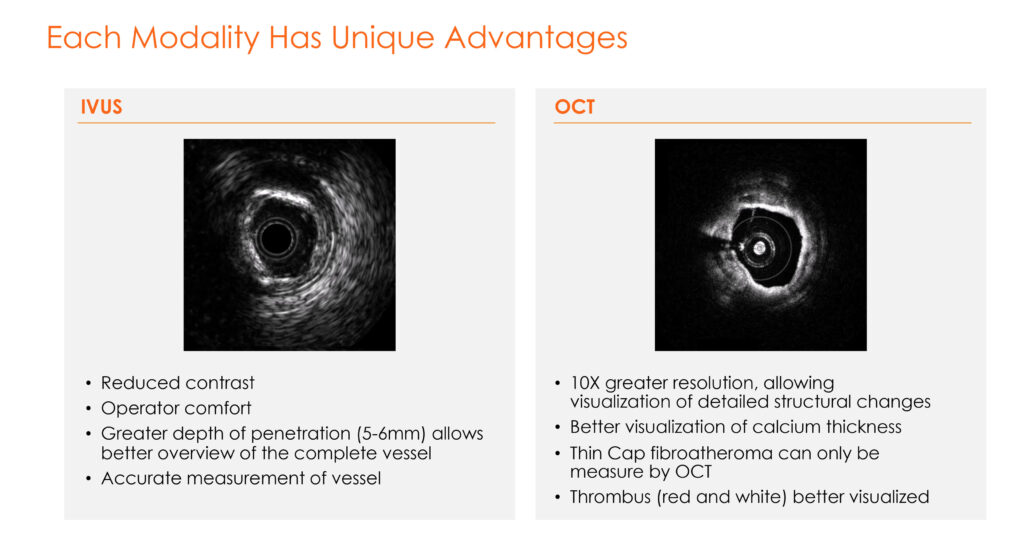 IVUS, for example, provides reduced need for contrast dyes, greater depth of penetration for a better overview of the complete vessel and accurate measurement of a vessel. OCT, on the other hand, brings greater power of resolution than ultrasound to view detailed structural changes and calcium thickness of blood vessels.
"IVUS and OCT are not interchangeable because each has its own strengths and weaknesses," he adds.
In addition, the shift to complex coronary procedures requires advanced intravascular imaging.
Mr. Looby estimates that about 40% of PCIs are complex cases and include multi-vessel disease, in-stent restenosis, chronic total occlusions, and heavy calcification, among other things. "A recent registry demonstrated a reduction in 10-year mortality from 16.9% to 10.2% as a result of using IVUS in complex cases."
And there are situations where one modality may be preferred over the other, such as stent failure favoring OCT and left main coronary artery PCI favoring IVUS, he adds.
Health economics also are expected to drive new cardiology guidelines and reimbursement. For example, Mr. Looby points out that the incremental cost-effectiveness ratio of IVUS, compared with angio-guided PCIs per quality-adjusted life year gained, has been shown to be $8,232 for complex PCIs and $12,730 for noncomplex PCIs.
Mr. Looby, who moved into the executive suite less than two years ago, has helped to transition Conavi from a founder-led business spun out of Sunnybrook Health Sciences Centre in Toronto into one with a tighter focus and new commercial strategy. Mr. Looby and the team has also attracted a board of medical device business and finance leaders, plus interventional cardiology advisors from leading research hospitals.
Enter Conavi's Novasight Hybrid System, which combines the penetration and blood field compatibility of IVUS with the resolution and lumen detail of OCT in a single-use catheter, mobile cart-based system at a comparable cost to competing single modality systems.
Mr. Looby says the company's imaging system is co-registered, meaning the IVUS and OCT beams physically overlap, rotating at the same rate with both modalities imaging the same cross-section of tissue at the same time. Conavi's patents protect such novel technology.

Simultaneous acquisition of both IVUS and OCT complementary images using a single rotational catheter. One pullback can provide co-registered and co-aligned IVUS and OCT images, allowing the user to have both the depth of IVUS and the resolution of OCT to help guide PCI procedures.
Novasight is FDA-cleared, with additional approvals in Canada and Japan, and a regulatory submission in China likely to be approved in 2023. Conavi's technology is protected by 27 patents in the U.S. and 54 in the rest of the world, with more than 40 patent applications pending, as well as extensive know how.
"Our value proposition is that Novasight gives physicians the versatility of IVUS and OCT in one console without any trade-offs in terms of image quality, system size and deliverability," Mr. Looby says, adding that having both modalities side-by-side also makes image interpretation easier.
He also points out that hospitals can save money by purchasing and maintaining one console instead of two at a comparable single-use catheter cost.
Novasight is winning high marks from interventional cardiologists.
In a recent webinar hosted by Conavi, Megha Prasad, M.D., who specializes in high risk PCIs at Columbia University Irving Medical Center, said she doesn't compromise with Novasight.
I can get penetration depth, while I can visualize calcium, while I can understand plaque rupture, thrombus and edge dissection.

— Dr. Megha Prasad, Columbia University Irving Medical Center
Last month, the American College of Cardiology Interventional Council strongly suggested that intracoronary imaging should now be a routine part of clinical practice, as it can be used to assess the lesion prior to the intervention, prepare it for stent deployment, and assess how well the stent was placed.
Mr. Looby says additional larger studies are scheduled for release at the end of March and May this year that will add further evidence of the importance of imaging.
The current market for consumable catheters is $660-million and is expected to grow as new clinical and health economics continue to emerge and guidance changes, he adds. If interventional imaging achieved a 90% penetration of the four million angiographs now done, the total addressable market for catheters alone could vault to more than $3-billion a year.
The current Novasight system is approved for the coronary vasculature, however, early feedback suggests that the current platform may be ideally suited for the peripheral vasculature as well. This represents a significant incremental market opportunity and Conavi is currently evaluating next steps.
Novasight is a razor/razor blade business model similar to industry leaders like Abbott, Philips and Boston Scientific. Pricing for the console and single-use catheter is comparable to standalone IVUS or OCT offerings, although, there may be an opportunity to justify a premium in the future.
As part of the early market release in 2022, the Novasight system was installed at five major U.S. hospitals, including New York-Presbyterian, Cleveland Clinic, Montefiore and Mount Sinai, with a list of other luminary customers in the queue.
Besides ongoing demonstrations with key opinion leaders. Mr. Looby says that by the end of 2024, Conavi expects the installed base to reach at least 20 systems in the U.S., with first sales in both China and Hong Kong, along with scaling production, building a sales staff and releasing additional clinical evidence.
Conavi also hopes to launch its next generation and best-in-class Novasight 3.0 system at the beginning of 2025 with a material reduction in the costs of goods and services to boost profit margins. The 3.0 system also is expected to feature improved imaging and reliability, and work flow improvements to make it more plug-and-play relative to the competition.
During the 2025-2026 period, the company is aiming to boost its installed base to more than 100 systems in the U.S., expand its manufacturing and global reach, and enter additional product lines, such as peripheral vascular applications.
Conavi closed a $22-million private financing in November 2021. The company recently signed on with two contract manufacturing organizations and is currently seeking to raise all or part of $30-million in 2023 to continue development and launch Novasight 3.0, boost catheter margins to 70% and reach $25-million of revenue by 2026.
"In the year and a half that I've been with Conavi, I've seen strategic investors and multinational leaders in the space take much more interest in us because of our unique technology positioning. And some are quite a bit down the line doing due diligence." Mr. Looby suggests.
"We are currently the only revenue-stage standalone intravascular imaging company, and as we progress, feel that we would be an attractive target for an acquirer."
• • • • •
To connect with Conavi Medical or any of the other companies featured on BioTuesdays, send us an email at [email protected].