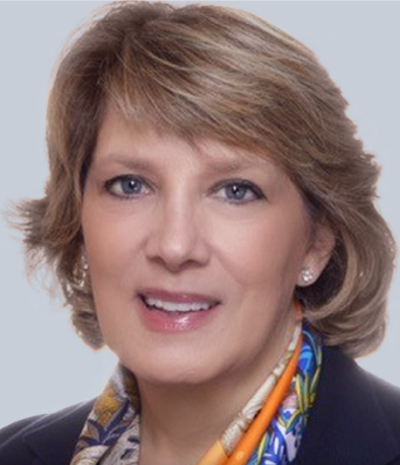 As the recipient of more than $170-million of non-dilutive grant funding, Cognition Therapeutics (NASDAQ:CGTX) is developing disease-modifying medicines for neurodegenerative disorders, such as Alzheimer's disease (AD) dementia with Lewy bodies (DLB) disease and dry age-related macular degeneration (AMD).
"Our novel and validated science is designed to protect synapses from toxic proteins, specifically oligomers, and other stressors to facilitate restoration of neuronal function," Lisa Ricciardi, president and CEO of Cognition, says in an interview with BioTuesdays.
"The sigma-2 receptor is a well characterized target and our CT1812 once-daily oral compound is designed to prevent the binding of toxic oligomers to neurons, thereby protecting sensitive brain cells."
Alzheimer's disease and other neurodegenerative brain and eye disorders are caused by the age-related buildup of proteins, such as beta amyloid and alpha-synuclein. Under normal conditions, cellular damage responses trigger the removal of these proteins before they are allowed to accumulate and aggregate into more toxic forms.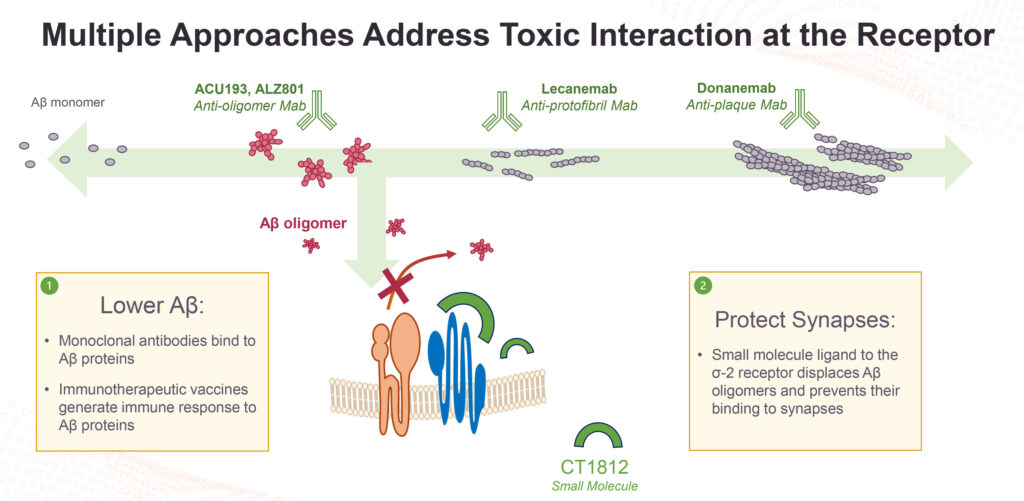 However, in many neurodegenerative diseases, the damage response is disrupted, allowing the formation of toxic proteins, which in turn leads to damage and eventual loss of the neurons responsible for cognition in AD, cognitive and motor function in Parkinson's disease, and sight in dry AMD.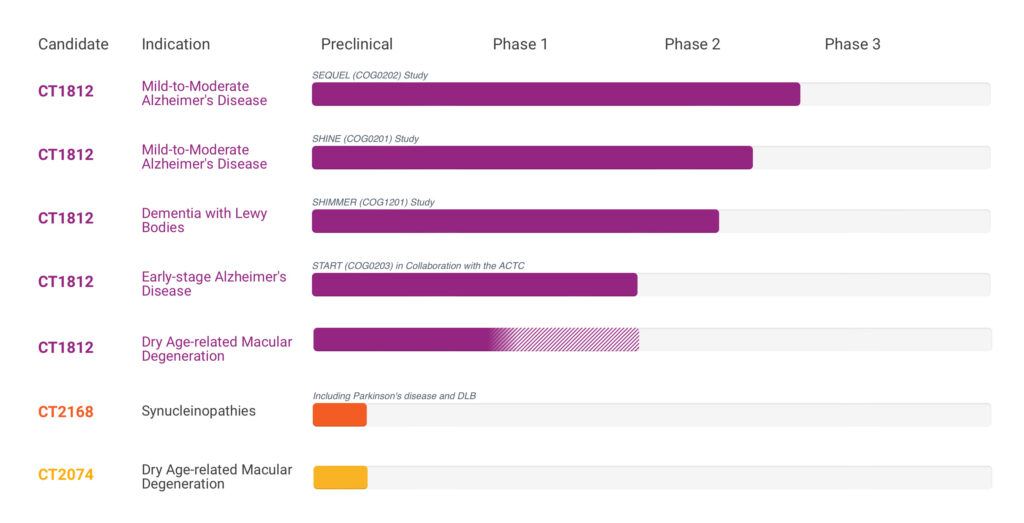 Cognition is advancing three Phase 2 clinical trials with CT1812 in mild-to-moderate and early-stage AD and DLB disease. Ms. Ricciardi says CT1812 and the company's pipeline of sigma-2 receptor modulators have the potential to regulate pathways that are impaired in degenerative diseases.
"We believe that targeting the sigma-2 receptor with CT1812 represents a mechanism functionally distinct from other current approaches in clinical development for the treatment of degenerative diseases," she contends.
Biomarker data from two studies – SHINE and SPARC – in AD will be released at the end of March at the International Conference on Alzheimer's and Parkinson's Disease.
In addition, Cognition expects to complete enrollment at the end of 2023 in its Phase 2 SHINE clinical trial in mild-to-moderate AD and in its Phase 2 SHIMMER clinical trial in mild-to-moderate DLB. "These are larger trials and critically important to validate the safety and efficacy of CT1812 in these dementias," Ms. Ricciardi adds.
Later in 2023, Cognition plans to launch its Phase 2 START clinical trial in early-stage AD, with an estimated enrollment of 540 patients; and preparations for a Phase 2 clinical study in dry AMD are underway.
To finance its clinical programs, Cognition had $46.6-million of cash at Sept. 30, 2022, an expected cash runway into the first half of 2024, was well as $93.6-million in remaining grant funding through key collaborations with the National Institute of Aging (NIA) and other institutions. Approximately 50% of ongoing R&D expenses are covered by grants.
Cognition, which has been researching the importance of displacing oligomers from neurons and preventing their rebinding for 10-to-12 years, completed a public offering in October 2021.
Ms. Ricciardi says that in rigorous testing in a mouse model, CT1812 was able to remove oligomers, and animals demonstrated a restored capacity for cognitive function as measured by fear avoidance and water maze tests. In an early human study, CT1812 demonstrated oligomer displacement and in another study mitigated brain volume shrinkage at six months in patients with mild-to-moderate AD. CT1812 has now been tested in more than 220 subjects.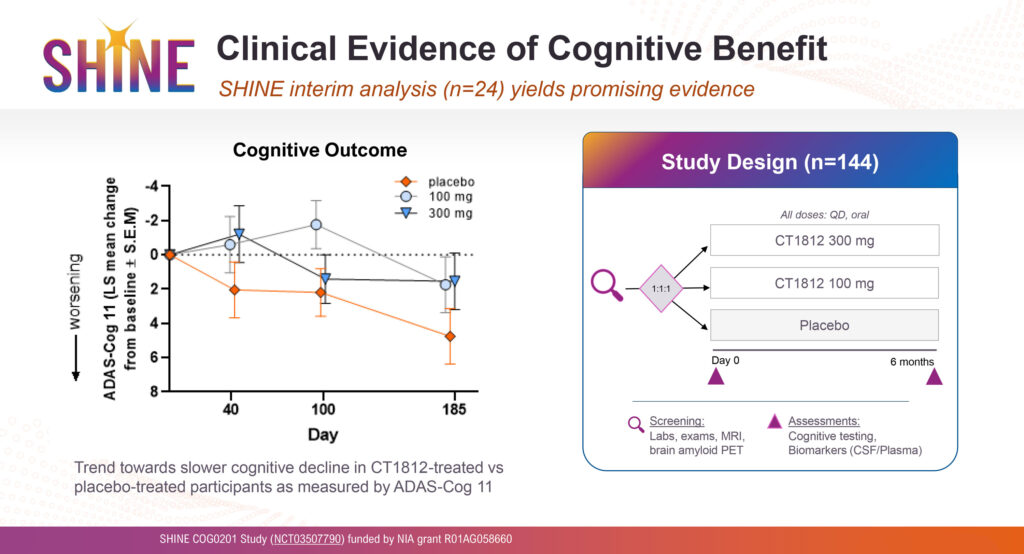 One of Cognition's key Phase 2 clinical trials is known as, SHINE, which is measuring cognitive improvement in patients with mild-to-moderate disease. The trial was interrupted by COVID-19 and the company received an additional grant of $13-million from the NIA to complete the study.
An interim analysis of 24 SHINE patients at six months demonstrated in addition to safety, a trend towards slower cognitive decline in the CT1812 treatment arm, compared with placebo-treated participants as measured by ADAS-Cog 11, an AD cognitive score of 11 tasks.
Cognition expects to complete enrollment of 144 patients in the SHINE trial at the end of 2023 in the U.S. and recently opened sites in The Netherlands, Spain and the Czech Republic to accelerate enrollment.
The company also is conducting a SEQUEL Phase 2 clinical trial with CT1812 to measure brain wave activity in mild-to-moderate AD patients at the VUmc Alzheimer's Center in Amsterdam. Enrollment was completed earlier this month.
SEQUEL has a cross-over design with 16 subjects to evaluate changes in synaptic function through quantitative EEG. The company recently received a supplemental grant to $2.1-million from the NIA in addition to an original $5.4-million grant.
In addition, Cognitive expects to begin its START Phase 2 trial in the first half of 2023 to measure the impact of CT1812 on cognitive decline in early AD. The study design includes enrollment of 540 subjects, with two treatment arms of 180 subjects each and 180 subjects receiving placebo.
The START study will be conducted at 50-to-60 clinical sites in the U.S., including centers of excellence of collaborator, the Alzheimer's Clinical Trials Consortium. The study is being funded with an $81-million grant from the NIA.
Beyond Alzheimer's disease, Cognition is evaluating CT1812 for the treatment of DLB, the second most common dementia after AD. In the U.S., approximately 13 million people have some form of dementia, of which more than six million people have AD and 1.4 million have DLB.
Ms. Ricciardi says Cognition has published research demonstrating that sigma-2 receptor modulators, such as CT1812, can be effective in reversing the trafficking deficits caused by α-synuclein oligomers in in vitro models of DLB.
She says this cellular evidence helped Cognition secure a $30-million NIA grant for a Phase 2 SHIMMER clinical trial in people with mild-to-moderate DLB. The objective of the study is to evaluate changes in cognition and function.
As of December 2022, the company had activated more than 50% of the clinical sites, with total enrollment of 120 subjects expected by the end of 2023.
Cognition is conducting the SHIMMER study in collaboration with James Galvin, M.D., director of the Comprehensive Center for Brain Health at the University of Miami Miller School of Medicine and the Lewy Body Dementia Association.
Beyond dementia, Cognition is evaluating whether CT1812 can protect retinal pigment epithelial cells from the effects of toxic stressors, such as amyloid oligomers, inflammatory mediators and oxidative stress, for the treatment of dry AMD.
In May 2022, the company presented encouraging preclinical data from its dry AMD program at the Association for Research in Vision & Ophthalmology annual meeting that demonstrated its sigma-2 receptor modulator, CT1812, also protects retinal pigment epithelial cells and normalizes key homeostatic processes disrupted in dry AMD.
Cognition is planning a two-year, Phase 2 placebo-controlled clinical trial, assessing CT1812 in more than 200 people with dry AMD and measurable geographic atrophy.
"While neurodegenerative diseases involve different regions of the central nervous system, they share key defects in cellular pathways," Ms. Ricciardi says. "By selectively modulating a central cellular damage response pathway, we hope to stop the toxic effects of age-related damage on brain and retinal cells."
• • • • •
To connect with Cognition Therapeutics or any of the other companies featured on BioTuesdays, send us an email at [email protected].