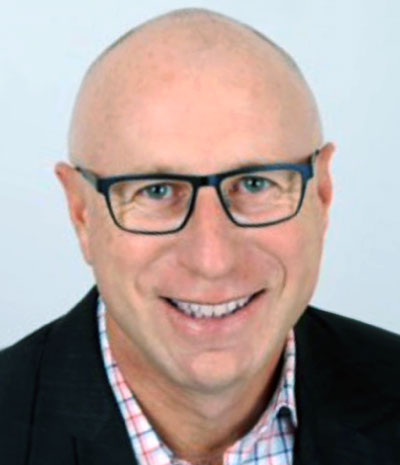 After posting positive Phase 2b results in November, Azura Ophthalmics plans to launch a Phase 3 registration trial in mid-2023 with its lead ointment, AZR-MD-001, for the treatment of meibomian gland dysfunction (MGD) in the upper and lower eyelids.
"This is the first investigational drug to show significant improvements in both signs and symptoms of MGD and represents a potential breakthrough in disease treatment," Marc Gleeson, CEO of closely-held Azura, says in an interview with BioTuesdays.
"Our differentiated approach combines ophthalmologic and dermatologic solutions to harness the unique properties of keratolytics to treat the root cause of numerous underserved ocular indications," he adds.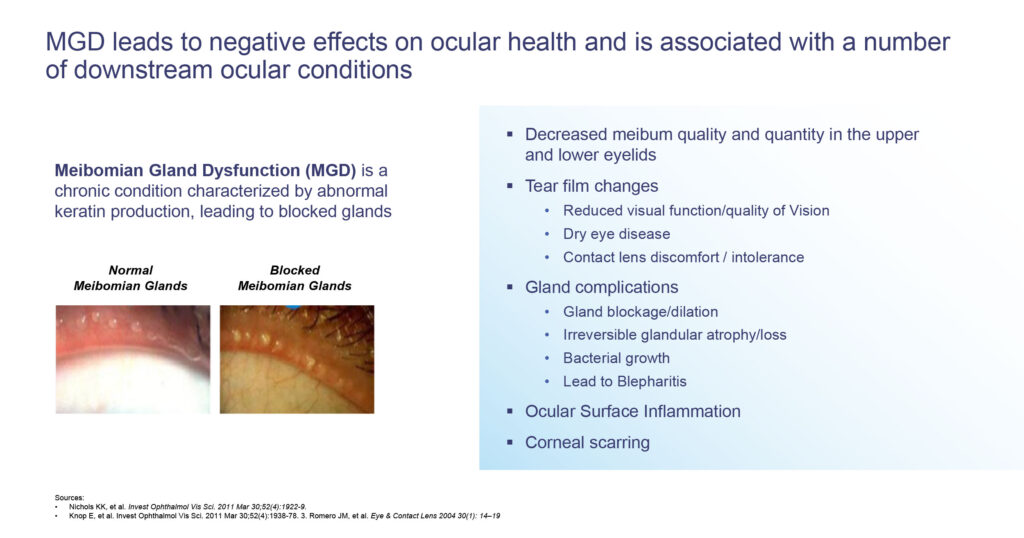 MGD is a chronic condition characterized by abnormal keratin production, leading to blocked glands and gland atrophy. If left untreated, he says MGD will alter the tear film, which can initiate or exacerbate additional ocular surface diseases, such as dry eye disease, blepharitis, as well as contact lens discomfort, resulting in ocular surface inflammation and corneal scarring.
Mr. Gleeson explains that AZR-MD-001 is designed to harness the power of selenium sulfide in an ophthalmic ointment preparation applied directly to the meibomian glands in the lower eyelid.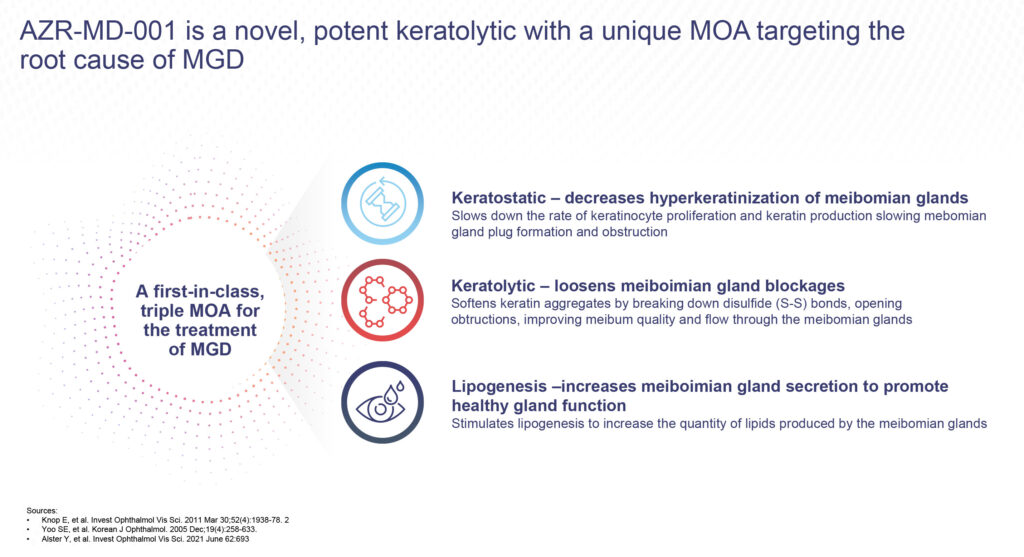 According to Mr. Gleeson, AZR-MD-001 is thought to have a multi-modal mechanism of action that treats the pathophysiology of MGD along with the resulting ocular surface symptoms. It breaks down the bonds between abnormal keratin proteins to soften the blockage, slows down the production of keratin to prevent future blockages and increases the quality and quantity of meibum produced by the meibomian glands, he adds.
There is a significant need for new treatment options for MGD. There are approximately 100 million people in the U.S. who are affected by MGD with a near-term market opportunity of approximately 30 million to 40 million patients. There are no FDA-approved medicines for MGD and approved treatments for downstream ocular conditions have not demonstrated efficacy for restoring function of the meibomian glands, Mr. Gleeson points out.
Azura enrolled 245 MGD patients in its Phase 2b clinical trial, with 82 patients receiving AZR-MD-001 0.5%; 83 patients receiving AZR-MD-001 1.0%; and 80 patients receiving placebo.
Mr. Gleeson explains that patients put a dosage of drug on a fingertip, rub the drug product into a film on their finger, look in the mirror, pull their eyelid back and rub the ointment on the meibomian glands. Dosing was applied two times per week at bedtime.
The trial met its co-primary endpoints of improvements in the number of open glands and improved symptoms after three months, achieving statistically significant differences in signs and symptoms, compared with placebo at month three.
The trial also met additional clinically meaningful endpoints, including improvements in meibum quality, improvements in tear stability and improvements across multiple patient-reported outcome measures. AZR-MD-001 also was safe and well tolerated in the study.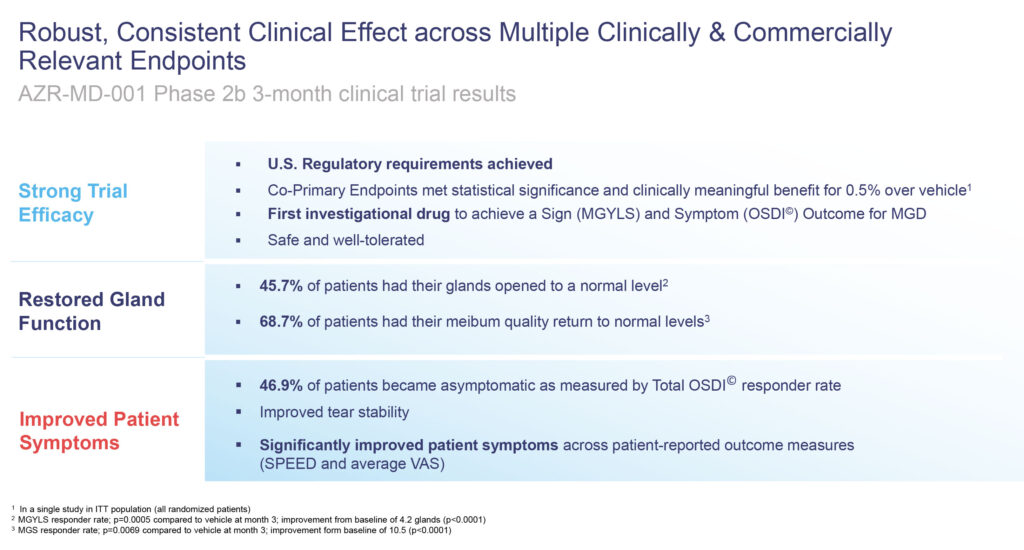 Mr. Gleeson says 45.7% of patients had their glands opened to a normal level in the Phase 2b study and 68.7% of patients had their meibum quality return to normal levels, validating AZR-MD-001's mechanism of action.
In addition, 46.9% of patients became asymptomatic as measured by an ocular surface disease index responder rate after three months, which Mr. Gleeson says is a strong signal that patients feel better.
"With as little as four applications of AZR-MD-001, we observed improvements in glandular function at day 14 that continued to improve over three months," he adds.
Mr. Gleeson says the company plans to release six-month data from the Phase 2b data the first quarter of 2023.
Azura has worldwide protection for AZR-MD-001 into the 2040s and life cycle strategies can add additional IP beyond 2045. Multiple patent families provide a picket fence around AZR-MD-001 that cover commercial formulation and manufacturing, therapeutic indications, time of administration and dosing regimens, he points out.
Azura hopes to initiate a pivotal trial of AZR-MD-001 in mid-2023 in the U.S. and Canada, after an end-of-Phase 2 meeting with the FDA in January or February. Data should be released in mid-2024.
Mr. Gleeson also says the company plans to initiate a reimbursement study at the end of 2023.
"While our lead indication validates keratolytics in ophthalmology, we have an internally developed pipeline of new chemical entities to address a full range of ocular surface diseases," Mr. Gleeson says.
• • • • •
To connect with Azura Ophthalmics or any of the other companies featured on BioTuesdays, send us an email at [email protected].