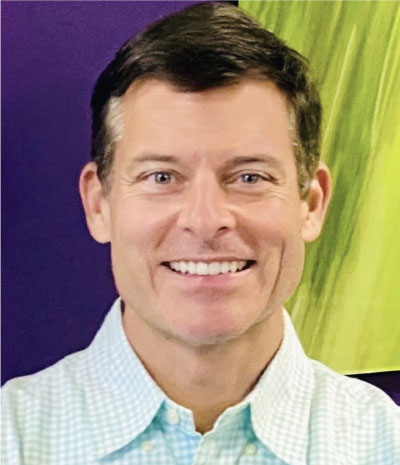 Reneo Pharmaceuticals (NASDAQ:RPHM) is conducting a pivotal Phase 2b clinical trial with its lead asset, REN001, in a rare genetic disease that predominately affects skeletal muscle and reduces life expectancy, with topline data expected in the fourth quarter of 2023.
"We believe REN001 is a pipeline in a pill to treat a host of diseases involved in mitochondrial dysfunctions," Gregory Flesher, president and CEO of Reneo, says in an interview with BioTuesdays.
Mitochondrial myopathies are a group of rare diseases, resulting in damage to the mitochondria — small, energy-producing structures that serve as the "power plants" of cells.
Reneo's lead indication – primary mitochondrial myopathies (PMM) – are rare disorders caused by mutations within mitochondrial DNA or nuclear DNA, which hamper the ability of mitochondria to generate energy. About 80% of adult patients have the mitochondrial DNA defects.
PMM symptoms include debilitating fatigue, exercise intolerance, muscle pain and severe lack of endurance. There are no approved therapies for PMM.
Reneo's second indication with REN001 is long-chain fatty acid oxidation disorders (LC-FAOD), where patients have gene defects in the enzymes that break down long-chain fatty acids during metabolism.
In adults, LC-FAOD symptoms include limited endurance and aches and pains, while young children can experience lethargy, liver dysfunction, hyperglycemia, cardiomyopathy, and are at a high risk for sudden death.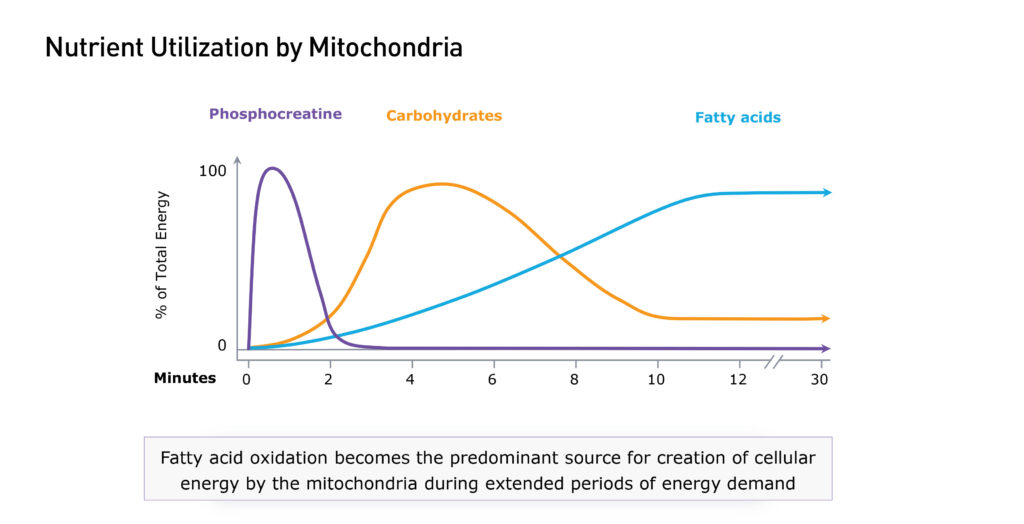 Mr. Flesher explains that fatty acid oxidation is the predominant source for creation of cellular energy by the mitochondria during extended periods of energy demand. Besides skeletal muscle, cells in the brain and heart require a great deal of energy, and appear to be particularly damaged when mitochondria dysfunction.
"Our drug is designed to increase transcription of genes central to mitochondrial function; drive production of new mitochondria; and increase oxidation of fatty acids and cellular energy production."
Based on positive results from an earlier open label Phase 1b study, Reneo received positive guidance from regulators in the U.S. and countries outside the U.S. on the design of a single pivotal study in patients with PMM.
"In the PMM Phase 1b, patients had a very meaningful increase in energy capacity as represented in a walking test and this correlated with a reduction in core symptoms, like fatigue, lack of energy and pain," Mr. Flesher points out. "This is golden for these patients because there is nothing that has produced this result to date."
The bigger picture, he says, is that Reneo is trying to address the hidden aspects of this disease. "If you don't give yourself energy when you need it, cells undergo stress and die. And when PMM patients reach adulthood, they typically have cardiovascular and neurologic disorders, and are at greater risk of mortality. This constant stress and burden on organ systems manifests in fatigue and weakness. So, if you increase energy production, which our drug has shown to date, cells don't go under stress, tissues don't die and theoretically, a patient could live a normal life."
Reneo's pivotal trial in PMM, called STRIDE, is enrolling 200 adults with mitochondrial DNA defects, randomized one-to-one versus placebo, at 36 sites in 14 countries. The company expects to complete enrollment during the first quarter of 2023, with data before the end of the year. The company also is completing a two-year open label extension study outside the U.S.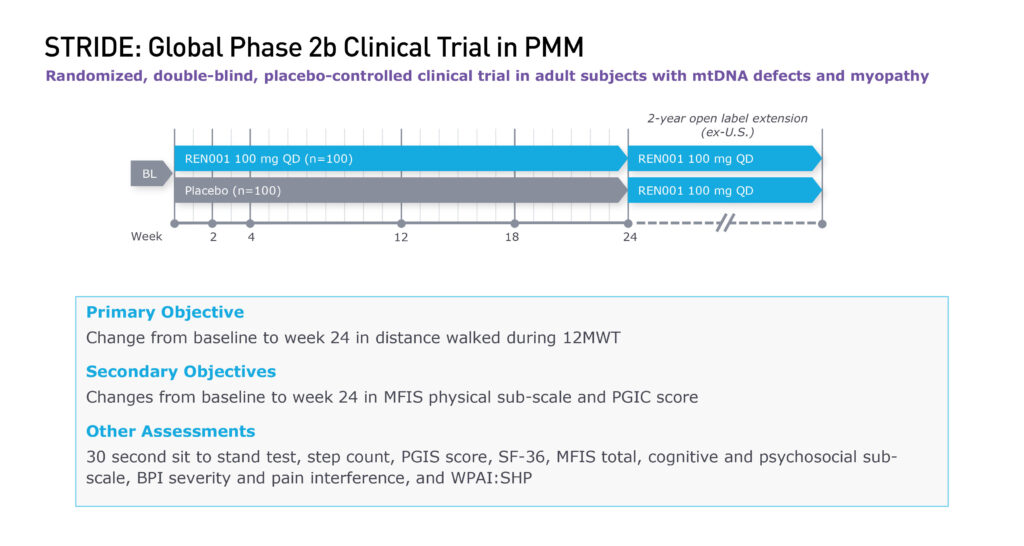 The primary objective of STRIDE is a change from baseline to week 24 in distance achieved during a 12-minute walking test, as well as various secondary objectives and other assessments, including a 30-second sit-to-stand test and changes in symptoms.
Mr. Flesher says the company hopes to have its STRIDE pivotal data and STRIDE extension study data in hand at the end of 2023 and, if successful, file for regulatory approval in 2024. The company had $115-million of cash at Sept. 30, 2022, which he says would fund the company into 2024.
Estimates put the number of U.S. patients with PMM at 66,200 and LC-FAOD at 5,000 patients. Europe, Brazil, China and Japan add a further 444,000 PMM patients and 116,000 with LC-FAOD. The prevalence of mutations with mitochondrial DNA is estimated at 9.6 per 100,000 people and 2.6 per 100,000 for nuclear DNA defects.
In July 2022, Reneo reported positive results from a 12-week, open-label Phase 1b study of REN001 in 23 patients with LC-FAOD, including an increase in a 12-minute walk of more than 50 meters over baseline and an improvement in symptoms in a cohort of the patients.
Mr. Flesher says the company plans to announce guidance on the LC-FAOD program in the first quarter of 2023.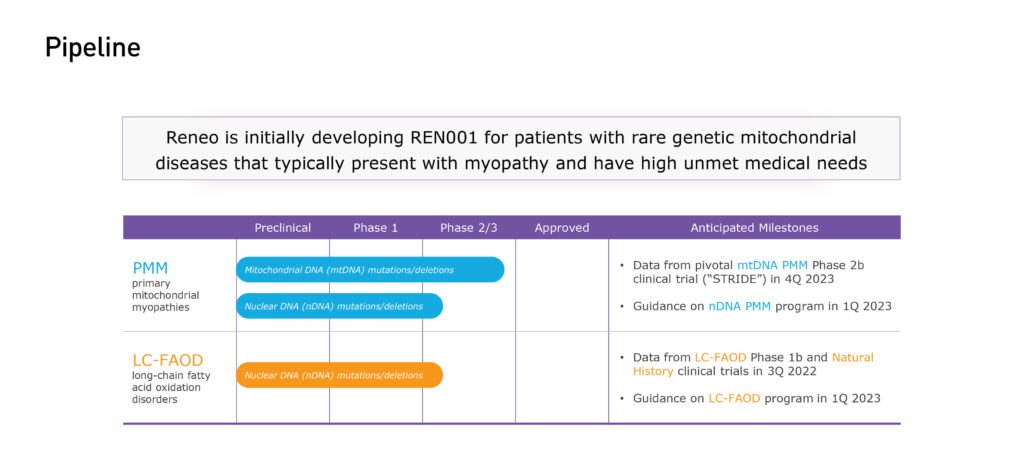 • • • • •
To connect with Reneo Pharmaceuticals or any of the other companies featured on BioTuesdays, send us an email at [email protected].