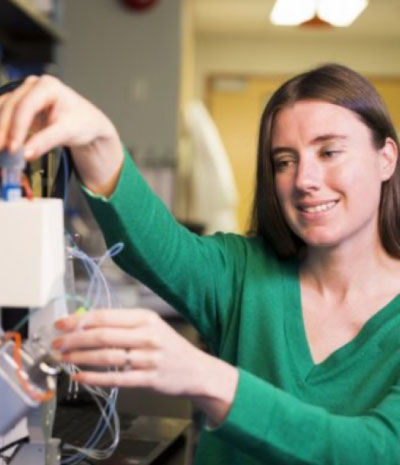 As CEO and co-founder of closely-held Axolotl Biosciences, Stephanie Willerth, Ph.D., also is a full professor of biomedical engineering at the University of Victoria, British Columbia, where she runs a research lab with Axolotl co-founder, Laura De La Vega, Ph.D., that has developed technology to generate human neuro tissue models with bioink, a process similar to 3D printing. Her research group has developed many types of biomaterial scaffolds for promoting differentiation of induced pluripotent stem cells into neural phenotypes for tissue engineering applications, such as screening the toxicity of drugs, learning how tissues form during development and replacing dysfunctional tissues. In this interview with BioTuesdays, Dr. Willerth discusses Axolotl's expertise in 3D bioprinting and bioink, and demand for innovative bioinks by academic researchers and biotech companies.
Let's start with a brief history of Axolotl.
We formed Axolotl in 2020 with funding from several granting organizations, to conduct research and commercialize bioink products. Our team has grown to eight employees who are fully funded with non-dilutive funding and we're looking to hire a business development officer this year. In 2022, we launched global sales of TissuePrint, our first bioink product, and in the third quarter of 2022, we introduced consulting services to our menu of offerings. Our goal is to provide turn-key reagents, including bioinks, 3D tissue models and consulting services in the field of bioprinting to advance the field of tissue engineering and regenerative medicine.
Where does the name Axolotl come from?
The axolotl is a freshwater salamander native only to one lake in Mexico, where Dr. de La Vega was born. Axolotls are resilient creatures, possessing an enormous capacity for regenerating limbs, gills and parts of their eyes and brains, making them ideal for scientific research.
What is bioink and 3D bioprinting?
In conventional 3D printing, a plastic filament gets extruded according to a computer design file, while bioprinting uses specialized cell-based material and the design file dictates the desired tissue shape. The cell-based mixture is placed in a syringe, which is linked to a bioprinter and computer, which guides the extrusion of bioink into different shapes and concentrations to mimic different organic tissues in the body. Using our expertise, understanding and focus on biological needs of cells in 3D bioprinted constructs, we have creased a novel bioink capable of printing neural cells from patients with genetic neuropsychiatric diseases that maintain high levels of cell viability for more than a month.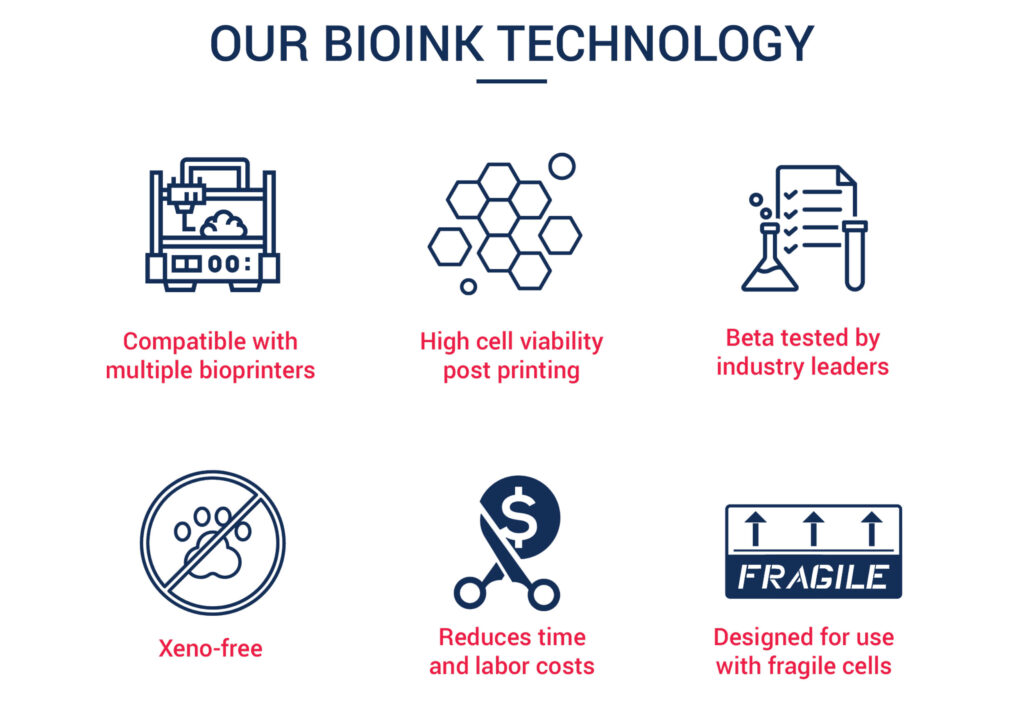 What's the advantage of bioprinting?
3D bioprinting tissues represents a better strategy for drug development by providing more accurate test models, and decreasing the time and resources associated with current drug screening methods. We believe bioprinting can evaluate the potential of a drug for one tenth the cost of using animals. Moreover, what you're studying in animal models is an artificial model of disease, compared with a bioprinted tissue made from the cells of an actual patient, which is a far more accurate model. In addition to the value of bioprinting, we like to showcase the power of "clean tech." We were named an Ecostar awards finalist for Greenest Retailer by showing the benefits of eliminating animal testing in laboratories.
Are there other applications of bioprinting?
A company spun out of Cornell University last year implanted a 3D-bioprinted ear grown from the patient's own living cells who had deformities in that ear. The technology platform for creating new organs will require new innovations, such as addressing cell expansion to develop therapeutic grade bioink. So, drug discovery is the low hanging fruit. We have also performed drug screening in our lab on some complex cancer tissue models with a collaborator's drug candidate.
Any other examples?
One of our beta testers in the U.S., Bioprosthetics Inc., is using our bioink to print human bone tissue with the goal of translating that tissue for clinical applications.
How does a small company like Axolotl increase awareness?
We've generated traction by attending conferences, winning awards, positive feedback from beta testers, and social media. Our team has been recognized in 14 local and international competitions, presenting us with some amazing publicity. Our expertise in 3D bioprinting and bioink has become well known and we have received many inquiries from researchers and companies about consulting services.
Let's talk about product line.
We have an exclusive, all-fields commercial license for producing our base bioink, TissuePrint, which we launched last year, and the associated IP that utilizes a patent-pending drug-delivery system for our next two bioinks, BrainPrint and HeartPrint, which are in research and development to produce brain and heart tissue and hopefully to be launched by 2024. We currently are collaborating with Starfish Medical to scale up production of our drug discovery particles for BrainPrint. TissuePrint has two formulations: low viscosity optimized for microfluidic printers and high viscosity optimized for extrusion printers. All of our products are currently available through our online shop.
What's been the reaction?
We ship 75 ml of bioink a month to labs globally and 90% of our beta testers have confirmed interest in testing our future products.
Who are some of your beta testers?
Besides Bioprosthetics, our world class beta testers include Regemat 3D of Spain, Brinter Printing Life, Cellink Life Sciences of India, Stemcell Technologies, the Quebec Biotechnology Innovation Centre, Vancouver Prostate Centre and Precision Technologies. On the academic side, there is Texas Tech University, University of Texas at El Paso, Simon Fraser University, the University of British Columbia, the University of Ottawa and University of Victoria.
How would you describe your routes to market?
Our bioink meets the needs of three distinct market segments: academic researchers, research institutions and pharmaceutical companies. Our go-to-market strategy consists of three channels to reach these markets, including direct sales, distribution partners and sales through original equipment manufacturers.
How do you plan to finance growth?
Our near-term goal is to raise $5-million and our potential investors are waiting for us to select a lead investor for the financing. About $2.3-million would be earmarked to secure lab space outside the University of Victoria and for equipment; about $2-million for TissuePrint production and marketing as well as BrainPrint and HeartPrint development costs and additional drug screening models; and about $800,000 to hire experienced executives and stabilize existing salaries.
• • • • •
To connect with Axolotl Biosciences or any of the other companies featured on BioTuesdays, send us an email at [email protected].