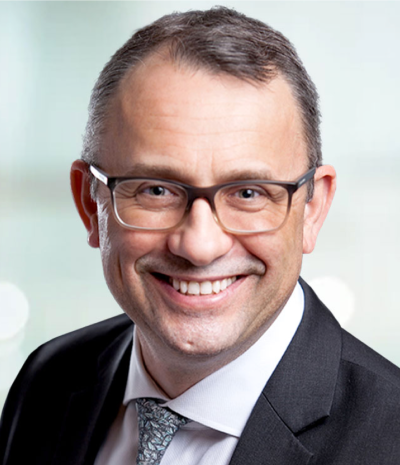 MAIA Biotechnology (NYSE American:MAIA) is developing a telomere-targeting immunotherapy, THIO, with a dual mechanism of action, that can be used in sequential combination with existing immune therapies to target cancer.
"We apply the biology of telomere and telomerase in the treatment of cancer and we are the only telomere-targeting company with an established clinical supply partner in Regeneron Pharmaceuticals (NASDAQ:REGN)," says Vlad Vitoc, M.D., founder, chairman and CEO of MAIA.
"THIO's dual mechanism of action of direct telomere targeting and immunogenic effect is designed to make existing drugs work better," he adds.
Telomeres are the caps at the end of each strand of DNA that protect our chromosomes, like the plastic tips at the end of shoelaces. Telomeres are shortened as people age, by stress, smoking, obesity, lack of exercise and poor diet and no longer are protective of the chromosomes. They also play an important role in cell division by absorbing the imperfections of cell division.
Telomerase is an enzyme that is present in more than 85% of human cancer cells and across various tumor types. "THIO's activity has been shown to be cancer-specific in tumor types with active telomerase.
Dr. Vitoc explains that in THIO's dual mechanism of action, telomerase initially recognizes THIO and incorporates it into the structure of the cancer cell's telomeres, creating a faulty structure, which unwinds the telomere, killing the cancer cell within 24-to-72 hours. THIO has the potential to directly kill 70% to 90% of the cancer cells.
"We believe THIO, which is a small molecule eligible for new chemical entity marketing exclusivity, also transforms cold tumors into hot tumors, making them responsive to immunotherapy, or checkpoint inhibitors, for patients who have progressed or developed resistance to prior immunotherapy," he adds.
Dr. Vitoc says that in the immunogenic action that follows, THIO produces micronuclei out of the telomeric fragments that reach immune cells, inducing an effective immune response. "If THIO is followed with a checkpoint inhibitor immune therapy, there is a complete response, which also generates anti-tumor specific immune memory, preventing tumor recurrence," he adds.
"With this complete response and no recurrence, there is a potential cure. We have demonstrated this anti-tumor immune activation in vivo."
MAIA's IP is protected by one issued patent in the U.S. and five pending applications, as well as three issued patents outside the U.S. and eight pending, which run until 2041. "Our goal is to develop THIO into a new chemical entity to achieve seven years of market exclusivity in the U.S. and 10 years in Europe and Japan," Dr. Vitoc contends.
The FDA granted THIO two orphan drug designations in 2022 for hepatocellular carcinoma and small cell lung cancer (SCLC).
In February 2021, MAIA entered a clinical supply agreement with Regeneron to evaluate THIO followed in sequence by Regeneron's PD-1 inhibitor Libtayo in a Phase 1/2 clinical trial in second-line or later advanced NSCLC patients who have progressed following treatment with standard-of-care regimen that includes a checkpoint inhibitor.
Dr. Vitoc says the supply agreement with Regeneron a $32-million non-dilutive investment in MAIA based on the value of Libtayo, the number of patients in the trial and length of therapy.
In exchange, Regeneron receives development exclusivity for NSCLC for the estimated two-year study period. And MAIA is precluded from conducting a similar trial with a PD-1 competitor of Libtayo in NSCLC for two years.
THIO-101 is testing the hypothesis that lower doses of THIO administered prior to Libtayo treatment would enhance and prolong responses in subjects with advanced NSCLC who did not respond or progressed after first-line treatment with a checkpoint inhibitor.
The initial part of the open-label, dose-finding Phase 2 trial, which began in July 2022 in Australia and is expanding to Europe, will assess both the safety, mechanistic activity and immune system activation of four THIO dose levels. Safety data from a lead-in group of six patients should be available in the near future. MAIA plans to expand the trial to the U.S. with an IND filing in the first quarter of 2023.
The company plans to enrol 19 patients with advanced NSCLC in each treatment arm, evaluating each dosing arm for efficacy based on overall response rate, duration of response, progression-free survival and overall survival.
Mr. Vitoc says preliminary efficacy data for an overall response rate should be available in 2023 from the first 30-to-40 patients, followed by duration of response and progression-free survival data later in 2024, and survival data after that.
"We hope to seek accelerated approval in 2025 in the U.S. and in 2026 in Europe and would like to commercialize THIO in the U.S. and out-license to global pharma partners outside the U.S," he adds.
MAIA also plans to initiate a Phase 2 THIO-102 study in the second half of 2023 to evaluate the safety and efficacy of THIO administered in sequence with several checkpoint inhibitors in patients with telomerase positive, advanced colorectal cancer, liver cancer and SCLC. "We will be selecting the ideal checkpoint inhibitor by tumor type," Dr. Vitoc suggests. "We have 10 shots on goal, which is unprecedented."
In addition, MAIA plans a confirmatory Phase 2/3 basket study, THIO 103, in nine solid tumor types as first-line therapy set to begin in the first half of 2024.
Dr. Vitoc says the company has created and tested in vitro and in vivo 84 new molecules as potential second generation telomere-targeting agents. "Six of these have demonstrated efficacy on an order of magnitude higher than the original compound and we plan to advance them to pre-IND studies," he adds.
According to Dr. Vitoc, THIO could work equally well with the five checkpoint inhibitors approved for NSCLC: Keytruda, Opdivo, Tecentriq, Imfinzi and Libtayo, which comprised $12-billion of the total $23-billion of NSCLC sales in 2021. Number one Keytruda had NSCLC sales of $7.5-billion last year.
Dr. Vitoc contends that Libtayo, as the fifth entrant in the checkpoint field, needs to show superior efficacy to Keytruda when combined with THIO to take over first-line therapy. "Without THIO, Libtayo could be a $2-billion drug, but with THIO, it could become a $20-billion brand."
According to Dr. Vitoc, THIO is the only telomere-targeting agent in the world. "It can be used in sequential combination with existing immune therapies. It has a novel, dual mechanism of action – direct telomere targeting and immunogenic effect. It makes existing drugs work a lot better."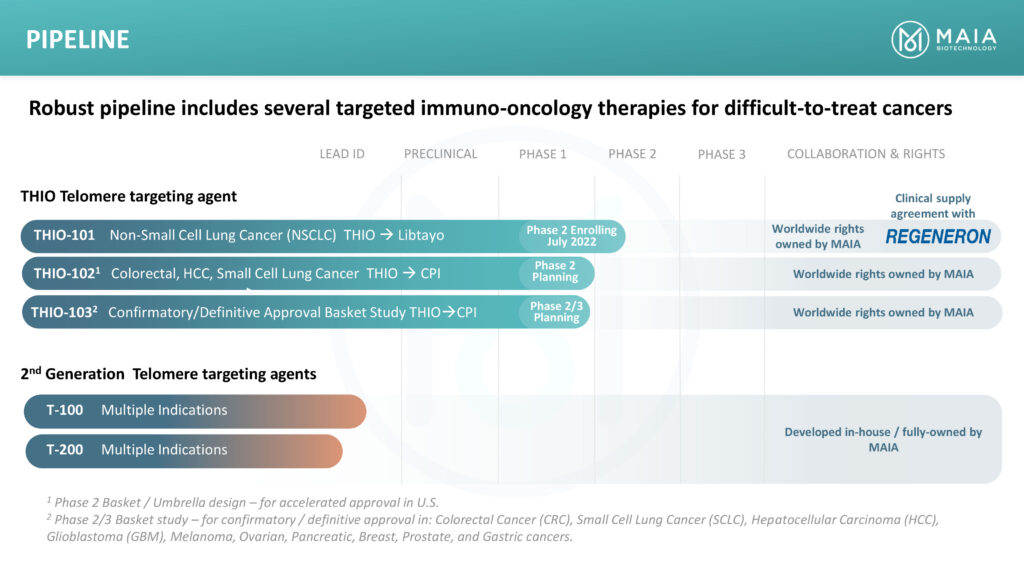 • • • • •
To connect with MAIA Biotechnology or any of the other companies featured on BioTuesdays, send us an email at [email protected].