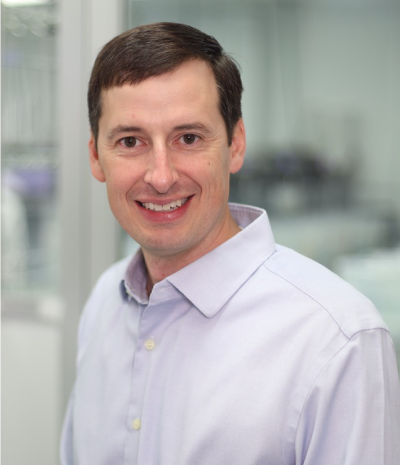 With the need for organs for transplantation far exceeding the supply and creating long waitlists, Miromatrix Medical (NASDAQ:MIRO) is bioengineering human organs with the potential to eliminate the transplant waitlists.
"This is one of the largest unmet medical needs facing the world today," Jeff Ross, Ph.D. and CEO of Miromatrix, says in an interview with BioTuesdays.
He says the U.S. has a waitlist of 116,000 people needing new organs, compared with 40,000 transplants performed on average a year. And people needing new kidneys and livers make up about 95% of the waitlist, which is the company's initial focus, he adds.
In addition, 60% of patients on the waitlist, or 70,000 people, will not receive the organ they need, and 20 people in the U.S. die each day because of a lack of available organs.
Dr. Ross explains that Miromatrix has developed a perfusion platform for the bioengineering of human transplant organs. The process involves the decellularization of porcine organs, which provides the scaffold, and then the recellularization with human donor cells to produce functional organs available for transplant.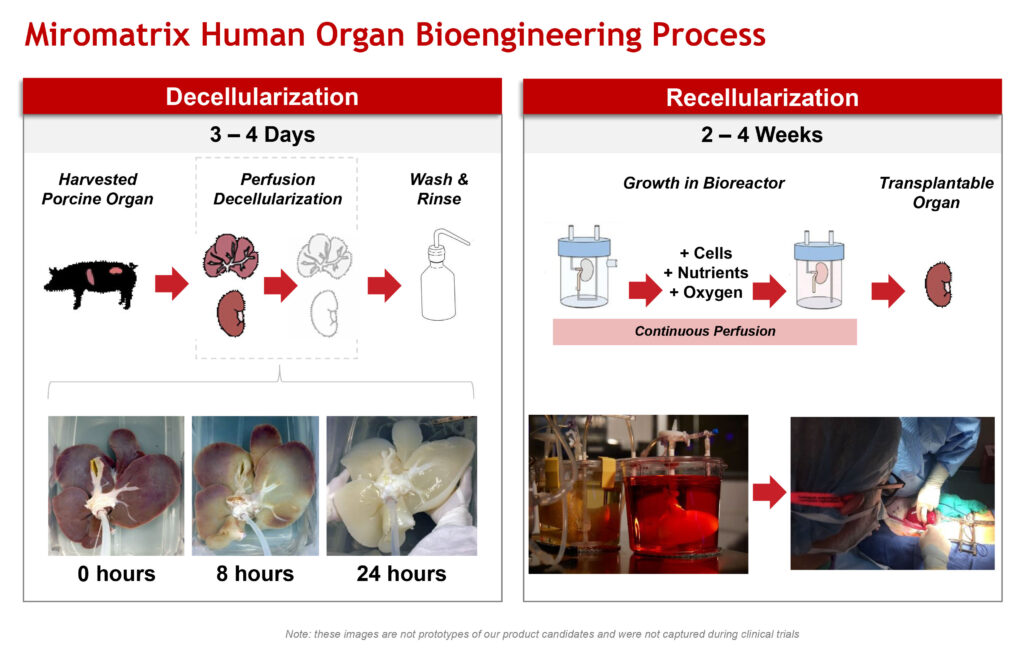 Decellularization removes all animal cells but retains the functional structures of the porcine organ in a process that takes three-to-four days. "Those organs are stable and can be stored for 12 months until the next step in the process," he says.
Recellularization takes place in a bioreactor, where non modified human cells are introduced as the organ undergoes continuous perfusion with nutrients and oxygen like it was in the body, in a process that takes two-to-four weeks, making the organ ready for transplant.
"Living human cells are adaptive and, when introduced into the decellularized scaffold, they display unique regenerative, plasticity, and adhesion properties," Dr. Ross suggests.
The company hopes to begin a Phase 1 trial in 2023 of a drug/device combination, known as miroliverELAP, an external liver assist product to initially be a bridge-to-recovery or bridge-to-transplant for patients with acute liver failure.
It would be the first-ever human study using a bioengineered organ. Pre-INDs for the company's fully implantable organs, known as miroliver and mirokidney, are scheduled to be filed with the FDA in 2023.
Dr. Ross points out that Miromatrix's technology is not xenotransplantation, where a genetically engineered pig organ is transplanted into a human. "Xenotransplantation carries with it a high safety risk of latent residual pig viruses and the possibility of organ rejection that the field has been focused on addressing."
On the other hand, he contends that Miromatrix's bioengineering removes all pig cells through decellularization, which has also demonstrated viral clearance, extinguishing the safety risk of residual viruses.
Miromatrix's IP is protected by 119 issued and 34 pending patents, with composition of matter and method of manufacturing patents ranging through 2036.
Currently, the company is culturing primary human donor cells for the recellularization process from organs not placed for transplant. "We see a path where one unsuitable liver and one unplaced kidney could lead to four new livers and eight new kidneys to expand the supply of organs," Dr. Ross says.
Those patients still would need immunosuppressant drugs similar to human organ transplants, but the next generation of recellularization would use a patient's own stem cells or a universal donor for differentiation and expansion, with the potential to eliminate the need for immunosuppressive therapy.
In 2022, Miromatrix opened a fully-integrated in-house manufacturing facility at its corporate headquarters in Minnesota, which enables the company to control clinical timelines and eliminate the need for contract manufacturing. The company has made more than 500 bioengineered organs so far in 2022 in a production process that Dr. Ross says is highly scalable.
Dr. Ross says the anticipated Phase 1 study for miroliverELAP likely will enroll five-to-15 patients treated in the ICU for three days of continuous therapy, with a 21-day follow-up and a rapid readout. The study is designed to demonstrate safety and tolerability, time- and dose-dependent biomarker changes, and a survival signal, but not statistical significance.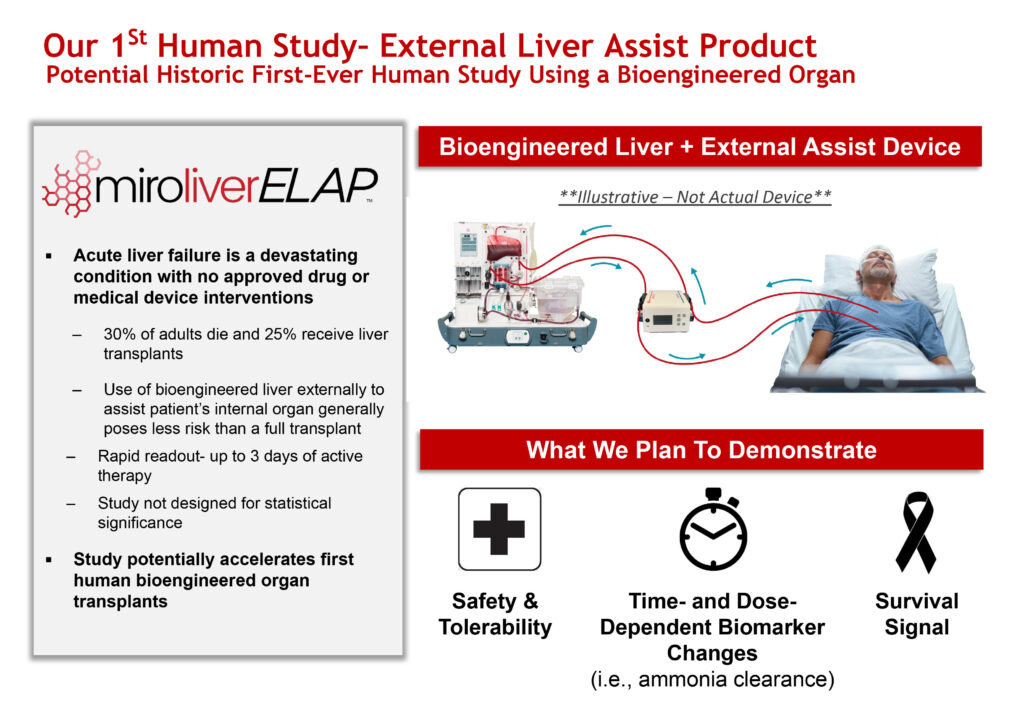 "Think of it as a type of dialysis where a patient's blood comes into contact with the external liver graft, and the blood is then returned to the patient, with the hope of providing liver function to the patient," he adds. "We believe the external liver assist will help expedite our clinical pathway to full organ transplantation."
In 2019, Miromatrix achieved successful revascularization of a decellularized porcine liver seeded with liver cells, demonstrating liver function and patency and hepatocyte survival. The liver also demonstrated improved ammonia levels in animals with acute liver failure, he adds.
In the United States, there are some 5.5 million people with chronic liver disease or cirrhosis, resulting in some 80,000 hospitalizations and more than 50,000 deaths a year, according to the CDC. The transplant waitlist is more than 11,000, compared with about 8,000 annual transplants.
Dr. Ross says bioengineered organs could dramatically enlarge the current estimated liver transplant market of $7-billion and the $10-billion kidney transplant market by potentially "providing organ access for the entire waitlist population."
There are about 550,000 kidney dialysis patients in the United States, with a transplant waitlist of more than 97,000 but only 24,000 transplants on average a year. Each transplant potentially saves the healthcare system $1.5-million, according to Miromatrix estimates.
Beyond liver and kidney, Dr. Ross says the platform technology could be developed to transplant heart, lung, and pancreas. Miromatrix has collaborations with Mayo Clinic, Mount Sinai Hospital and Texas Heart Institute where it connects with key opinion leaders in the transplant space and has access to preclinical research programs. It also has strategic investments from Baxter, DaVita and CareDx.
As part of its sequential development and de-risking strategy, Miromatrix previously developed and commercialized via 510(k) clearances two medical device products using the same perfusion technology: Miromesh, primarily utilized for soft tissue reinforcement applications, and, Miroderm, which is indicated for a variety of advanced wound care applications.
Miromatrix out-licensed the two products to a new company, Reprise Biomedical, in 2019 to focus on the transplant space.
"Thousands of patients have been implanted with Miromesh and Miroderm, demonstrating the safety and de-risking of the base porcine liver scaffold and perfusion decellularization technology," Dr. Ross says.
• • • • •
To connect with Miromatrix or any of the other companies featured on BioTuesdays, send us an email at [email protected].